Colored lights mix with stainless steel, soap foam and water, but the selling point on one of Dane County's newest car washes is speed and convenience.
The $2 million Ultimate Car Wash attached to the Meffert Oil Co. Mobil convenience store, 300 S. Division St., in Waunakee, can wash six cars at once. Waits are minimal as the gleaming facility can wash up to 100 cars an hour compared to the former car wash, that could only do up to 11 vehicles per hour, said Randy Meffert, president of the family-owned oil company that was founded by his father in 1973.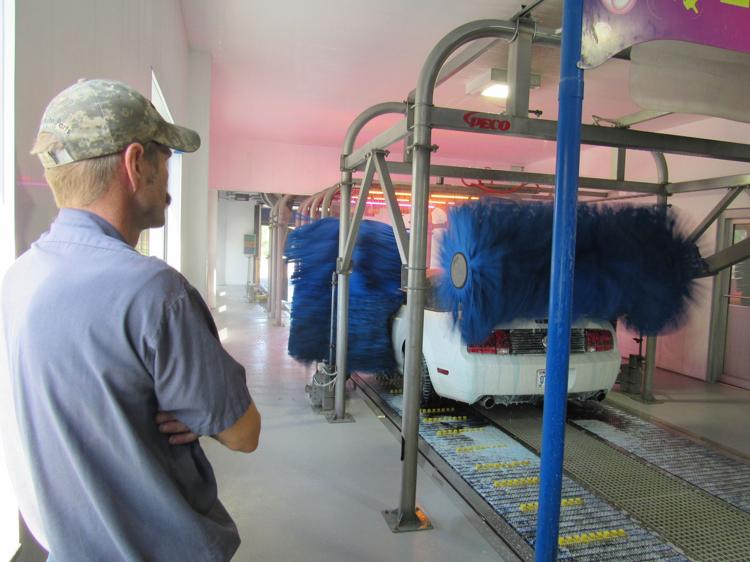 In addition, customers stay in the car as a 120-foot-long conveyor system gently and smoothly glides the vehicle through the wash and dry cycle in just over four minutes. The car wash is modeled after a similar one in De Pere.
"We started researching different components and went to a couple (of trade) shows and we actually developed a car wash that's probably a little nicer than the one up (in De Pere) because we have two sets of brushes and a little longer conveyor," Meffert said. "The conveyor is very user-friendly. It's wide and easy to get on to."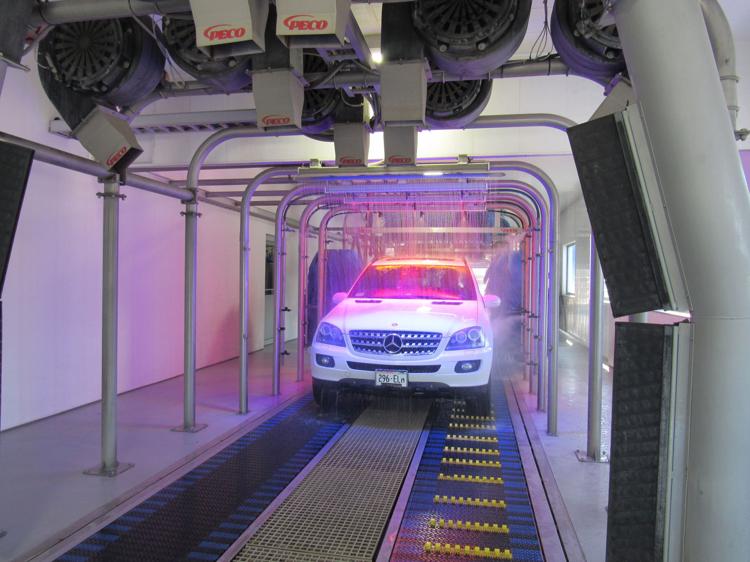 Car washes in Dane County generally consist of wands in self-service bays, pull-in automated washes (like those found at many convenience stores) that do one vehicle at a time, and fully staffed car washes like those at Mermaid and Mister Car Wash (formerly Octopus) where customers exit the vehicle, go inside to pay and then let workers vacuum and dry the vehicle, with the wash process done through an automated chain conveyor system that pulls the vehicle through.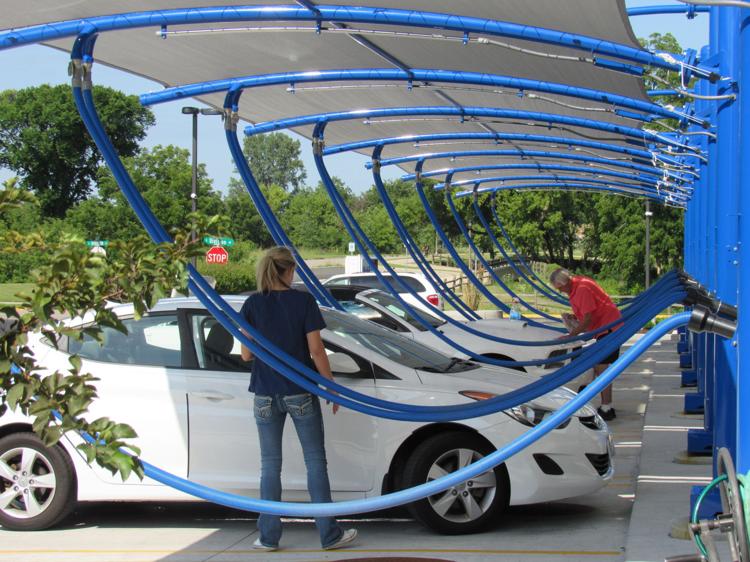 The Ultimate Car Wash is a bit of a hybrid where the vehicle sits on top of the 30-inch wide conveyor belts. The car wash can be operated with one employee and customers pay or punch in a code at an automated teller. Vacuums are self-service and located along the side the car wash with nine covered bays and 18 hoses. A vacuum is free with a car wash or with the purchase of gas.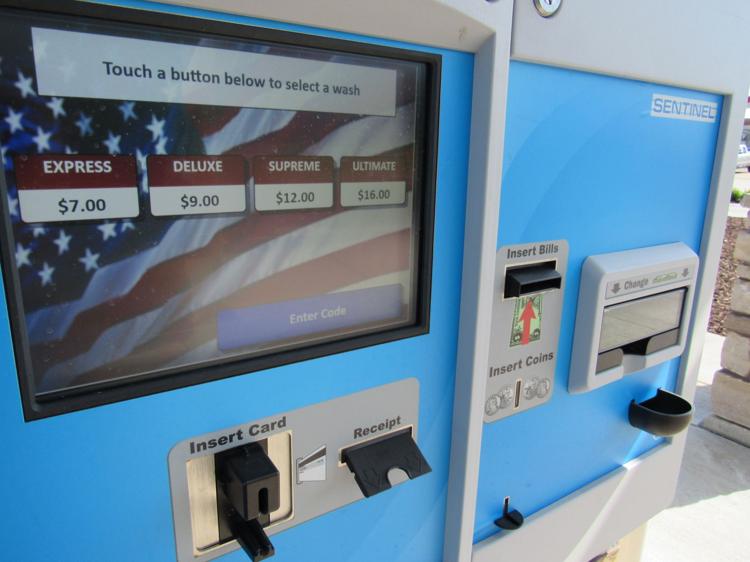 Touch-free washes range in price from $7 to $16 with an automatic tire shine an extra $3. Colored lights in blue, green, purple and red add to the ambiance.
The car wash, built by Bachmann Construction of Madison and designed by McCoy Engineering, both of Madison, features components from three main companies. Petit Auto Wash supplied the high pressure washing system; PECO Car Wash Systems contributed the brushes and anchor arms, and the conveyor system came from the Rexnard Corp. in Milwaukee.
A robot adjusts to the size and shape of every vehicle and measures and responds to the angle of the surface it is washing.
The precise positioning of the spray gives the robot the advantage of greater cleaning power for vehicle fronts, backs and even rear windows of pickup trucks, Meffert said.
The car wash is one of only three like it in Wisconsin.
You have free articles remaining.
Meffert, who also owns the BP convenience store with a single vehicle, pull-in automated car wash at the roundabout at highways 19 and 113, believes car washes like his Ultimate Car Wash will grow in popularity because of their speed, efficiency and minimal staffing requirements.
The biggest day since opening in January was 600 vehicles, but Meffert thinks 1,000 vehicles a day is possible, although that likely would not come until winter.
"The summer months are a little slower, and it has been slower, but we're still meeting our projections," Meffert said when asked about the return on investment. "We're just trying to get people used to the concept and used to the equipment."
Wisconsin audio company featured in Chicago bathroom showroom: The addition of Milwaukee-based luxury bath and kitchen fixtures to LuxeHome on the first floor of the Merchandise Mart in downtown Chicago is also big news for Princeton Audio, a Green Lake County manufacturer of high-end, audio speakers.
Graff has announced that it has selected Princeton Audio products to help outfit its showroom scheduled to open in August.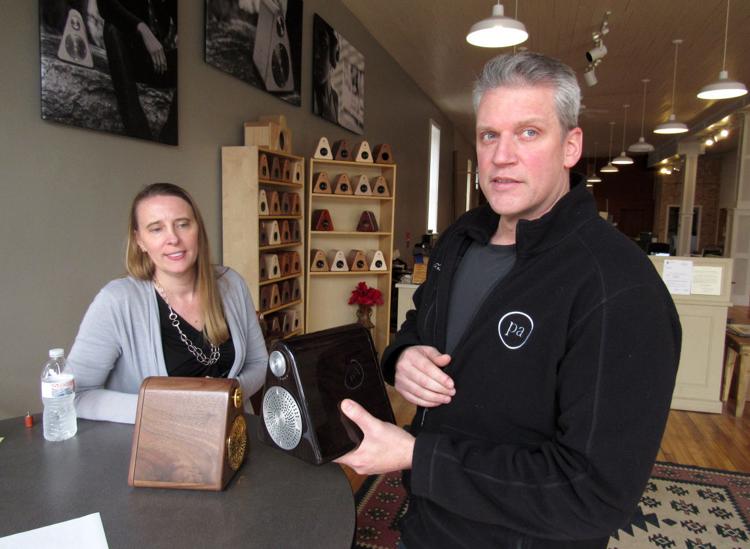 Christopher Bishop, Graff North America's marketing brand manager, said the company chose Princeton Audio's Site:1 speaker for its full, rich sound and design and creative styling.
"Princeton Audio handcrafted a matched set of portable wireless speakers in a lovely gloss white with white metal hardware accents that perfectly melded with the new design of the showroom," he said. "Visually and mechanically, the Site:1 speakers function as another premier object of desire within the Graff showroom's design. They're gorgeous but — and this was important — they don't pull focus away from the Graff fixtures; they complement them. And they sound sublime."
Mike and Beth Pelland founded Princeton Audio in downtown Princeton (about 30 miles east of Westfield) in 2014. Their speakers range in price from $460 to over $1,600 and include a patented, removable, external interface that can adapt to changes in technology. Speaker cases are made from a variety of wood including maple, white oak, mahogany, cherry and black walnut.
Under Armour continues to expand its brand in Wisconsin: A new store for State Street and a big contract with University of Wisconsin Athletics aren't the only big additions for the athletic apparel company this year in the Madison area.
Under Armour on Thursday will open a 9,000-square-foot outlet store at Johnson Creek Premium Outlets. The store will replace a 4,500-square-foot store that has been operating at the outdoor mall since 2010.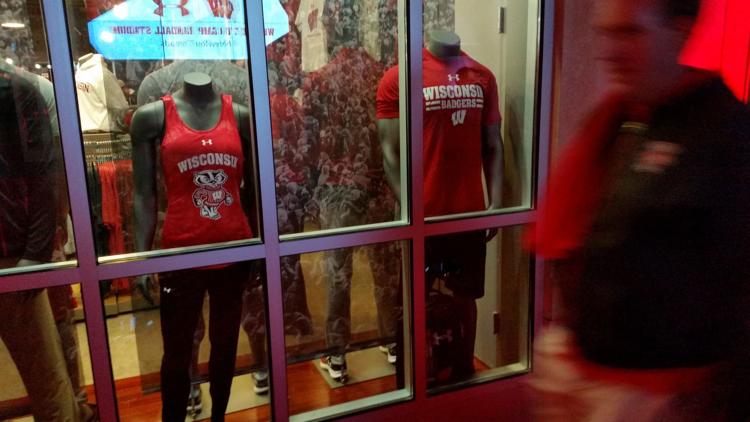 Last fall, UW-Madison announced a 10-year, $96-million deal with Under Armour to provide apparel and footwear for the Badgers, a deal that took effect a few weeks ago. This year, Under Armour began construction on a 15,000-square-foot Brand House at 610 State St. It will include 5,300 square feet at street level with another 10,000 square feet in an existing basement used for sales floor and storage. The company also has stores near Lake Delton, Oshkosh and Pleasant Prairie. Johnson Creek Premium Outlets, at Highway 26 and Interstate 94, has 60 brand-name retailers.
More jobs due to online shopping: A company that helps online retailers with customer service is adding 600 jobs in Eau Claire.
Radial announced last week that it needs more people to support an expected 10-fold increase in demand for the upcoming holiday shopping season.
"The holidays are a highly anticipated time for families and the busiest time of year for retail. Radial works behind the scenes to ensure our clients are exceeding their customers' expectations year round, and particularly during the holiday season," said Ricardo Layun, Radial's general manager of North American Customer Care. "We're adding thousands of workers across our network so consumers get their orders when and where they want, and get the service they expect of a seamless shopping experience."
In April, eBay Enterprise and Innotrac merged to become Radial. The Pennsylvania-based company operates 26 distribution centers and six call centers and employs more than 7,000 people globally.
Send retail-related tips and story ideas to badams@madison.com or call Barry Adams at 608-252-6148.