Bunches of bananas, cartons of eggs, jugs of milk and bags of potatoes could return to the corner of Acewood Boulevard and Cottage Grove Road.
It's unclear if beer will make the cut.
Kwik Trip is proposing a 7,000-square-foot convenience store with 20 fueling stations for the 1.9-acre site that for more than 40 years was home to a Sentry Foods store. Part of the plan, unveiled to residents of the Rolling Meadows and Elvehjem neighborhoods at an informational meeting last month, would include the sale of beer. Many of the more than 100 people who attended the meeting at Kennedy Elementary School were in favor of the project but not beer sales.
"There's some very influential folks right in the neighborhood who are against it," said Ald. Amanda Hall, who represents the area and was at the meeting. "I wouldn't necessarily say I'm in love with it. Aesthetically, it's going to add as much to a neighborhood as a gas station possibly could. If it has to be a gas station, certainly, this is a really nice option."
Hans Zietlow, Kwik Trip director of real estate, said his company is just beginning to meet with city officials about the project, that if approved, would begin to be built in spring 2017. Zieltow said most Kwik Trips sell beer because it offers a "good mix" for the business but beer isn't a "huge" percentage of sales.
In Janesville, for example, city ordinance prevents convenience stores from selling beer unless it is sold in an area permanently separated from the main store and has its own entrance. Neither of Kwik Trip's two Janesville stores sell beer.
"We'd certainly like to have it," Zietlow said of beer sales at the proposed Madison location. "We were aware that it was a concern out there, but I'm not going to say that (not selling beer) is a deal-breaker."
Kwik Trip has 19 convenience stores in Dane County and has started to expand into the Madison market after years of not having a presence in the city. Zietlow said finding the right sites in the city is difficult. He wouldn't say how many stores the city could support but said there is room for more stores in what he described as an "underserved" market for Kwik Trip.
In 2014, the La Crosse-based company opened a 6,500-square-foot convenience store with a beer cave in the ground level of Varsity Quarters, a six-story, 129-bed apartment building at 1423 Monroe St. Located on the site of the former Stadium Bar and across from Camp Randall, the store does not have gas pumps or parking. Instead, it relies on foot traffic from the area that is heavily populated with students.
In December, the company opened a 7,160-square-foot convenience store at 4825 American Parkway in the American Center business park that includes five gas pump islands, a car wash and a picnic area. The $3.8 million property, which held its grand opening celebration last week, also has a beer cave jammed with Wisconsin and national brands.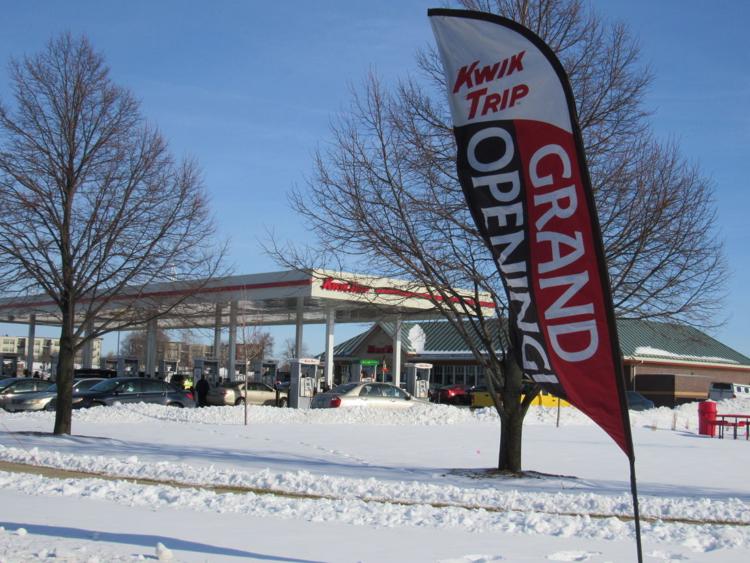 You have free articles remaining.
Register for more free articles
Stay logged in to skip the surveys
The former Sentry store, located on a 1.9-acre lot, closed in July 2014 shortly after the opening of the Roundy's-owned Metro Market to the east. The Sentry store had a liquor license but that doesn't guarantee that a new business on the same site would be granted approval for alcohol sales, said Mark Woulf, city food and alcohol policy director.
"Historically, if a location has had a license before, they're more likely to obtain a similar license unless there were issues at that location," Woulf said. "The ALRC has the right to deny a license and a big part of that is how the neighborhood feels it would impact their neighborhood."
In 2010, Walgreen's requested alcohol licenses for two stores in the area. The company withdrew its request for a license at the Walgreen's at 108 Cottage Grove Road, which is adjacent to a Harley's Liquor store. Walgreen's was denied a license for its store at 4518 Cottage Grove Road, across Acewood Avenue from the Sentry and across Cottage Grove Road from what is now a second Harley's Liquor location.
Andrew Stefanich, a commercial real estate agent with CBRE, the company listing the Sentry site for $1.9 million, said Kwik Trip has made an offer that has been accepted. The sale is pending city approvals, but he did not know if a lack of a license to sell beer would kill the project.
Chuck Coens has owned Harley's Liquor on Atwood Avenue for 13 years and in October 2014 purchased his store on Cottage Grove Road that has been home to a liquor store since the 1960s. Coens grew up in Reedsburg, where he frequently visited a Kwik Trip near his home. He believes the proposed Cottage Grove Road store will be a big plus to the neighborhood and give grocery shoppers another option. Coens, however, is against the plan for the store to sell beer.
"It would be a detriment to my business," Coens said. "It would probably cost me 25 percent of my sales."
Coens said there are nine places to buy beer within a 2-mile radius of the proposed Kwik Trip site, including two other liquor stores, a PDQ store, Woodman's Market, the Metro Market and the Citgo gas station across the street.
"The neighborhood definitely doesn't want it," Coens said. "There's enough competition already."
Founded in Eau Claire in 1965, Kwik Trip has more than 450 locations, 14,000 employees and in recent years has been upgrading its stores and adding locations, including 35 stores in 2016. In-store advertising promotes wages starting at $11.20 per hour with third-shift wages at $12.70.