At one time, stores were located at East Towne and West Towne malls in Madison, Brookfield Square and Capitol Court in Milwaukee.
The shelves were filled with model rockets, remote-controlled airplanes and trains.
But after 64 years in business, the Hobby Horse is closing its last store.
Internet sales from companies like Amazon have hit the store hard in recent years and with a lease set to expire in June and retirement age at hand, Jim Biersach announced Jan. 22 that he will close the business founded by his father in 1952.
Now located in a strip mall at 1769 Thieier Road on the city's East Side, a sale is underway that will likely close the business by March.
"It's sweet in that I'm going to retire, but sour that the store is closing," said Biersach, 68, who bought the store from his father in 1988. "It was an extremely difficult decision."
Biersach thought he had a buyer who would have kept the business open but after spending $500 on an attorney to review the offer, the person backed out.
For Biersach, selling rocket engines, plastic model planes, cars and boats and balsa wood planes has been his life. Quadcopters, also referred to as drones, are a small part of the business now and much of the inventory has advanced along with other technology. Radio controllers, for example, are more reliable and less expensive than what was sold years ago.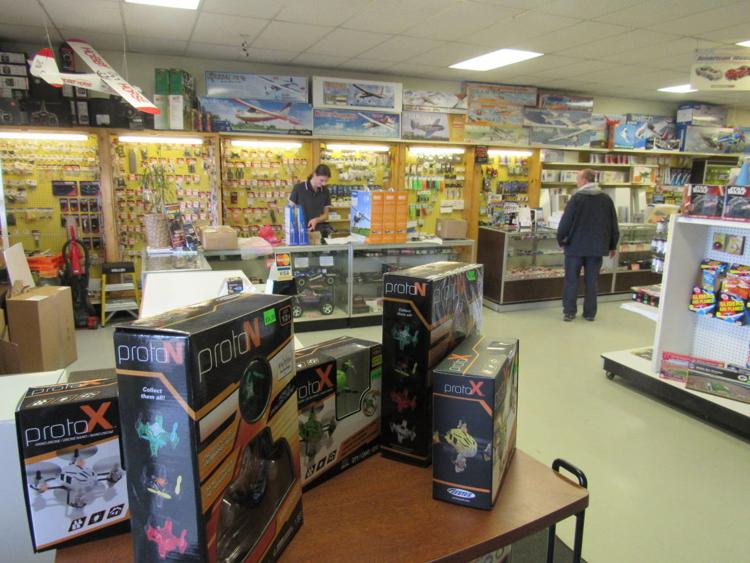 The technology has also meant the advent of the Internet and competition, not from just other area hobby stores but from worldwide retailers.
"Mail order is a big competitor," Biersach said. "It's easier for the customer. They don't have to get in their car, it's delivered to their door. But when you buy online, you're exporting money out of the community."
Madison is home to two other hobby stores. Madison Hobby Stop, 6622 Mineral Point Road, was founded in 2003 and specializes in trains and plastic model kits. Performance Hobby Center, 5728 Monona Drive, founded in 2002, specializes in high-performance radio-controlled vehicles including drones.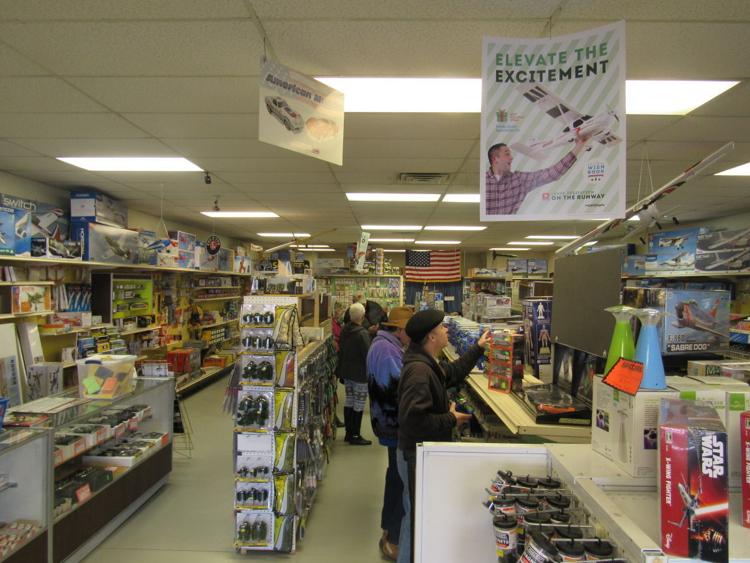 Biersach began flying model planes when he was 6 years old and was working in his father's Waukesha store at age 14. After high school, he went to college and served in the Army, where he was stationed in Korea. He moved to Madison in 1971 to help run the West Towne store and, a little later, manage the East Towne store. In 1988, his father retired and sold the Brookfield store with Biersach taking over the Madison operation. That's when the mall stores closed and he moved the business to a single 3,200-square-foot store, just off of East Washington Avenue.
You have free articles remaining.
Register for more free articles
Stay logged in to skip the surveys
Biersach has also been lucky in that one of his employees, Diane Clapper, has been with him for more than 40 years. She started working at the East Towne Mall store in 1975 but never dreamed she would still be working at the same business all these years later. Clapper and her husband have taken vacations with Biersach and his wife over the years and she has become an integral part of the business.
"We've ended up becoming friends," Clapper, 62, said. "It's sad. I'm going to miss the people."
Biersach and his wife, who live in Sun Prairie, plan to be snowbirds and next winter will travel the South and Southwest to test out possible retirement locations. But the change will likely take some adjustment for Biersach.
"This has been my life, and now I'm backing away from it," Biersach said. "I feel sorry for my customers."
Is Willy Street Co-op a good fit for the North Side?: One of the big retail stories last week was the announcement by Willy Street Co-op that it is studying the Pierce's Northside Market site as a potential location for a third store.
The announcement likely caught many by surprise, who since August of 2014 had anticipated a third site being considered somewhere on the East Side. The Sherman Plaza site also is in a poorer neighborhood but would likely draw co-op members from the area who would no longer have to trek to the co-op on Williamson Street or to its store in Middleton.
Abhar Thakkar, interim director of the Northside Planning Council, credited with starting the discussion with the co-op, said the Pierce's site offers plenty of parking and residents of the neighborhood unfamiliar with a co-op would need to be educated on the store. One possibility being considered is that the co-op would use part of its 25,000 square feet to sell more traditional groceries. Willy Street's other two stores are about 10,000 square feet.
"We're excited about how they can offer a mix. That was a big piece when we approached them. This is a food desert, and we need affordable food," Thakkar said. "Our plan is to provide people with that support so they don't feel this is something they can't afford."
Co-op officials say they would like to make a decision by March so that if the site is selected, the co-op could open with minimal disruption.
La Crosse getting a bump from Duluth: The brick and mortar continues to grow for Duluth Trading Co.
The Belleville-based mail-order clothing company, with a sizable presence in downtown Mount Horeb, announced last week that it will open in June a 10,500-square-foot store in La Crosse. The store will occupy the former Doerflinger's Department Store in the city's downtown and is the company's 10th retail store.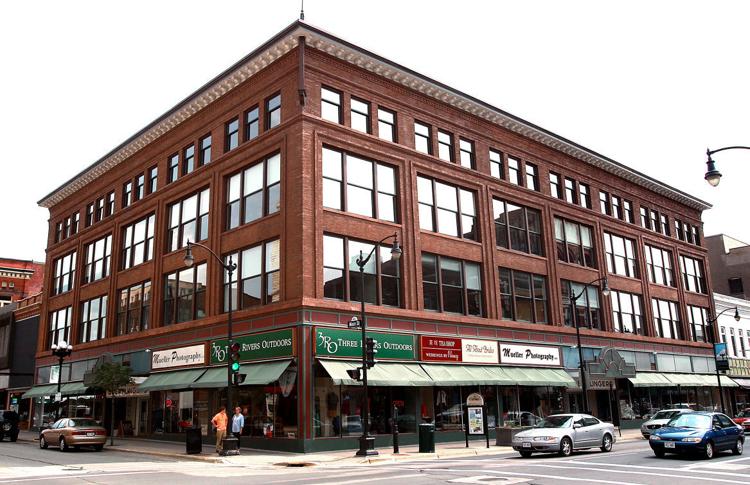 The La Crosse Tribune reported that the store will occupy the building's first floor, including the primary space previously occupied by Three Rivers Outdoors, a locally owned outdoor outfitter that closed in November after 15 years in the renovated department store.
"This is going to be a game changer," Mike Keil, the building's owner told the Tribune. "An absolute game changer to have all these people coming to downtown that don't normally come to La Crosse."
In 2010, Duluth opened its first store in a 7,500-square-foot space in downtown Mount Horeb that had been home to the Mustard Museum and decades before that a hardware store. Duluth also has stores in Port Washington; Sioux Falls, South Dakota; Ankeny, Iowa, and Bloomington, Duluth and Fridley, Minnesota. The company operates outlet stores in Belleville and Oshkosh.