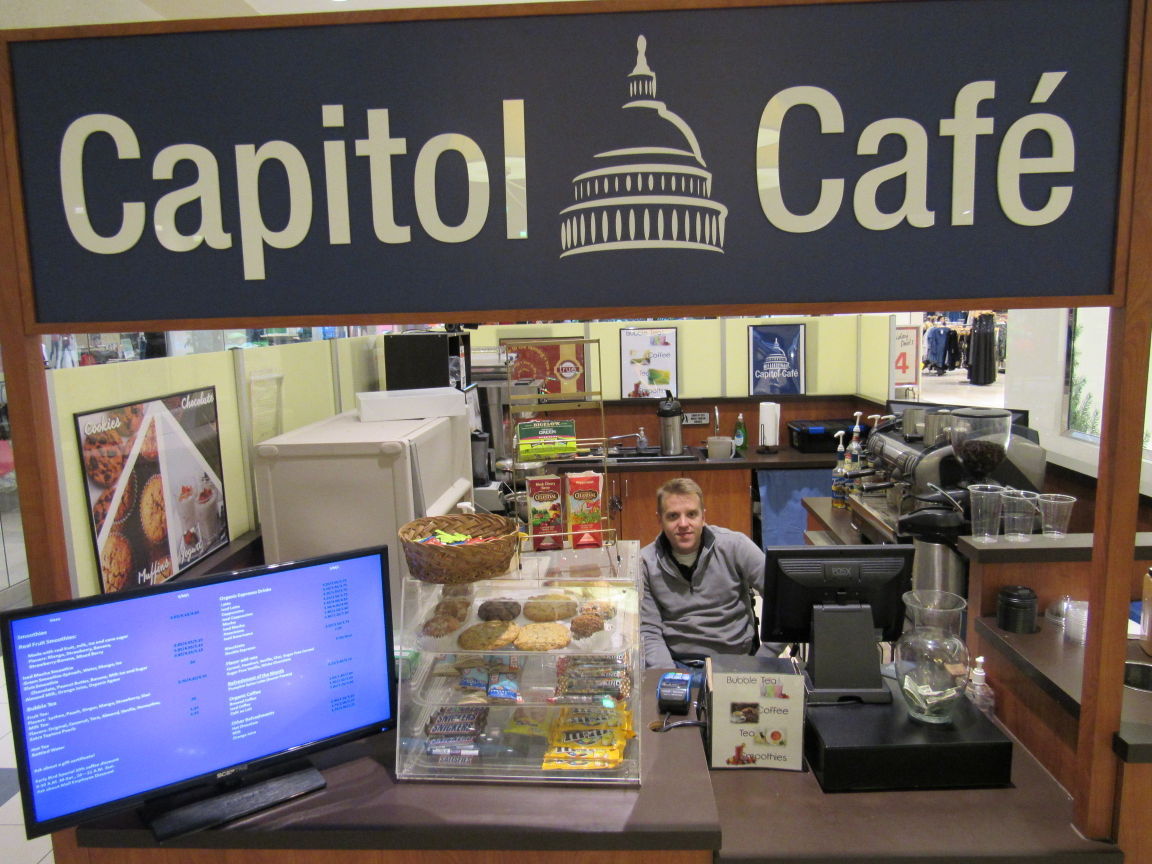 Matt Barber knew what he was getting into.
He hasn't taken a day off since opening his Capitol Café coffee shop at West Towne Mall in early October and typically works more than 100 hours a week.
But Barber, 31, is living his entrepreneurial dream and can think of no better place to spend his time than behind the counter brewing coffee or whipping up cups of flavored bubble tea that includes beads of tapioca.
"I knew it was going to be a lot of work, but it doesn't really feel like work," Barber said last week. "It just feels more like a fun and exciting project."
Not to mention exhausting.
On Thanksgiving, for example, he drove to Green Bay to be with his grandmother and returned to Madison at about 5 p.m. to get ready for the mall's 6 p.m. opening. He wouldn't leave the shop until 10 p.m. Friday, but had some help from family members during the 28-hour stretch.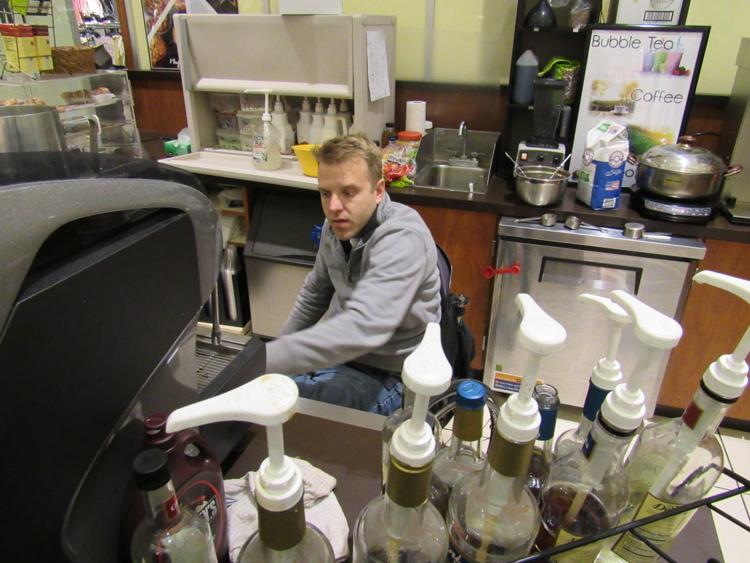 "The main challenge is that when people think about getting coffee, they don't think, 'Oh, I'm going to go to the mall to get a great cup of coffee,'" Barber said. "They're going to go somewhere else. I'm just trying to get the word out that I'm here, and we sell quality beverages and snacks."
The business is located in an 8-foot by 12-foot kiosk near Dick's Sporting Goods and was formerly known as Dodo's Café. But getting people to buy his coffee and tea, handling the day-to-day operations for his business and being confined to a small work space aren't Barber's only challenges.
The café serves as another step in his young life that was radically self-altered in 2007.
That's when Barber was involved in a traffic crash in Green Bay about 10 blocks from Lambeau Field. Barber, 22, at the time, was drunk when, according to Green Bay police, he drove his Ford F-150 pick-up truck in the wrong lane of South Ashland Avenue and collided head-on with a Toyota Corolla at 1:22 a.m.
The 18-year-old driver of the car suffered serious injuries. Barber was also injured and is now unable to walk after being paralyzed from the waist down. The crash broke five vertebrae and severed his spinal cord, fractured his collar bone, cracked three ribs that punctured a lung, bruised his pancreas and sliced a kidney. A scar remains on Barber's head from a 6-inch cut.
"I'm very sorry and regretful my actions caused harm to another individual. I'm reminded of it every day," Barber said. "I'm thankful to be alive and for this opportunity to open Capitol Café."
Barber grew up in Green Bay and later lived near Pulaski, where he graduated from high school. He earned a finance degree from UW-Milwaukee and has an accounting degree from Lakeland College. At the time of the crash, he worked at Schreiber Foods in Green Bay and returned to work at the cheese and yogurt company after 60 days in the hospital and weeks of physical therapy.
You have free articles remaining.
To get back in shape, Barber took up hand cycling that in 2012 led to a job as a supply planner at Madison-based Pacific Cycle. But the entrepreneurial bug has proven too strong and pushed Barber to try his hand at running his own business.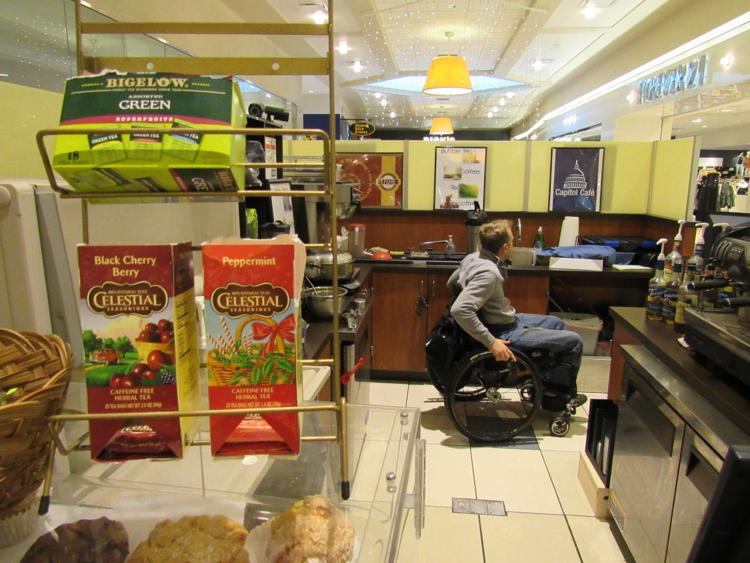 "It hasn't been too challenging in terms of physical limitations," Barber said. "Though it's a modest coffee shop at the mall, for me, opening Capitol Café is part of overcoming my disability, connecting with people and trying to live a more meaningful life."
Baraboo shopping ramps up: The square in downtown Baraboo offers a wide array of shopping opportunities that can include toys, chocolate, books, jewelry, antiques and clothing, but artisans will take center stage both on and off the square next weekend.
Friday will begin the ninth-annual Very Merry Holiday Fair at the Baraboo Arts Banquet Hall, 323 Water St. The event, presented by Helen's Daughters Studio, will run through Saturday and include 60 authors, potters, bakers, jewelers, fiber artists, cheese makers, candy makers and glass artists.
The free event, located near Circus World Museum and Driftless Glen Distillery, opens at noon Friday and will include wine tastings from Baraboo Bluff Winery and soup and sandwiches from TJ's Catering. Other attractions include a pop-up gallery that will feature four Sauk County photographers, with images from the area showing scenery in all seasons, and art pieces painted by the Baraboo Boys & Girls Club in collaboration with Frank Kudla, a local metalsmith.
The fair is part of the Artisan Weekend in Baraboo that will feature horse-drawn wagon rides and strolling carolers between 11 a.m. and 2 p.m. on Saturday on the square.
Christmas market open in Elkhart Lake: It's a bit of a drive from Madison but the Sheboygan County village known for its auto racing heritage is also home to one of the top Christmas markets in the country, according to the American Bus Association.
The 18th annual Old World Christmas Market at The Osthoff Resort in Elkhart Lake opened Friday and will run through Dec. 13. The market features international and regional artists, Czech blown-glass ornaments, Russian nesting dolls, silver jewelry, scarves, woolens, chocolates and German hand-carved smokers and nutcrackers.
A full lineup of German food also is featured at the event including Nuremberg bratwurst, sauerbraten dumplings, wienerschnitzel, potato pancakes and pulled pork. The market is open daily from 10 a.m. to 5 p.m. Admission is $6.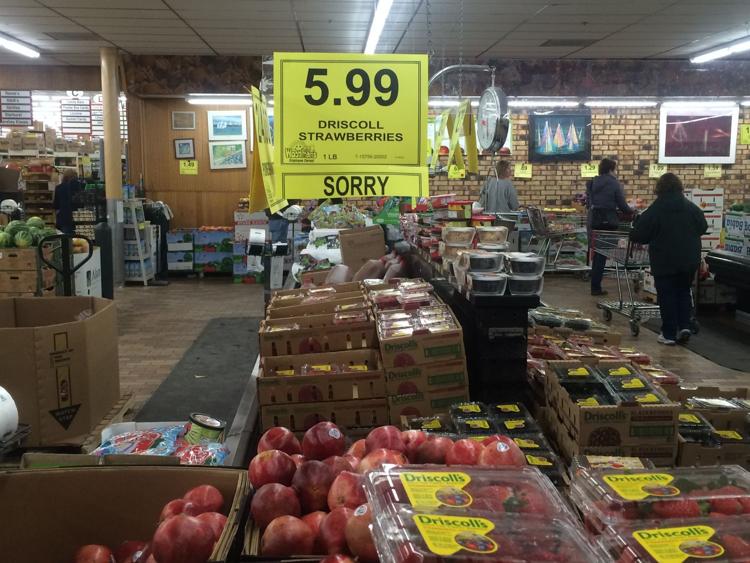 Strawberry prices bring apology: At $5.99 a pound, the price of Driscoll strawberries last week at Woodman's Market on the West Side turned some heads. But so did the placard displaying the price that said "sorry."
The strawberries, which earlier this year sold for $2.50 a pound, are in short supply due to the California drought that created a larger than normal gap between crops in California and those in Arizona, according to Clint Woodman, vice president of the Janesville-based discount grocery giant.
"It doesn't happen very often, but we try to have it available because some customers like to buy it," Woodman said.
Send retail-related tips and story ideas to badams@madison.com or call Barry Adams at 608-252-6148.