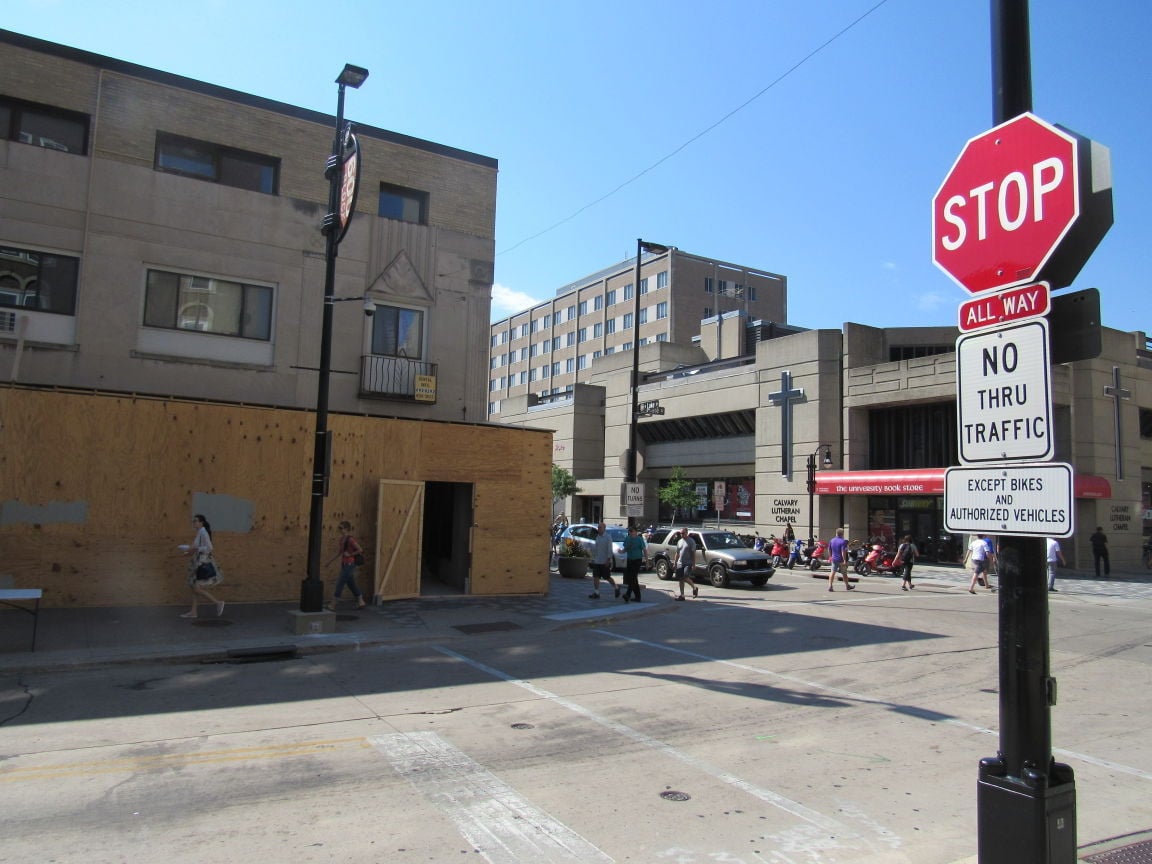 A prime retail spot on State Street is getting a new tenant and it won't be a bar or restaurant, although it has requested to sell beer and wine.
A 7-Eleven convenience store is being proposed at State and Lake streets, across the street from a Walgreen's and State Street Mall. The store would not sell gas but instead cater to foot traffic that is largely students and others associated with UW-Madison.
Jim Fiene, Delafield, the franchisee of 16 Wisconsin 7-Eleven stores, said last week that he will open the store at 673 State St. regardless of whether he gets city approval for a license to sell alcoholic beverages.
The project is similar to the Kwik Trip store that opened in 2014 sans gas on the ground level of Varsity Quarters, a six-story, 129-bed apartment building at 1423 Monroe St. However, the 7-Eleven application comes at a time when Mayor Paul Soglin has tried to squash plans for more alcohol licenses on State Street to leave more room for retailers.
However, even without Soglin's objection, the sale of alcohol is unlikely since the city's zoning code prohibits retail alcohol sales at that location, according to Mark Woulf, the city's food and alcohol policy director. The license request was presented to the Alcohol License Review Committee on Wednesday, which put the matter on file.
"We'll build either way," Fiene said of the alcohol license. "It's an offering that's not really been done on State Street."
Fiene is the franchisee for other 7-Eleven stores in Madison, including those on Regent Street, South Park Street, University Avenue and at Todd Drive and the Beltline. He also has stores near the UW-Milwaukee and Marquette University campuses. In addition, Fiene said he would like to add at least two more 7-Eleven stores along the Beltline.
The site at State and Lake streets, one of the busiest intersections for student foot traffic in the city, had been home in recent years to the UW Bookstore's Digital Outpost and before that, Brown's Book Shop.
The neighboring College Barber Shop, a fixture since the 1920s, closed last year and is being converted to Forage Kitchen, a restaurant by the same owners as Roast Public House, 558 State St. Forage is scheduled to open in mid-October, said owner Doug Hamaker.
Fiene said his experience on college campuses convinced him that a convenience store on State Street would be feasible.
"I've looked at that site for a number of years. Certainly the cost per square foot is high, and that's a challenge," Fiene said. "This is one of those premier places. We focus on food, and I believe State Street needs food that is quick and (a location that) is open 24 hours a day."
You have free articles remaining.
The space was covered with plywood as construction crews worked on the interior of the building last week. Fiene said the store should open by late October.
7‑Eleven Inc., based in Texas and founded in 1927, is the world's largest convenience store chain, operating, franchising and licensing stores in 18 countries. Of its 56,600 stores worldwide, 10,500 are in North America, according to its website.
Theater update
One of the largest cinemas in Dane County is getting a major, multimillion dollar makeover.
AMC Star Fitchburg 18 is about three weeks into the first phase of a renovation that will ultimately convert all of its auditoriums, with the exception of the IMAX Experience, into theaters with power reclining seats and new screens and sound systems. Other improvements include new paint and carpet, and renovated restrooms.
AMC has been renovating its theaters throughout the country and has also applied to the city of Fitchburg for a liquor license. If approved, the theater would add its MacGuffin's bar concept to the facility, 6091 McKee Road.
Seven of the theater's 18 auditoriums are closed but are scheduled to reopen in mid-October, said Ryan Noonan, a spokesman for the theater chain based in Leawood, Kansas. Once those reopen, five more auditoriums will be renovated and reopen around Thanksgiving with the final four completed by late this year or early 2016.
Ironically, the renovations will remove 50 to 60 percent of the seating in each auditorium, but Noonan said attendance has increased following renovations at other properties in the 350-cinema chain that has more than 5,000 screens.
"The demand for these renovated theaters is huge because people love the amenities," Noonan said. "We're upgrading theaters at a very rapid pace. It's less about what's going on with the others in the industry and more about what we're doing."
The cinema complex, acquired by AMC in 2010, opened in 1999 with the IMAX added in 2005. The upgrade continues a theater improvement trend in the county.
In late April Milwaukee-based Marcus Theatres opened the 12-screen Palace Cinema in the Shoppes at Prairie Lakes in Sun Prairie. The Palace replaces the 16-screen Eastgate Cinema, 5202 High Crossing Blvd., Madison.
Every seat in the cinema is a leather recliner with electric controls. That includes the seating in the cinema's four Big Screen Bistros, where the recliners are fitted with swivel tables and waitstaff dressed in dark clothing bring food and drinks to movie-goers. The cinema also includes two 60-foot-wide Ultra-Screen DLX auditoriums and, in the lobby, a Take Five Lounge and a Zaffiro's Express pizza.
The Marcus-owned Point Cinema, 7825 Big Sky Drive, has also been upgraded in recent years. Some theaters now have reclining leather seats, and a Take Five Lounge that serves pizza and has a full-service bar was added in 2013.
Send retail-related tips and story ideas to badams@madison.com or call Barry Adams at 608-252-6148.