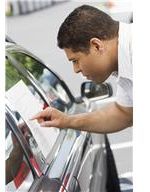 October new vehicle sales in south-central Wisconsin decreased 2.99 percent to 3,833, compared with 3,951 sales a year ago, according to Reg-Trak of Waterloo.
A drop in car sales of nearly 13 percent to 1,409 drove the year-over-year decrease, overcoming a 3.77 percent rise in truck sales, from 2,336 in October 2013 to 2,424.
Similarly, in Dane County, new vehicle sales fell 1.8 percent overall year-over-year to 2,015 in October.
That drop also was driven by fewer car sales — from 910 to 844 for a 7.25 percent year-over-year decrease — while truck sales rose a bit, by 2.54 percent to 1,171.
Across the region, sales also fell year-over-year in Columbia, Dodge, Green, Iowa and Rock counties. October sales rose year-over-year in just three counties: Jefferson, Sauk and Lafayette, where the rise over October 2013 was a strong 39.22 percent.
From January through October, regional new vehicle sales were down slightly — by .15 percent — to a total of 37,659, compared with the same period of 2013. Within that total, car sales were down 6.33 percent to 14,762 while truck sales rose 4.3 percent to 22,897.
In Dane County, from January through October, sales were slightly up, for a .61 percent increase over the same period from last year, at 19,822 compared with 19,701. Within that total, truck sales were up 6.71 percent for the year to 11,373, while car sales were down by 6.57 percent to 8,449, Reg-Trak data showed.
The business news you need
With a weekly newsletter looking back at local history.