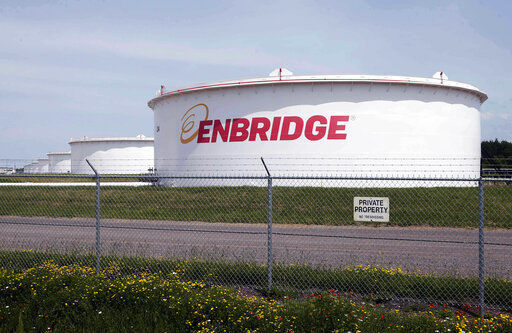 Citing threats to the climate as well as the land, water and residents, dozens of people urged environmental regulators to prevent a Canadian company from rerouting an oil pipeline through northern Wisconsin.
As a result of a lawsuit filed by the Bad River Band of Lake Superior Chippewa, Enbridge Energy is planning to remove a 12-mile segment of its Line 5 pipeline from the Bad River Reservation and bypass the reservation with about 42 miles of new pipe.
Enbridge is seeking permits from the Department of Natural Resources to cross dozens of public waterways and to disturb 109 acres of wetlands.
During an online public hearing that lasted more than five hours Wednesday, participants from across the state called on the DNR to deny permits for the project, which they said poses unacceptable risks.
"This is a choice between right and wrong, water and oil," said Ella Syverson, an 18-year-old Ashland resident. "Water is life."
Calling for the pipeline to be shut down entirely, opponents cited dozens of spills on Enbridge pipelines over the past 20 years, including a 2010 rupture in Michigan that cost $1.2 billion to clean up.
"There's no way of guaranteeing against any pipeline break," said Michael Goodman, of Madison. "It's a very severe gamble to be taking."
"It's a when, not if," said Linda Frank, of Shorewood.
Opponents also pointed to the role fossil fuels play in global warming, which has been blamed for increasingly frequent flooding and severe storms.
"This is the dying gasp of an industry that's had a stranglehold on our culture for a long time," said Christopher LaForge, of Port Wing. "It's long past the time we allow companies from Canada to exploit our land."
The company says the line, which transports an average of 540,000 barrels a day between Superior and southwestern Ontario, is a key piece of energy infrastructure. Enbridge notes the Wisconsin portion of the line hasn't had a spill in 15 years.
According to Enbridge, the line delivers liquified natural gas to a Plains Midstream Canada terminal in Rapid River, Michigan, that supplies propane to dealers in Michigan and Wisconsin.
Only a handful of people, including several trade union representatives, spoke in favor of the project, which Enbridge said will support 700 jobs and millions of dollars of economic activity.
"No one does it better than Enbridge and the contractors who work for Enbridge," said Derek Pederson, a representative of Building & General Laborers' Local Union No. 1091 who has worked on the line.
Others said the jobs will be temporary and the environmental impacts lasting.
"It's all risk and no reward for the people of Wisconsin," Madison resident Carla Giovannis said. "We just get left with the cleanup costs."
Last month, the Wisconsin Public Service Commission agreed to put a hold on Enbridge's request for the authority to take private land while the company negotiates with landowners in Ashland and Iron counties.
Enbridge spokeswoman Jennifer Smith said Wednesday the company has reached agreements with the "vast majority" of landowners.
"We are just about there," Smith said.
The PSC gave Enbridge until July 31 to withdraw its application for eminent domain powers without needing to respond to challenges from multiple groups and individuals.
Michael Isham, director of the Great Lakes Indian Fish and Wildlife Commission, criticized the timing of the permit hearing, saying the ongoing negotiation suggests Enbridge has not settled on a route, making it unclear just which waterways will be affected.
Isham said the pipeline is a direct threat to the Anishinaabe people, who rely on clean natural resources to meet their physical, cultural and spiritual needs.
"Oil production and transportation have had and continue to have disproportionate impacts on native peoples," Isham said. "Climate change is particularly challenging for our people — we are place-based."