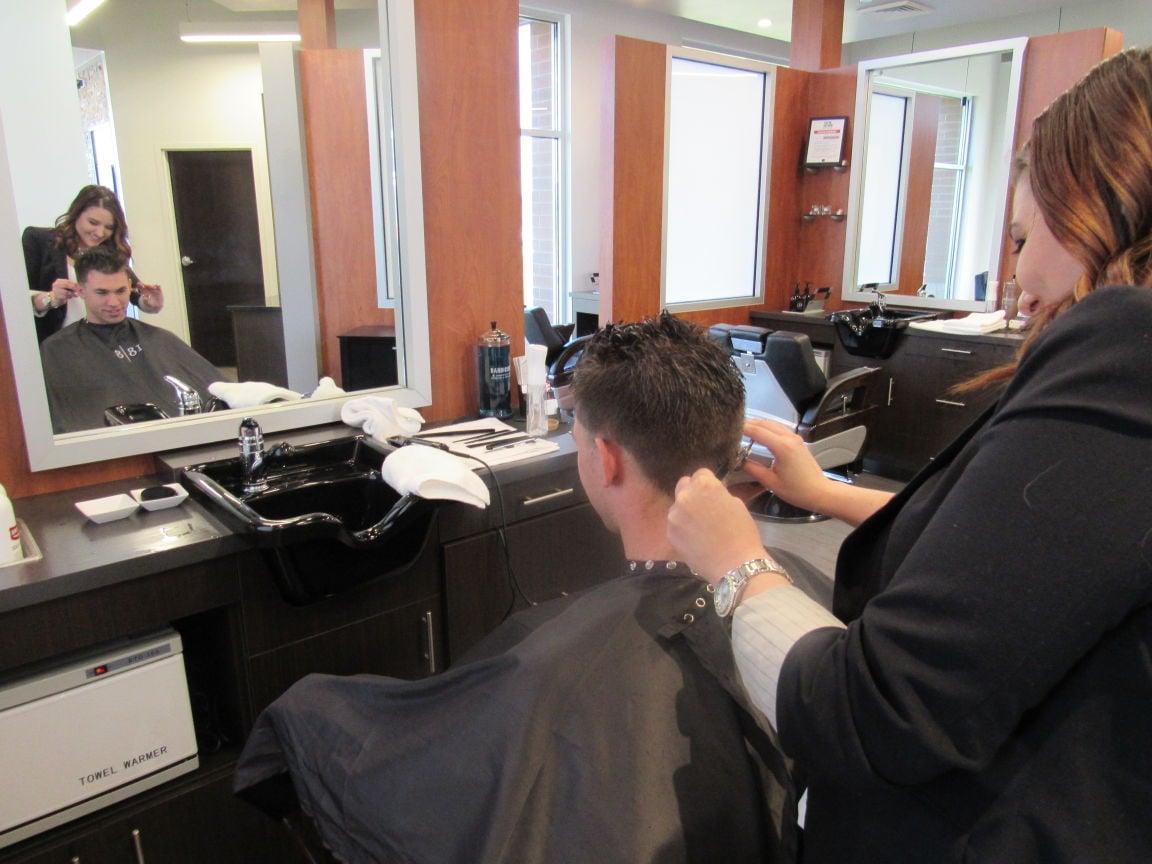 FITCHBURG — The red-and-white twirling barber pole is nowhere to be found but there is freshly brewed complementary coffee from Starbucks, a refrigerator stocked with soda and water and shelves lined with Post Shave Balance Balm, scalp cleanser and Stache Wax.
The 18-8 Fine Men's Salon that opened across the parking lot of the SuperTarget in the Orchard Pointe shopping center bears little resemblance to an old-fashioned barber shop. It occupies a similar amount of space as the discount hair salons that have flooded the Madison market and that offer haircuts, at times, for under $10, but the similarities end there.
At the 18-8, a typical cut can take 45 minutes, cost $36 and include a shampoo and conditioner treatment and end with a hot towel finish. Other packages include neck and shoulder massages, head shaves, manicures and pedicures and hair coloring. A 30-minute shave with a straight razor is $35.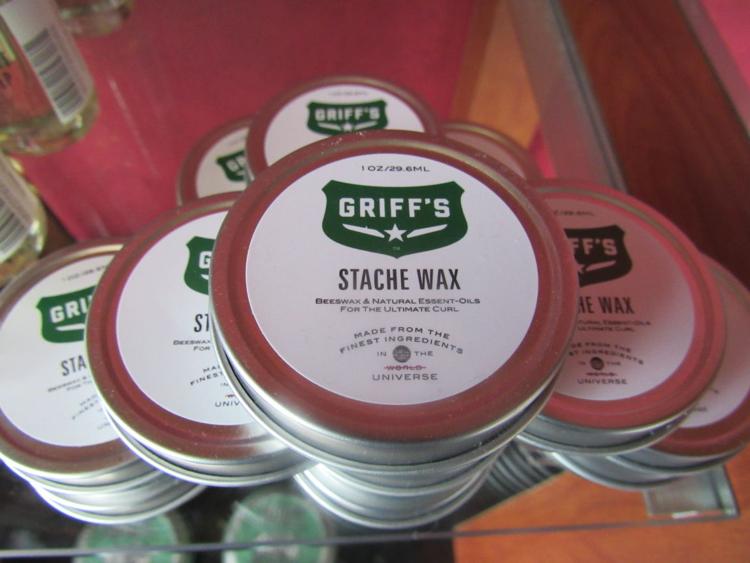 Stylists use a cutting methodology with scissors or clippers over a comb for a handcrafted haircut.
"It takes into account the client's head shape, hair density as opposed to using (clipper) guards where you're just going over the client's scalp," said John Shaw, a Middleton attorney, who owns the business with his wife, Midori Shaw. "If there's any imperfection, that imperfection is going to show in the haircut itself."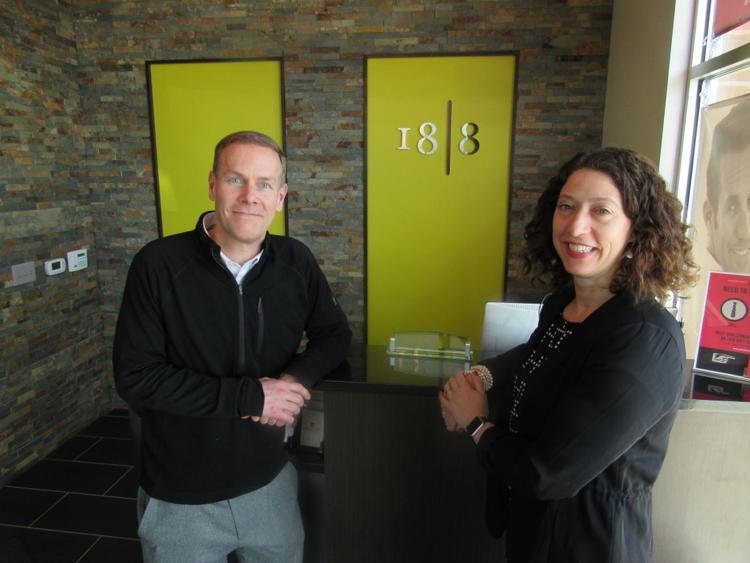 The business, part of a national chain with 80 locations around the country, is the first entrepreneurial venture for the Shaws, who had no experience in hair care but were looking for a franchise opportunity. They considered a quick-bake wood-fired pizza chain but in the end selected 18-8, an upscale hair salon for men that could have more than 400 locations by the end of the year.
The Shaws have the franchise rights to open two more salons in the Madison area and admit that it is a paradigm shift for some of their customers.
"It is if you're used to going to someplace and getting a 15-minute quick haircut, but if you're a guy interested in trying something new this is right in your wheelhouse," John Shaw said. "This is just for men."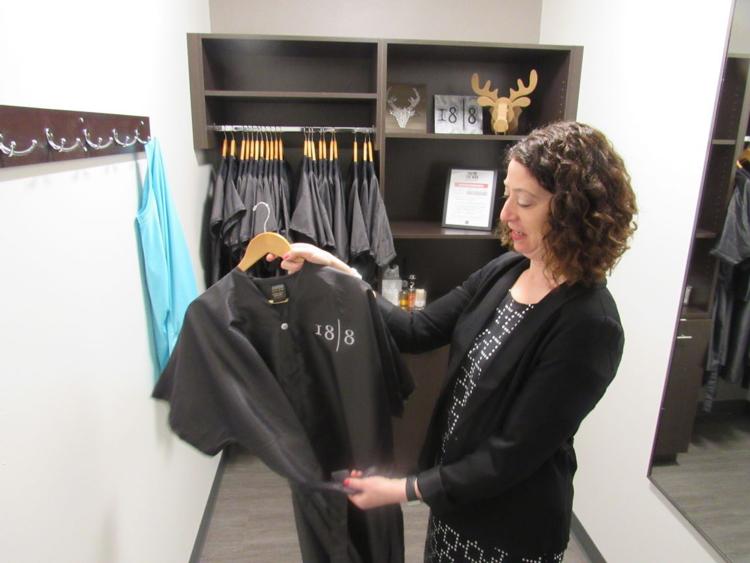 The salon's name is based on the formula to make stainless steel, which includes 18 percent chromium and 8 percent nickel. Those seeking a franchise with the California-based company, which was founded in 2002, must have $100,000 liquid cash, a minimum net worth of $300,000 and the ability to invest or finance up to $317,000 for a single location, according to the company's website.
The Shaws met in law school at Hamline University School of Law. After graduation, they spent seven years in Alaska where John practiced immigration law and Midori was a prosecutor in Anchorage. They moved to Madison in 2000 so John, 50, could pursue an MBA in real estate at UW-Madison. He spent several years working on tax credits for subsidized housing but had an urge to own a business and began working with a franchise consultant.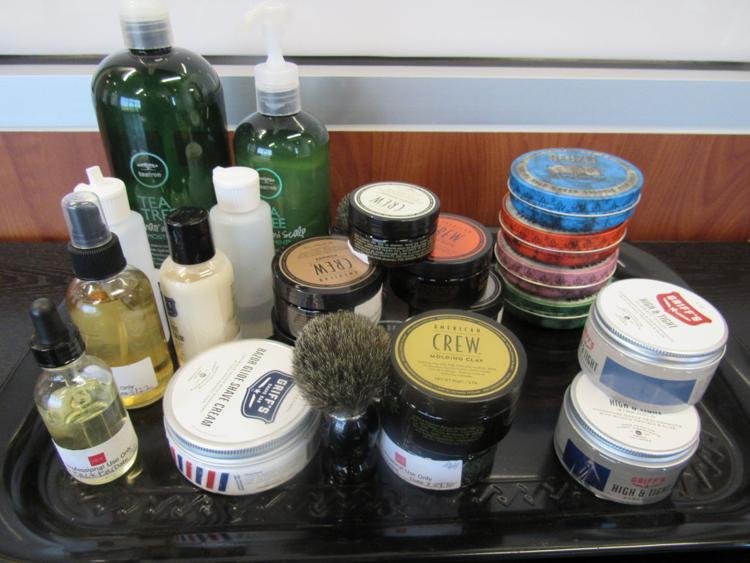 You have free articles remaining.
The Fitchburg salon opened at the end of March and is the second location in the state for 18-8, joining one in the Milwaukee suburb of Elm Grove that opened in June. The Shaws' business is located near a Gold's Gym and a Hy-Vee grocery store, and next to Elements Massage. The Flying Hound Ale House, a popular craft beer bar, is just a feet away.
"We wanted to find a location that had good visibility and good demographics with a good mix of residential and business members," Shaw said. "Epic (Systems in Verona) was very appealing being so close by. They're right in our wheelhouse."
Customers at 18-8 are ushered to a changing room to swap out their shirt for an apron to keep hair particles out of street clothes. There's also a private consultation room that doubles as a spot for chest and back waxes that start at $40. Cuts and other procedures are done in one of 11 semi-private cutting stations, each with towel warmers and wide berth, heavy-duty chairs that can hold up to 500 pounds.
"It's really a niche," Shaw said. "I didn't think there was anything like this in Madison. Some women's salons do service men, but it's not their focus. I think there's an opportunity here."
More retail coming to Middleton: A 32,000-square-foot building is under construction at Greenway Boulevard and Deming Way, near Greenway Station.
The two-story building by Middleton-based Kraemer Development is scheduled to be completed later this year and includes 9,800-square-feet of retail space on the first floor with outdoor patio space and underground parking.
Jesse Schluter, Wisconsin Commercial Real Estate president, said the building's second floor has been leased to Robertson Plastic Surgery. The first floor of the building will be home to a Studio 262 Salon and Zoup, a soup, salad and sandwich restaurant, while an additional 3,900 square feet remains unfilled.
The location is passed by more than 20,000 vehicles a day and is surrounded by 4 million square feet of office space, according Jeff Kraemer, owner of Kraemer Development.
"The site really has extraordinary potential," Kraemer said.
New tenant announced for Galaxie building: Just days after the opening of the 55,000-square-foot Festival Foods at 810 E. Washington Ave., Associated Bank announced last week that it will open a branch on the second floor of the 14-story building.
The 700-square-foot Associated branch will replace the company's existing operation and offices at 202 State St., but all employees will move from State Street to the Washington Avenue branch when the project is completed this fall, said David Stein, executive vice president and head of Consumer and Commercial Banking for Associated.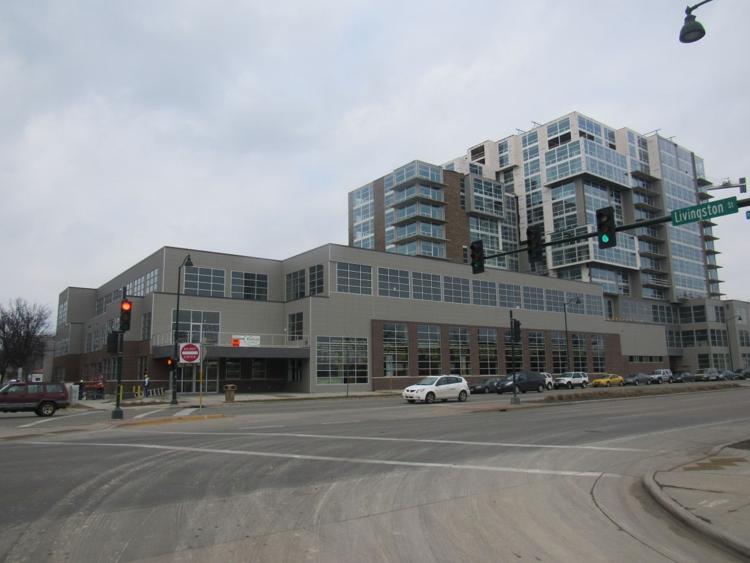 "Our new branch, with its improved accessibility in a centralized location, will feature a range of contemporary banking services in a modern, highly attractive setting," Stein said.
Associated Bank operates 16 branches in Dane County. The Galaxie building includes 198 apartments with 97 more living units planned.
The building has 15,000 square feet earmarked for retail and another 90,000 square feet for commercial use. There are plans for a sports bar, restaurant and bank, while PilateSpa, Earth View Yoga and Omni Fight Club will open soon.
The building includes a multi-level parking garage, two levels of which are reserved for grocery shoppers.
Send retail-related tips and story ideas to badams@madison.com or call Barry Adams at 608-252-6148.