The idea for CultureTrax, a new software platform for stem-cell researchers, came after founders saw that scientists doing some of the world's most complicated biological research were still using pen and paper to document their experiments.
CultureTrax was created by Cellara and was launched for commercial sale to stem-cell labs last month. The platform helps researchers better share and understand each other's work by standardizing the documentation process and keeping data all in one program, rather than in separate notebooks, spreadsheets or digital documents.
Cellara CEO Scott Fulton, who had successfully launched another startup, BioSystem Development, before selling that company to California-based Agilent in 2011, said that the pen-and-paper or even electronic notebook system for researchers was detrimental to labs as a whole. An individual researcher could often read and understand his or her own notes, but if that researcher left before finishing a project or got sick, the notes could be indecipherable to other researchers in the lab.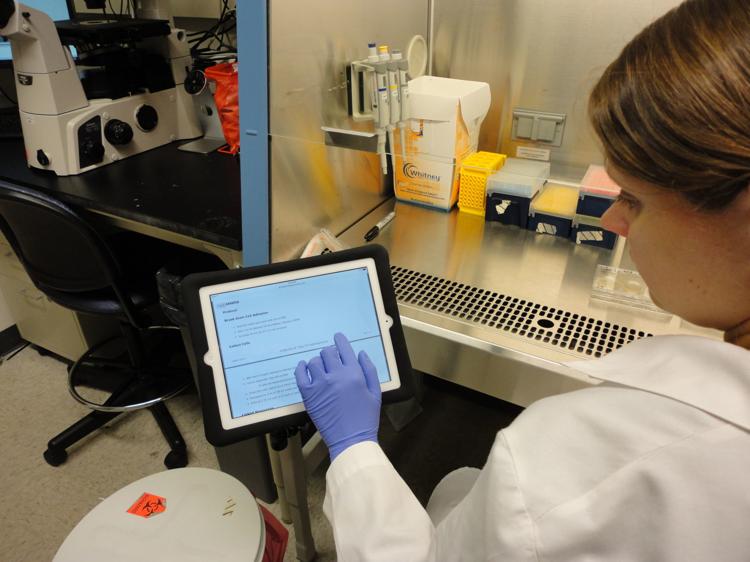 "It was really surprising to us at the beginning that the people that are doing the most sophisticated kinds of biology that's pretty much going on anywhere right now were still using these traditional tools for documenting what they're doing and communicating," Fulton said.
Experiments involving stem cells require daily monitoring, said Rebekah Gundry, a researcher at the Medical College of Wisconsin. If a researcher leading a project couldn't make it into the lab and couldn't accurately relay to another lab member the work that needed to be done, that experiment and the cells used would often need to be thrown out.
"We built software that helps them track their research in this really graphical way," Fulton said. "It's kind of like you have a common framework, a common language to record all these experiments quite comprehensively."
The cloud-based platform allows researchers to document their processes, schedules and results step by step, creating a sort of map from the starting point to the end of an experiment. That researcher could share the file for that experiment with other researchers both inside and outside of the lab.
With the program's simplicity and clarity, Gundry said that researchers can trust that another lab worker was able to correctly and accurately complete tasks laid out in CultureTrax.
Labs at the National Institutes of Health, Kings College in London and the Broad Institute of MIT and Harvard also use CultureTrax, Fulton said.
By standardizing the documentation template for these experiments, other researchers can better understand another scientist's work and then replicate it. Scientists test each other's work by redoing experiments to determine whether the results will turn out the same or if it was a fluke, Gundry said.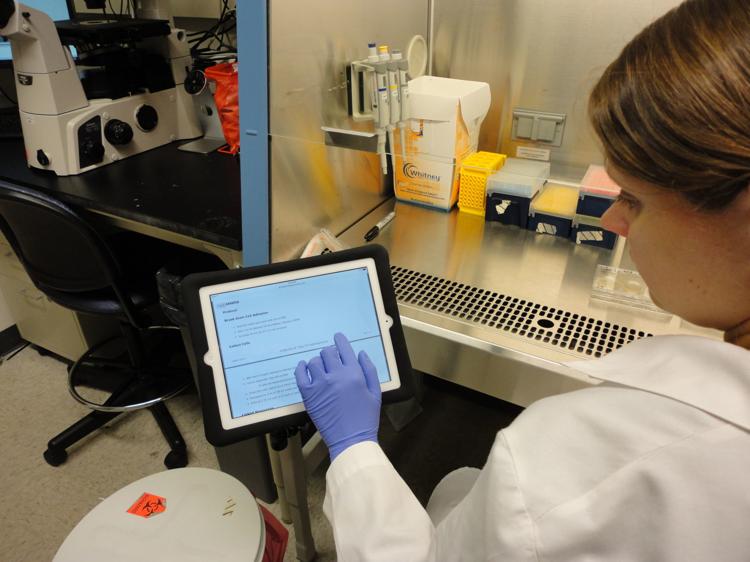 "It's not enough to show that something works one time," Gundry said. "When something really takes hold is when many investigators around the world are able to get similar results."
In Gundry's lab, she said that she and the other 10 researchers use CultureTrax every step of the way. They are able to plot out their experiment schedules on their computers before the project even begins, and each day, they will be able to go to where the cell cultures are stored and view the planned to-do lists on an iPad kept there. They are able to record data and other notes for their experiments in the same program, without having to switch software programs.
"Before CultureTrax, it was a very cumbersome combination of Excel worksheets with word documents, paper, but it was all disconnected," Gundry said. "The platform streamlines everything related to cell culture."
Quicker and more accurate
A small-scale study funded by the National Institutes of Health and conducted at Madison Area Technical College's teaching laboratory evaluated how well a group of 12 researchers could follow a new-to-them protocol in a paper notebook compared with 15 researchers of the same experience level using CultureTrax. The study found that only three of the researchers using the paper notebook could complete the protocol fully, while all of the researchers using CultureTrax could complete the protocol.
The researchers were also able to more fully document their findings and in less time than those using the paper notebook, according to the study report.
CultureTrax is marketed toward stem-cell researchers, but Gundry said her lab uses the platform for other cell-based research, as well. Her lab primarily works with cardiac cells, including heart muscle, and any experiment using cell cultures is documented in CultureTrax. She said it could apply to any biological research involving cell cultures.
Fulton said the project has taken about four years to reach commercial sale and has been almost entirely funded through angel donations from Wisconsin investors and companies.
Cellara was founded in 2012 with the intent to produce software and automation hardware, but the focus shifted in 2015 to just software, said Rachel Bolger, vice president of customer engagement. The company currently has four employees — the same number it started with — but plans to grow as more labs begin to use CultureTrax, she said. The company is partnered with Acumium, a Madison-based software development company.
The development process began with months of meetings between the Cellara team and lab directors and researchers, including Gundry. In the meetings, the researchers explained what they would need a fully comprehensive platform to do, Gundry said.
"I think this company probably could only have come about in Wisconsin," Fulton said. "We have this sort of unique combination of lots of activity in the stem-cell field and also lots of software developers."
[Editor's note: This story was updated to correct the spelling of Madison software development company Acumium.]