An influx of donations from community members and businesses propped up local nonprofits this year as they help people whose lives continue to be ravaged by the pandemic's economic effects, but local charity leaders worry fewer dollars may come in next year despite ongoing need.
Even as nonprofits see a surge of new cash, requests for goods and services are skyrocketing. Second Harvest Foodbank of Southern Wisconsin said food distribution is up 55% compared to last year, and the United Way of Dane County said its 211 helpline is receiving about four times as many calls.
But the pandemic won't end on Dec. 31. Nonprofit leaders fear donors' generosity will wane.
"We anticipate that we'll be hitting donor fatigue with the pandemic," said Kris Tazelaar, director of marketing for Second Harvest.
Boys & Girls Club of Dane County president and CEO Michael Johnson said his organization had weathered the increase in service requests through donations, but he expects it will be hit hard next year as donations slow.
The United Way of Dane County also needs more money to serve community members, said chief financial officer Rick Spiel. Despite a fundraising drive in the spring as COVID-19 swept the country, needs are still greater than revenue.
Some corporations have answered the call for cash through millions of dollars in grants and by matching donations made by employees over the past few months.
For example, the United Way of Dane County relies heavily on donations from corporations and coordinated employee giving, which makes up about a third of its budget, Spiel said.
The United Way's methods of securing and disbursing funds hasn't changed much in the past decade. The organization still relies heavily on its corporate partners and uses grant applications every two years to award funds, though much of that has been moved to online portals.
There is a downward trend of donations to the United Way, which coordinates donations to other nonprofit organizations, vice president of community engagement and marketing Karen Burch said, as donors are now more able to give directly to charities.
But she said the United Way is still a good choice for charitable donations because the organization has a history and structure for vetting nonprofits and targeting funds toward those who have the most need.
Money given directly to nonprofits can be more helpful to some charities, said Mary Beth Collins, executive director of the UW-Madison Center for Community and Nonprofit Studies, but the United Way has also shown its worth by collaborating with other local leaders to raise emergency funds at the onset of the pandemic.
"This is a good example of how the United Way, as it evolves and possibly shifts in its role in the community, remains an important convener with the capacity to do some brokering and hosting of this kind of opportunity," Collins said.
Making ends meet
Second Harvest Foodbank of Southern Wisconsin is one of many nonprofits struggling to keep up with the increased demand. With an unemployment rate that skyrocketed earlier in the year, more families had to stretch fewer dollars further, relying on food pantries to provide meals.
"We have received tremendous support," Tazelaar said. "But expenses are still outpacing the level of support."
While continuing to provide food to pantries across the region, Second Harvest has also more than doubled the stops of its mobile food pantry. The program is designed to go to the most underserved areas in the region where there may be less access to pantries.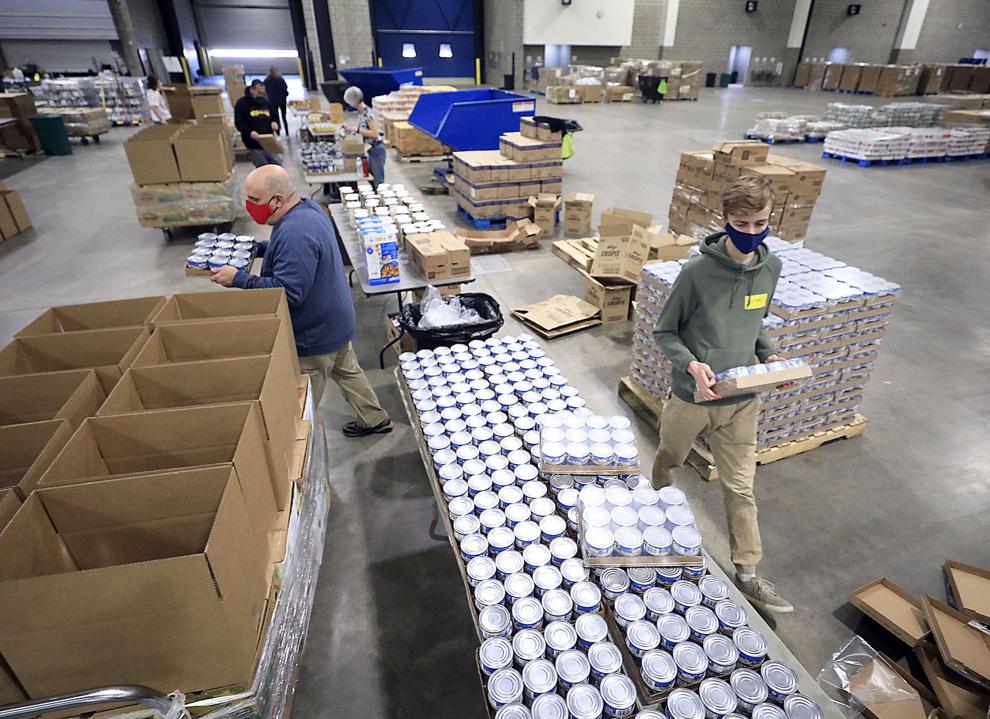 Second Harvest's food distribution increased by half this year, Tazelaar said.
To help address the increased demand for food, some companies, such as Epic Systems Corp., are doing the work themselves.
Epic transformed the work of its culinary department to provide more than 120,000 meals during the pandemic. With the pandemic keeping many office workers away from campus and not buying lunches, Epic's culinary staff began preparing and packaging meals to donate, said Andrew Tyler, who manages charitable donations at Epic.
Epic also offered the use of an office building in Madison as an in-kind donation during COVID-19. It's been used as a day care center for children of medical professionals and is now being used as a day care for school-aged children attending school online, Tyler said.
"If we see a need in the community, we try to get creative about it," Tyler said.
Corporate giving
Companies including American Family Insurance and CUNA Mutual Group use foundations to direct their philanthropic spending. The American Family Insurance Dreams Foundation launched just four years ago, but the CUNA Mutual Group Foundation celebrated 50 years in 2018.
Backed up by a $20 million endowment, CUNA Mutual's foundation has donated between $2 million and $4.8 million to charities over the past five years with a focus on equity and social justice, said Alexzandra Shade, director of corporate social responsibility.
The foundation expects to award about $3.8 million to charity this year — similar to the 2019 amount — Shade said. Toward the start of the COVID-19 pandemic, CUNA Mutual's foundation also ran an employee fundraising campaign with matching donations for a total of about $400,000 for community relief.
"We believe it's important to support our communities in the long term, while also recognizing short-term needs during this time," Shade said in a statement. "We've worked hard this year to listen to each of our partners, trust their work and what they identify as needs, and be responsive to that."
American Family also has a tradition of matching campaigns, community social impact officer Jim Buchheim said. With existing funds in the foundation and a 2-to-1 match for employee donations, American Family's foundation awarded about $4 million to nonprofits in the 19 states the company and its groups operate in.
While funds from the foundation are awarded in many states, Wisconsin nonprofits still receive the largest portion of the dollars each year, Buchheim said.
"In our home state, we recognize very clearly and acutely some of the needs and gaps that exist," Buchheim said. "For example, the racial disparities that exist not only in Dane County but across the state of Wisconsin."
Drilling deeper
Some companies are also changing the way that they're giving, said Collins.
A staple of corporate giving throughout the years has been through sponsoring fundraising events, such as dinners or galas, Collins said. While those events can raise the profile of both the company and the charity, Collins said many companies are instead focusing on giving more money to the organizations for programs and services instead.
Companies like Epic are also stripping away some of the bureaucracy of charitable giving.
Some companies give donations that are earmarked for specific programs or purposes, and some require financial audits and regular detailed reporting, which can be a burden to some smaller nonprofits, Collins said.
Requiring nonprofits to stick to specific goals outlined in grant applications can also be a hindrance for organizations that need to pivot priorities.
"What we really want and need nonprofits and these organizations to do is be authentic about what working and what's not," Collins said.
Epic's Tyler said the company doesn't often put earmarks on funding, instead trusting the nonprofits to know where funds will be most useful in addressing both systemic and emerging needs.
While several local corporations have risen to meet some community needs, there are still too many companies nationally that choose to do very little, Collins said, but consumer influence may lead more to philanthropy.
"There is a growing expectation that if companies and their principals (investors) are going to hold this much power and these many resources, they need to get in the game of the greater good," Collins said.
Editor's note: This story was corrected to reflect that Epic Systems has provided more than 120,000 meals during the pandemic.