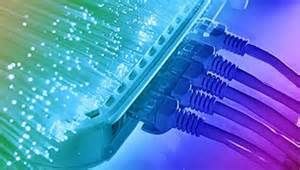 Efforts to bring high-speed internet to rural Wisconsin residents and businesses got a double-boost on Thursday, with up to $61.5 million in additional funds being funneled toward projects to expand broadband.
Gov. Scott Walker asked the state Legislature to pass a bill that would allocate an additional $35.5 million over the next three years to make broadband more accessible to rural residents and businesses.
The proposal, to be funded by a surplus in the state's Universal Service Fund, would triple Wisconsin's broadband and technology investments to $52 million for the 2017 through 2019 fiscal years, Walker said.
"It will allow Wisconsin communities, especially in rural areas, to compete for jobs, improve education, and provide a higher quality of life," the governor said.
The money includes grants to expand high-speed internet access in rural areas, and for schools and libraries to upgrade their internet access and train teachers.
Also on Thursday, the state Public Service Commission approved spending up to $26 million in the 2017 and 2018 calendar years toward new programs for rural areas that couple energy efficiency projects with broadband upgrades.
The PSC action puts broadband benefits — for the first time — into the mix of incentives offered through the Focus on Energy program for energy efficiency and renewable energy projects. It also calls on internet service providers, from local companies to national giants, to offer a package of energy- and internet-related incentives.
You have free articles remaining.
That means, for example, rural homeowners may be able to get a $50 rebate for installing high-speed internet along with a rebate for adding a smart thermostat. "Smart thermostats use the internet to adjust the energy consumption in your home," said Bob Seitz, executive assistant to PSC chairwoman Ellen Nowak.
The plan drew some critics.
"The Public Service Commission continues to try to fit a square peg in a round hole," Andy Olsen, senior policy advocate for the Environmental Law & Policy Center, said in a statement. "Using Focus to fund internet subscriptions only helps people who already have broadband access; it doesn't increase access to those who could most benefit."
Mitch Brey, campaign director for RePower Madison, said the money should go toward energy efficiency and renewable energy projects instead.
"Focus on Energy was not intended by the Legislature to fund broadband. Unless they can be shown to reduce energy bills, we are concerned these new programs may not satisfy legislative requirements," Brey said.
PSC chairwoman Nowak said the program is not meant to subsidize putting fiber-optic cable into the ground. "This is about the nexus between broadband and energy, as has been recognized by the Federal Communications Commission. This is about realizing that increased investment in broadband spurs investment in devices that assist in energy management," Nowak said at the PSC meeting.
The statewide Focus on Energy program is operated by CB&I, a global energy technology and services company with a U.S. base in Texas. It is funded by utility companies with money collected from customers' monthly bills.
As many as 100,000 rural households could benefit from the PSC's broadband program, PSC spokeswoman Elise Nelson said.
The PSC also authorized up to $20 million in Focus on Energy incentives for an anaerobic digester project to be developed that would produce renewable biogas for use on farms.