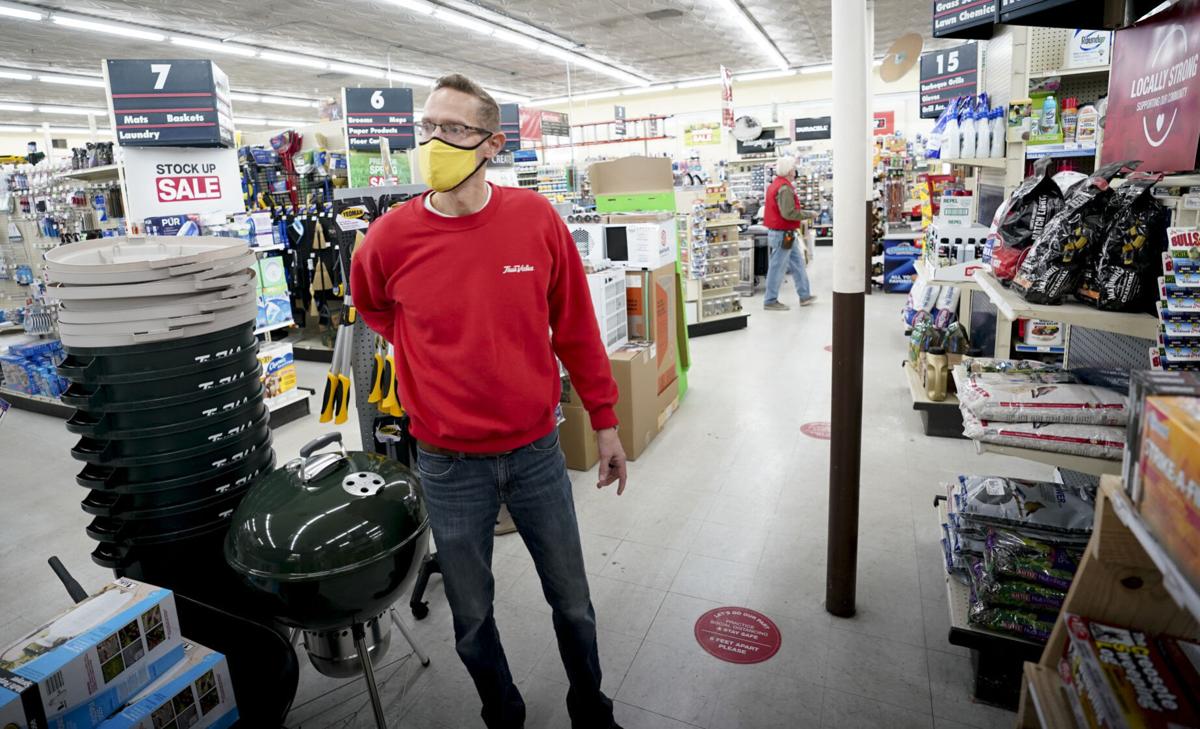 The first pandemic product to disappear from the shelves at Dorn True Value Hardware stores were N95 masks customers were purchasing to send to relatives in China.
"That was the first inclination people were looking for something out of the ordinary," said Tom Dorn, president and co-owner of the local chain of hardware stores.
Then it was any mask, followed by sanitizing sprays, cleaning chemicals, paper products, gloves and Plexiglas.
"These categories, we were just wiped out," Dorn said, recalling last spring as people went into pandemic-purchasing mode.
In a "fairly slow-growth business," Dorn said, it's typical to see sales fluctuate by about 3% in a given year. But in 2020, revenue across the four Dorn hardware locations in the Madison area was up 25% to 30% compared to the previous year, he said.
"Some of these things are just windfalls," Dorn said. "We are typically not a business that sees these dramatic swings."
Part of the growth was fueled by existing customers buying more products. The other part was new customers to the hardware stores located in Madison, Oregon, Sun Prairie and Verona — the newest location in the family-owned company that opened in 2018.
When the "safer at home" order hit last spring, Dorn said, the hardware stores remained opened as essential businesses, albeit with shortened hours.
"When your sink starts leaking or your toilet's not working, you kind of have to repair it," he said. "If you look at us as a repair store, I understand why we were deemed an essential business. Does it say that everything we sell is essential? No."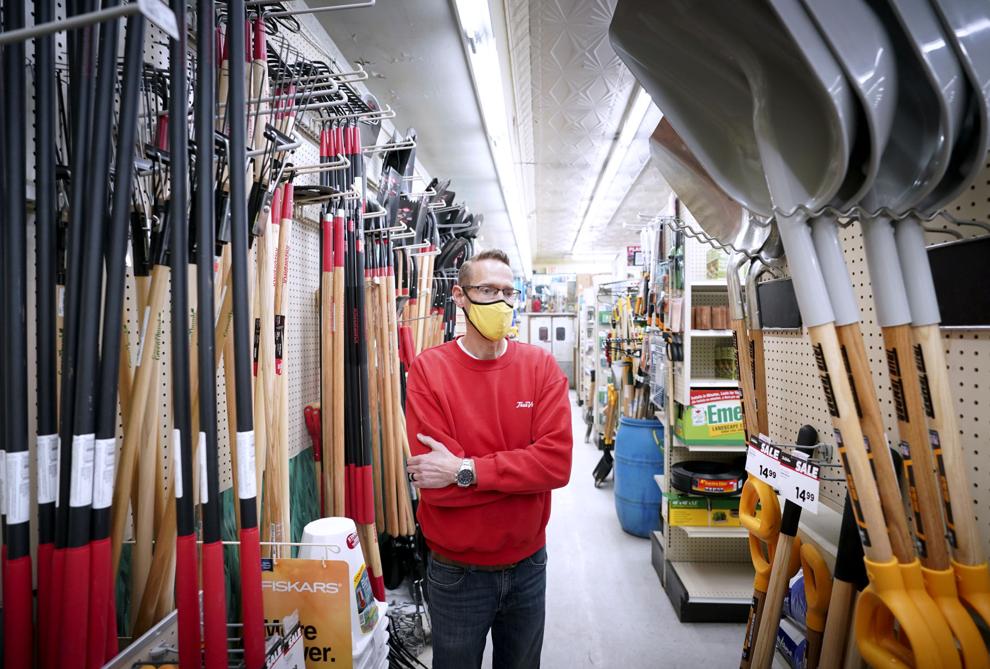 Cooped up at home, people used newly found free time to paint rooms and spruce up outdoor patios and yards in the late spring and early summer last year, Dorn said. The increased demand was complicated by limited supply, from product shortages of paint-making resin to simply not enough Toro lawnmowers.
"I feel for other businesses," Dorn said. "It almost makes me feel guilty to do this well when restaurants were forced to close."
Nationally, the hardware and home improvement industry saw explosive growth in 2020 for many of the same reasons customers shopped at the Dorn locations.
Home Depot — the world's largest big-box home improvement retailer — reported a "recording-breaking" year with sales in 2020 up about 20% compared to the previous year, while competitor Lowe's posted similar figures.
Another experience
But it was not a universal experience for Madison-area hardware stores.
At only 4,000 square feet, the Ace Hardware Center on the Near East Side has for decades been a snug fixture of Williamson Street to pick up nuts and bolts, shelves, gardening supplies and tools.
Steve Shepherd, who co-owns the hardware store with his brother Tom, said they were initially confused about whether the store could stay open when the governor ordered nonessential businesses to close.
Even after receiving clarification their store was considered essential, the brothers said they decided to halt in-person shopping because the shop's tight quarters and a bottleneck in front of the cash register made social distancing difficult.
The store, at 1398 Williamson St., switched entirely to call-in and online purchasing for more than a year, he said. Limited in-person shopping resumed at the beginning of April this year.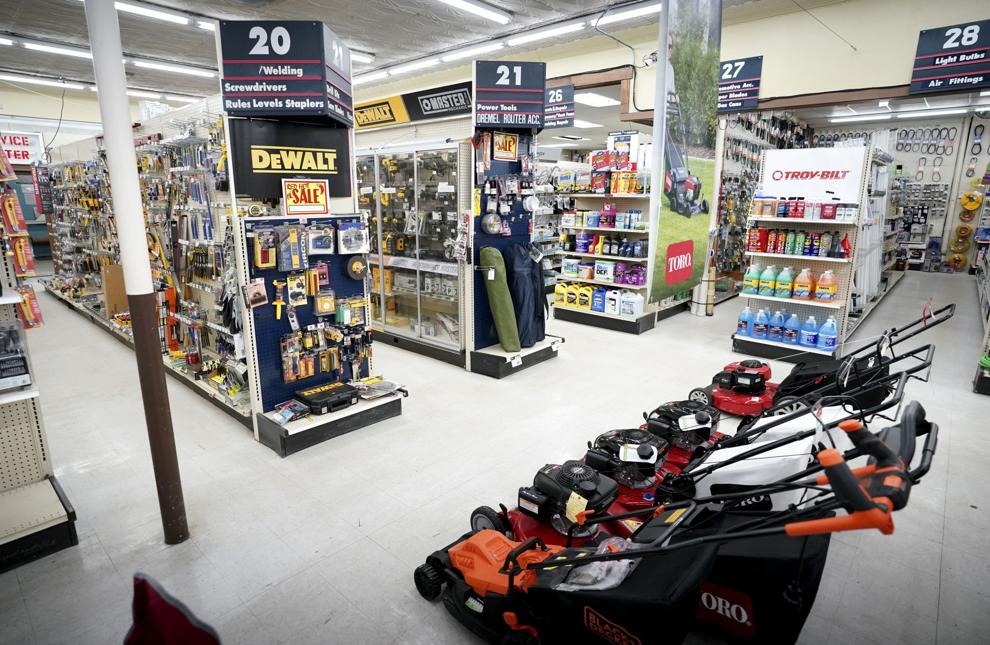 There was a push for products early on in the pandemic, Shepherd said, especially outdoor and gardening items. But like Dorn, Ace Hardware Center had difficulties restocking when products sold out.
Ultimately, the shop experienced a drop in sales in 2020 unlike the "hyper sales" trend the industry had seen as a whole, Shepherd said.
"We did what we did for what we considered to be safe for ourselves and our customers," Shepherd said. "It wasn't great for business, but we're not unhappy we did it."
Now that shoppers are being let back in — initially starting with a maximum capacity of five people — Shepherd said he's "cautiously optimistic" 2021 will be better.
"We've always had good support from the neighborhood," Shepherd said. "They kept supporting us through all this, which was great."
Moving forward
The surge in hardware purchasing has been a boon for Dorn's Madison location at 1348 S. Midvale Blvd.
Home Depot moved in across the Beltline in the early 2000s, creating direct competition for the store. Then came the years-long reconstruction of Verona Road, which was "horrible" for the location, Dorn said. It cut off direct access to the parking lot and left many customers believing the hardware store had closed, he said.
"That really hurt," Dorn said. Still, "we stayed open the entire time."
A separate fishing pro shop in the basement of the West Side hardware store also took off last year as sales increased approximately 40%.
"There were a fair amount of new people, or they maybe were a once-a-year fisherman, now they started going out every weekend," Dorn said.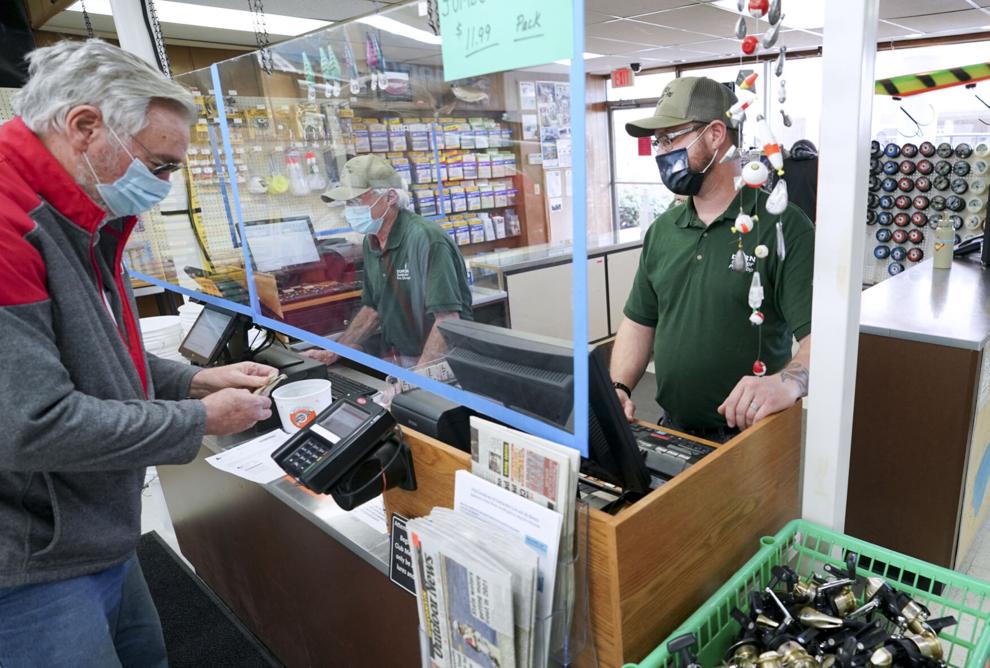 At the beginning of the pandemic, Dorn took out a federal Paycheck Protection Program loan just to be safe. Ultimately, he said he was able to offer higher "COVID pay" to employees for three months, reviewed overall pay rates last summer and provided year-end bonuses for employees who had worked the majority of 2020.
Dorn said he doesn't expect business to remain the way it has through COVID-19, foreseeing a slowdown to more normal sales as the economy continues to reopen and activities and events return.
"People are going to go back to going to the Brewers games, they're going to go back to the Badgers football games. They're not going to spend Saturdays mulching their yard," Dorn said. "In fact, now that they took care of their house, they're going to kind of take a year off — or five years off."
Dorn said he doesn't expect business to remain the way it has through COVID-19, foreseeing a slowdown to more normal sales as the economy continues to reopen and activities and events return.