What for years has been vacant manufacturing space on Madison's Near East Side is on track to become the latest addition to Wisconsin's growing craft distilling industry.
John Mleziva, a recent graduate of Heriot-Watt University in Edinburgh, Scotland, one of the premier distilling programs in the world, is building a $1.2 million distillery and tasting room at 1413 Northern Court. Construction of what he is calling State Line Distillery is scheduled to be completed by spring with production starting this summer.
The 6,500-square-foot facility will include 5,000 square feet of production space and room for a 1,000-liter (262 gallon), 28-foot-tall Kothe still from Germany. While much of the production will be focused on clear spirits like gin and vodka, Mleziva also wants to distill whiskey and age the products in white oak barrels. The remainder of the space will be used for a tasting room designed to hold 50 people with an outdoor patio overlooking the 174,000-square-foot, $25 million State Archives Preservation Facility under construction across the railroad tracks at 201 S. Dickinson St.
"It's a classic industrial building and it's ideal for a distillery in terms of ceiling heights, which was tough to find," said Mleziva, a Minnesota native. "I think refurbishing a building like this is pretty cool in terms of bringing it back to its glory. It's pretty rough, but everyday it's going to get a little better."
Plans call for distilling two to three times a week, initially making 1,000 cases of spirits in the first year and ultimately producing 7,000 cases a year. By comparison, Death's Door Spirits in Middleton has a capacity to make 100,000 cases a year, said Mleziva, who worked at Death's Door for six moths to learn more about the industry. Mleziva is also getting assistance from Mark Anunson, who will serve as production manager and previously worked at Few Spirits in Evanston, Illinois.
"We connected several years ago and when he and his wife moved to town, we decided to work together in this endeavor," Mleziva said. "And while he isn't a financial partner, I absolutely see him as a partner in this project. Mark has been extremely helpful in helping me to get this dream started."
Mleziva began looking for investors in the project over a year ago. He currently has 22 investors in the project with each buying a minimum of 100 shares at $125 each. Mleziva also has a small business loan through First National Bank of Waunakee. He spent months looking for a location before hiring Cresa Madison, a corporate real estate firm, to help find a suitable spot.
What they found is part of a 13,000-square-foot cinder block building that in a previous life was home to a nickel plating company. Troy Sedlak and Eric Welch purchased the building in May. Creative Energy Design occupies the front of the building with another 2,400 square feet available for another business. The remainder, a series of faded walls, broken interior windows and crumbling cement flooring, will be used by State Line.
Improvements will include large glass windows on the building's west side and glass overhead garage doors to help open up the tasting room to the patio.
"It can be hard to envision, but there's a lot of time and money going into this," said Sedlak, who thought it would remain storage. "It's going to be a big change. We didn't know there would be so much demand, but it's going to be great for the community."
The distillery is another addition to the booming corridor and is located just a block off East Washington Avenue, a few blocks from Williamson Street and just south of the Yahara River near the Capital City Trail.
It's also just blocks from Breese Stevens Field; Bos Meadery, 849 E. Washington Ave.; One Barrel Brewing Co., 2001 Atwood Ave.; and Old Sugar Distillery, 931 E. Main St. Mleziva doesn't consider Old Sugar, known for it's whiskey, rum and brandy, as a competitor.
"What Old Sugar and what we're doing are pretty different in terms of spirit production. I will be laying down whiskey but out of the gate it's going to be vodka, gin ... the clear spirits," Mleziva said. "They're really kind of complimentary businesses. What I'm really excited about is creating kind of a distilling district."
State Line also joins other distillery businesses in the area such as Yahara Bay Distillery, which has just moved into a new $1.5 million facility on Nesbitt Road in Fitchburg; Wollersheim Winery & Distillery near Prairie du Sac that in 2015 opened a new $4 million distillery; and Minhas Micro Distillery in Monroe. Wisconsin is now home to 19 distillery operations, according to Guy Rehorst, president of the Wisconsin Distillers Guild and founder of Great Lakes Distillery, the state's first distillery that opened in 2006.
Mleziva grew up in Golden Valley, Minnesota, and graduated from UW-Eau Claire, where he was a biology major. He has a master's degree in higher education from the University of Minnesota and spent four years at Edgewood College where he was associate director of student activities.
In 2012, he left Edgewood to study for a year in Scotland and returned in late 2013 to work at Death's Door as an assistant distiller. Since September 2014, Mleziva has been at UW-Madison where he is an internship coordinator.
The distillery is expected to employ three to five people and use locally sourced ingredients from area farms. Mleziva also wants to create partnerships with area restaurants and food carts to make food available when the tasting room is open, according to a plan filed with the city.
Sergenian's chief lauded
Jim Garner, CEO of Sergenian's Floor Coverings, is being recognized for his contributions to small business.
On Wednesday, the Greater Madison Area Chamber of Commerce will present Garner its inaugural Ground Floor Award for small business leadership. The event will be held at the Madison Museum of Contemporary Art.
"Throughout his career, Jim has been a mentor, an advocate and a major contributor in Greater Madison's small business community," said Zach Brandon, president of the Chamber. "His hard work, innovation and leadership have made the Chamber, our businesses and our economy stronger."
Garner joined Sergenian's in 1963 and helped Sergenian's win numerous awards and become one of the top 50 floor-covering retailers in the country. Garner also helped start Wisconsin's first comprehensive carpet reclamation program that has kept more than 11 million pounds of carpet and padding out of landfills.
Garner serves on the Chamber's Executive Committee, has been a Chamber Board member for more than 20 years and is the founding chairperson of the Chamber's Small Business Advisory Council. He also has led several initiatives to support small businesses, including development of the Madison Small Business Conference and the creation of a nationally adopted road construction survival guide for small businesses.
Garner has held leadership roles with the Metropolitan Neighborhood Business Council and South Metropolitan Business Association and was inducted into the InBusiness Hall of Fame in 2012.
Energy improvements aid Monticello cheesemaker
Swiss Heritage Cheese in Monticello is planning to hire more people and grow its cheese company with the help of improvements designed to save the company $3,000 a month in energy costs.
The company worked with Focus on Energy to apply for grants to help cover the costs of $72,000 in upgrades. New to the plant are systems to recover heat off the outgoing hot whey to incoming milk; an economizer on the 100-horsepower boiler to heat process water and a cooling tower to take advantage of free cooling.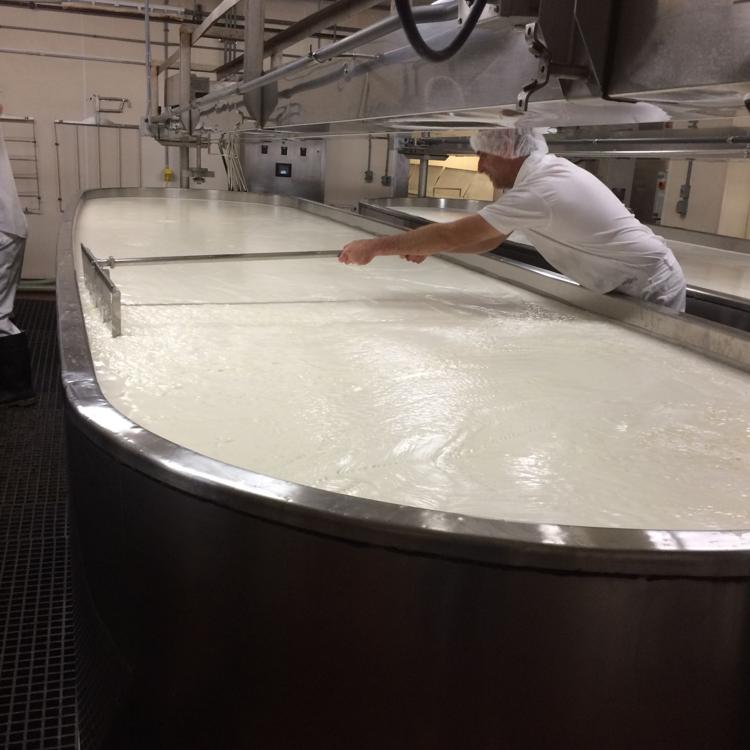 "We have been able to move forward quicker with the incentive to make more cheese because our costs are now down," said Joel Zimmerman, owner of the company. "We are a family-owned and operated cheese plant and we produce 10 varieties of quality cheese. We're looking forward to hiring more people, provide better paying jobs here in Green County and expand into new markets."
Founded in 2001, Focus on Energy is a statewide energy efficiency and renewable resource program funded by the state's investor-owned energy utilities and participating municipal and electric cooperative utilities. The program works with eligible Wisconsin residents and businesses to install cost-effective energy efficiency and renewable energy projects that otherwise would not be completed.