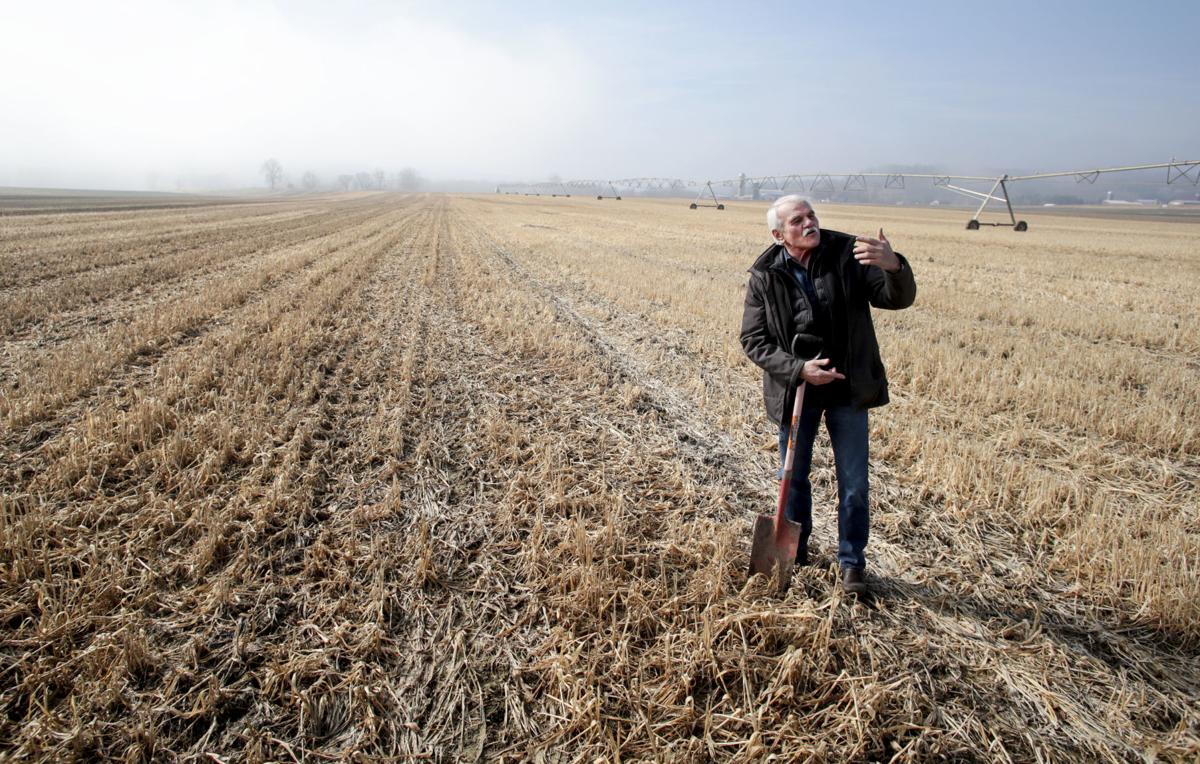 AVOCA — Standing in an organic farm field covered in old crop stalks and cow manure, biological farming expert Gary Zimmer stuck a spade about 3 inches into the ground and pulled up some agricultural dessert.
"That's what healthy soil looks like — chocolate cake," said Zimmer as the moist, crumbly dirt fell off the spade last week at his Iowa County farm just a few miles south of the Wisconsin River.
Creating healthy, mineralized soil is anything but a piece of cake, Zimmer said. But the payoff, he said, is worth it: The quality of soil determines the quality of the food we eat. And Zimmer's biological farming system leads to large yields of mineral-rich, nutritious crops without the use of any chemicals that alert regulators and scare consumers. It's also environmentally friendly because nutrients build up the quality of the soil and the crops, and don't leak into nearby waterways or create greenhouse gases that escape into the atmosphere.
"Biological farmers want to feed the soil life and create the ideal home (for plants) and we've got a whole concept," Zimmer said.
A major food manufacturer, General Mills, agrees. Last month, it announced it was partnering with Midwestern BioAg — the Madison-based biological farming company Zimmer founded in 1979 — to convert the 34,000-acre Gunsmoke Farm near Pierre, South Dakota, into an organic farm. When it's completed in 2020, it will become the largest organic transition in North America, Zimmer said.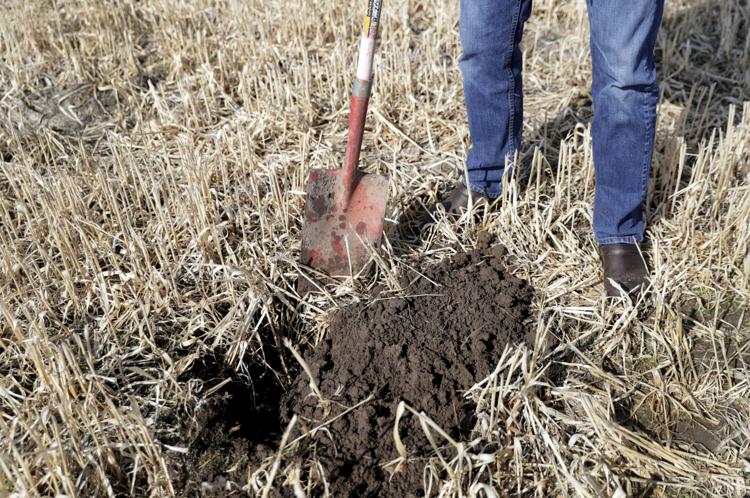 The plan calls for Gunsmoke to grow organic wheat for General Mills' Annie's Macaroni & Cheese line after spending two years converting the soil using the system Zimmer developed. The process is more rigorous and environmentally friendly than what is required from organic farmers, Zimmer said.
The farm also plans to plant up to 3,000 acres of pollinator habitat in cooperation with the Xerces Society to increase the populations of bumble bees, squash bees and honey bees, according to General Mills.
The Golden Valley, Minnesota-based food giant says it's part of its commitment to become a more environmentally friendly company. Besides offering products with more organic and natural ingredients, General Mills also wants to cut greenhouse gas emissions by 28 percent by 2025 because it believes climate change is bad for business.
"We recognize that agriculture practices contribute to some of today's most pressing sustainability challenges, and we are hopeful that regenerative agriculture practices can provide large-scale solutions for restoring healthy soil and a healthy ecosystem," said Carla Vernon, president of the Annie's operating unit. "Together with growers, we want to revive our ecosystems, reduce levels of global greenhouse gases and produce food to sustain a growing population for generations to come."
A game-changer
The 73-year-old Zimmer believes the intense focus on biological farming and his world-renowned recipe to improve soil health as part of the South Dakota project could be an agricultural game-changer. "It can demonstrate how large-scale successful organic farming can produce high-yielding, high-quality crops and environmental benefits from the type of farming and the total land management," he said.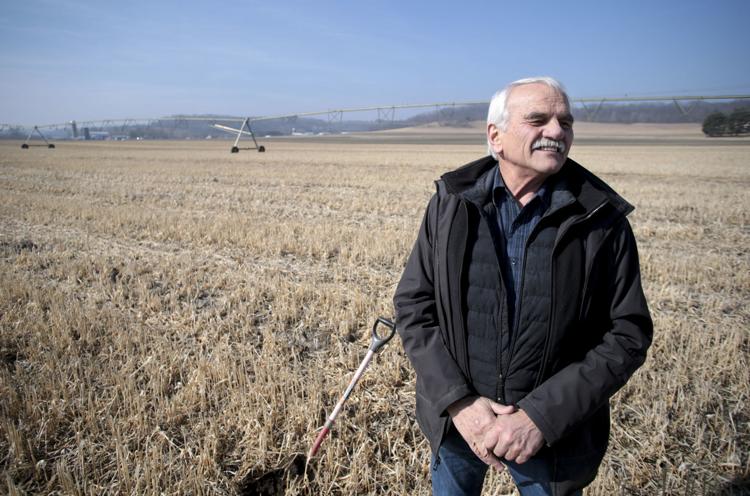 The high-energy Hortonville native, who says he prefers working on his many projects at home and around the world over any hobbies or social life, welcomes the attention for one of the great passions of his life. He used his concepts to turn Midwestern BioAg into a multimillion-dollar corporation with offices in seven states, write two books and become a sought-after speaker and consultant.
While Zimmer said he's nervous about the project, he speaks with confidence about its potential and says he can't wait to grow that first crop of organic wheat in 2020.
"We're going to hit a home run with the first crop," he said. "They're also going to measure the nutritional value of this wheat. So now that's the next step in agriculture."
Tests comparing organic and non-organic foods have found there isn't much difference in their nutritional value, but Zimmer said those tests have been incomplete at best.
Further testing is needed, he said, to compare the plants' level of natural protective compounds that help them ward off attacks from insects, fungi and other pests.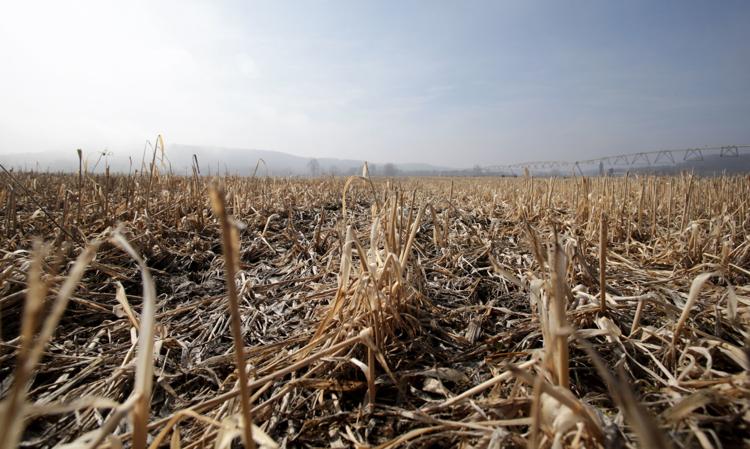 Compounds like antioxidants and bioflavanoids that are found in some plants increase their nutritional levels because they can bolster the immune systems of humans and animals that consume them. Plants that are sprayed with herbicides, fungicides and insecticides have lower levels of those important compounds because they don't need to produce them to protect themselves, Zimmer said.
"Every plant has an immune system just like animals do, and it will protect the plant if it's allowed to," he said.
"It's like people who don't like going to the doctor. They can avoid the doctor by eating a healthy diet and taking care of themselves. But if they don't, they'll eventually need antibiotics and their immune system will get lazy. It's the same thing with plants."
Working the land
Zimmer's approach, which includes tilling the top 2 or 3 inches of soil, has come under fire from no-till farmers in South Dakota. He said he doesn't till into what he calls the middle zone, which is full of earthworm channels and roots, but maintains some tilling is necessary for good organic growth.
"If you're strictly no-till and everything lays on top, how does the soil get to eat that?" he said. "I tell farmers that's like putting the feed on the other side of the fence from your cows."
Zimmer acknowledged that some investors in the South Dakota project have had sticker shock at the cost of the project, which includes converting nearly 53 square miles of "challenging" farmland into organic fields.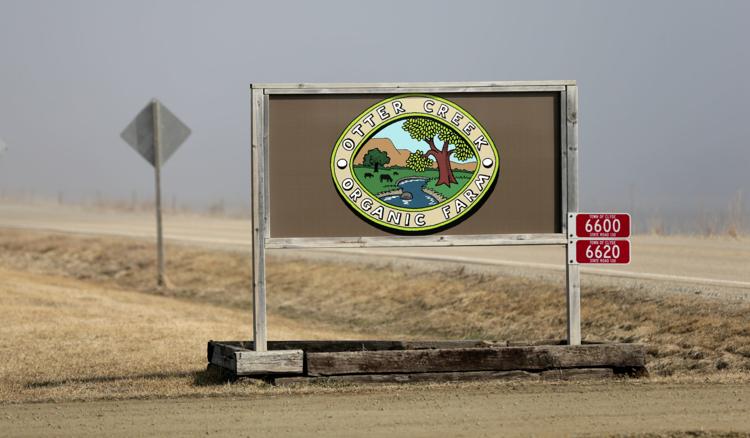 The plans involve adding sulfur and many trace elements like zinc, manganese, copper and boron, Zimmer said.
It also involves aggressively planting the entire farm in cover crops, using the right tillage tools, hiring a well-trained and professional staff and explaining to investors why much of what they are doing is so expensive, he said.
"Yes, these minerals cost some money," Zimmer said. "But I tell people that farmers spend $150 an acre every year on insecticides, herbicides, fungicides, pesticides and biotechnology and they never make their farms better. Our method is to prevent those things. So if you look at in the long run it's actually cheaper to go about prevention than it is to bail it out once it's in trouble."
The Associated Press contributed to this report.
The business news you need
With a weekly newsletter looking back at local history.