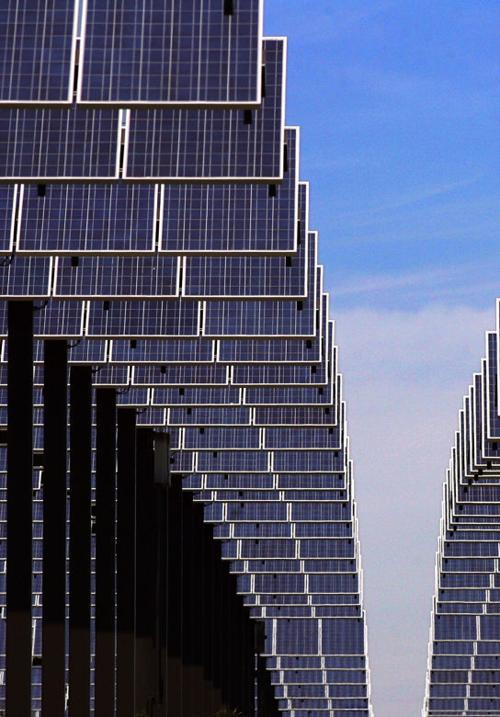 A Florida energy company says it plans to build a 100-megawatt solar energy center in northeast Wisconsin and sell the electricity it generates to a Sun Prairie utility company.
NextEra Energy Resources said it will locate the facility next to the Point Beach nuclear power plant in Two Rivers. WPPI Energy, Sun Prairie, has agreed to buy all of its electricity from the solar installation for 20 years. NextEra says it will provide power to more than 23,000 people when it's operating at top capacity.
WPPI is a nonprofit, regional utility company that provides power to 51 locally owned electric utilities in Wisconsin — including in Mount Horeb, Stoughton, Waunakee and Sun Prairie — Upper Michigan and Iowa.
"This solar energy center adds diversity to WPPI Energy's power supply portfolio in a way that's more cost-effective than other opportunities currently available to us," WPPI CEO Mike Peters said in a statement.
It's too soon to tell how much the project will cost or how many solar panels will be used, NextEra spokesman Bryan Garner said.
But a project NextEra completed in late 2016 in northwest Alabama could be an indication. The River Bend Solar Energy Center can generate up to 75 megawatts of electricity, enough for 15,000 homes, and includes more than 300,000 solar panels, NextEra said in a statement on the project.
WPPI vice president of power supply resources Andy Kellen said terms of the NextEra agreement are confidential. He said, though, customers of WPPI's member utilities will not have to pay a surcharge for the solar power.
If the center generates 100 megawatts or more, it will need the state Public Service Commission's approval.
NextEra owns the Point Beach nuclear plant, purchased from Milwaukee-based We Energies, in 2007. NextEra also owns the Butler Ridge wind farm in Dodge County, from which WPPI also buys power.
The Point Beach solar farm will be built on "a substantial portion" of the 1,200 acres surrounding the nuclear plant, Garner said. But construction won't begin for about four years. Projects such as these typically take six to nine months to install, he said, and the solar center is not scheduled to start operating until 2021.
When it does open, it will be the largest solar installation in the state and will nearly triple the 55 megawatts of solar energy in Wisconsin now, RENEW Wisconsin said.
NextEra Energy Resources is a subsidiary of Florida-based NextEra Energy, a publicly traded company (NYSE: NEE), which is also the parent company of FPL, Florida Power & Light, the third largest electric utility in the U.S.
The business news you need
With a weekly newsletter looking back at local history.