Fujifilm Cellular Dynamics Inc. (FCDI) plans to invest $21 million to create a facility in Madison for manufacturing stem cell therapies that can be used as regenerative medicine — cells that can repair or rebuild a patient's diseased or damaged tissue.
FCDI manufactures human induced pluripotent stem cells (iPSCs), which are skin or blood cells that scientists reprogram back into their embryonic state and then coax into specific cell types for use in scientific research or drug development.
FCDI is remodeling 31,500 square feet of space in a building at 465 Science Drive, near the company's current labs and offices at 525 Science Drive, in University Research Park, to house the new stem cell production, which will meet U.S. Food and Drug Administration manufacturing requirements.
The company said in November it was expanding production into that space but did not say, at the time, what its specific plans were.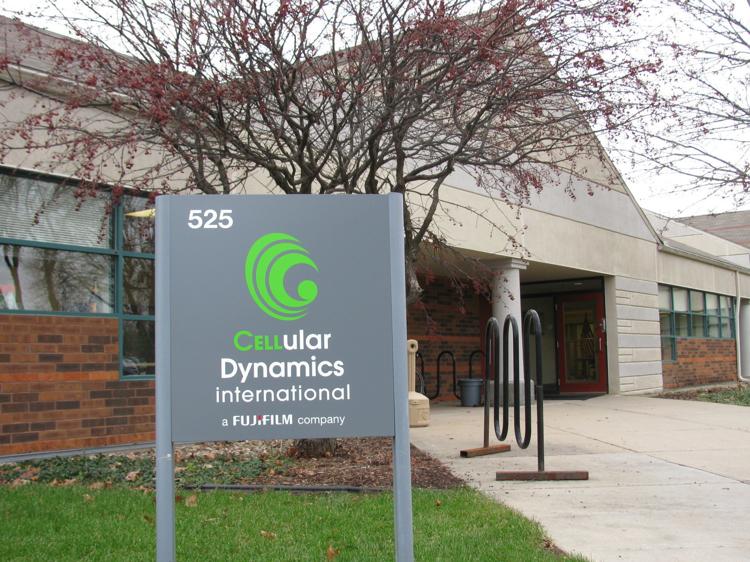 The 525 building will remain FCDI headquarters, the company said, adding that it is too early to project how many employees will be hired to staff the biomanufacturing plant.
"Madison is the home of FCDI and we value the strong connections we've made with the city, state and partners such as University of Wisconsin," said Seimi Satake, FCDI chairman and CEO. "The area is also rich in talent and expertise in regenerative medicine, and we see many possibilities for FCDI in Madison."
FCDI has 143 employees, mainly in Madison, with a branch in Novato, California, and sales and support offices in Europe.
Founded in 2004 by UW-Madison stem cell pioneer James Thomson, the then-named Cellular Dynamics International was purchased by Japanese conglomerate Fujifilm Holdings Corp. in 2015 for $307 million.
UW-Madison cardiologist Timothy Kamp, director of the UW Stem Cell and Regenerative Medicine Center, was a co-founder of Cellular Dynamics and said the expansion is a significant development for the company and for the community.
"This is going to be providing opportunities for jobs in Madison, skilled jobs. This is a complicated business. It's going to take skilled personnel to make this work," Kamp said.
Boosting cell production
The new Madison facility will be ready by March 2020. FCDI said it will speed development of stem cell therapies in its pipeline in such areas as Parkinson's disease, heart diseases and cancer.
FCDI already manufactures mass quantities of more than a dozen types of iPSCs. Its heart cells are involved in experiments on the International Space Station. The company also established Opsis Therapeutics in 2016 in a joint venture with Dr. David Gamm, director of UW-Madison's McPherson Eye Research Institute, to develop treatments for age-related macular degeneration and retinitis pigmentosa.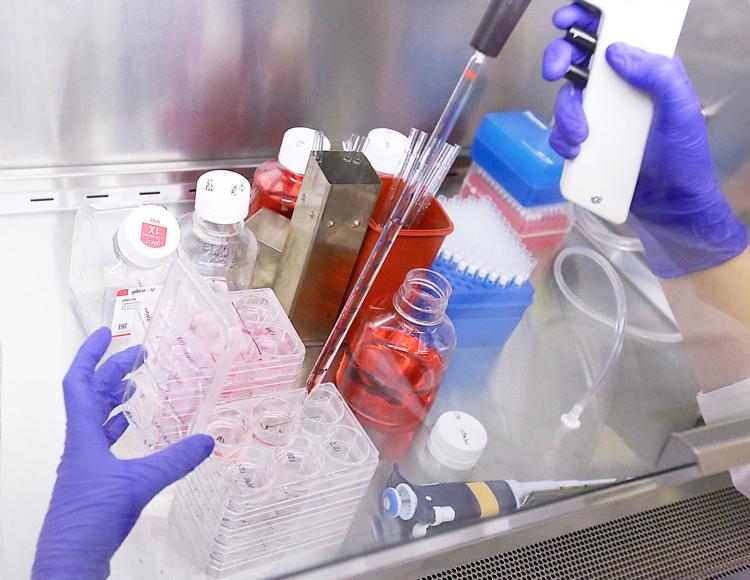 Fujifilm said other companies in its group, including Japan Tissue Engineering Co., Fujifilm Wako Pure Chemical Corp. and Fujifilm Irvine Scientific, have provided expertise in regenerative medicine.
And, while they may seem unrelated, "the intricate process of manufacturing photographic film" gave the company insight into producing stem cell products.
"IPS cells are highly sensitive and require distinct skills in both development and manufacturing," Satake said. "The culture and know-how behind the highly skilled manufacturing of the complex process of color film — which requires precisely arranging over 100 types of compounds across 20 photosensitive layers in a thickness measuring just 20 microns — has allowed the company to be a leader in manufacturing in the life science areas."
Satake said FCDI will provide cells for clients and for its own products.
FCDI's lead product is a type of neural cell aimed at treating Parkinson's disease, he said. An application to begin human clinical trials using the cells is expected to be submitted to the FDA in early 2020.
Regenerative medicine advances
The field of regenerative medicine is "proceeding at a really rapid pace," said Tenneille Ludwig, director of the Stem Cell Bank at WiCell, an organization that supports UW research as well as worldwide clients.
Ludwig said about 30 human clinical trials already are in progress or have been completed, and more are poised to start this year.
Macular degeneration, Parkinson's, heart disease, spinal cord damage and diabetes are the most common targets — "those that will take a single type of cell to affect," she said.
WiCell has collaborated with FCDI to test the quality of cells it produces for clients and to distribute those cell lines, she said.
Ludwig also has worked in Thomson's lab. "What Jamie did was amazing. What people are learning from him, and what they will go on to do, will be amazing, too," she said.
Ludwig said two of Thomson's original cell lines are still "the most in demand in the world."
Kamp said FCDI's iPScs are "master stem cells" that can be coaxed into virtually any cell type in the body.
He said, though, FCDI is not the only company that will be manufacturing iPS cells for disease treatment. Companies in Japan are working toward potential products as is BlueRock Therapeutics in Cambridge, Massachusetts.
Kamp said repairing damaged organs using stem cell-derived cells of that type of organ typically requires precise targeting and specialized approaches.
"A drug is pretty simple in comparison — a single molecule that you can purify. ... Cells are a bag of hundreds of thousands of different molecules and proteins. That's a bigger beast to tame," he said.
It's not easy to get the cells to integrate into the organ, Kamp said. "It's not like plugging in a USB drive."
But he said the field holds much promise. As a cardiologist, seeing the manufactured heart cells beating in a dish was "pretty exciting."
"If we could get some human heart cells to repair human hearts, that would potentially be a game-changer," Kamp said.
Tokyo-based Fujifilm Holdings Corp. makes a wide range of imaging, health care and industrial products. It was founded in 1934.