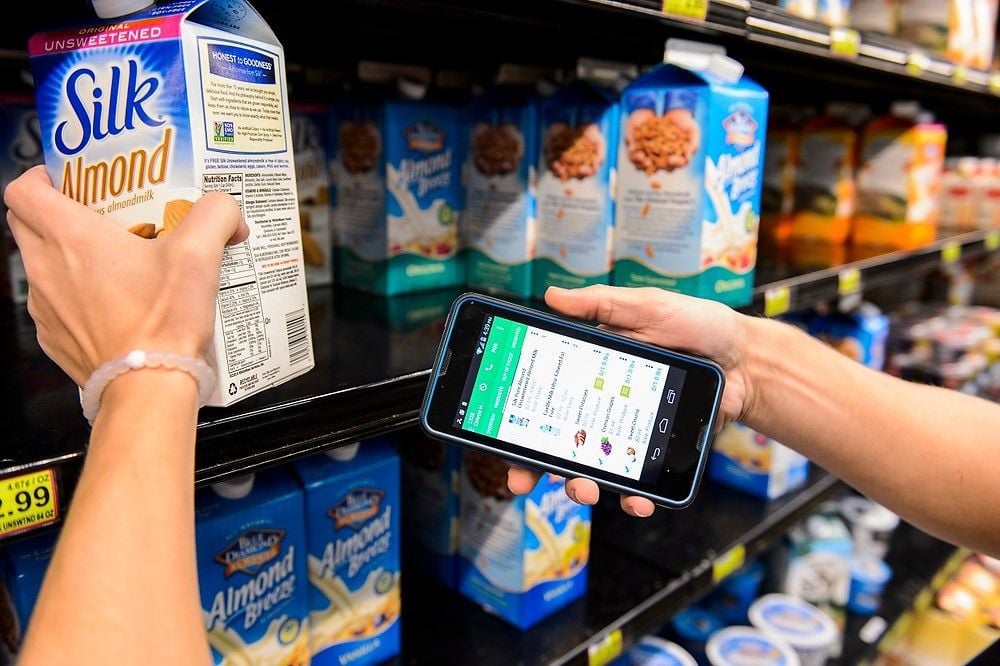 While grocery shopping can be a fun excursion for some, for many it's just a necessary chore requiring at least an hour of a person's week to walk up and down aisles looking for items for the coming days. To Madison-based startup GrocerKey, the grocery business was ripe for modernization.
GrocerKey, founded in 2014 by Jeremy Neren, develops software that lets shoppers select items from home on an app or computer that are then packaged for pickup or delivery. Several stores, including all Woodman's locations and Kowalski's Markets in Minnesota, use GrocerKey to power their grocery delivery and pickup — often called click and collect — operations.
GrocerKey has been working with Woodman's grocery stores for about five years to power that chain's ShopWoodman's app and shopwoodmans.com. Clint Woodman, president of Woodman's, said the grocery chain was one of the first grocers in Wisconsin to offer online shopping, if not the first.
"We consider ourselves pretty innovative for an independent grocer, and we knew that it would be coming soon," Woodman said. "We wanted to be the first to market with e-commerce and online ordering."
Less than 5% of grocery purchases are made online, but Neren said that number could grow — perhaps to 20% — and grocery stores need to plan for that if they want to stay in business.
"There's a lot of growth anticipated, and that means that not only do grocery retailers need to be in this business, they need to think about how does it fit into their existing business and what do they need to be concerned about in the future," Neren said.
There's more to remote-purchase groceries than creating an app, Neren said. There needs to be the organizational and operational support behind it. Stores need to have employees to collect items in a timely manner and then have a space to keep those items organized before they are picked up or sent out on delivery.
At Woodman's, GrocerKey manages all those operations — GrocerKey employees are even the ones picking and packing the customers' items — but some other stores the company partners with choose to just license the software and run their own operations. But even then, Neren said, those companies can get advice and feedback on how to best manage the online shopping platform from the experienced employees of GrocerKey.
"I don't think it's sufficient in the grocery industry to simply license technology to a retailer," Neren said. "I think they need help beyond that, and we're well positioned to provide that guidance."
Click and collect, also called curbside pickup, and home delivery can be offered through GrocerKey's software, although click and collect tends to be more popular, Neren said.
For one, many shoppers are seeking other options than strolling down a grocery aisle and waiting to have items scanned and bagged by a cashier. On the business end, having groceries picked up is easier and cheaper for the store than putting those groceries in a truck and delivering it to the front door of the purchaser. It can also be more convenient for shoppers than delivery, he said.
"(Delivery) can be less convenient for a customer because you don't necessarily get to dictate when it's going to arrive," Neren said of the delivery orders. "There's usually a couple-hour delivery window, whereas with pickup, you can dictate when you pick it up from the store."
Neren started GrocerKey after spending a few years running Madtown Munchies, a delivery service of convenience-store items such as candy, ice cream, toiletries and microwavable food. While working on that project, he worked with another grocery store that already had an e-commerce platform.
"We got to witness some of the pitfalls of that solution upfront and center, and we felt like the technology we had built to operate our own business and the operational expertise we had developed could be really valuable to grocery retailers," Neren said.
Five and a half years after launching, GrocerKey is still focused on expanding its reach, but even with that extra cost, Neren said, GrocerKey is close to breaking even. It went from $2 million in revenue in 2017 to $7 million in 2019.