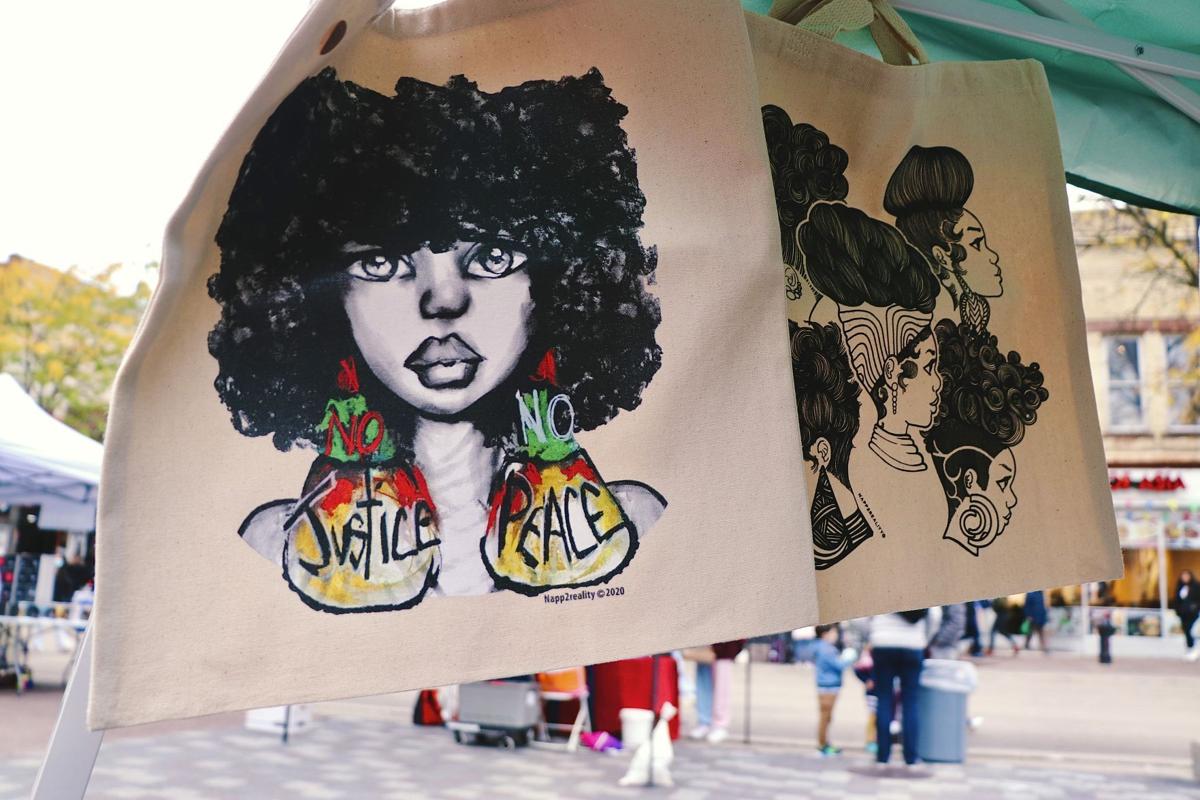 The UJAMAA Business Network's values are based on an African economic principle called "Ujamaa," which means to build one's own business, control what one's own community produces and share in that work and wealth.
Sarah Branch of Earthly Temptations discusses her products with Madison Night Market shoppers Steve, Trena and Talysin Pazynski, all of Madison.
At a Madison Night Market held earlier this month, UJAMAA vendors sold everything from soaps and handmade jewelry to baked goods and even kits for kids to start their own microbusiness. Another sold the 12 books they wrote in 12 months, as well as art pieces.
Funded primarily by its membership, grants and public donations, the network has more events planned through November, as well as business development workshops, said Wilhelmi.
Wilhelmi, a Black woman with an extensive background in psychology, said she endured financial struggles as a single mother prior to founding the network.
She launched the network with co-founder Qiana Holmes-Abanukam, who owns online clothing store Village Girl. Holmes-Abanukam, a Black woman whose expertise is in education, said she also went through some hardships as a single mom and while running her shop before UJAMAA.
But it was the Sundays they spent with fellow business owners at Badger Rock Neighborhood Center markets that helped pave a way out of those circumstances.
UJAMAA Business Network co-founder Qiana Holmes-Abanukam talks about how she makes her earrings, sold through her Village Girl shop.
Being at different points on the entrepreneurial "continuum", the vendors brainstormed and shared all the ways they could grow their respective enterprise.
Some wanted to learn more about sourcing inventory, while others needed a marketing plan, Wilhelmi said, adding the vendors had varying circumstances that prevented those avenues from forming. For instance, some UJAMAA members had multiple jobs in addition to running their business, she said.
That peer support continues today, and it is the best gift Holmes-Abanukam said she has given herself in growing Village Girl.
A night at the market
At the Night Market on Oct. 22 just under a dozen UJAMAA vendors congregated on the corner of West Gilman and State Street.
A sign depicting the UJAMAA logo could be seen decorated with red, green and yellow balloons beyond an enclosure where several people browsed what the vendors had to offer.
Stephanie Prewitt, of Madison, was running a booth displaying her Queen P's Throne creations. She paints earrings, she said, which appeared to have wooden finishes and textures, carved into a variety of aesthetic symbols.
Prewitt, a Black woman, said she named her business after a nickname her husband coined for her: Queen P. Wilhelmi reached out to her to be part of the Network, which has helped propel her business.
"I want my earrings to be everywhere," Prewitt said.
Across from Prewitt was a tent displaying kits to help kids start their own business. There was one for making candles, another for soap and more.
The tent was run by youth entrepreneurship rrow.com" target="_blank">nonprofit CEOs of Tomorrow, which has a location on the East Side and was launched in 2016, said founder Rosie Hentz. She said the kits are meant to help foster innovative thinking from a young age.
Hentz, a Black woman, said Wilhelmi approached the nonprofit about vending at the Night Market to reach more of Madison's youth.
Branch, formerly a certified nursing assistant, was offering shoppers a chance to smell her products. She said that's what sells your products best: the ability for people to sample them. She said the Network has helped her gain confidence as a Black business owner.
For her, having the peer support UJAMAA offers paved the way to get to where she is today.
Staying funded, supported
Business owners, who can gain scholarships through the Network, pay $50 per quarter or $150 annually for their membership, Wilhelmi said.
UJAMAA has a primary focus on Black businesses, Holmes-Abanukam said, but people from several backgrounds have become members.
Catina McAlister of Macmade Delights hands a shopper a bag of the cupcakes she makes from scratch at the Oct. 22 Madison Night Market.
In return, besides having access to learning opportunities and events to showcase products and services, members can be listed in the Network's Black Business in Wisconsin app, Wilhelmi said.
Several organizations have supported UJAMAA in its growth as well.
Wilhelmi and some vendors have taken part in Upstart, for which more UJAMAA members may participate early next year — with the network acting as a referral source.
More relationships include the UW South Madison Partnership, which is a UW-Madison initiative designed to meet the South Side's community needs.
Badger Rock has additionally provided a free venue for UJAMAA to host some of its events there, Wilhelmi said, in the absence of having a physical location.
Brick and mortar future?
Wilhelmi said the ultimate future expansion goal for the network is to support business owners with a shared brick-and-mortar retail space.
There are also plans to work with businesses from the Fox Valley region, as well as Beloit.
"Right now we are at a solid 75% local," Wilhelmi said of the network's current membership numbers. "That has a lot to do with how we formed organically."
It's unclear where the space would be located or how it would be funded, but it would have multiple vendors inside one building, each with a section to showcase their product or service.
"It's a retail store that functions as an incubator space," Wilhelmi explained of the potential setup.
---