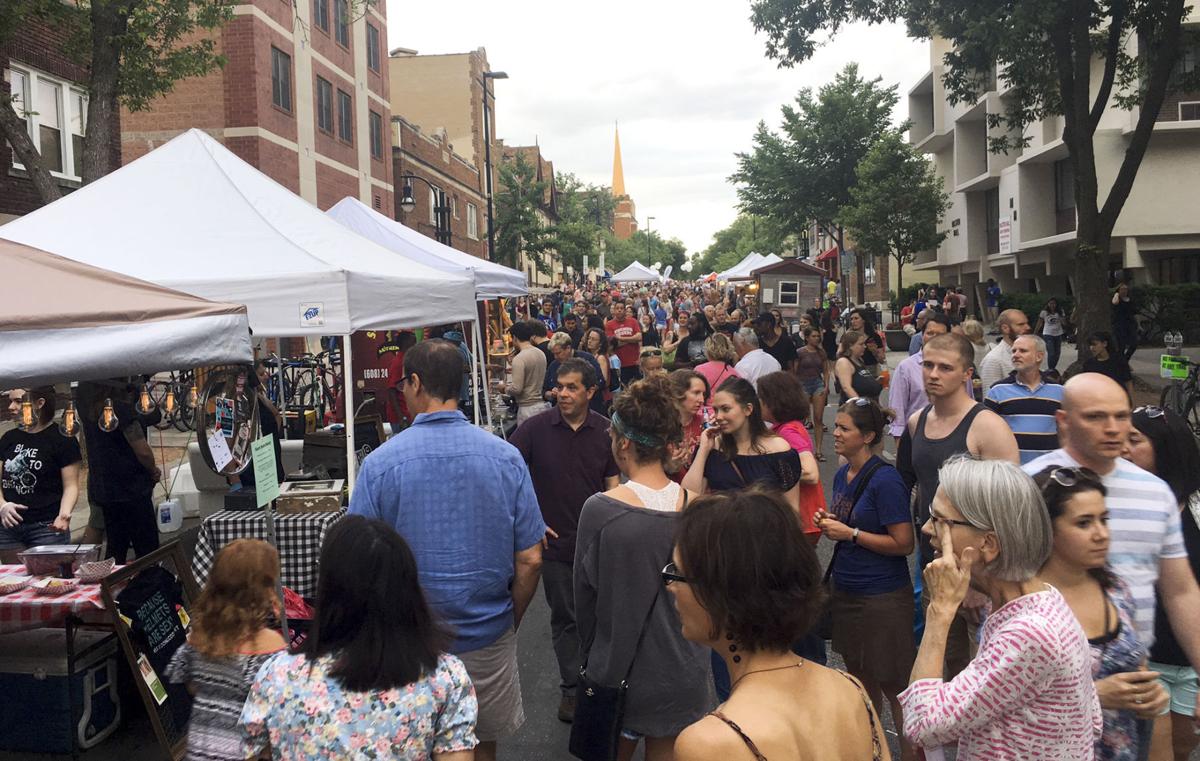 The success of three night markets that drew thousands of people to Gilman Street over the summer is prompting organizers of the events to try a market that will likely require a jacket, space heaters and hot chocolate.
Tiffany Kenney, executive director of Madison's Central Business Improvement District (BID), said the Madison Night Market Winter Carnival on Nov. 18 will include more than 40 vendors in the 100 and 200 blocks of State Street and include a holiday lights lighting ceremony with 16 interactive light displays, nine of which are being funded by a $70,000 grant from the Madison Community Foundation.
The event, from 2 to 8 p.m., will entail blocking off traffic on the Capitol Square on Mifflin Street between Wisconsin Avenue and State Street and on Carroll Street between West Washington Avenue and State Street for the lighting ceremony. Organizers expect the night market and lighting ceremony to draw between 3,000 and 5,000 people.
"The goal is to drive excitement and interest in retail Downtown," Kenney said. "Experiential things are a way to drive retail."
The setup will include a beer garden at State and West Johnson streets, but traffic crossing State Street on West Dayton Street would not be blocked off, according to plans submitted to the city. The plan also calls for music, food booths, demonstrations and retailers including Grasshopper Goods, Wicked Good Vibes Apparel, Rustic Stone, Valley View Rustic Creations, Strider Northwoods Mercantile, Homebodies Co. and Gebhardt Trading Co.
You have free articles remaining.
The lighting ceremony is scheduled for 6:08 p.m. at the top of State Street, where dignitaries including Mayor Paul Soglin, Santa Claus and Bucky Badger will flip a giant switch to light up a variety of displays. They include snowflakes on Downtown light posts, the Holiday Fantasy in Lights at Olin Park and new interactive light displays such as a "Frosty Flicker Forest" in Lisa Link Peace Park and a series of trees that respond to sound in the "Groovy Grove" near the Wisconsin Historical Society Museum.
The Night Market Winter Carnival is part of a six-week series of events being billed by the BID as "Shine on Madison." The BID has teamed with area property owners, businesses, community organizations and nonprofits to celebrate the Downtown and its offerings during the holiday season. They include a long list of community events at UW-Madison, Overture Center, Chazen Museum of Art, Monona Terrace, the state Capitol and other Downtown venues, all promoted on a new website, www.shineonmadison.com.
"We want to make Downtown Madison a special place during the holiday season," Kenney said. "We knew we needed to continue to drive attention to the Downtown area."
That realization came after a comprehensive retail study, which led to the highly successful Night Markets over the summer. A survey of vendors at the market showed that 87 percent would return, while 98 percent of visitors surveyed said they would be likely to return. Three markets were held this summer, but in 2018 the markets will be expanded to five markets on the second Thursday of May, June, July and September, with the August market being considered a scaled-down version.
"I think this will be similarly attended," Kenney said of the winter carnival. "There's a lot of excitement for this."
But there is an unknown. The event is the same day that the University of Wisconsin football team hosts Michigan at Camp Randall. The time for the game has not yet been announced but would likely be a 2:30 or 7 p.m. kickoff.