NovoMoto, a Madison company that's bringing solar power to rural residents in Africa, is the grand prize winner of the 2018 Wisconsin Governor's Business Plan Contest.
Co-founder Mehrdad Arjmand said he didn't expect to win. "I'm very surprised, happy and humbled," he said.
Winners of the business plan competition were announced at the closing luncheon of the two-day Wisconsin Entrepreneurs' Conference at UW-Madison's Union South on Wednesday.
Meanwhile, 11-year-old Alex Hart-Upendo, of Racine, won hearts when he accepted the grand prize in the Wisconsin YES! youth business plan contest.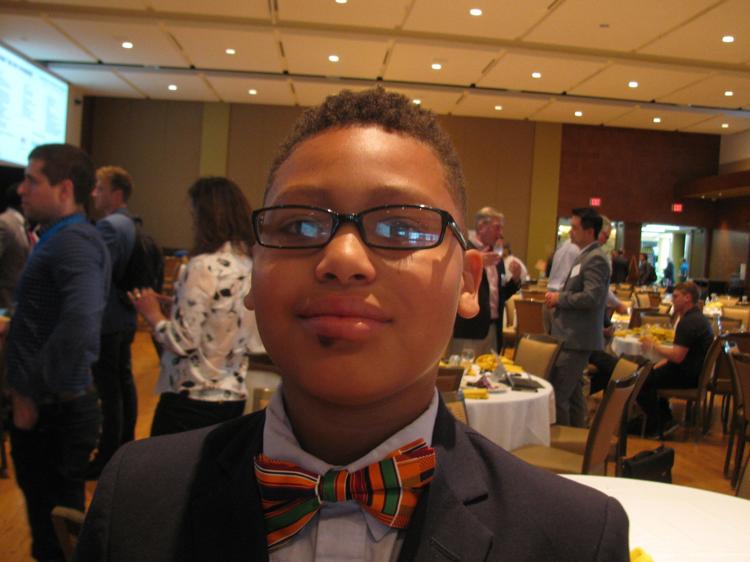 Hart-Upendo's company, Build-a-Bow, offers bow ties in all sorts of materials and styles. He said he started the business at age 9 because he had been bullied for having a high IQ. Wearing bow ties gave him confidence, he said. A former Madison resident, Hart-Upendo drew a standing ovation when he ended his short address with a slide that read "I will create jobs and end bullying."
Lighting rural Africa
Arjmand and Aaron Olson were doctoral candidates at UW-Madison when they started NovoMoto in 2015. Their goal was to help residents of the Democratic Republic of the Congo, where Olson and his family lived until he was 2 years old.
Millions of residents of the Congo, formerly known as Zaire, have no reliable source of electricity, Olson learned on a visit to relatives there. They depend on kerosene lamps for light and diesel generators to charge their phones and appliance batteries, at a high cost.
NovoMoto installs small solar units on building roofs that can produce enough power to charge cell phones and run LED lights and a television, at a lower cost and with less pollution. After leasing the unit for three years, the residents own the solar equipment.
"We want to be a platform that changes people's lives. It starts with electricity," Arjmand said.
NovoMoto shipped its 100th system on Wednesday and plans to send another 450 solar units in a few months, Arjmand said.
You have free articles remaining.
So far, the company has received about $200,000, mostly from contest awards and U.S. Department of Energy grants. For the typical investor, companies like NovoMoto that do business in other countries are considered very risky, Arjmand said.
He said NovoMoto, which already has gone through the gBETA and WERCBench Labs accelerator programs in Wisconsin, has been accepted into the MassChallenge business accelerator in Boston. The four-month program starts later this month, and will conclude with the "most promising" of the 128 companies competing for a total of $1.5 million in awards, the MassChallenge website says.
Arjmand said NovoMoto would like to expand to more African countries and to support businesses in the Congo. That could involve helping them get access to freezers or by introducing electric vehicles. Currently, mopeds are heavily used but their fuel is expensive, Arjmand said. Getting people to switch to electric bikes could be the start of a big change in Africa's transportation industry, he said.
It's not clear yet what NovoMoto will receive as the grand prize winner as well as first-place recipient in the contest's business services division. Twenty-five finalists will share in $190,000 worth of cash and services.
Build-a-Bow boosts fashion, confidence
Hart-Upendo takes after his mother as an entrepreneur. Karee Upendo runs Karee Couture, an e-commerce fashion business.
Upendo said when she saw Alex's bow tie designs, they were "amazing" and like nothing she had seen before. But beyond that, she supported his idea of starting a business. "He was being bullied and dealing with suicidal thoughts," she said. She didn't want to see him "go down the same path" she had traveled.
Upendo said her parents were drug addicts and she was a homeless teenager in Madison until Heidi Hart found her and young Alex sleeping in a car. Hart, whose son is Alex's biological father, gave them a place to stay, mentored Upendo and helped her earn her associate's degree in business.
"She was the mom that I always needed," Upendo said.
Hart-Upendo said he has sold more than 5,000 bow ties nationwide and needs help to keep up with demand. "My problem is too many customers," he said. He also has written a book, "Bullies, Bowties and Brilliant Alex," and speaks publicly against bullying.
Upendo and Hart-Upendo each produced runway shows in New York Fashion Week last year. Hart-Upendo wants to start a franchise and see his bow ties in stores worldwide, where customers can design their own hair bows, dog bows and bow ties, Upendo said.
"I think it's scary but seems like anything Alex puts his mind to comes to fruition," his mom said. "I'm excited to see what's going to happen."