Madison-based Tribe 9 Foods is adding another brand to its slate of products as it finalizes the purchase of Carla's Pasta.
Tribe 9 acquired Connecticut-based Carla's Pasta through a bankruptcy auction. Becoming the third Tribe 9 brand to manufacture pasta, Carla's Pasta specializes in specialty pastas, such as ravioli with various filling.
"I'm really excited about the combination of products and capabilities that Carla's has developed in traditional pastas with our leadership in nontraditional pastas," CEO Brian Durst said.
Tribe 9 also manufactures products under the brands Yumbutter, specializing in nut butters; Taste Republic, specializing in gluten-free pastas; and RP's Pasta, specializing in traditional pastas for restaurants and grocery stores, particularly in the Midwest.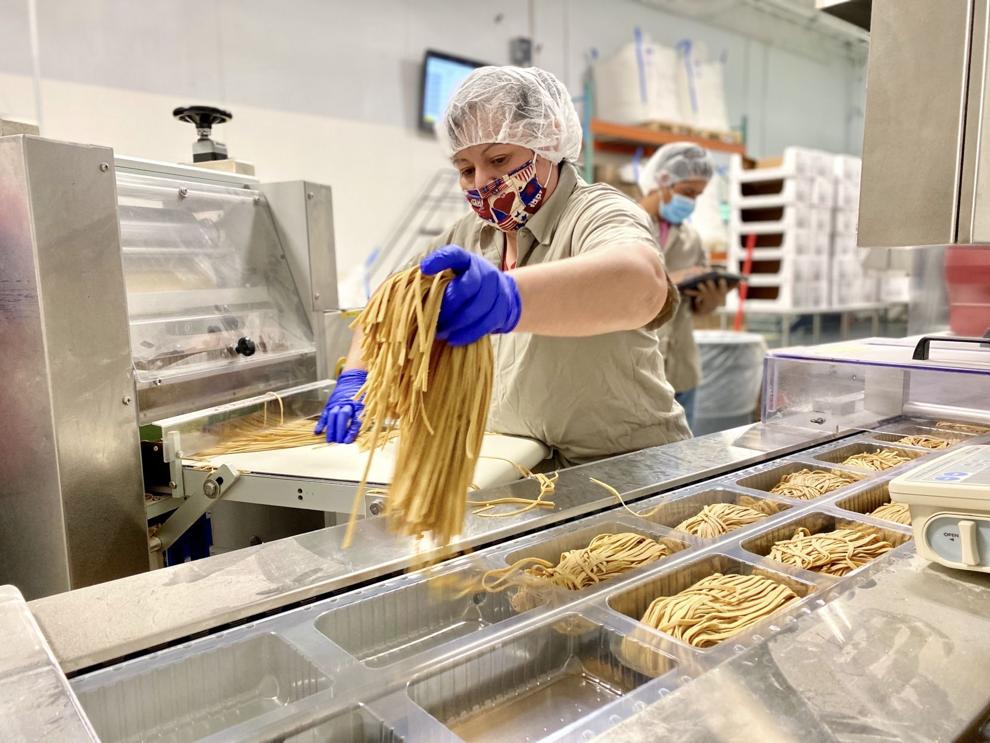 Other brands and companies also contract Tribe 9 to manufacture food products.
The acquisition of Carla's Pasta will significantly increase Tribe 9's production capabilities and create a new location for manufacturing. Currently, all of Tribe 9's facilities are in Madison, leaving the business' entire production vulnerable to power outages or severe weather, Durst said.
About 135 employees of Carla's Pasta in Connecticut could also be added to Tribe 9's payroll, Durst said, as most employees were offered continued employment. Tribe 9 has about 125 employees in Madison.
Carla's Pasta manufactures products primarily for restaurants — one of the hardest hit industries during the pandemic.
"The pandemic hit us incredibly hard — there's no doubt about that," said Sandro Squatrito, vice president of business development for Carla's Pasta, in a statement. "While it hurt us to file for bankruptcy, we're grateful that a value-driven organization such as Tribe 9 will be at the helm going forward. This means people keep their jobs and Carla's legacy lives on."
Tribe 9 has managed relatively well during the pandemic with ups and downs along the way and with different brands, Durst said.
Taste Republic and RP's Pasta brands have done well as more people are purchasing products from grocery stores to cook at home instead of going out to restaurants, Durst said.
On the other hand, Yumbutter hasn't seen that same growth as Tribe 9's other brands, Durst said. More people are buying bulk products compared to the smaller and even individual sizes of Yumbutter products.
People are also spending less time walking down grocery aisles and may not notice Yumbutter if it wasn't a brand they already knew. Durst said the pandemic has challenged many smaller brands in the same way.
---
Our favorite patios and parklets to enjoy the warmer weather
----------------------------------------------------------------------------------------------------
The Goat exterior
Queenie's Plus
Roosevelt's
The Wild Fork
Patios
The French Hen
Lowood
Society Burger South
The Chalkboard
Duet
Big Whiskey's
Kai Vietnamese
Farm Bar
Mother Road Market
Arnie's Bar
Elote
-----------
Hotel Indigo's Roof Sixty-Six Bar and patio
Cafe Ole
The Penthouse Bar at The Mayo
East Village Bohemian Pizza
Amelia's
Rocking R Ranch House
Laffa
Fassler Hall
Dead Armadillo
Elgin Park
Margaritaville
Oren
ol'Vine
Stumbling Monkey
Bricktown Brewery
Dilly Diner/Dust Bowl Lanes & Lounge
McNellie's South City
Los Cabos
Waterfront Grill
The Vault
In the Raw On the Hill/In the Raw Vu
Fat Guy's Burger Bar
R Bar & Grill
The Rooftop
Blue Moon Café
Doc's Wine & Food
Brookside By Day
Tucci's
Chimi's
Mi Cocina
Stonehorse Cafe
Broken Arrow Brewing
Cabin Boys Brewery
Welltown Brewing
Heirloom Rustic Ales
Inner Circle
The Hunt Club
Empire Bar
George's Pub
Saturn Room
Sushi Hana
Big Whiskey's
3 Tequilas Mexican Grill and Cantina