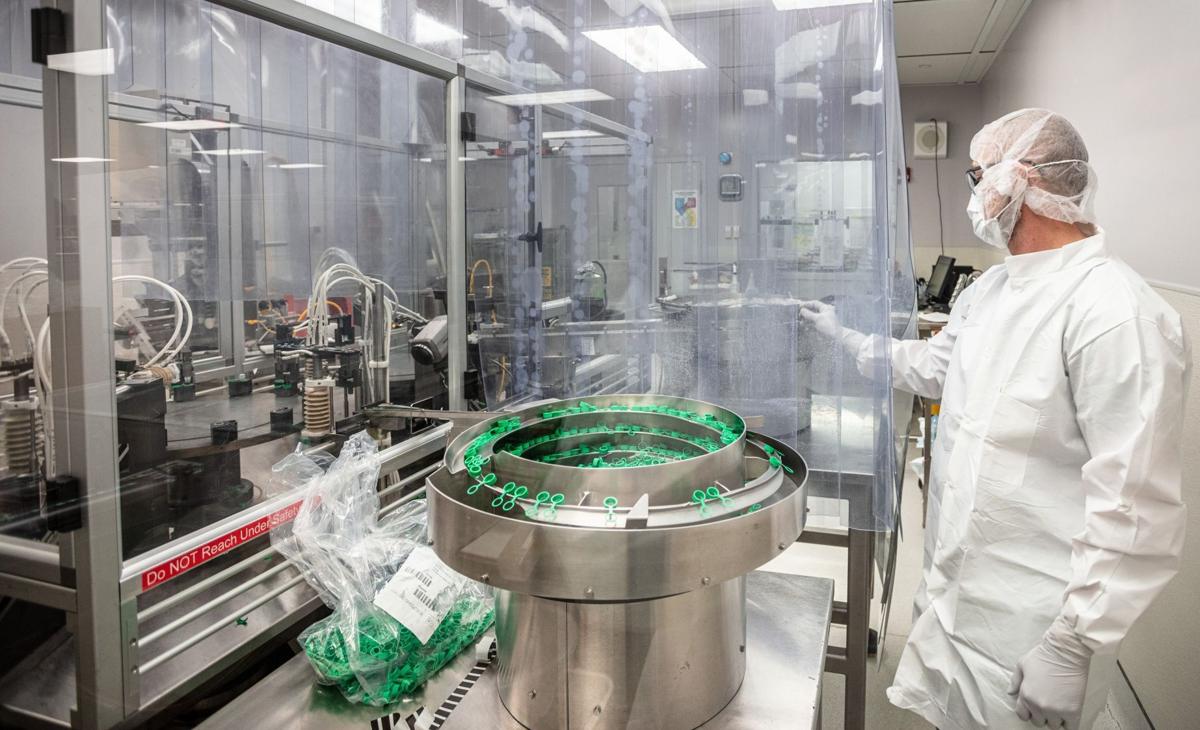 While the food and hospitality industry was forced to go dormant during the pandemic, Madison's many biotech and health companies went into overdrive in response to the spread of the coronavirus.
Some businesses, including Fitchburg-based Promega Corp. and the Madison facility of pharmaceuticals company Catalent Biologics, immediately began manufacturing products to help with testing, treatments and eventual vaccinations for the new disease. Products made in these facilities have been used around the world.
"We've taken the approach of listening and learning from our customers, the science community and our employees so we can understand what's coming next and do our best to prepare and respond to it," Promega's vice president of corporate affairs Penny Patterson said.
Exact Sciences, based in Madison, works in cancer diagnostics, but when COVID-19 took hold in the U.S., the company began using its labs to also process tests for the virus. In 2020, the company tested more than 2 million samples and ran on-site tests for its employees as well.
"This allowed our laboratory operations to continue, largely uninterrupted by the virus," spokesman Scott Larrivee said. "Keeping staff healthy meant patients and providers got timely, needed cancer test results, and additional lab capacity could be devoted to the COVID-19 testing effort."
Epic Systems Corp., based in Verona, also had a hand in various aspects of the COVID-19 response. The company created and installed software for testing sites, used artificial intelligence to help assess the risk of hospitalized COVID-19 patients, and helped health care providers begin using telehealth programs to see patients and more.
"We work directly with health care organizations. Therefore, all the massive challenges they faced, we faced with them," said implementation executive Nick Frenzer.
Growth and expansion
Workforce expansion was a significant part of the COVID-19 response for many of these companies. Over the last year, Promega hired about 330 employees with more than 100 of them working on COVID-19-related efforts, and the company expects to keep many of these employees on staff once the pandemic subsides.
Catalent, which manufactures drug substances — active ingredients in pharmaceuticals — added 150 employees to its previous staff of 400, and opened a 60,000-square-foot addition to its facility last year.
"Our Catalent Madison site was experiencing strong growth prior to the pandemic, but our role in COVID-19 vaccine and treatment production accelerated that growth," general manager Graham Brearly said.
While the first few months of the pandemic forced the companies to scramble to produce more while dealing with the challenges of employee safety, they're now better able to keep up with the demand for products. 
Catalent has kept in regular contact with suppliers and customers to manage supply chain problems and prevent a shortage of its life-saving products, Brearly said. 
"The patients who receive the vaccine or treatment manufactured at one of our facilities could be a family member or even ourselves, and that knowledge is something we carry with us every day," Brearly said.
Patterson said Promega, customers and suppliers around the world have learned from the initial rush to address the pandemic and are now working more effectively despite the continued high demand for products.
"Customers, suppliers, all of us around the globe learned from the initial emergency of more than a year ago," Patterson said. "Demand is still high, but it can be met much more effectively at this point."
Lasting impact
Some of the companies also see what could be positive changes for them on the horizon.
Epic, which develops and manages electronic health records and other health care software, saw a marked increase in telehealth visits this year. 
"Adoption of telehealth is here to stay," said Jackie Gerhart, a physician at Epic. "Patient engagement is higher than ever and will continue to climb as patients embrace mobile technology for health care."
At Exact Sciences, its at-home colon cancer screening test Cologuard saw an increase in orders in the last quarter of 2020 compared to the year before, even though doctor visits during this time were down. 
"This tells us that Cologuard will continue to help get more people screened and that consumers are increasingly looking for convenient health care options that fit their lifestyles," Larrivee said.
Exact Sciences has continued processing COVID-19 samples and will until the pandemic subsides — a day the company looks forward to — Larrivee said.
"We look forward to putting this pandemic behind us," Larrivee said.
---
Shining stars: Meet the Madison area's Top Workplaces
Make no mistake about it: The effects of the COVID-19 pandemic have left painful scars. But this year's Top Workplaces project shows that many employees across the Madison region remain resiliently upbeat and are clinging to their workplace cultures, even from a distance.