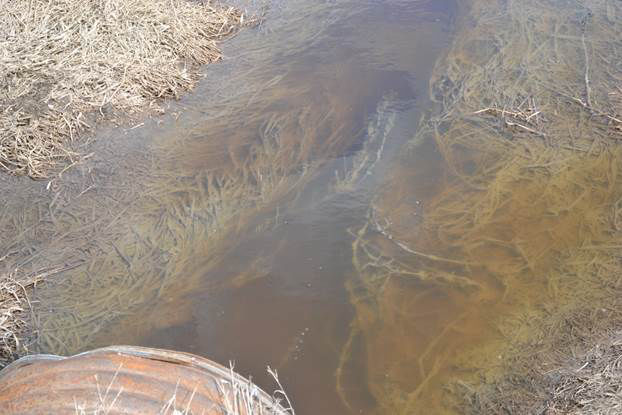 Wisconsin Attorney General Brad Schimel's Justice Department last month quietly agreed to a $50,000 fine for a large feedlot that polluted drinking water and streams in 2014 and 2015.
Stahl Brothers Dairy is in Kewaunee County, where more than 30 percent of tested drinking water wells have been found tainted by hazardous bacteria, most of it from the large dairy operations the state has permitted on one of the region's most vulnerable aquifers.
The concentrated animal feeding operations house thousands of cows that produce hundreds of thousands of gallons of manure, which the operators spread on farm fields.
Improperly spread manure seeps through the area's thin soil and fractured bedrock or runs off into surface water.
In a 2014 violation that was part of the Stahl Brothers fine, the owner of a well near where the dairy spread manure had drinking water that "was still odorous and had a milky yellow color" a week after tests showed it was tainted with bacteria, the Justice Department said in court documents.
Unlike his most recent predecessor, Schimel doesn't issue press releases when his department settles environmental enforcement actions against businesses, but the Socially Responsible Agricultural Project on Tuesday distributed court documents it obtained from the agency under the state open records law.
After the State Journal published a story online about the fine, Schimel sent out an announcement saying that in the first half of 2017 the agency obtained 22 environmental enforcement judgments totaling more than $486,000, including the Stahl Brothers case and air pollution violations.
Stahl Brothers also agreed to limit manure runoff through training of contract manure spreaders, use of a qualified nutrient management planner, installation of about 10 acres of filter strips in fields, and planting of cover crops on at least 100 acres, Schimel said.
You have free articles remaining.
"The Department of Justice continues to actively enforce the state's environmental laws, and remains committed to working with the Department of Natural Resources, the Department of Agriculture, Trade and Consumer Protection, and the regulated community to ensure compliance with the law," Schimel said in a statement.
Scott Dye, regional representative for SRAP, called the Kewaunee dairy case "the tip of the iceberg for industrial dairy violations that deserve penalties and sanction from the State of Wisconsin."
"State records tell the tale and it's a harsh fact of life for Kewaunee County residents," Dye said. "The Stahl Brothers Dairy has long been a repeat offender with an abysmal history of violations dating back nearly 30 years."
Stahl Brothers didn't respond to a request for comment. The business was fined $55,000 in 2011 for a 2009 manure spill.
Dye said state records show that half of Kewaunee County's 16 large animal feedlots have been cited 15 times by the Wisconsin Department of Natural Resources since April 2014.
Since 2013, only Stahl Brothers paid fines after being referred to the Justice Department for enforcement action in court, Dye said.
After Republicans took over state government in 2011, environmental enforcement has waned. Schimel settled one air pollution case last year with no fine at all. His spokesman said the department is proud of the court settlement because it required 3M Co. to spend an estimated $665,000 on pollution-control equipment that failed repeatedly at two plants in Wausau.
Top environmental regulators said they weren't aware of another case in the last 25 years in which a Wisconsin attorney general took a polluter to court without winning a penalty.
In 2014, six organizations petitioned the U.S. Environmental Protection Agency for emergency action to ensure safe drinking water for Kewaunee County. The DNR and EPA convened work groups in 2015, and last year the groups made a series of recommendations, including tighter manure restrictions.