The outdoor plaza overlooking Lake Mendota at The Edgewater hotel would have been a sea of cardinal and white this Friday.
A few blocks away, at the Concourse Hotel, each of its 373 rooms would be booked. Restaurants and retailers on nearby State Street would be jammed and there would be anticipation by hotel guests of a Saturday morning counterclockwise stroll around Capitol Square at the Dane County Farmers Market.
At the corner of Regent and Monroe streets, HotelRed would be sold out with some guests taking in the festive scene from their balconies. Lines for Mickies Dairy Bar would stretch down the block to Oakland Avenue, beer gardens on Regent Street would be packed and the UW Marching Band would be firing up a crowd at Union South.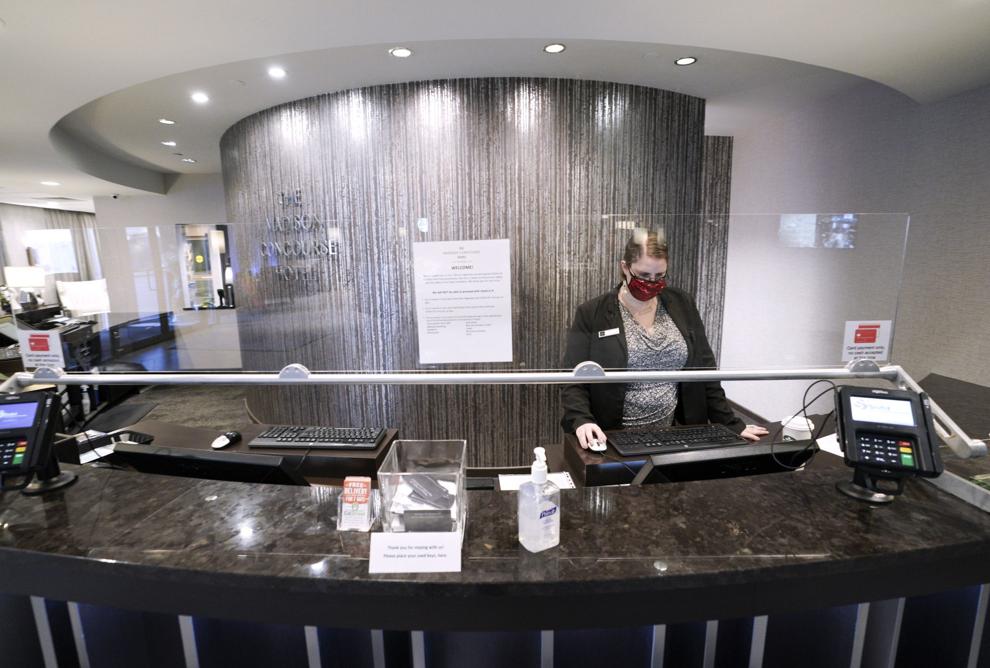 Except in this year of COVID-19, Madison and the dozens of hotels throughout Dane County will be eerily quiet when the Wisconsin Badgers football team opens its delayed and shortened season against the University of Illinois without 80,000 fans crowding into Camp Randall Stadium.
"It won't be the same," said Stephen Zanoni, general manager at the Concourse, Dane County's largest hotel. "We're doing everything we can to save money and trying to capture as much business as we can but obviously we're in a very difficult financial situation."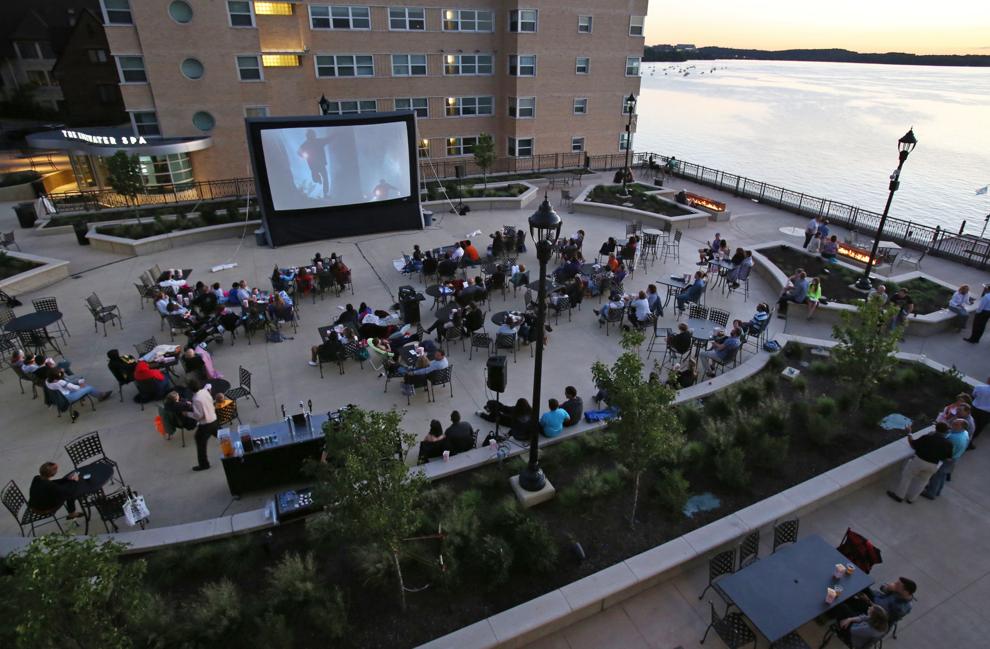 The Concourse, typically staffed with 250 to 260 employees, now has only 30 to 40 on hand. Rooms that would go for $500 or more at The Edgewater are available this weekend for between $150 and $250 per night. HotelRed has been closed since March 17, its 55 employees furloughed. The now 48-room hotel doesn't expect to reopen until fall 2021 until a major expansion project that adds 40 rooms, three floors and a rooftop bar is completed.
"I never envisioned locking down a hotel in my career but it was the right thing to do," said Phillip Mattsson-Boze, the hotel's general manager and president of the Greater Madison Hotel & Lodging Association. "A lot of the industry projections say that it's going to be a while for our industry to bounce back. And a while being not a matter of months but a matter of years."
Lodging among hardest hit
The pandemic has challenged many industries, and lodging has been among those hardest hit. Weekday bookings have dried up as conferences, conventions and business travel have largely been put on hold. Weekend stays also have tanked with the cancellation or postponement of festivals, fairs, concerts, weddings, sporting events and other activities.
As a whole, intercollegiate athletics at UW-Madison produce an annual economic impact of $610 million for the state, including $395 million in Madison, according to a study completed last year. Each Badgers home football game contributes $16 million to the state's economy, but the vast majority of that money won't materialize this season due to a lack of fans.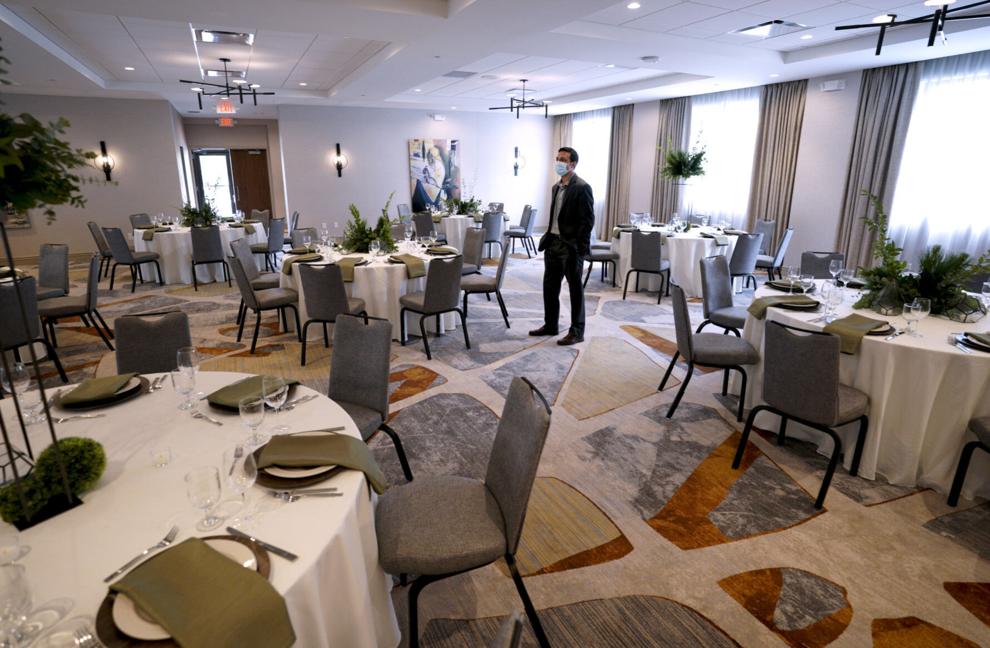 Hotel operators in Madison say business is down anywhere from 60% to 80% compared to 2019 and many are already bracing for a difficult 2021 as the virus continues to surge. It's unclear how many properties around the state will survive past the distribution of a vaccine if federal aid, which continues to be debated in Washington, D.C., isn't realized.
A survey conducted last month by the Wisconsin Hotel & Lodging Association showed 47% of lodging facilities in the state could close within a year without loans or grants. More than 50% of the state's 200,000 lodging property employees remain furloughed or laid off.
"The COVID-19 pandemic is the single greatest crisis the hotel and lodging industry has ever faced, and the situation remains dire," said Bill Elliott, president of the Hotel & Lodging Association. "We need to see some true leadership out of Madison and at the federal level if the hotel and lodging industry is going to weather this storm."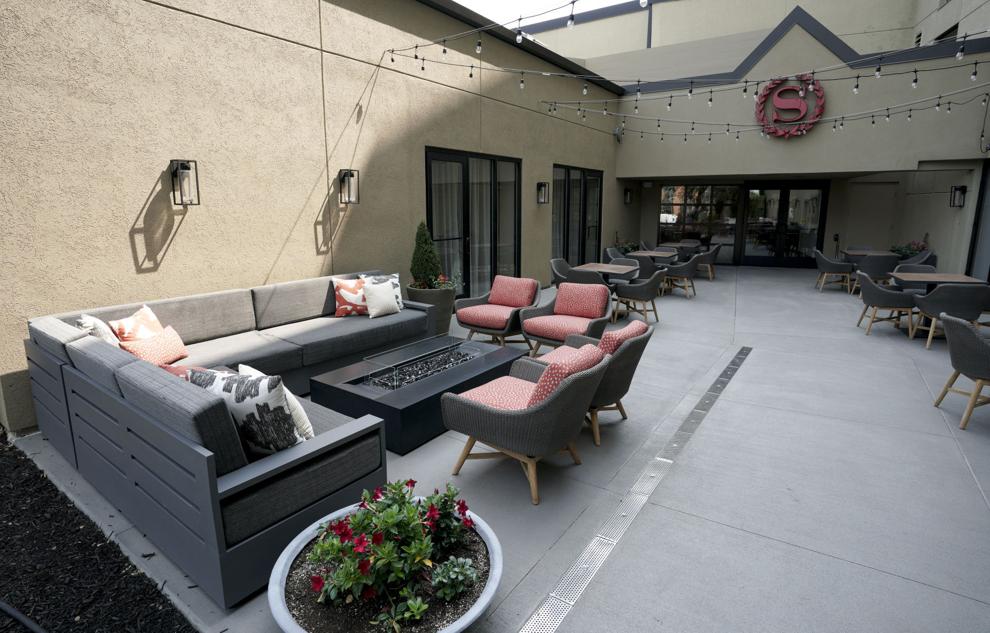 Last week, a coalition of 88 lodging executives from around the country pleaded with President Donald Trump to amend and expand the "restrictive" terms of the $600 billion federal Main Street Lending Program. Lodging officials say the terms prevent many businesses from accessing the funds.
"This health and economic crisis has wreaked havoc on hotels in our industry," the executives wrote to the president on Thursday. "Your engagement is desperately needed to support struggling businesses, stem the impending wave of foreclosures, and save millions of jobs to ensure the health of the entire American economy."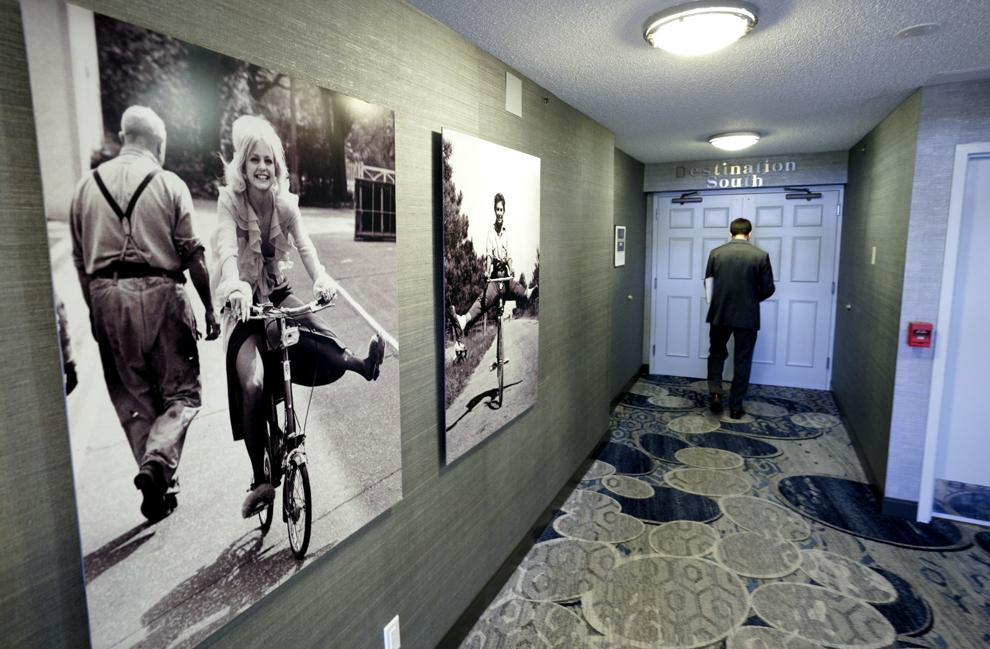 Earlier this month, Gov. Tony Evers announced $50 million in investments to small businesses in the form of $5,000 grants. The package included another $10 million for privately owned movie theaters; $25 million for live concert and live theater venues; and $20 million for the state's lodging industry that in 2019 generated $3.7 billion in revenue.
But with hundreds of hotels, motels and other lodging properties around the state reeling, the $20 million in aid will go quickly.
"We're going into next year and looking at nine to 12 months of limited service and opportunity. I don't think a lot of businesses are going to survive it," said Amy Supple, chief operations officer for the 202-room Edgewater, which in 2014 completed a $100 million expansion and renovation. "I'm really concerned about what Madison looks like as a destination. It could be years before it recovers."
Tourism in Dane County, with its lakes, UW-Madison, state government, Alliant Energy Center, Monona Terrace, museums, theaters, shopping opportunities, WIAA state tournaments and scores of special events, had a $2.3 billion economic impact in 2019, ranking it behind only Milwaukee County's $3.8 billion in tourism spending. But this year, the economic impact will be reduced to shockingly low numbers.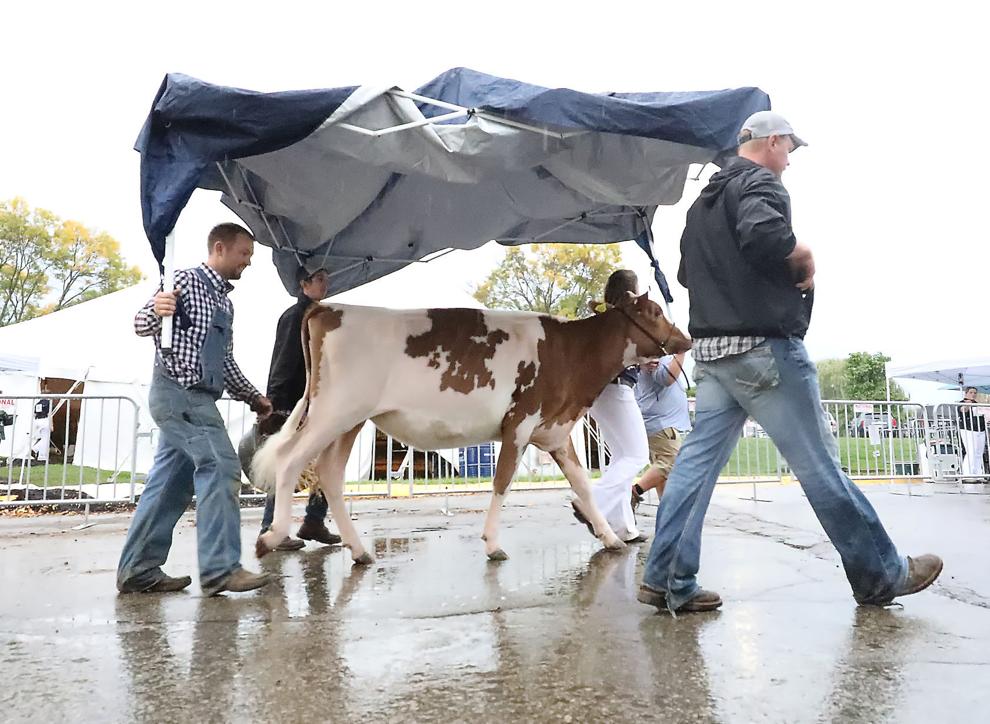 The city of Madison in 2019 collected $18.9 million in room tax revenue but in the second quarter of 2020, room tax collections were $705,385, down from $4.4 million in the second quarter of 2019, a reduction of 85%, according to figures from David Schmiedicke, the city's finance director. Schmiedicke estimates total room tax collections for 2020 could be in the neighborhood of $8 million.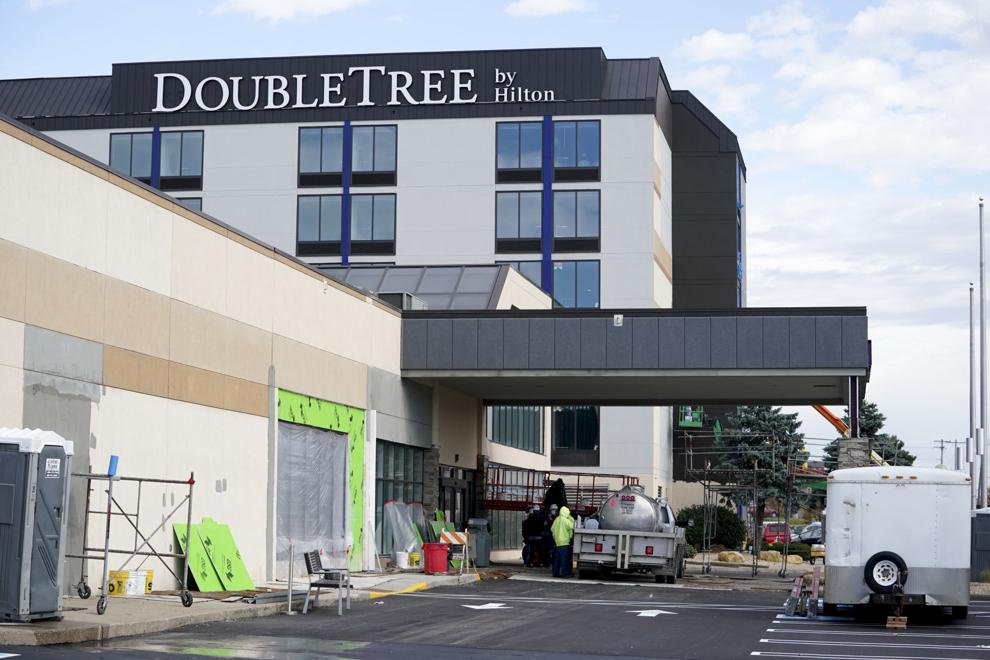 Deb Archer, who will retire at the end of the year as president and CEO of Destination Madison, said leisure travel is accounting for most of the bookings at area hotels, but properties in Downtown Madison are feeling the effects of the pandemic the most because they rely more on business travel.
"Uncertainty is very difficult and consumer confidence is waning," Archer said. "It's a pretty daunting picture right now. It's really catastrophic."
No events, no weddings
The losses can be seen out the front door of the 239-room Sheraton Hotel that last month completed a $15 million renovation and overlooks the Alliant Energy Center. Instead of hosting 50,000 people for World Dairy Expo this month, the majority of the traffic at Alliant has been from motorists queuing up for COVID-19 tests.
The Sheraton's two-year project has added more event space, but a wedding reception hasn't been held on the property since March. There's a new bar and restaurant, outdoor patio, larger fitness center and the 1,200-square-foot Roth Room, a lounge on the hotel's seventh floor for employees and visitors to Epic Systems in Verona. It's named after David Lee Roth, the former lead singer of Van Halen, a rock group that trashed the hotel during a three-night stay in 1978.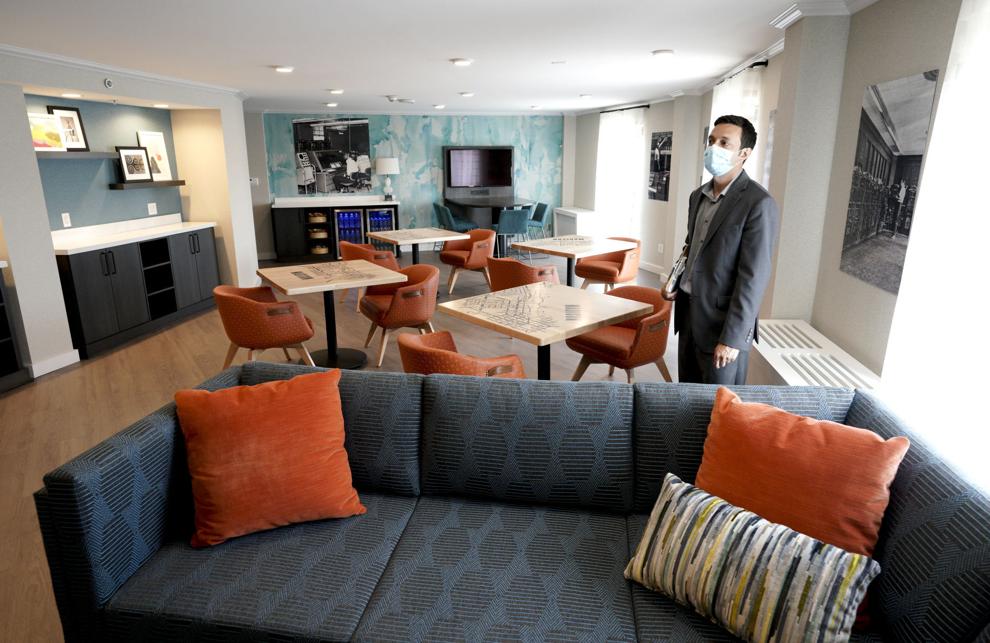 But bookings at the Sheraton are down nearly 70% compared to 2019, although some guests have re-booked for 2021 after canceling reservations amid the pandemic.
"It's been quite the challenge, to say the least," said Adam Gautreaux, the Sheraton's general manager. "We've truly tried to cut back from an expense standpoint where we were able to. We're trying to weather the storm and make sure we can maintain the business we can capture and try and get through this."
The success of Dane County's tourism efforts over the past 20 years has resulted in a boom of hotel development and redevelopment projects, but some plans have been put on pause or changed.
Work on a 199-room Drury Plaza Hotel at the former home of Madison Area Technical College's Downtown campus, 211 N. Carroll St., stopped months ago, and no work has begun on a proposed $43 million, boutique hotel in the 100 block of State Street.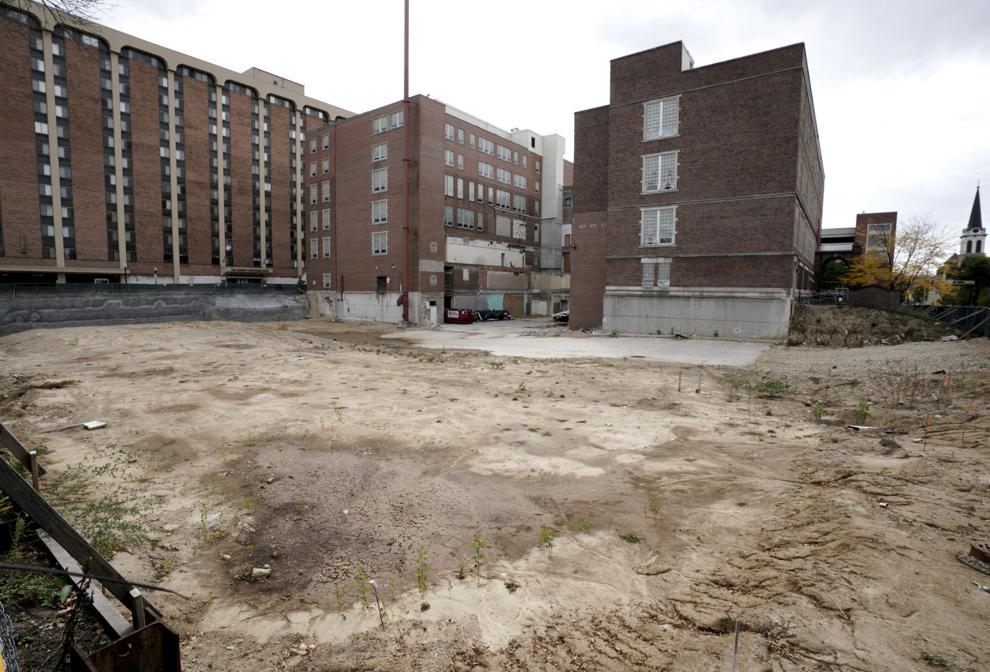 At Madison Yards, a 21-acre mixed-use development just west of Hilldale, plans for a 175-room hotel have been replaced with a 15-story, 270-unit apartment building, according to documents submitted last month by Summit Smith Development.
The latest additions to the Madison-area hotel market include the 85-room Hotel of the Arts Baymont Inn & Suites in Fitchburg and the massive renovation of what had been the Crowne Plaza on East Washington Avenue near East Towne into a DoubleTree by Hilton. Both are scheduled to open next month.
The Crowne Plaza was purchased out of foreclosure in March by Middleton-based North Central Group, which has 26 hotels around the country including 11 in Wisconsin. In 2019, NCG opened the Home2Suites by Hilton and Liberty Station American Tavern & Smokehouse at the Beltline and Rimrock Road and will soon break ground on a Starbucks on the site.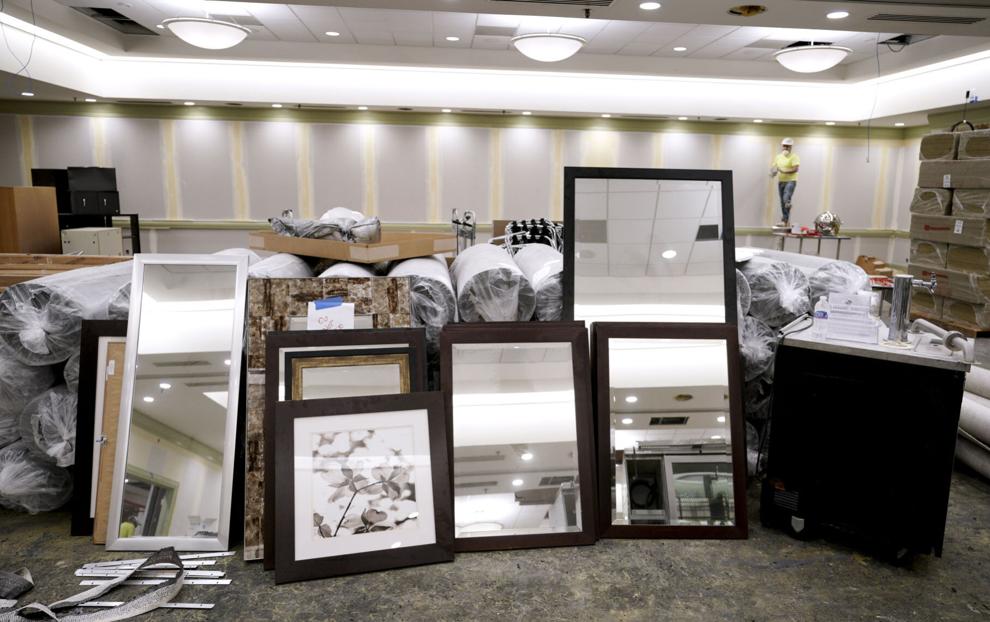 The DoubleTree project includes renovating nearly every inch of the 226-room hotel that opened in 1987 and includes nearly 10,000 square feet of meeting space. Jeff Lenz, president and chief development officer for NCG, which also owns the AC Hotel at Webster Street and East Washington Avenue, said the project comes at a time of economic uncertainty but is an investment to the future. NCG has laid off about half of its staff while revenues are down nearly 60% across the company's properties.
"It's certainly not fun," Lenz said. "But our discipline in how we set aside reserves for all of our properties … it's a huge component in helping us through this. And that's what we're leaning on right now. We're projected to kind of get through the end of next year and that's what we're programming to do because we think we can get to the other side of the vaccine and the recovery by then."
Get ready for Badgers' season with in-depth breakdown of Big Ten competition
UW OPPONENTS
ILLINOIS | OCT. 23 | CAMP RANDALL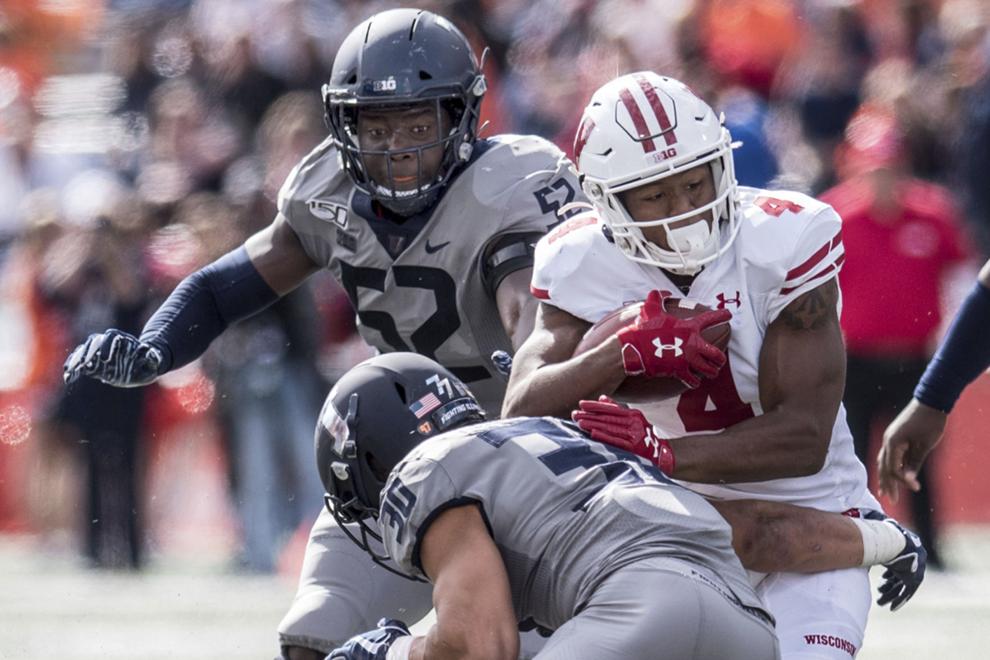 BOSS
Two shocking comebacks last season may have saved Lovie Smith's job. The Illini rallied from 13 points down in the second half to upset then-No. 6 UW (above) and, three weeks later, erased a 25-point deficit to win 37-34 at Michigan State. Smith is 15-34 through four seasons at Illinois, including 8-28 in Big Ten play. But he produced the program's first postseason appearance since 2014. And even though a 6-7 final mark extended the Illini's run of consecutive losing seasons to eight, their four Big Ten wins matched Smith's output from his first three seasons.
BIG MAN ON CAMPUS
Junior safety Sydney Brown tied for the team lead with three interceptions last season and was second with 88 tackles. Part of Illinois' 27-point outburst in the fourth quarter at Michigan State included Brown, named a third-team All-Big Ten pick by the coaches, returning a pick 76 yards for a score.
BITS AND PIECES
Wide receiver Josh Imatorbhebhe had nine touchdown receptions as a junior, accounting for nearly half of the Illini's scores through the air. Imatorbhebhe averaged 19.2 yards per catch. … Illinois has some big holes to fill on defense, namely linebacker Dele Harding and defensive end Oluwole Betiku. Those two combined for 28 tackles for loss a year ago. … One key returnee on that side of that ball is linebacker Jake Hansen, who forced seven fumbles, the most in the Big Ten, despite missing the final four games of the season with a back injury.
BURNING QUESTION
Can Illinois' offense carry the load?
Considering the key personnel losses on defense, senior quarterback Brandon Peters and Co. may have to light up the scoreboard in 2020. Peters had 18 touchdown passes and nine interceptions while throwing for 1,884 yards season, but the transfer from Michigan completed only 55.4 percent of his passes. Led by Imatorbhebhe, junior Donny Navarro and Ricky Smalling, Peters has some options at wide receiver. The tight end combo of Daniel Barker and Luke Ford, a transfer from Georgia, also should provide a security blanket for Peters. And while Illinois has plenty of experience up front, it will have to find a way to replace workhorse running back Reggie Corbin. One option at tailback is Mike Epstein, who sustained a torn ACL in the 2019 opener against Akron.
1 | Illinois' Big Ten rank in turnover margin (plus-10) last season. The Illini generated Big Ten highs in turnovers gained (28) and fumble recoveries (16).
NEBRASKA | OCT. 31 (CANCELED)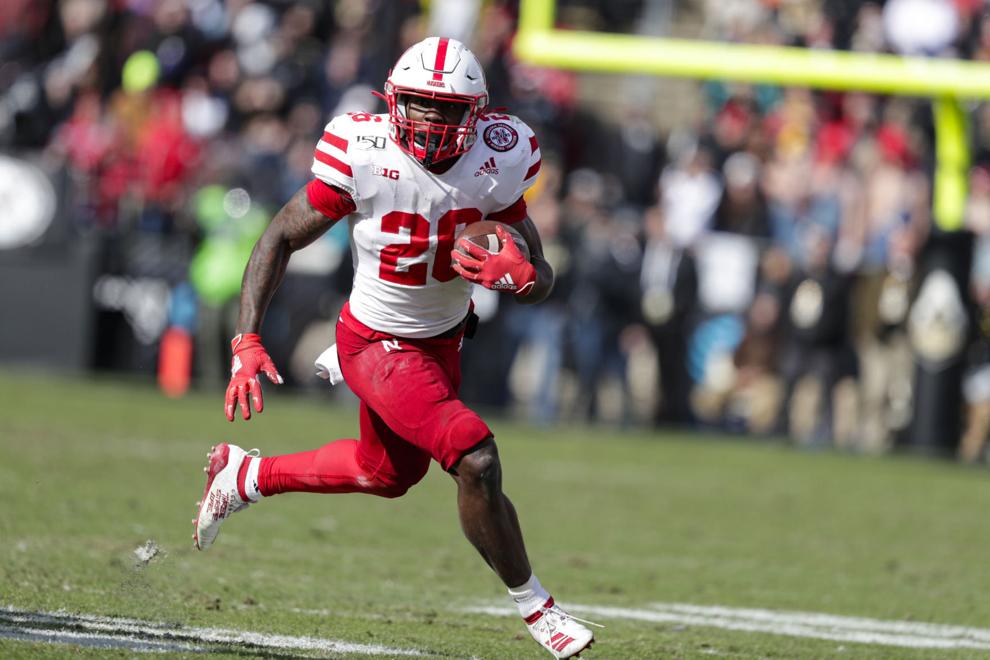 BOSS
Those fans who hoped Scott Frost would return to Lincoln and turn around the program overnight instead have had their patience tested. Frost is 9-15 in two seasons, including 6-12 in the Big Ten. Nebraska arrived at the midway point last season in position to make a run at its first postseason berth since 2016. But the Huskers lost five of their final six games, a slide that began with a four-game skid.
BIG MAN ON CAMPUS
Senior tailback Dedrick Mills (above) tied for fifth in the Big Ten with 10 rushing touchdowns last season. Mills, who began his career at Georgia Tech, led the Cornhuskers with 745 yards and averaged 5.2 per carry. His biggest game came against UW, piling up 188 yards and a touchdown on 17 carries.
BITS AND PIECES
When healthy, junior quarterback Adrian Martinez is a threat with his arm and his feet. But Martinez needs to work on cutting down on his turnovers, especially with redshirt freshman backup Luke McCaffrey waiting in the wings. … Wide receiver JD Spielman, who led the Huskers with 49 catches for 898 yards and five touchdowns last season, left the program during the offseason and ended up at TCU. That should lead to an expanded role for sophomore Wan'Dale Robinson, whose 40 catches for 443 yards were program records for a freshman. Robinson also rushed for 340 yards and was a threat as a returner. … Nebraska has to replace seven starters on defense. Top returnees include senior outside linebacker JoJo Domann (10 TFLs) and senior defensive back Dicaprio Bootle. … The Huskers' two crossover opponents are Ohio State — the Huskers will open the season in Columbus — and Penn State. Was that payback for Frost's complaints and eight Nebraska players filing a lawsuit against the Big Ten after the conference shut down the season back in August? Athletic director Bill Moos didn't make that accusation directly, but he did say the Big Ten schedule-makers didn't do the Huskers any favors.
BURNING QUESTION
What will coordinator Matt Lubick add to the offense?
Lubick has credentials as a play-caller — he served as Oregon's offensive coordinator in 2016 and the co-offensive coordinator at Washington the following two seasons — and has a solid relationship with Frost after the pair worked together at Oregon for four seasons. But what made Lubick an interesting replacement for Troy Walters was the fact Lubick spent all of last season out of football, working for a credit union in Colorado.
THE NUMBER
3-9 | Nebraska's record under Frost in games decided by seven or fewer points.
PURDUE | NOV. 7 | (CANCELED)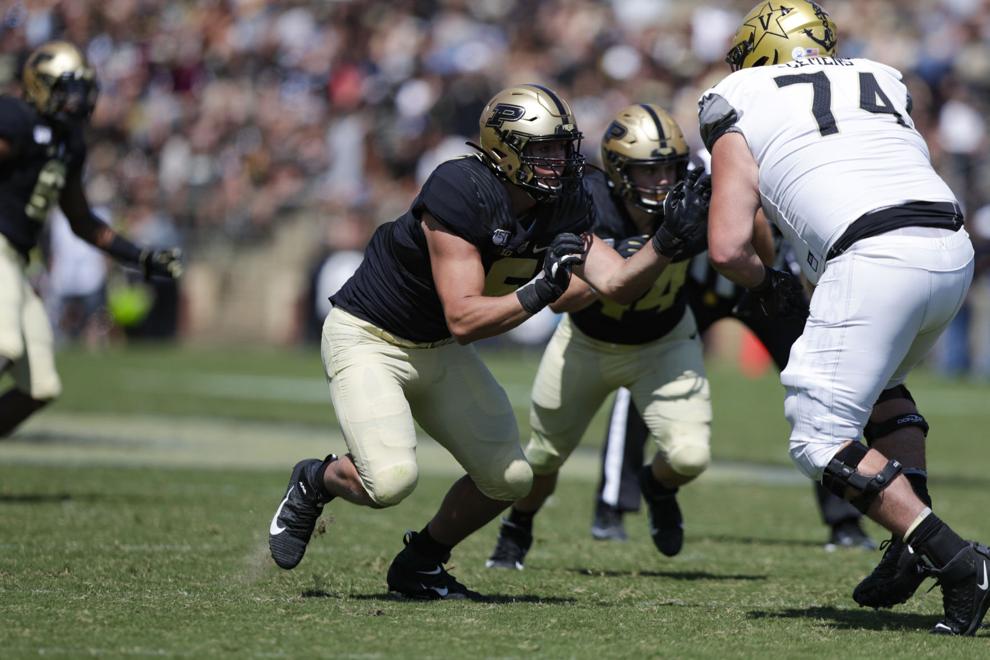 BOSS
The Boilermakers took a step back in Jeff Brohm's third season, finishing 4-8 overall and 3-6 in the Big Ten Conference. Injuries to some key players had a lot to do with that decline, so it's not like Brohm, 17-21 overall at Purdue, is on the hot seat in West Lafayette. Remember, Brohm is only one season removed from being chased by Louisville — he turned down his alma mater — and is considered one of the brightest offensive minds in college football.
BIG MAN ON CAMPUS
Sophomore defensive end George Karlaftis (above) earned freshman All-America honors after recording 17 tackles for loss and 7½ sacks in 2019. Karlaftis had three TFLs in a loss to Penn State and two TFLs and a fumble recovery in a victory over Northwestern.
BITS AND PIECES
After originally opting out of the 2020 season, standout wide receiver Rondale Moore changed his mind and announced he intends to return for his junior season. Moore was the Big Ten's Freshman of the Year in 2018 after catching 114 passes for 1,258 yards and 12 touchdowns. He was off to a great start last season, producing 29 catches for 387 yards and four total scores through four games, but his season ended in September due to a hamstring injury. … The pairing of Moore and David Bell will be scary for Big Ten secondaries. Bell produced 86 catches for 1,035 yards and seven TDs as a freshman last season, topping the 100-yard mark in six of his final nine games. … Purdue needs more from its running game after ranking last in the Big Ten in that department with 83.3 yards per game. … Sophomore quarterback Jack Plummer started six games last season after senior Elijah Sindelar sustained a broken collarbone. Plummer threw for 1,603 yards with 11 touchdowns and eight interceptions before his season ended due to a broken ankle. Plummer will compete for the starting job in 2020 with junior Aidan O'Connell, who started the final three games after Plummer was injured, and UCLA graduate transfer Austin Burton.
BURNING QUESTION
Can improvement be made on defense?
All the gaudy passing numbers the Boilers generate don't really matter if they can't stop anyone, and that was an issue last season. They ranked near the bottom of the Big Ten in all of the major defensive categories. Bob Diaco arrives from Louisiana Tech as Purdue's new defensive coordinator and has a chance to redeem himself in the Big Ten. Diaco had a one-season stint at Nebraska in 2017 that went poorly, with the Cornhuskers going 4-8 and allowing at least 54 points in four of their final six games.
THE NUMBER
436.3 | Yards per game allowed by Purdue last season, the second-highest mark in the Big Ten.
MICHIGAN | NOV. 14 | AT MICHIGAN STADIUM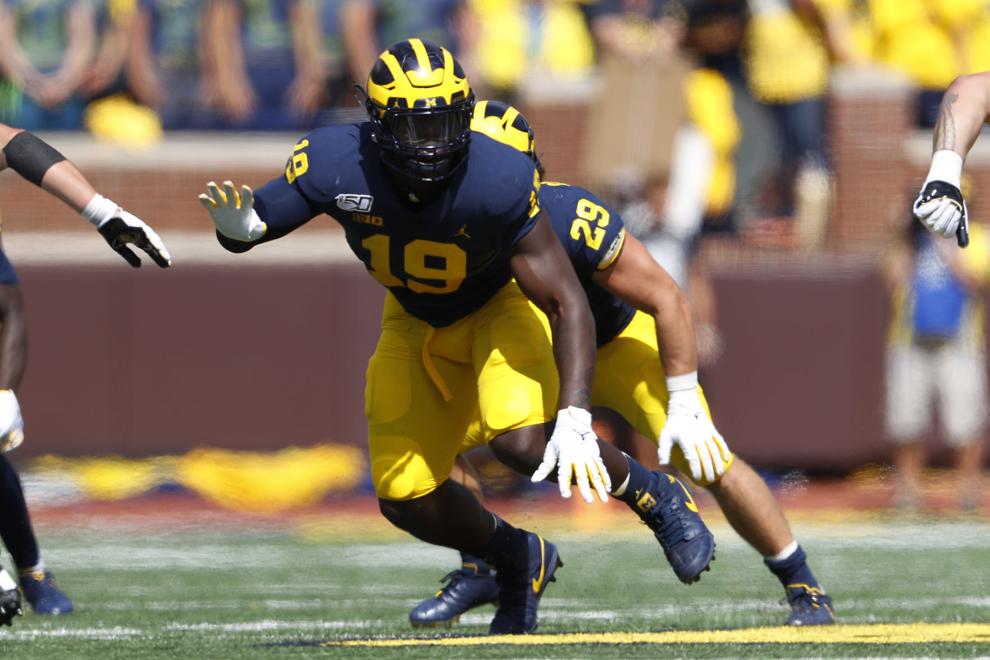 BOSS
The Wolverines are 47-18 in five seasons under Jim Harbaugh, including 32-12 in the Big Ten. While that's a solid run, his critics have some ammunition: Harbaugh hasn't won a Big Ten championship — or even an East Division title, for that matter — and is 0-5 against Ohio State. Plus, there's the fact Michigan has nine double-digit defeats and seven losses by 19 or more points during the Harbaugh era. Three of Michigan's four losses last season were routs: 35-14 at UW, 56-27 at home to Ohio State and 35-16 to Alabama in the postseason.
BIG MAN ON CAMPUS
Senior defensive end Kwity Paye (above) had a team-high 12½ tackles for loss last season, including 6½ sacks. Paye had one dominant stretch in which he produced 9½ TFLs over five games. Paye, junior end Aidan Hutchinson and senior tackle Carlos Kemp form an experienced trio up front.
BITS AND PIECES
Two key players, wide receiver Nico Collins and cornerback Ambry Thomas, opted out of the 2020 season. Seven of Collins' 37 receptions last season went for scores. … While the defensive line should be a strength, the Wolverines have to replace several playmakers in the back seven. That group includes linebacker Josh Eshe, who was selected by New England in the second round of the NFL draft. … The output in Josh Gattis' first season as offensive coordinator was pedestrian: Michigan finished sixth in the Big Ten in scoring offense, seventh in total offense, eighth in rushing offense and fifth in passing offense. The biggest challenge in Year 2 for Gattis will be replacing four starters on the offensive line, all of whom were drafted. … Tailbacks Zach Charbonnet and Hassan Hawkins combined for 1,348 yards and 15 touchdowns in 2019. … Junior wide receiver Ronnie Bell led the Wolverines with 48 receptions for 758 yards last season.
BURNING QUESTION
Milton, a third-year sophomore who has appeared in eight games and attempted 11 passes, is set to take over at quarterback for Shea Patterson. The more experienced Dylan McCaffrey opted out of the 2020 season and apparently will transfer. Gattis is excited about Milton's potential, but there's little depth behind Milton. Backup Cade McNamara, a redshirt freshman, hasn't taken a snap. Patterson threw for 3,061 yards and 23 touchdowns last season.
THE NUMBER
1-15 | Michigan's record in its past 16 meetings with rival Ohio State.
NORTHWESTERN | NOV. 21 | AT RYAN FIELD
BOSS
Pat Fitzgerald enters his 15th campaign in charge of the Wildcats. He's 99-79 in that span, but last season was the low point during that run. Northwestern went 3-9 overall and 1-8 in the Big Ten, with the lone win coming in the season finale at Illinois. Fitzgerald is convinced it was just a blip caused by an offense that was terrible and believes the Wildcats will return to contending in the Big Ten West this season.
BIG MAN ON CAMPUS
Senior linebacker Blake Gallagher (above) shared the team lead with 88 tackles last season and had a team-high three interceptions. Gallagher was dominant from mid-season on, with a three-game run of double-digit tackles against Ohio State (11), Iowa (10) and Indiana (11) followed by picks in three consecutive games.
BITS AND PIECES
Senior left tackle Rashawn Slater opted out of the 2020 season. Slater made 37 starts at Northwestern, including 30 in a row. … Gallagher's tag-team partner at linebacker, senior Paddy Fisher, is a three-year starter and two-time All-Big Ten selection. Fisher has 315 tackles, including 20 for loss, heading into his final season with the Wildcats. … Northwestern returns all of its starters from the back seven. Defensive coordinator Mike Hankwitz's unit was seventh in the Big Ten in total defense last season. The tricky part is finding a replacement for defensive lineman Joe Gaziano, who produced 48½ tackles for loss, 30 sacks and 10 forced fumbles in his career. … Isaiah Bowser was limited to 59 carries last season due to injuries after rushing for 866 yards and six touchdowns as a freshman in 2018. Drake Anderson ran for 634 yards as a redshirt freshman in place of Bowser.
BURNING QUESTION
Can Mike Bajakian fix Northwestern's offense?
Fitzgerald fired longtime offensive coordinator Mick McCall after a brutal 2019 campaign in which the Wildcats averaged only 16.3 points and 297.1 total yards per game. McCall's replacement — Mike Bajakian — called plays last season at Boston College. The biggest issue for the Wildcats was at quarterback, where there was a revolving door after Trent Green was injured in the opener. Hunter Johnson, a highly touted transfer from Clemson, fizzled and Aidan Smith and Andrew McCarty also failed to establish themselves as consistent starters. The arrival of Peyton Ramsey, a transfer from Indiana with plenty of experience, has provided hope for the Wildcats.
THE NUMBER
117.0 | Passing yards per game for the Wildcats last season. Northwestern ranked last among 130 teams nationally in passing efficiency after its quarterbacks combined for 1,404 yards with six touchdowns and 15 interceptions.
MINNESOTA | NOV. 28 | CAMP RANDALL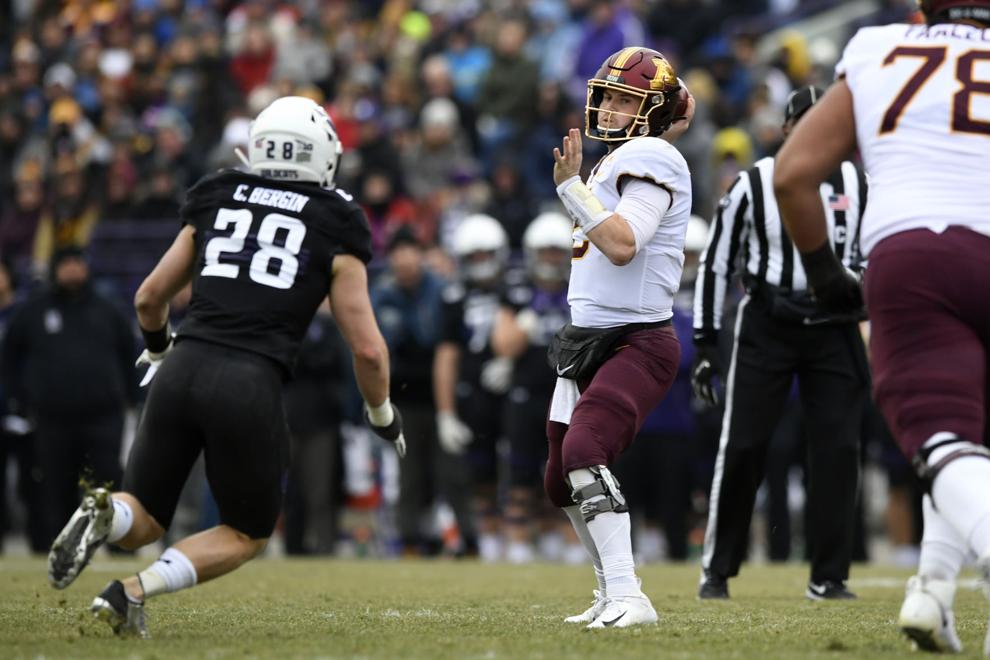 BOSS
The Golden Gophers had a breakthrough in P.J. Fleck's third season in charge of the program, going 11-2 overall and 7-2 in the Big Ten Conference after being picked to finish sixth in the West Division. Fleck's team had a chance to play for the Big Ten title but was beaten 38-17 by visiting UW in the regular-season finale. Still, Minnesota bounced back with a 31-24 victory over Auburn in the Outback Bowl. As the whole, there's no question the momentum is building in Dinkytown under Fleck, who is 23-15 since taking over.
BIG MAN ON CAMPUS
Junior quarterback Tanner Morgan (above) threw for 3,253 yards and 30 touchdowns while completing 66.0 percent of his passes — all program records — in his first full season at starter. Morgan only threw seven interceptions in 318 attempts and finished behind only Ohio State's Justin Fields among Big Ten quarterbacks in pass efficiency rating. Morgan went over 300 yards three times, including 396 against Purdue.
BITS AND PIECES
Minnesota already had to replace wide receiver Tyler Johnson, who caught 213 passes for 3,305 receiving yards and 33 touchdowns during his career, when his tag-team partner announced he was opting out of the 2020 season. But Rashod Bateman, who had 60 catches for 1,219 yards and 11 touchdowns last season, changed his mind and wants to play. Bateman is considered a likely first-round pick in the 2021 NFL draft. Junior Chris Autman-Bell, who had 28 catches for 371 yards and five scores last season, will have an expanded role now that Johnson is gone. … Fleck lost offensive coordinator Kirk Ciarrocca to Penn State and replaced him with Mike Sanford Jr., who spent last season working under Gary Andersen at Utah State following two seasons as Western Kentucky's head coach. … Minnesota's starting offensive line returns intact. Junior left guard Blaise Andries was a third-team All-Big Ten pick last season.
BURNING QUESTION
Will Minnesota's defense take a step back?
The Gophers were third in the Big Ten in total defense (306.6) and second in pass defense (184.2) in 2019, but that group lost five of its top six tacklers and six starters overall. The biggest losses are defensive end Carter Coughlin and safety Antoine Winfield Jr. Winfield led the team in tackles (88) and interceptions (seven) while earning first-team All-America honors.
THE NUMBER
1,764 | Rushing yards for junior tailback Mohamed Ibrahim the past two seasons while splitting time with Rodney Smith and Shannon Brooks.
INDIANA | DEC. 5 | CAMP RANDALL
BOSS
Tom Allen is 18-20 as he starts his fourth full season at Indiana. The Hoosiers ended two major droughts last season by winning eight games overall and producing a winning record in Big Ten play. They hadn't accomplished either of those feats in 26 years. It would have been better, too, but Indiana blew a 13-point lead in the final 5 minutes of a 23-22 loss to Tennessee in the Gator Bowl.
BIG MAN ON CAMPUS
Senior wide receiver Whop Philyor (above) had a breakout campaign in 2019, catching 70 passes for 1,002 yards and five touchdowns. He had 56 catches, 570 yards and four scores in his first two season combined. Philyor had four massive games: 14 catches for 142 yard and two TDs vs. Michigan State; 10 for 182 vs. Rutgers; 14 for 178 vs. Nebraska; and eight for 138 and two scores vs. Purdue.
BITS AND PIECES
Junior Peyton Hendershot is back with the team after avoiding serious charges for an off-the-field incident last winter. Hendershot, who set Indiana tight end records with 52 catches for 622 yards in 2019, pleaded guilty in June to a misdemeanor trespass charge and was sentenced to one-year probation. Three other charges stemming from an incident with his ex-girlfriend were dropped. … Junior tailback Stevie Scott has scored 22 touchdowns through his first two seasons, including 20 on the ground. Scott rushed for 845 yards last season, down from 1,137 as a freshman. … When healthy, sophomore quarterback Michael Penix Jr. is dangerous as a player and a runner. Penix's ascension last season led to Patrick Ramsey transferring to Northwestern. … Nick Sheridan was promoted to offensive coordinator after Kalen DeBoer left after one season at Indiana to take over the program at Fresno State.
BURNING QUESTION
Can Indiana keep making strides on defense?
Kane Wommack took over play-calling duties from Allen prior to last season and the Hoosiers allowed 71.6 fewer yards and 5.5 fewer points per game than in 2018. But Indiana still has a ways to go before it can call itself good on that side of the ball. The Hoosiers finished ninth in the Big Ten in scoring defense, total defense and rushing defense and 10th in passing defense. Indiana returns nine starters on defense, including junior middle linebacker Miach McFadden.
THE NUMBER
302.4 | Passing yards per game for Indiana last season, second only to Purdue (309.9) in the Big Ten.
IOWA | DEC. 12 | AT KINNICK STADIUM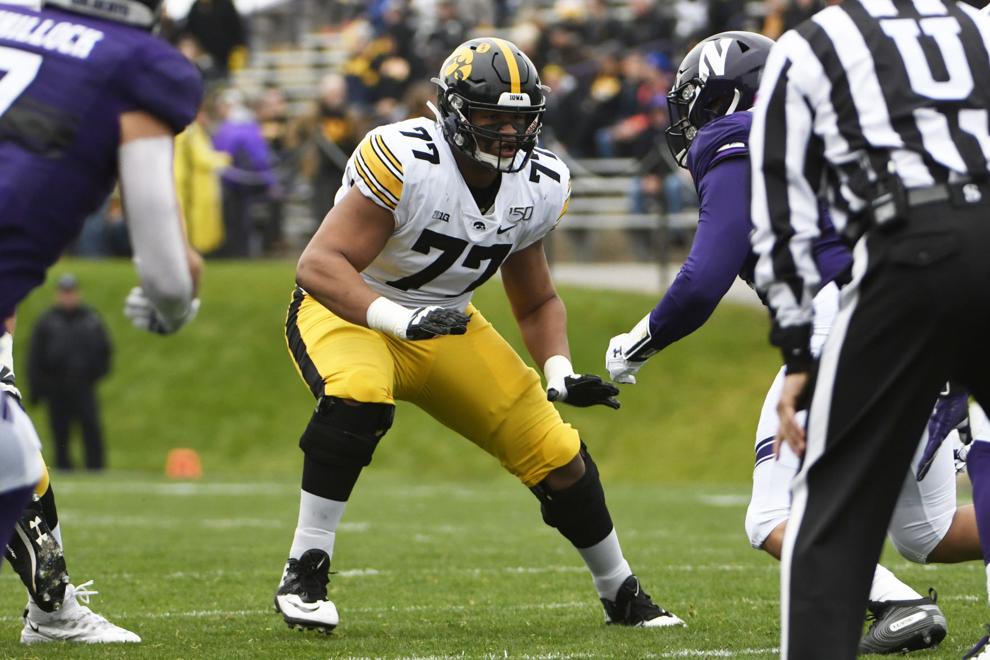 BOSS
Kirk Ferentz, who turned 65 in August, is 162-104 in 21 seasons at Iowa. The Hawkeyes posted their sixth double-digit win season of the Ferentz era last season, going 10-3 overall and 6-3 in the Big Ten. The program had a tumultuous offseason, with longtime strength and conditioning coach Chris Doyle losing his job after allegations of mistreatment toward players based on their race.
BIG MAN ON CAMPUS
Senior Alaric Jackson (above) is set to become the first four-year starter at left tackle in program history. Jackson was a third-team All-Big Ten pick by both the media and coaches despite missing three games due to injury in 2019. He's on the preseason Outland Award watch list.
BITS AND PIECES
Three players left early for the NFL draft: offensive tackle Tristian Wirfs, defensive end A.J. Epenesa and defensive back Geno Stone. Epenesa led the team with 14½ tackles for loss and 11½ sacks last season, while Stone and Michael Ojemudia will be difficult to replace in the secondary. There's also a hole to fill at linebacker now that Kristian Welch, the team's leading tackler last season, is gone. But Iowa is perennially solid on defense and will rely on the experience of senior defensive end Chauncey Golston, cornerback Matt Hankins and safety Jack Koerner. … Wirfs went No. 13 overall in the NFL draft and was a monster. But Iowa's tackle depth got a boost with the arrival of Coy Cronk, a graduate transfer from Indiana. … Tailback Tyler Goodson became the first true freshman to lead Iowa in rushing last season, finishing with 638 yards. … The Hawkeyes have plenty of good options at wide receiver. The quartet of Nico Ragaini, Ihmir Smith-Marsette, Brandon Smith and Tyrone Tracy Jr. combined for 163 catches for 2,189 yards and 15 touchdowns in 2019. … Senior kicker Keith Duncan set Iowa and Big Ten records with 29 made field goals last season.
BURNING QUESTION
Is Spencer Petras ready to take over at quarterback?
Petras, a sophomore, takes over for three-year starter Nate Stanley. While Stanley wasn't great by any means, he was reliable and threw for 2,951 yards as a senior. Petras is big (6-foot-5, 231 pounds) and has a strong arm, but he's inexperienced. A normal offseason would have been particularly beneficial for the quarterback room considering Petras has 10 career pass attempts and has a redshirt freshman (Alex Padilla) and true freshman (Deuce Hogan) behind him.
THE NUMBER
1-7 | Iowa's record vs. UW in the teams' past eight meetings. UW has two wins by two points in that span — including a 24-22 decision last season — and another by a point.
THE REST
MARYLAND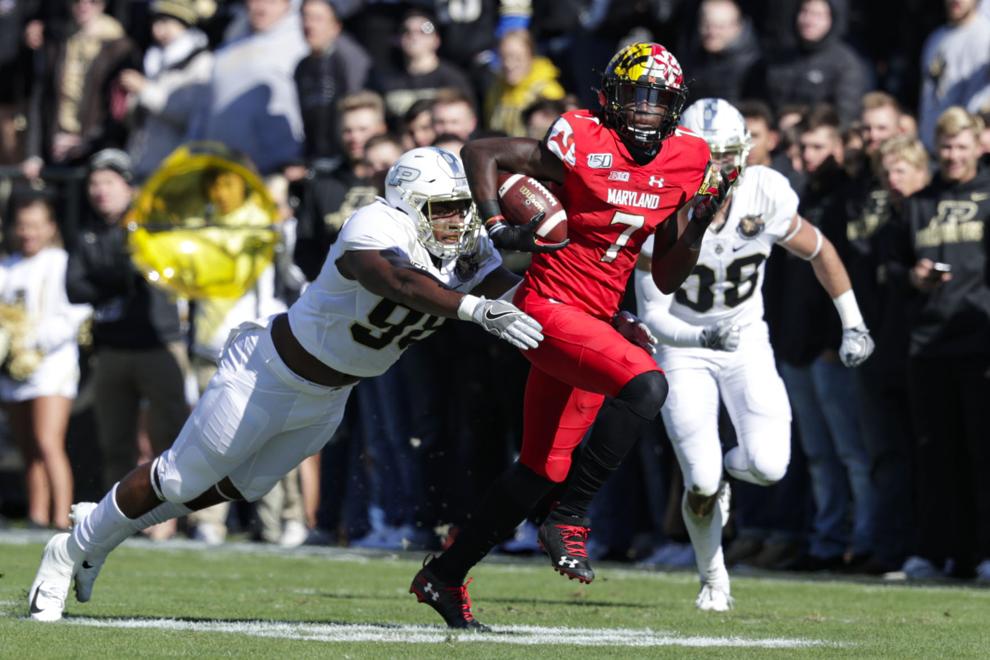 BOSS
The Terrapins went 3-9 overall and 1-8 in their first season under Mike Locksley. After a promising start that included a 63-20 win over then-No. 21 Syracuse, Maryland lost its final seven games following a 48-7 victory at Rutgers. Locksley took a page out of Minnesota coach P.J. Fleck's book, referring to his rookie campaign as "Year Zero," but the unofficial Year 1 in College Park might not look much better.
BIG MAN ON CAMPUS
Junior wide receiver Dontay Demus Jr. (above) led the Terrapins with 41 catches for 625 yards last season. Demus had a pair of 100-yard outings, including 105 on 10 catches against Purdue. He also had seven receptions for 96 yards in the regular-season finale at Michigan State.
BITS AND PIECES
Senior quarterback Josh Jackson opted out of the 2020 season. Jackson, a transfer from Virginia Tech, completed only 47.3 percent of his passes while throwing for 1,274 yards with 12 touchdowns and six interceptions last season. Maryland did land an intriguing transfer when Taulia Tagovailoa left Alabama after one season and chose the Terrapins. The younger brother of former Alabama star Tua Tagovailoa received a waiver from the NCAA and is eligible immediately. … The offensive line already was a question mark for Maryland and the depth at that position took another hit when two projected starters on the interior, Johnny Jordan and Austin Fontaine, opted out of the season. … Javon Leake and Anthony McFarland Jr. formed a solid 1-2 punch at tailback last season, but both players are gone. Tayon Fleet-Davis (265 yards) is the leading returning rusher, but true freshman Peny Boone arrives with plenty of hype. … Another blue-chip recruit landed by Locksley and Co. was wide receiver Rakim Jarrett, who originally had committed to LSU.
BURNING QUESTION
Can the Terps stop anyone?
Maryland allowed 41.8 points, 499.4 total yards and 286.8 passing yards per game in Big Ten play, ranking last in the conference in all three of those categories. Big Ten opponents converted 50 percent of their third downs against the Terps. The Terrapins gave up 73 points to Ohio State, 59 to Penn State, 54 to Nebraska and 52 to Minnesota. Maryland only has five starters returning on that side of the ball, but perhaps that's not such a bad thing.
THE NUMBER
25:45 | Maryland's average time of possession in 2019, which ranked second-to-last nationally. Only Utah State held the ball less than the Terps.
MICHIGAN STATE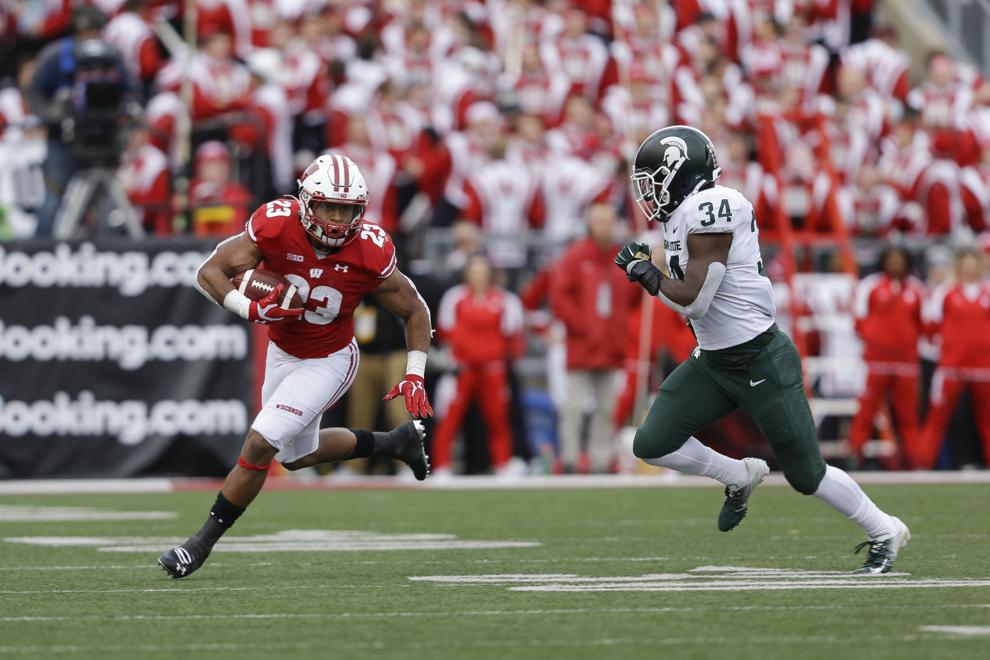 BOSS
Mel Tucker, no stranger to the Big Ten, takes over a Michigan State program that had been one of the most stable in the conference. Tucker played defensive back at UW, was a graduate assistant with the Spartans and also was on Ohio State's staff for four seasons. Tucker went 5-7 in his only season at Colorado before Michigan State came calling and offered him a 6-year deal worth $5.5 million annually. Tucker replaces Mark Dantonio, whose retirement in early February was a shocker. Dantonio went 114-57 in 13 seasons at Michigan State. The highlight of that tenure was a three-year run in which the Spartans went 36-5 and advanced to the College Football Playoff in 2015. More recently, Michigan State had been mediocre and went 7-6 in each of Dantonio's final two seasons.
BIG MAN ON CAMPUS
Senior outside linebacker Antjuan Simmons (above) had a breakout season in 2019, leading the Spartans with 90 tackles and 15 tackles for loss last season. Simmons had a combined 65 tackles and 2 TFLs in his first two seasons.
BITS AND PIECES
Tucker's staff includes former Badgers wide receivers coach Ted Gilmore, who left UW to oversee the tight ends at Michigan State. … Tucker retained longtime Dantonio assistant Mike Tressel, albeit with a demotion. Tressel, who was in charge of the defense the past two seasons, will coach safeties. Tucker hired Scottie Hazelton, formerly of Kansas State, to be the defensive coordinator. … Defensive end Jacub Panasiuk, who had 8½ tackles for loss and 3½ sacks, changed his mind after originally opting out of the 2020 season. Losing Panasiuk would have been a big loss considering Michigan State already was left with the task of replacing its other starter at defensive end, Kenny Willekes, the program's all-time leader in tackles for loss. … Jordan Reid, a returning starter at right tackle, opted out of the season.
BURNING QUESTION
What will the offense look like?
The COVID-19 pandemic disrupted offseasons all around college football, but imagine being a staff trying to implement a new system. That's the challenge for Tucker and his offensive coordinator Jay Johnson, who has Big Ten experience at Minnesota. Finding a quarterback has to be priority No. 1 for the Spartans. Brian Lewerke had an uneven career at Michigan State, but he did throw for over 3,000 yards as a senior. Junior Rocky Lombardi has the most experience among the players trying to replace Lewerke, but sophomore Theo Day and redshirt freshman Payton Thorne could push for the starting role.
THE NUMBER
181-61 | Margin by which Michigan State was outscored during a five-game losing streak that included all of October and went into November. The only close game during that stretch was a 37-34 home defeat against Illinois in which the Spartans blew a 21-point lead in the fourth quarter.
OHIO STATE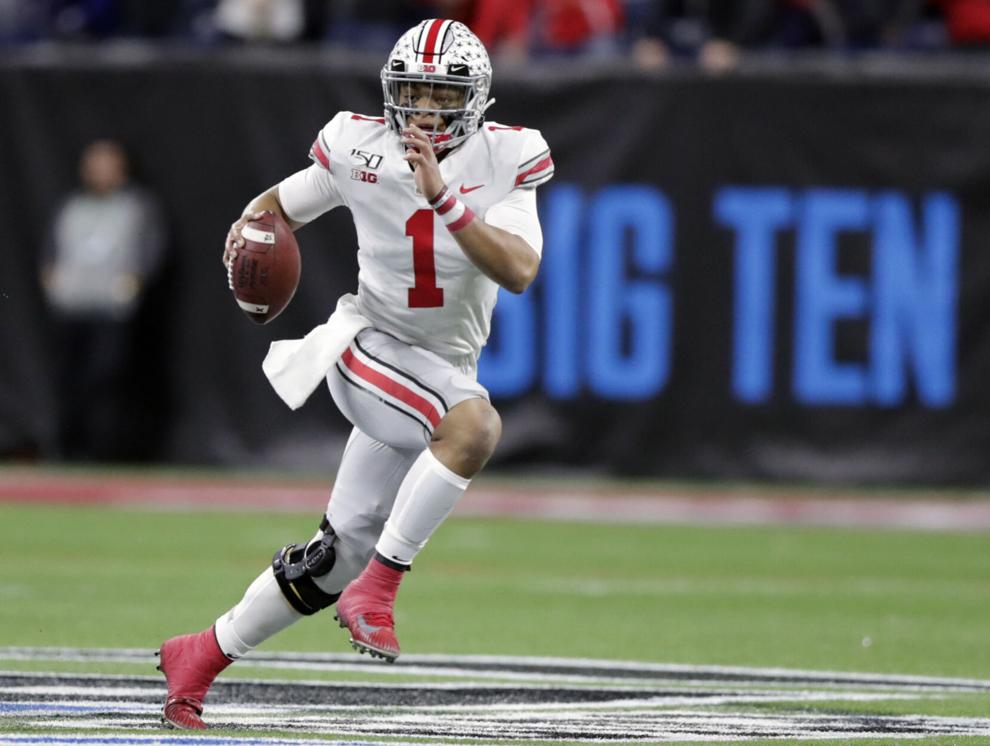 BOSS
The transition from Urban Meyer to Ryan Day wasn't even noticeable. Day went 13-1 in his first full season at Ohio State, with the only loss being a heartbreaking 29-23 decision to Clemson in a College Football Playoff semifinal. Day was one of the most vocal coaches in the Big Ten when it came time to push for the 2020 season to be played, and that's in part because he has a team he believes can contend for a national title.
BIG MAN ON CAMPUS
Junior quarterback Justin Fields (above) put up massive numbers last season, throwing for 3,273 yards with 41 touchdowns and three interceptions and running for 484 yards and 10 scores. He's a legit Heisman Trophy candidate in what almost certainly will be his final season in college before heading off to the NFL.
BITS AND PIECES
Right guard Wyatt Davis and cornerback Shaun Wade originally opted out of the 2020 season before changing their minds. … There's a big hole to fill at tailback, where J.K. Dobbins bolted to the NFL after rushing for 2,003 yards and 21 touchdowns in 2019. Master Teague III was Dobbins' primary backup and rushed for 789 yards; he's expected to be ready for the start of the season despite reportedly sustaining a torn Achilles in the spring. Ohio State brought in Oklahoma graduate transfer Trey Sermon to add some depth at that spot. … Junior wide receiver Chris Olave is back after leading the Buckeyes with 849 receiving yards and 12 TDs through the air last season. Olave averaged 17.3 yards per catch. Ohio State will need some young receivers to step up and help Olave, however, as the program adjusts to life after K.J. Hill, the program's all-time leading receiver.
BURNING QUESTION
Will Ohio State have to win shootouts?
Fields and Co. should be able to light up the scoreboard again. But Ohio State's defense might take a step back after losing eight starters, including six who heard their names called in the NFL draft. That group included the guys drafted No. 2 and 3 overall, defensive end Chase Young and cornerback Jeff Okudah. Young had 21 tackles for loss, 16½ sacks and seven forced fumbles in 2019. Kerry Coombs, a longtime defensive backs coach in the program who spent the past two seasons in the NFL with the Tennessee Titans, takes over for Greg Schiano at defensive coordinator. Don't feel too bad for Coombs and Ohio State: Most of the next players in line following the exit of all those stars were blue-chippers when they entered the program.
THE NUMBER
68-5 | Ohio State's record vs. Big Ten opponents over the past eight seasons.
PENN STATE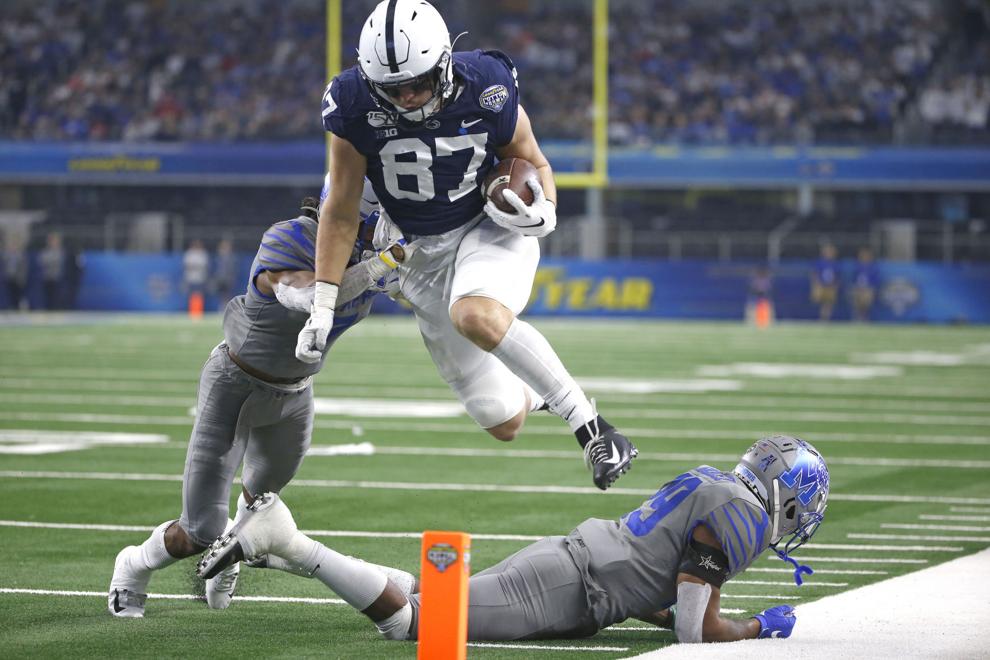 BOSS
James Franklin is 56-23 in six seasons at Penn State. The Nittany Lions have won 11 games in three of the past four seasons, including an 11-2 mark last season that included a Cotton Bowl win over Memphis. Franklin isn't alone in this regard, but he's had trouble with Ohio State: The Nittany Lions are 1-5 vs. the Buckeyes during the Franklin era, with three consecutive defeats in that series.
BIG MAN ON CAMPUS
Junior tight end Pat Freiermuth (above) has 15 touchdown receptions through his first two seasons at Penn State. Freiermuth had 43 catches for 507 yards and seven scores last season, with three of those TDs coming in a win over Michigan State. Two weeks later, Freiermuth had seven catches for 101 yards in a loss at Minnesota.
BITS AND PIECES
Junior outside linebacker Micah Parsons, a likely high pick in the 2021 NFL draft, opted out of the season in August. Parsons had 14 tackles for loss and four forced fumbles last season. … Defensive end Yetur Gross-Matos, who generated 37 tackles for loss and 19 sacks over three seasons at Penn State, declared early for the NFL draft and was selected early in the second round. … Kirk Ciarrocca takes over as offensive coordinator and quarterbacks coach at Penn State after spending the previous three seasons performing those roles at Minnesota. Ciarrocca replaced Ricky Rahne, who was named head coach at Old Dominion. Franklin also had to replace three other assistants. … Journey Brown rushed for 890 yards and 12 touchdowns as a sophomore. Brown finished the season strong, surpassing 100 yards in four of his final five games and going for 202 yards on 16 carries in the bowl win. … The wide receiver group is mostly young beyond returning starter Jahan Dotson, who had 27 catches for 488 yards and five touchdowns last season. Nobody else at that position has more than 12 career catches. KJ Hamler, a second-round pick in the NFL draft, led Penn State with 56 catches for 904 yards and eight scores in 2019.
BURNING QUESTION
Can big improvements be made in the pass defense?
Penn State allowed 251.5 yards through the air in 2019. The only Big Ten team to allow more was Maryland (271.3). Minnesota quarterback Tanner Morgan went 18 of 20 for 339 yards and three touchdowns in a 31-26 win over the Nittany Lions, with wide receiver Rashod Bateman going over 200 yards.
THE NUMBER
3,056 | Total yards last season for quarterback Sean Clifford, who passed for 2,654 yards and 23 touchdowns and ran for 402 yards and five scores as a sophomore.
RUTGERS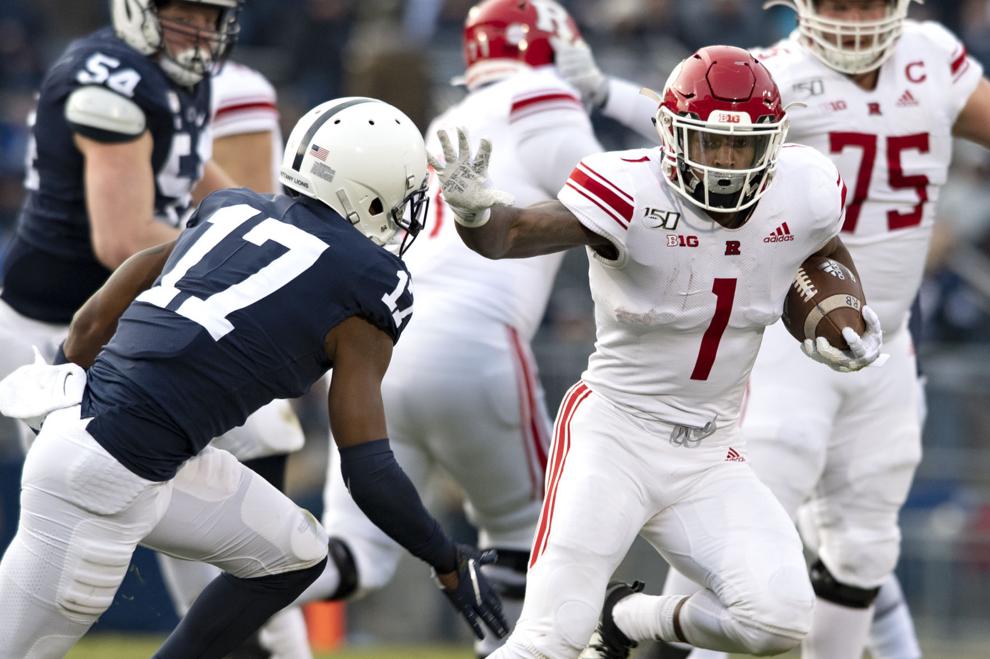 BOSS
Greg Schiano returns to lead a Rutgers program that looks much different than the one he left nearly a decade ago. Schiano went 68-67 in 11 seasons with the Scarlet Knights from 2001-11, with the high-water mark coming in 2006 when Rutgers won a program-record 11 games and reached as high as No. 7 in the Associated Press Top 25 poll. Schiano Part II comes on the heels of Rutgers winning nine games over a span of four seasons. Former Badgers assistant Chris Ash was fired four games into the 2019 campaign after going 8-32, including 3-26 in the Big Ten, in three-plus seasons. There's nowhere to go but up under Schiano, who already has turned around this program once in his career.
BIG MAN ON CAMPUS
Junior tailback Isaih Pacheco (above) scored seven of Rutgers' 18 touchdowns last season. Almost all of that damage came in two games: Pacheco rushed for 156 yards and two scores against UMass and 107 yards and two TDs against Liberty. He finished with a team-high 729 rushing yards.
BITS AND PIECES
UW's loss was Rutgers' gain when wide receiver/returner Aron Cruickshank decided to transfer shortly after the 2019 season. Cruickshank tied a single-season record at UW with two kickoff returns for touchdowns as a sophomore, including one in the Rose Bowl loss to Oregon. Cruickshank also was used as a running threat in the Wildcat formation and could have had an expanded role for the Badgers this season, but the New York native said he wanted to play closer to home. … Sophomore quarterback Artur Sitkowski chose to sit out the final eight games last season in order to preserve a redshirt season. Sitkowski started 11 games as a true freshman in 2018 and threw 18 interceptions, the most in the nation. Johnny Langan took over after Sitkowski sat last season. … Rutgers returns eight starters on defense, including senior outside linebacker Tyshon Fogg (104 tackles) and senior middle linebacker Olakunle Fatukasi (85 tackles).
BURNING QUESTION
How long will it take Schiano to make Rutgers competitive again?
A safe bet: at least a couple seasons. The Scarlet Knights have lost 21 consecutive games in Big Ten play dating to a 31-24 victory over Maryland on Nov. 24, 2017. It's worth noting it took Schiano until his fifth season to produce a winning record during his first stint at Rutgers, and that was when the Scarlet Knights were playing in the Big East.
THE NUMBER
51 | Points scored by Rutgers against Big Ten opponents. The Scarlet Knights were shut out four times and held to seven or fewer points three other times.