Wisconsin cheesemakers continued their impressive run as a black pepper Italian-inspired cheese from Sartori Cheese in Antigo was named the top cheese in the country, while a cheddar from Weyauwega and a Gouda from Thorp were first and second runners-up.
The announcement was made Thursday night as the 19th Biennial U.S. Championship Cheese Contest came to a close at the KI Convention Center in Green Bay. The three-day event featured a record 2,303 cheese, yogurt and butter entries in 101 categories, with Wisconsin taking home 58 of the gold medals. Wisconsin also had 14 of the 20 finalists.
The U.S. championship is considered the largest technical cheese, butter and yogurt competition in the country.
Sartori Reserve Black Pepper BellaVitano scored a 99.02 out of a possible 100 and was made by master cheesemaker Mike Matucheski. Sartori also won the championship in 2009 with its SarVecchio Parmesan.
"I have a lot of people to thank, starting with the farmers and the wonderful cows," Matucheski said as he addressed the crowd. "Nobody thought this could become what it did. The flavors were a challenge."
Thursday's second runner-up Gouda, Marieke Gouda Belegen, scored a 98.59 and was made by Marieke Penterman of Marieke Gouda in Thorp, which won the 2013 U.S. Championship for a different Gouda. The first runner-up, a 1- to 2-year-old cheddar, scored 98.81 and was crafted by Terry Lensmire, master cheesemaker at Agropur in Weyauwega.
A team of 50 judges from 18 states considered flavor, body and texture, salt, color, finish and packaging to determine the winners.
"Location aside, what these winning cheesemakers have in common is experience and passion," said John Umhoefer, executive director of the Wisconsin Cheese Makers Association, host of the contest. "As we recognize the efforts of these fine craftsmen and women, we support continuous improvement in the cheesemaking industry, and in the products we all enjoy with our family and friends."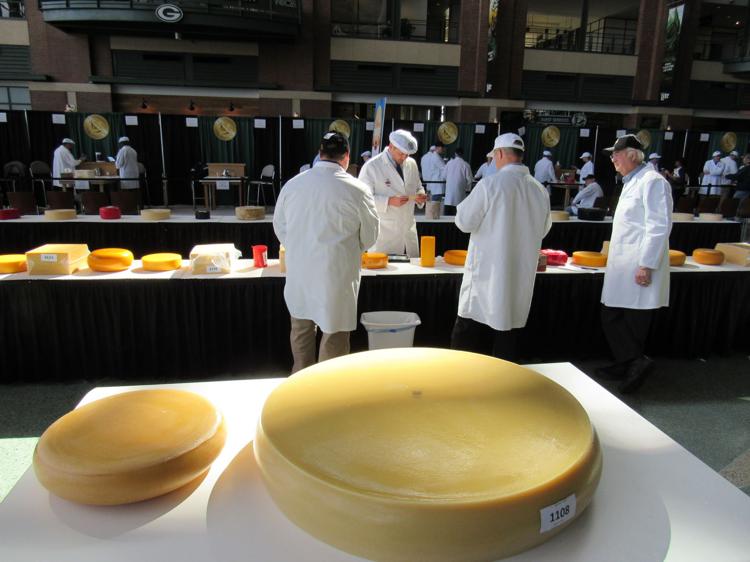 Sartori Cheese is a fourth-generation, family-owned cheese company that was founded by Paolo Sartori and Louis Rossini in 1939 in Plymouth as S&R Cheese Corp. The company has grown into one of the most respected and awarded cheese companies in the country and in 1970 was the first U.S. cheese company to export cheese to Italy and Japan. The company changed its name to Sartori in 1996 and purchased the Antigo Cheese Co. in 2006. The BellaVitano line of cheese was introduced by Sartori in 1999 and now includes 11 types of flavored cheeses, according to its website.
Thursday night's winner from Sartori is a semi-hard cheese made with cow's milk and hand-coated with coarse-ground black pepper "to impart a spicy zestiness," according to a review on Cheese.com. "The salty-spicy punch of the black pepper contrasts the rich, nutty, creaminess of the BellaVitano."
The win by Sartori completed a sweep over the past year by Wisconsin cheesemakers in the country's three major cheese competitions. In July, Roelli Cheese Haus near Shullsburg won the American Cheese Society contest in Des Moines, Iowa, with its Little Mountain cheese, an aged Appenzeller style. A year ago, Fitchburg-based Emmi Roth USA won the World Championship Cheese Contest in Madison with its Alpine-style Grand Cru Surchoix.
Since 1981, Wisconsin cheesemakers have had the top cheese at the U.S. Championship 14 times in 19 competitions.
The dominance shows that the state continues to grow its artisan cheese lines while maintaining its position as the top cheese-producing state in the country, with more than 3 billion pounds made each year, said Alicia Murphy, a cheesemonger at Metcalfe's Market in the Hilldale Shopping Center. The store, known for its large artisan cheese section, had wedges of Sartori's championship black pepper cheese on sale Thursday for $16.99 a pound.
"It brings people in and everybody gets excited," said Murphy, who also makes goat milk cheese with her mother, Diana Murphy, at Dreamfarm near Cross Plains. Wisconsin cheesemakers "have a really good base for being in the forefront of the artisan market and showing what small production can do and what it can mean for the Dairy State," she said.