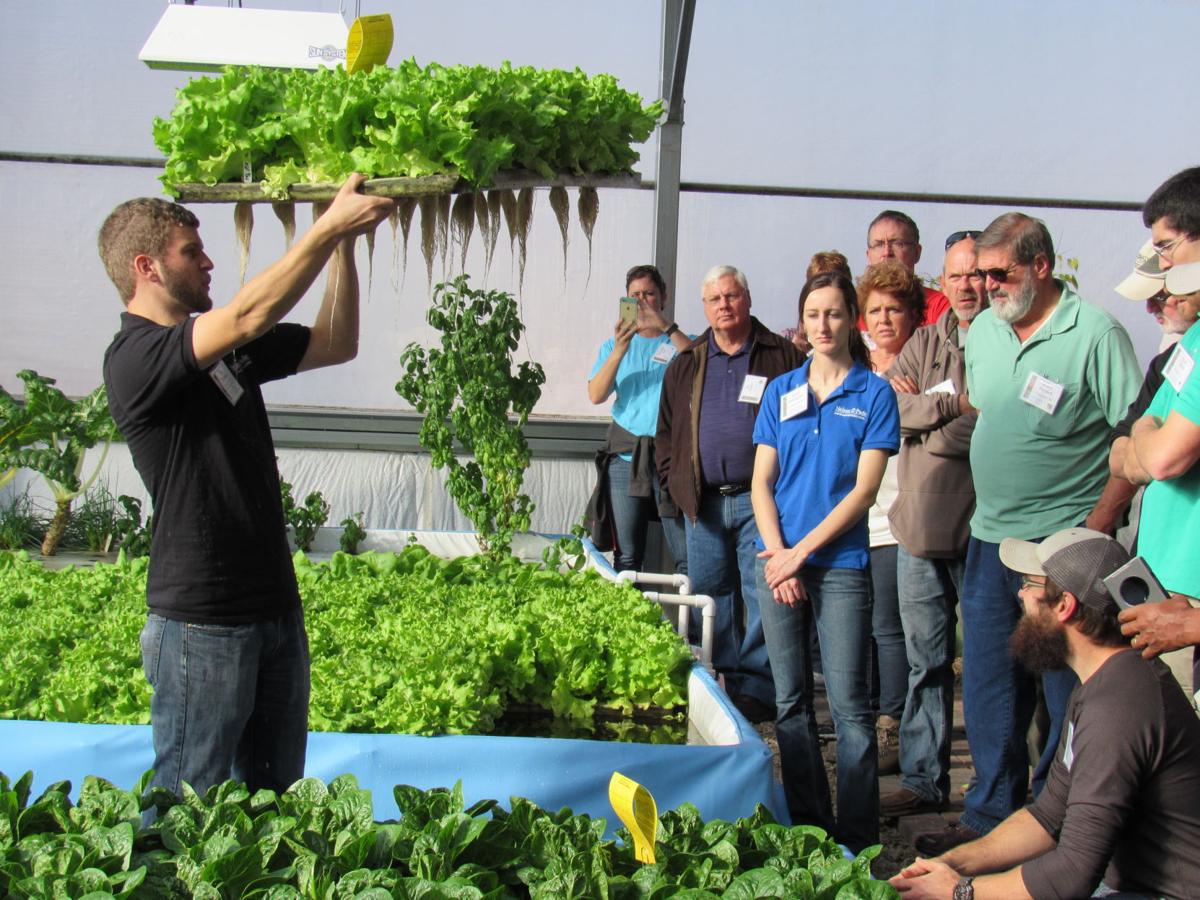 MONTELLO — The "no vacancy" sign glowed at the 'Tween the Lakes Motel.
There were meals at the Granite Falls Supper Club, coffee at Oyster Crackers Cafe and photos snapped of the waterfalls at Daggett Memorial Park next to the Kwik Trip. This is where a quarry, decades ago, employed more than 200 people and supplied the granite for President Ulysses S. Grant's tomb in New York City.
But the 32 visitors to this Marquette County village of about 1,500 people who came from Ethiopia, Austria, Mexico, Kazakhstan and several U.S. states weren't on vacation. Instead, they were here for three days of master classes to learn how to harmoniously grow fish and vegetables under the guideance of Rebecca Nelson and John Pade, founders of Nelson & Pade in Montello, one of the leading aquaponics companies in the world.
"I don't think most people realize what's going on there," said Carol Faulkner, who along with her husband, Bill, own the 11-room 'Tween the Lakes Motel, just a short walk from Nelson & Pade and between Buffalo Lake and Lake Montello. "They're spending high dollars to come here. They're flying in from all over the world. It's very, very interesting."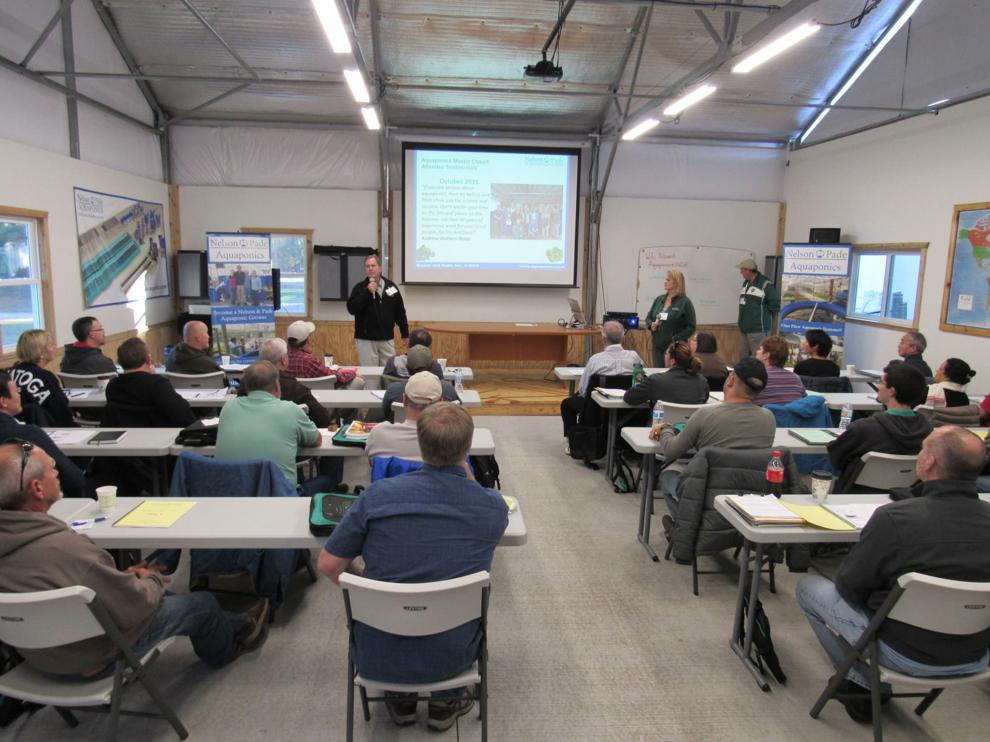 Aquaponics uses an integrated water system but grows fish and vegetables in separate tanks. The combined systems are enclosed in a climate-controlled greenhouse, regardless of geographical location, that allows for year-round production and prevents contamination from pollution and reduces pest, insect and disease problems.
Systems can vary in size but one example showed off to the students included six 500-gallon fish tanks, a series of filter tanks and vegetables grown in raft beds — 40-foot-long, 8-foot-wide tanks with 13 to 16 inches of water and equipped with floating sheets of Styrofoam on which the plants grow.
The only thing added to the water is fish food. There are no chemicals, herbicides or pesticides. Fish waste serves as the natural fertilizer for the plants.
The classes, held six times a year at a cost of $995 per student, have added an international flair to the community and have helped Nelson and Pade continue to grow their operation, which includes a 14,000-square-foot greenhouse and a spacious 1,200-square-foot classroom.
Discussions can include topics such as bacteria, water quality, greenhouses and environmental control, fish biology and the vegetables than can be grown sans dirt and worms. They include lettuce, Swiss chard, eggplant, jalapeno peppers, tomatoes, sweet corn and even sunflowers.
100-country milestone
Of the 24 men and eight women enrolled in this month's classes, most are new to aquaponics. Students included educators looking to start aquaponics programs in their schools and hobbyists who want something to do in retirement, while others were exploring commercial production projects to bring locally grown foods to their community.
"Most of these people have just learned about aquaponics and they're coming here to learn how to move forward," Nelson said. "What we really do is give them the knowledge to make good decisions moving forward so they understand the science, the technology and the business model."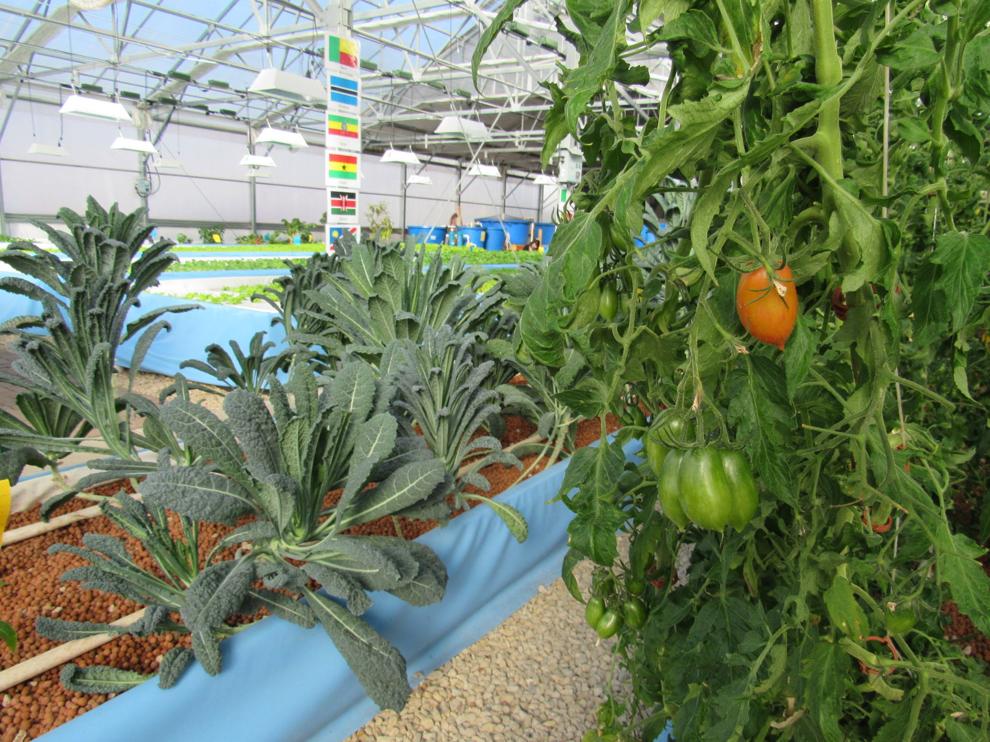 Nelson & Pade systems are being used in 25 countries, and the most recent class was a milestone for the company as it surpassed the 100th country represented in its classes.
In 2010, the company, founded in 1984, moved from Nelson and Pade's home to a facility along Highway 23 on the west side of Montello. This is where the company designs and builds systems, experiments with growing techniques and hosts classes.
The property is also home to the Aquaponics Innovation Center of UW-Stevens Point, where researchers are trying to grow a walleye and sauger hybrid for commercial production.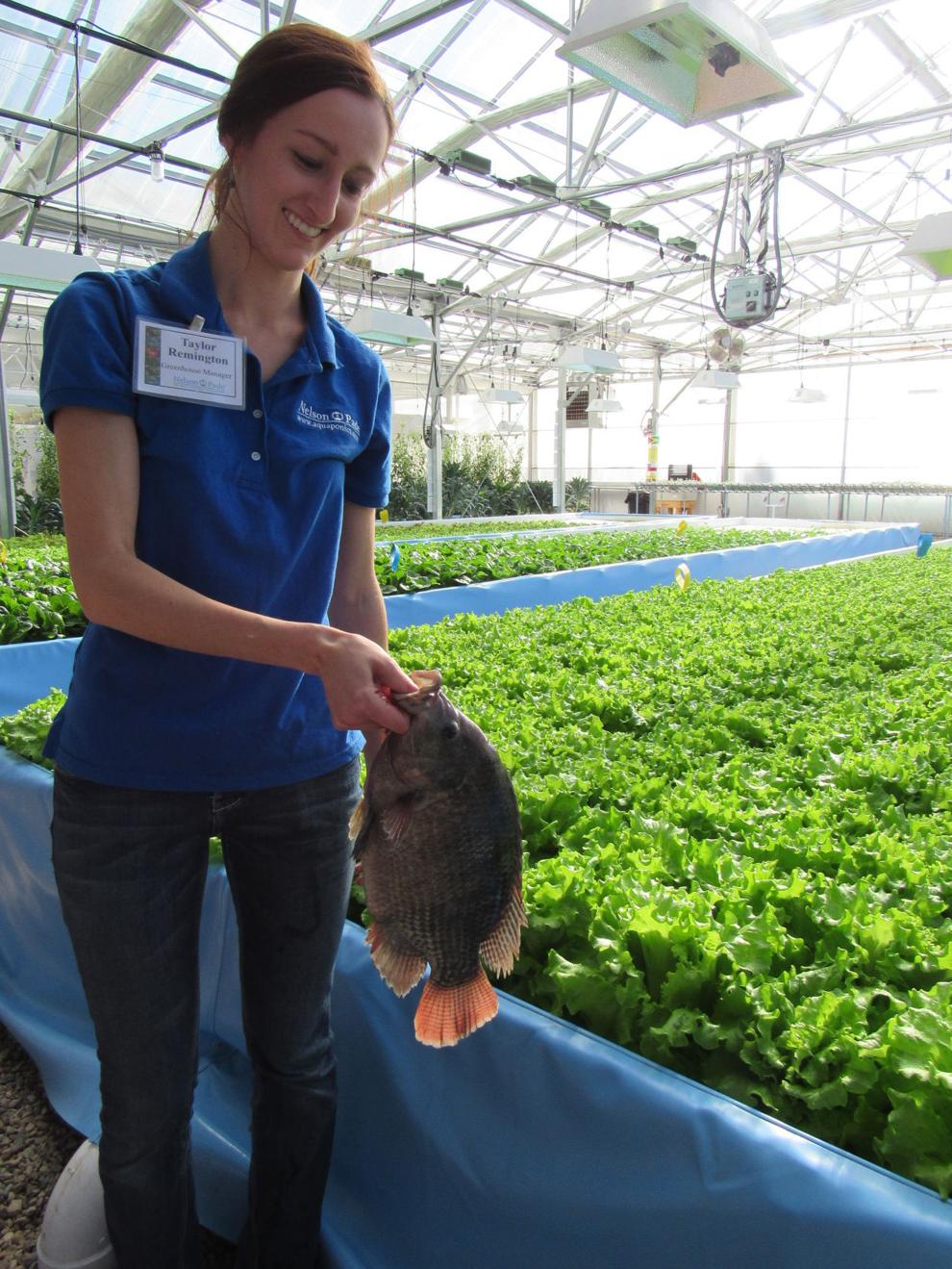 But most of the fish grown at Nelson & Pade are tilapia, a fast growing freshwater fish that has come under some scrutiny for its quality because of the way it is raised at some fish farms in Central America and China.
Those concerns are eliminated by using a closed aquaponics system that uses fresh water in a highly controlled environment, Nelson said.
"Aquaponics has taken off because it provides a solution to so many issues," Nelson said. "We use less water, we use less land, we produce food continuously, 12 months a year. It never stops. And you're raising both a protein crop and a vegetable crop."
Nelson grew up in Oconomowoc where she had a passion for fish, cooking and entrepreneurship. Pade was raised on a dairy farm in Lomira, south of Fond du Lac, before organic farming became popular. His parents' farm was a closed system where they raised dairy cattle and used the manure to fertilize the fields and rotated crops. There were no pesticides or herbicides.
"You didn't get food if it was out of season. You waited," Pade told his students. "All the food we ate was locally grown and locally processed. The local food movement, it's been around for a long time in the United States."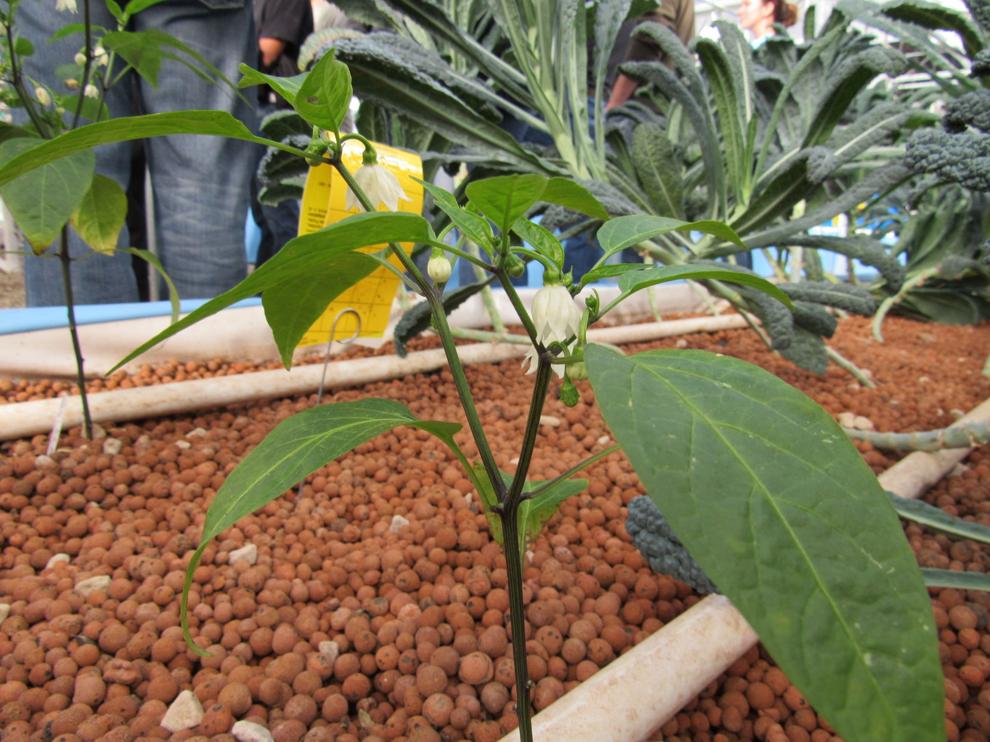 Nelson and Pade moved to California in the early 1980s and started in hydroponics to grow their own vegetables in the winter. They produced a hydroponics video in 1985 and began consulting. Ultimately, as the price of fertilizer increased, they began setting up systems with fish tanks to experiment with aquaponics. In 1997, they began publishing the Aquaponics Journal, but discontinued the magazine two years ago.
Now, their students come to them looking for ways to grow fish and vegetables.
Curious students
Karl Raabe, 28, an agriculture teacher in Mattoon, Illinois, southeast of Springfield, has a crude aquaponics system at his school but has a 75-foot by 35-foot greenhouse that would be ideal for a modern system that his students could operate and manage.
"I'm hoping to invest in the future into a larger system where my freshmen and even my eighth-graders run the system for nine months of the year when they're in class and where they would be out there every day doing something with it," Raabe said. "This is my first step in learning it myself."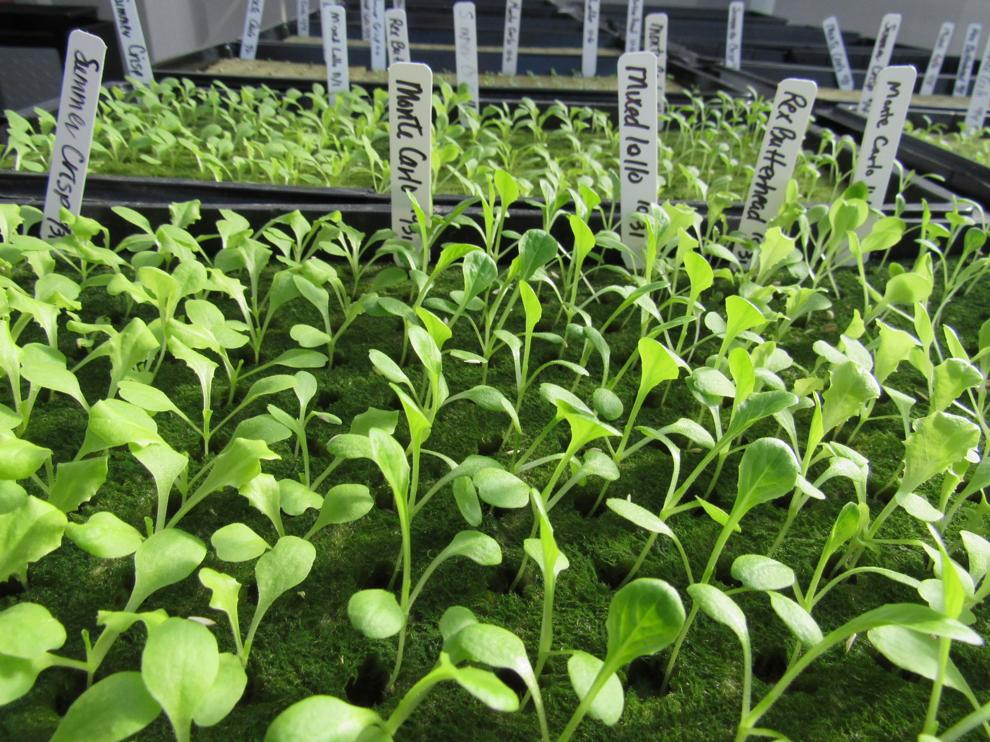 Others in attendance included a trio of real estate developers from Pennsylvania who said they had a 1 million-square-foot building that at one time was used to manufacture torpedoes but that could be used for a large-scale commercial aquaponics operation.
There was a husband and wife team from Iowa investigating a commercial operation and two others from northern Minnesota thinking about growing fish and vegetables year-round in what is the poorest county in the state.
One man from Mexico said he'd like to start a small commercial operation, while Doug Wardell, 52, an electrical engineering researcher at the University of Texas in Austin, said he is looking for a sustainable income that he can continue as he nears retirement.
"I've been looking for a business for retirement for quite a while and this looks pretty interesting," Wardell said. "It's a way to produce your own food and produce food for your family in a clean, safe environment."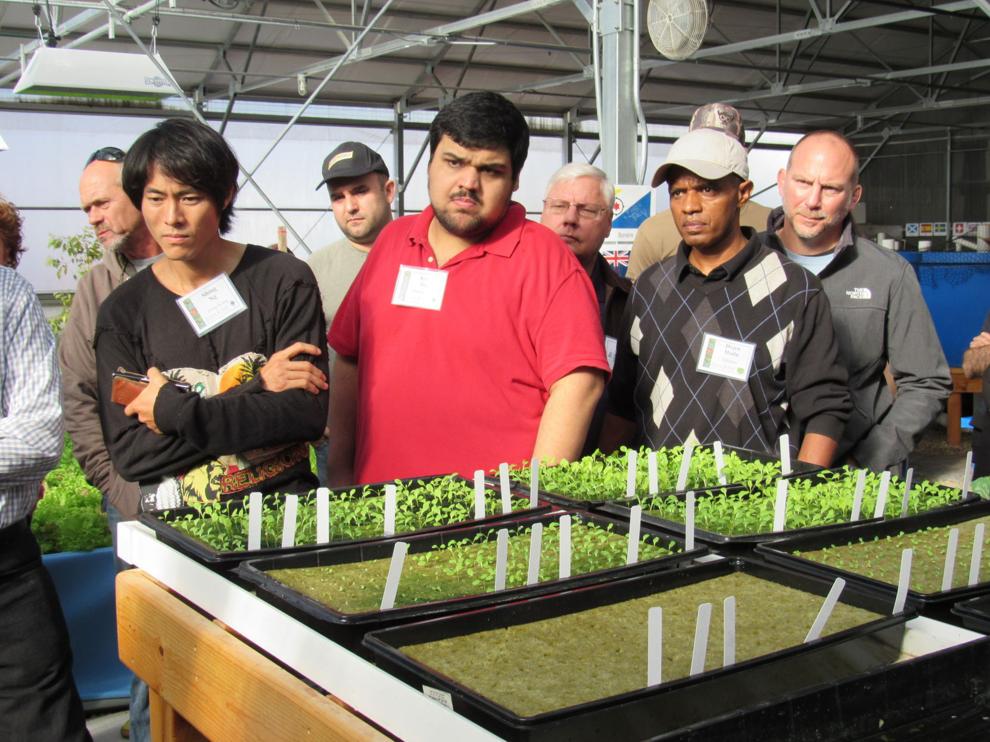 Arjun Sud, 22, is a senior material science major at Stony Brook University on Long Island, New York, but took time away from his studies to investigate the systems at Nelson & Pade.
Sud and his father are contemplating an aquaponics system in Mumbai, India, to grow locally produced fish and vegetables. The city has a population of more than 18 million people.
"My father did some research recently and really was impressed in the whole aquaponics business," Sud said. "It would be something new for Mumbai. We have a lot of agriculture but this would help them out. I think there would be a big demand for it. It's a very interesting process."