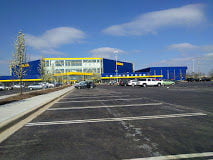 Oak Creek or the Chicago burbs?
For those who enjoy assembling their own furniture after noshing on Swedish meatballs, the announcement last week that IKEA would build a store in the Milwaukee suburb of Oak Creek created a buzz even here in Madison.
It will mark the first store in Wisconsin for the mega-retailer and eliminate traffic headaches, tolls and some drive time for those used to going to IKEA in Schaumburg, Illinois. And, one can only hope the new store won't be located in a maze of frontage roads that can send a GPS into freeze mode, like that of the Schaumburg store.
Located approximately 12 miles south of downtown Milwaukee, the 295,000-square-foot proposed store and its approximately 1,200 parking spaces would be built on 29 acres at the northwestern corner of Interstate 94 and Drexel Avenue. IKEA has more than 380 stores in 48 countries, including 41 in the U.S. Other Midwest stores for the company are in Bolingbrook, Illinois, and Bloomington, Minnesota.
"We are excited at the possibility of growing our Midwestern U.S. presence with a Milwaukee-area store," said Lars Petersson, IKEA's U.S. president. "A location in this retail corridor would provide our already 206,000 Milwaukee-area customers their own store and introduce the unique IKEA shopping experience to others throughout Wisconsin."
The time and mileage savings once the Oak Creek store opens in summer 2018 won't be insignificant, but it's not as great as one might think.
According to Mapquest, from the state Capitol, the 123-mile trip to the IKEA in Schaumburg takes 2 hours and 14 minutes. The 84 miles to the Oak Creek store near Interstate 94 and West Drexel Avenue can be covered in 1 hour and 42 minutes. But shoppers from Janesville will save just one mile and one minute if they choose Oak Creek over Schaumburg.
The business news you need
With a weekly newsletter looking back at local history.