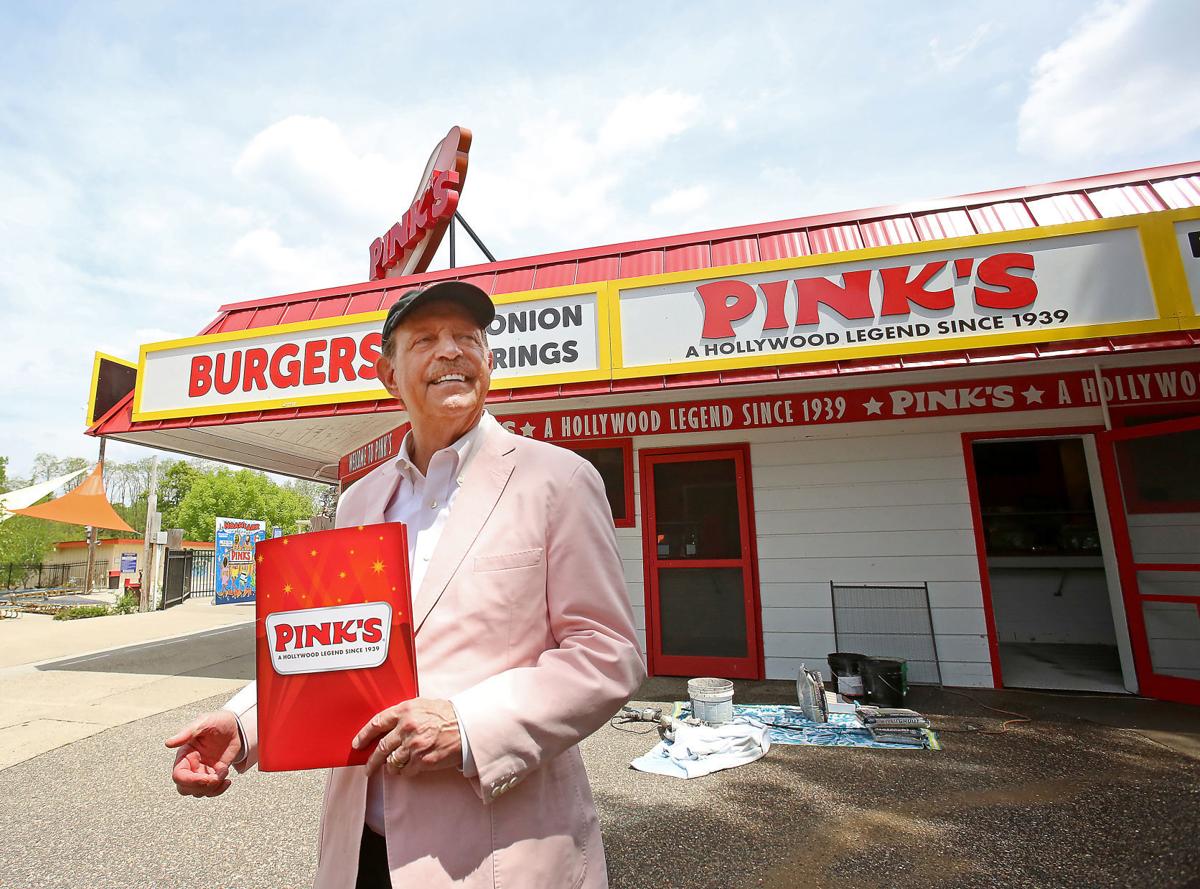 LAKE DELTON — This has always been a frenetic week in Wisconsin Dells.
The tourist hot spot draws millions of visitors year-round, but Memorial Day Weekend through Labor Day Weekend remains critical to the bottom line.
So as opening day for many drew near this week, legions of workers were busy readying the Waterpark Capital of the World for its summer season. Some wore hard hats, others were in shorts and T-shirts and armed with brooms and paint brushes.
Richard Pink wore a pink blazer, carried a copy of People magazine, sported a genuine Southern California tan and fit right in to the Dells vibe even though he was nearly 2,000 miles from the corner of Melrose and North La Brea avenues in Los Angeles.
On Saturday, Pink, 74, will literally roll out the red carpet and greet guests at Noah's Ark Water Park as he helps welcome customers to the state's first Pink's Hot Dogs stand. Founded in 1939, Pink's is an iconic destination in Hollywood but through licensing agreements, the Pink family has been expanding the reach of the legendary eatery whose customers include William Shatner, Serena Williams, Oprah Winfrey, Jimmy Kimmel and James Corden.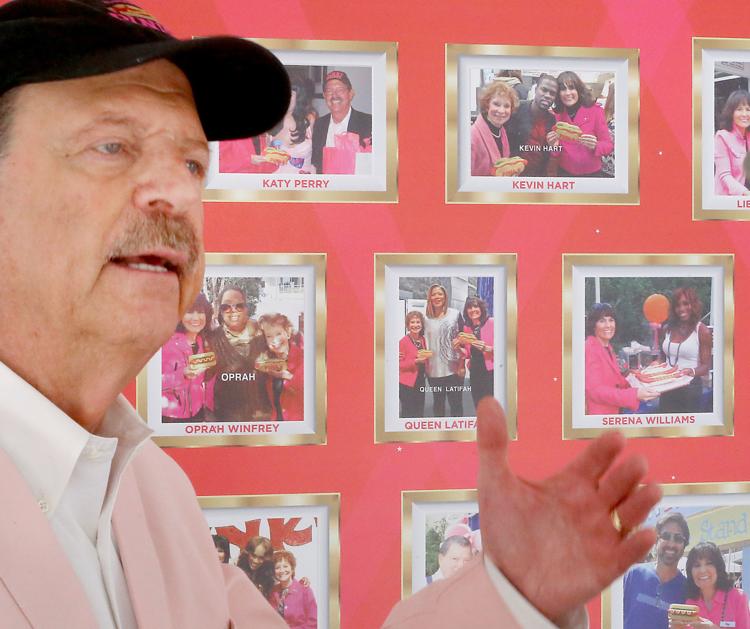 "I think Wisconsin Dells is one of the most unique cities in the world in terms of the number of amusement parks so it has heavy traffic, heavy tourism," Pink said Thursday during a tour of his newest location. "If you're going to do it, do it right and do it big. I thought it was just a great combination."
Noah's Ark, founded in 1978, bills itself as America's largest water park. Pink says it's "L.A.'s Top Dog" and notes that People magazine recently selected its chili dog as the best in California. In March, the Los Angeles City Council approved a measure to name the intersection in front of the original hot dog stand Pink Square, which will include painting the crosswalks pink.
You have free articles remaining.
But the hot dog stand, which has been featured on food and travel channels, is rapidly expanding. By the end of this year, Pink's will have 20 locations around the country. For the past seven years, the company has had a stand at Cedar Pointe Amusement Park in Sandusky, Ohio, and has other locations at Planet Hollywood Hotel in Las Vegas; The Los Angeles Forum in Inglewood, California; and at the Seaquarium in Miami.
"The only way for us to grow with confidence and maintain the quality is to license to large companies," Pink said. "It's easier for them to do it being here than it is for me to hire people and try to watch them from afar."
The Noah's Ark stand is not its first location at a water park. Pink's also has stands at Splish Splash Water Park in Calverton, New York, and Raging Waters in San Dimas, California. But unlike it's Los Angeles roadside stand, located near several movie studios, the Noah's Ark Pink's is only open to customers of the water park.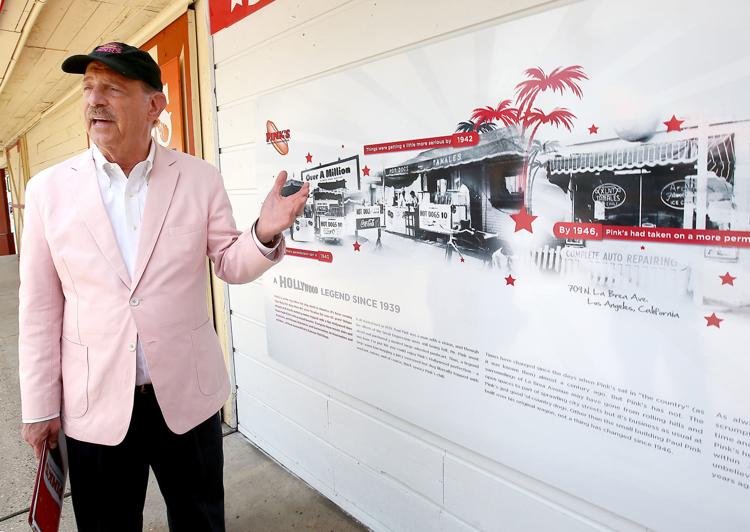 The 70-acre complex — which includes over 50 water slides, a wave pool and adventure river — is also adding a Johnny Rockets restaurant to its food lineup. The 1950s-style diner known for its hamburgers has locations worldwide, but the Noah's Ark restaurant would be just the third in Wisconsin, joining others at General Mitchell International Airport in Milwaukee and the Outlet Shoppes at Oshkosh.
"It just seemed like a natural fit to bring Pink's in," said Matt Hehl, marketing director at Noah's Ark. "If it's good enough for Kim Kardashian it's good enough for anyone, right?"
Pink's parents, Paul and Betty Pink, started out in 1939 with a hot dog cart after borrowing $50 from Betty's mother. At that time, hot dogs were a dime and a bottle of Coke a nickel. In 1941 they purchased the Los Angeles property and in 1946 built a permanent structure. Today, the stand sells up to 2,000 hot dogs and 200 hamburgers a day. The menu includes 16 types of hot dogs plus specialty dogs like the Lord of the Rings Dog, which is topped with BBQ sauce and onion rings; the Emeril Lagasse Bam Dog topped with coleslaw, jalapeno peppers, cheese and onions; and the Three Dog Night Dog, three hot dogs wrapped in a flour tortilla with cheese, onions and chili.
The Noah's Ark location has been in the works for three years and its menu will include a brat, something not found at other Pink's locations.
"Noah's Ark is all about family and Pink's is all about family," Pink said. "We have generations of people that have come to our restaurant in L.A. and keep coming back and bringing their children and then their grandchildren. Hopefully (the Noah's Ark Pink's) will create that same memory."