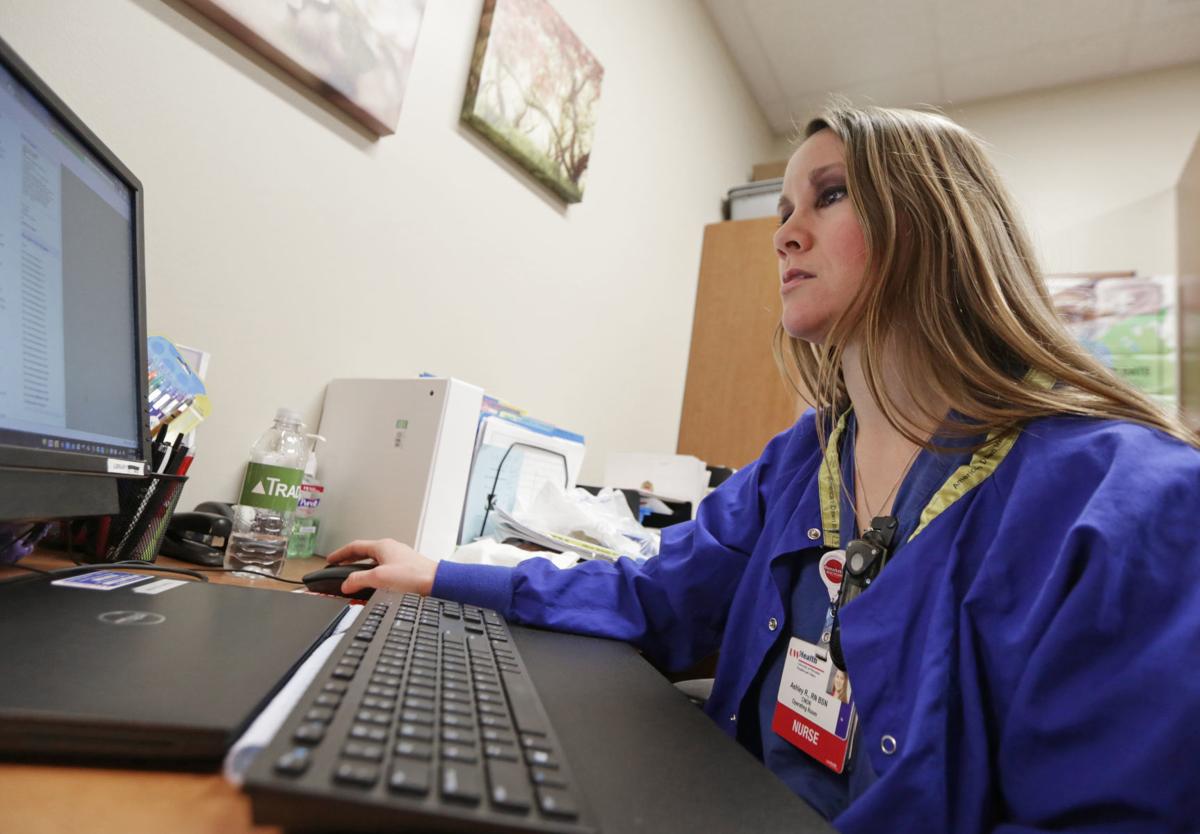 When she was an 8-year-old growing up in Fond du Lac, Ashley Rusch helped provide hospice care for her grandmother as she fought a rare form of cancer.
"I remember helping feed my grandmother, brushing her hair, listening to music with her, talking with her and holding her hand," said Rusch, who's now 30 and living in Madison. "I got to see what it was like to care for someone in that capacity and the compassion that was needed. I knew I wanted to make a difference in a different way."
Rusch is now a clinical nurse specialist in the in-patient operating room and outpatient surgery center at UW Hospital. She entered a profession with growing demand and the potential to advance on a path parallel to a doctor's.
More nursing services are needed to care for the aging population at a time many nurses are retiring. The state could be short 23,000 nurses by 2040, according to the Administrators of Nursing Education of Wisconsin. In south-central Wisconsin, there's a projected 8 percent increase in nursing openings from 2014 to 2024, or 283 openings annually, according to the state Department of Workforce Development.
Nurses around the state earn $40,000 to $60,000 annually, based on their education, experience and whether they're working in a rural or urban hospital. They can work in countless areas of specialization, such as operating rooms, anesthesiology, labor and delivery and hospice, and in a variety of environments, including clinics, hospitals, extended-care facilities, doctor's offices, home health agencies and even as school nurses.
Since July, Rusch has researched the latest evidence-based practices in the field regarding inpatient and outpatient surgery at UW Hospital. She informs an interdisciplinary team of surgeons, anesthesiologists and nurse leaders about new practices and works to integrate them into the unit's procedures.
But Rusch has had many positions that led her to this role. After graduating from the UW-Madison School of Nursing with a bachelor of nursing science degree in 2009, she began her professional career as an operating room nurse in UW Hospital's cardio-thoracic unit.
"Yes, you do hand the scalpel (to the doctor), and you are very vigilant throughout the surgery," Rusch said. "You might be passing a specific instrument, like a heart valve, or an organ, like a heart or a lung."
Next, she worked as a circulating nurse, serving as a patient advocate and working with the surgical and anesthesiology team. Then, Rusch added scrub nurse to her resume, assessing equipment, instruments and supplies and preparing a sterile operating room. In 2015, Rusch took a position as a nursing education coordinator, assisting with development and revision of curriculum for new nursing staff, as well as onboarding employees.
In July, she moved into her current role as a clinical nurse specialist. She's also working to earn a doctorate in nursing practice as she continues in this role. The program takes three years full time or five years part time to complete.
Rusch's path is a snapshot of the many options open to trained nurses. And all nursing careers start out the same way: education. Nursing students can prepare to pass the state nursing exam in several ways. The shortest paths are an associate's degree in nursing science or a bachelor's through an accelerated nursing program.
The two-year, four-semester associate's degree in nursing, or ADN, can be earned at vocational schools such as Madison Area Technical College (MATC). These programs focus on practical, hands-on experience. Students take foundational classes like English, speech and microbology, in addition to lab-based skills classes. ADN students work two, eight-hour shifts a week at a hospital as student nurses, a process known as "clinicals." MATC also offers a part-time ADN course that takes four years to complete.
In addition, MATC has a one-year track to the ADN for paramedics. Another program, the one-year practical nursing degree, prepares students to work in roles one step below registered nurses. LPNs often carry out tasks like checking on patients and recording their vital signs. An LPN can be an alternative path for students who want to earn a salary before getting an ADN or need to delay schooling due to life events. For those who have completed an ADN and want a bachelor of science degree in nursing, or BSN, UW-Madison has a completion program.
Another way to get a nursing degree quickly is an accelerated BSN program. These increasingly popular programs are designed for students who already have a bachelor's degree, often in a health science field like biology or psychology. Both Edgewood College and UW-Madison offer 12-month intensive programs.
In both traditional and accelerated BSN programs, students take several theory classes that introduce different segments of population by age, like patients from pediatric to geriatric, and socio-economic status, and provide a wide perspective on areas where nurses can specialize. At the same time, students take nursing classes and participate in clinicals. For traditional BSN programs, like those offered at Edgewood and UW-Madison, students take three or four semesters of prerequisite undergrad coursework before beginning nursing curriculum.
Advanced master's and doctoral programs help nursing professionals advance in their careers. Edgewood College and UW-Madison offer these and other certification programs, with specialties such as management, administration and leadership.
Rusch said that her career as a nurse has meant that she's been able to do more for patients than she ever imagined as a child.
"I've been able to touch a lot of people's lives in a very high capacity. I'm able to initiate change," Rusch said. "It's wonderful to work with an interdisciplinary team that's very supportive and will result in quality care and positive patient outcomes."
"Shifting Careers" is an occasional series about occupations with good job prospects for those considering a change. To see other installments, go to go.madison.com/shift.