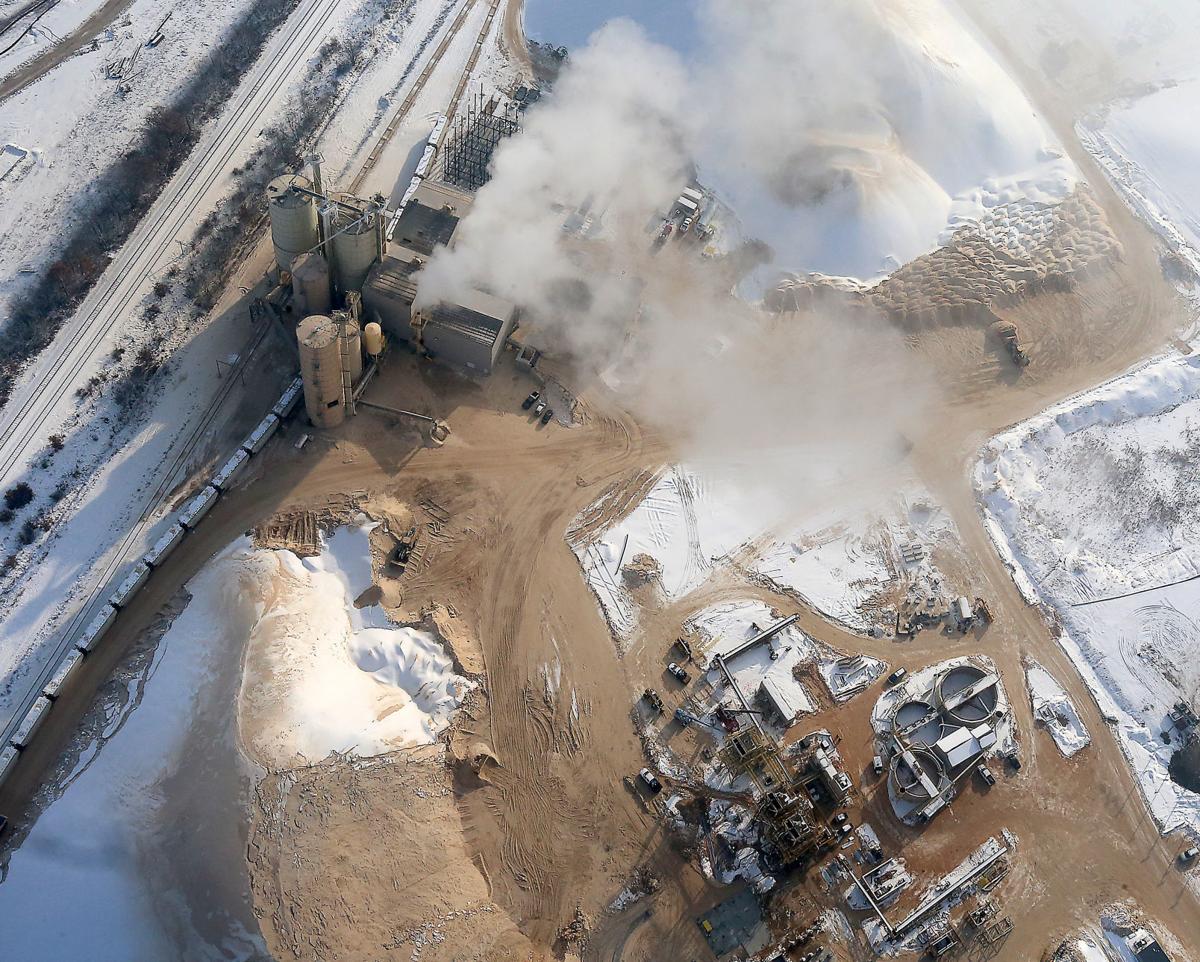 In a sign of the bleak economic conditions facing Wisconsin's frac sand industry, one company has devalued two of its mines by more than $215 million.
Hi-Crush Inc. last week announced the devaluation of its idled August and Whitehall mines by $109.7 million and $105.7 million each. That's in addition to a $131 million write-off for rail cars, terminals, other assets and goodwill.
The Texas-based company declared the asset impairments in an earnings report that tallied $268.5 million in losses during the third quarter.
Impairment is an accounting tool used when the value of an asset on the books is less than the fair market value.
"It's an effort to move the balance sheet closer to reality," said Brian Mayhew, professor of accounting at UW-Madison. "It's them recognizing these mines aren't worth what they paid for them."
The primary reason for asset impairment, Mayhew said, is to avoid misleading creditors with an inflated balance sheet.
Hi-Crush said the decision resulted from a general oversupply of sand and a shift to locally produced sand in the highly productive oil fields of Texas and New Mexico.
"We do not see this trend reversing and as a result our Northern White sand assets have been impacted," Hi-Crush CFO Laura Fulton said during a conference call with investors.
U.S. Silica, also based in Texas, lost $23 million in the third quarter. The company said in its quarterly report that it may have to impair assets if sand sales and prices continue to decline.
"I would absolutely expect this more often," said Brandon Savisky, an industry analyst with IHS Markit.
Western Wisconsin's once-booming frac sand industry is suffering from what one analyst calls "a perfect storm of cyclical and structural problems."
"It's really been a tough year," said Joseph Triepke, president of the oilfield market intelligence firm Infill Thinking. "Everything's kind of coming to head here in the fourth quarter."
As demand for sand grew, Triepke said producers such as Hi-Crush rushed to open new mines in the U.S. Southwest's Permian Basin that could supply lower quality sand than Wisconsin's at a much lower price. As a result, the supply grew by about 150% while demand grew only about 50%.
"The supply just dramatically overshot," he said.
That has contributed to Wisconsin mines being idled or curtailed as producers wait for the market to rebound.
Covia cut its Northern White capacity by 5 million tons, idling a mine in Minnesota and throttling production at several others. The company, headquartered in Ohio, saw energy revenues fall by 11% from the previous year and expects sales to fall even further in the final three months of 2019.
Hi-Crush's Augusta mine has been idle all year, and production has been curtailed at the Whitehall plant.
U.S. Silica CEO Bryan Shinn told investors he believes Northern White capacity still needs to be cut by about 20 million tons. That's the equivalent of seven to 10 typical Wisconsin mines.
"A lot of our less capable competitors, quite frankly, are running at a cash loss per ton and that just can't continue," Shinn said. "That's going to force a shakeout on the sand mining side of our business."
Large investor-owned sand producers are working to diversify their business, focusing on less cyclical markets such as foundries and glass makers, looking to oilfield services or even adapting their delivery technologies to other commodities.
With the advent of cheap Texas sand, analysts say the future for Wisconsin sand will depend largely on oil and gas fields in northern Appalachia, the Rocky Mountains and the Bakken region of North Dakota.
Just this fall, a sand producer received a permit to begin mining sand from a North Dakota deposit that one geologist said could be a "game changer" for that state's oil industry, though industry analysts say it's even lower quality than the sand being produced in Texas.
"The question is, is it good enough?" said Kent Syverson, a mining consultant and professor of geology at UW-Eau Claire.
Savisky said some suppliers have stopped trying to sell their product in certain regions.
The outlook for 2020 isn't much better, with Triepke forecasting even more contraction, which could lead to mergers, takeovers and bankruptcies.
"Over the past six months I've called it survival of the fittest," Savisky said. "Now the fit must get even fitter."