DEFOREST — Greg Reinhard knows his way around a baseball diamond but it never looked like this.
From home plate it's still 90 feet to first base and 60 feet 6 inches to the pitching rubber. There are batting cages and bullpens but no snow, sleet or rain.
Reinhard, a standout pitcher at UW-Whitewater and a former professional Triple-A pitcher for the Iowa Cubs, has opened a $3.2 million indoor training facility designed for baseball and softball athletes in his GRB Academy. The DeForest business also is open for other sports like lacrosse, rugby, soccer and any other activity that needs an artificial turf protected from unforgiving Wisconsin elements.
The 52,000-square-foot facility on North Towne Drive just north of Highway 19 near the Walgreen's distribution center, includes a 30-foot ceiling, 14 batting cages, a concession stand and a 6,000-square-foot fitness center for Total Athlete Performance.
The fitness center is a separate business operated by Chris Gatz and Zach Zweifel that offers specialized and custom strength, cardio and speed programs for athletes in all sports.
Reinhard's facility opened Friday and replaces a 14,000-square-foot training center that he had been leasing since 2011 on Felland Road in Madison just east of Highway 151.
The facility, with eight batting cages that could be removed to create an open space, had simply become too small to meet the demand for the more than 350 players in his academy and from other coaches and teams in the region looking for indoor space for drills.
"We could barely service our own program in that (Felland Road) facility," Reinhard, 33, said. "For GRB, this is the missing link."
But the indoor facility is only part of the equation. What attracted Reinhard to build his facility in DeForest was not only the easy access from Interstate 39-90-94 and Highway 51 but plans by the village to build a $3 million, 20-acre youth sports complex near the Windsor Road overpass of the interstate.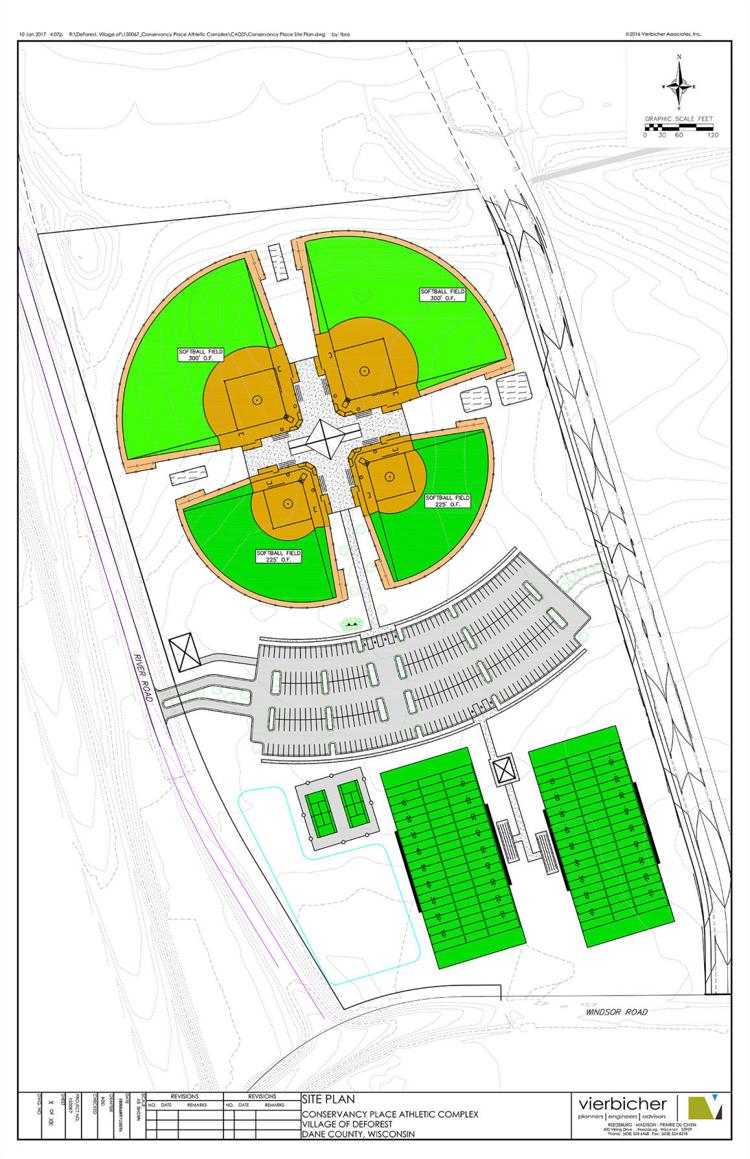 The village's facility, which could be completed in time for the 2018 season, would include four diamonds for baseball and softball with turf infields. Two fields would have outfield distances of up to 225 feet and allow for base paths ranging from 60 to 70 feet. The remaining two fields would have fences up to 300 feet from home plate and base paths ranging from 60 to 90 feet.
The park, which could be named for a sponsor, is being transferred to the village by Park Towne Development to satisfy the parkland dedication component of the Conservancy Place housing development. The park would also include two grass fields for football, soccer and lacrosse and two tennis courts, said Sam Blahnik, DeForest's community development director.
The park would provide a spot for Reinhard to host tournaments that can draw 800 players a weekend and provide an economic infusion that would benefit restaurants and hotels in the area. It also could attract other tournaments and events much like, but on a smaller scale, what is happening in the Wisconsin Dells area.
That's where Woodside Sports has eight turf diamonds in Mauston and six multipurpose fields, four baseball and softball diamonds and a 90,000-square-foot sports dome with 70-foot ceilings in Wisconsin Dells.
"We want to make sure our local groups have access to them but I would say as we ramp it up, we would look to host multiple tournaments," Blahnik said. "It would mean increased awareness for our community as we would gain exposure to a whole new set of eyes but the spillover effect into our retail is something we can't put a number on yet."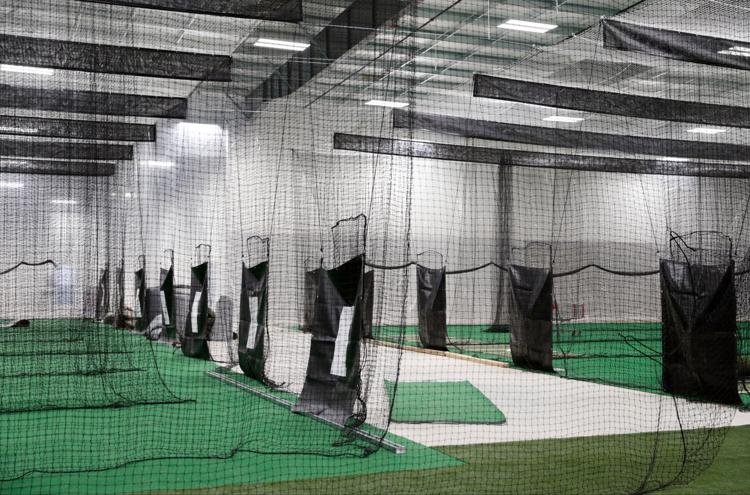 Reinhard's facility is similar to that of Hitters Sportsplex in Middleton. Jeff Haen, who developed Hawks Landing in Madison, opened the $5 million, 70,000-square-foot baseball, softball and golf facility in late 2008.
But in June 2011, Haen converted the building into an indoor tennis venue with six courts, although batting cages remain at the business. At the time, Haen said that on weeknights during the school year, the facility hosted youth baseball leagues, attracting teams from around the region and practices for some high school and college teams but during the day and in warmer months few people used the facility that could accommodate two baseball or softball games using 60-foot base paths.
Similar leagues for young players are planned at GRB but the business is ultimately designed to serve the players who are on Reinhard's 33 travel teams.
Each player, ranging from 9 to 18, pays between $2,000 and $2,500 for instruction from paid coaches, games and membership to use the facility year-round. Reinhard's building is also smaller with lower ceilings than those at Hitters which reduces the cost of utilities, which for Reinhard can top $6,000 a month.
"We have a larger population that will be engaged with the facility weekly," Reinhard said. "This is a training facility. I've seen what a lot of different people are building around the country and crafted this so it was a little bit more user-friendly for the public and fit our program."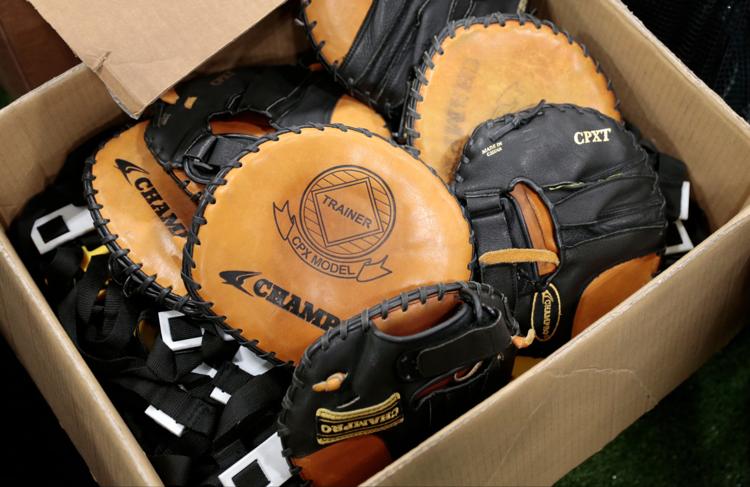 Reinhard expects to have local youth baseball programs rent his facility along with area high school teams and the baseball program at Madison College.
Al Brisack, who is entering his 18th season as the head baseball coach at Edgewood College, said his program will not likely use the facility due to its distance from campus but says Reinhard's business model is different from that of Hitters.
"He's expanding his business and it gives him the ability to have more teams and workout space," Brisack said. "The added benefit is that he's going to be able to rent it out. It isn't easy to fill in the gaps and he's going to have to work at it, but he's built up enough of his own internal clients that now he's in a comfortable area to expand that."
Reinhard grew up in Marinette, where his mother had an in-home day care job and his father, who works in a paper mill, was for a time president of the local Little League program. Reinhard wasn't recruited in high school but was an honorable mention all-state player and blossomed at UW-Whitewater.
In 2005, he led the Warhawks to the Division III national championship and was named the National Baseball Pitcher of the Year in Division III. A few weeks later he was taken by the Tampa Bay Devil Rays in the sixth round of the Major League baseball draft as the 178th overall selection.
Reinhard played five seasons in the minor leagues and posted a 20-26 record with a 4.55 ERA. He finished his career with the Newark Bears, a team in the independent Atlantic League.
His taste for instruction, however, came shortly after he was drafted when he ran a two-day pitching and hitting clinic in Marinette. That led to providing instruction to about a dozen athletes in Watertown and ultimately 150 to 200 players in gymnasiums throughout southern Wisconsin.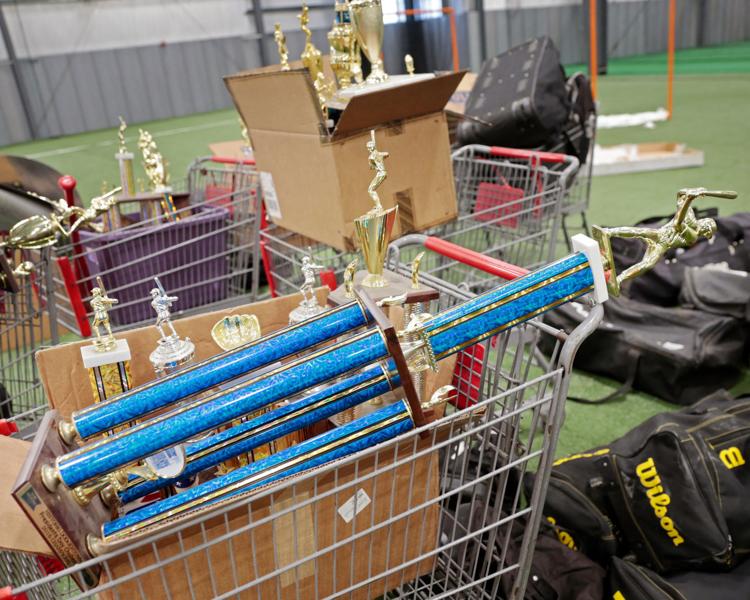 One of his clients was Rudy Rott, who last season was named a 2016 Louisville Slugger All-American after hitting .319 with a .406 on-base percentage, 39 RBIs and 13 doubles for the Ohio University Bobcats. In 2011, Rott's father, Rudolph, who lives in Holmen near La Crosse and was in the food products industry, helped Reinhard finance the Felland Road facility and is now a partner in the DeForest project.
"I believe in this guy, and I love the game," Rudolph Rott said. "Greg's a pretty sharp guy and I trust him. He did this because he loves the game and wants the kids to have success.
"He has a vision and a quality product, and it will continue to grow because of that," Rott said.