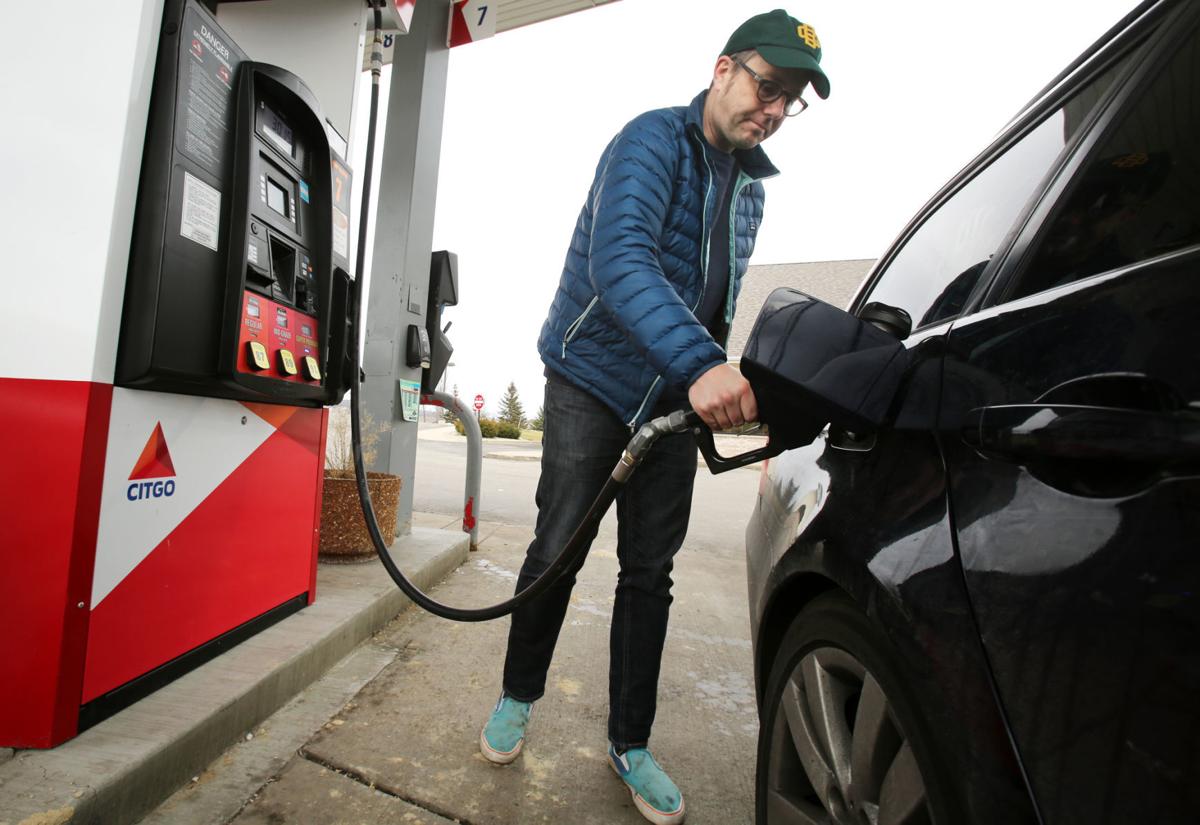 Gas prices across Wisconsin are sinking — as low as 99 cents per gallon at some stations — as the global market is over-supplied with oil, and few drivers are purchasing fuel with people largely confined to home to prevent the spread of the COVID-19 coronavirus.
Matthew Hauser, president and CEO of the Wisconsin Petroleum Marketers and Convenience Store Association, said gas stations "have large supplies of gasoline available and few buyers." He said some stations have reported demand has dropped at least 50% this week.
Nick Jarmusz, a spokesman for AAA, said Wisconsin is on a "pretty sharp downward trend" in fuel prices that is likely to continue.
The falling cost of fuel across the country is a combination of a price war between Russia and Saudi Arabia as the countries haven't cut back on crude oil production and demand being "way, way down" with most people staying at home, he said.
At the direction of Gov. Tony Evers, a "safer at home" order went into effect Wednesday, shuttering nonessential businesses and directing people to stay home except for necessary trips, such as to the grocery store or a medical appointment.
The average price in Madison on Thursday for a gallon of regular gasoline was $1.74, similarly dropping over the past week and month to what's happened statewide, according to AAA, which collects prices daily from the same stations to estimate an average.
Some stations in Madison were posting prices even lower.
The gas station at Woodman's Market on the East Side was selling gas for $1.35 per gallon Thursday, according to GasBuddy.com.
The website, where drivers can provide real-time updates to the price at individual stations, even listed gas stations in Delavan and Elkhorn selling a gallon of regular gasoline for 99 cents. In Wisconsin, 51.3 cents of every gallon purchased at a retail location goes to state and federal taxes.
If the statewide average for gasoline drops below $1.50 per gallon, it would be the first time that's happened since December 2002, Jarmusz said. AAA started collecting gas prices in 2000.
Bulk buyer
The dropping prices also mean some cheaper purchases for the city of Madison, which buys fuel in bulk.
Madison's Fleet Service, which maintains and fuels all city-owned vehicles except those used by Metro Transit and the Madison Water Utility, purchases most of the gasoline and diesel for 10 fueling sites on a locked-in rate for the year, said Fleet Service Superintendent Mahanth Joishy.
But some fuel is bought on "spot pricing" that fluctuates with the market, he said. A delivery of unleaded gasoline on Tuesday cost the city $1.10 per gallon, Joishy said, and the most recent diesel purchase was $1.24 per gallon.
The city also has been putting an emphasis on vehicles that can run on bio-diesel, which Joishy said cuts millions of pounds of carbon dioxide from being released. The last purchase of bio-diesel came in at $1.39 per gallon.
"Overall, city trips are way down, city pollution — gas and diesel burned — are way down," he said.
A majority of the fuel used in the 1,400 vehicles maintained by Fleet Service, though, is bought on a locked-in rate that allows the city to better forecast its budget.
In 2019, gasoline purchased by Fleet Service on a locked-in rate was $1.99 per gallon, which was lower than the price at retail locations. Joishy said it meant the city "won" on prices last year.
Fleet Service's locked-in rate for 2020 is $2.08 per gallon of regular gasoline. It's too early in the year to tell whether prices at a regular gas station pump will remain lower than the locked-in rate, Joishy said.
"We're at the whim of the energy company cartels around the world," Joishy said. "At least by locking in, we avoid that fluctuation, it makes it easier for us to budget year to year."