As winner of the first and only "Cinderella of the World" pageant in Madison 50 years ago, Cheryl Johnson Ludecke was lavished with gifts including an entire new wardrobe, hobnobbed with dignitaries for a week and was photographed countless times with prize-winning cows.
Ludecke's Cinderella of the World duties in September 1967 were to promote a new dairy industry show called the World Food Exposition, which sponsored the pageant. She traveled the state by DC-3 airplane to drum up interest and popped out of a big box as Cinderella wearing her sparkling new evening gown just after another woman wearing ragged clothes walked into it.
Ludecke, now 71, returned home to Florida right after the show ended and, despite loving her time in Wisconsin, never came back or checked up on the show. "Whatever happened to that show?" she asked a reporter who called her recently.
As it turned out, the glass slipper fit the show, too. The ragged World Food Exposition that initially struggled to draw visitors became the World Dairy Expo, a world-class cattle and trade show that will celebrate its 50th anniversary when it opens Tuesday at the Alliant Energy Center.
With more than 75,000 visitors expected this year, the Expo is not only the biggest dairy show in the world, but also the 27th-largest trade show of any kind held in the United States. It's also a major economic engine for the Madison region, with a direct and indirect impact estimated at $50.2 million annually.
"It's a great feeling to have seen it succeed," said Robert Walton, former president of American Breeders Service in DeForest who was one of the original members of the World Dairy Expo board when it incorporated in 1971. "We had no idea way, way back then that it would become what it has become. A wonderful team of people started it — they were really far-sighted — and a lot of top people continue to make it work."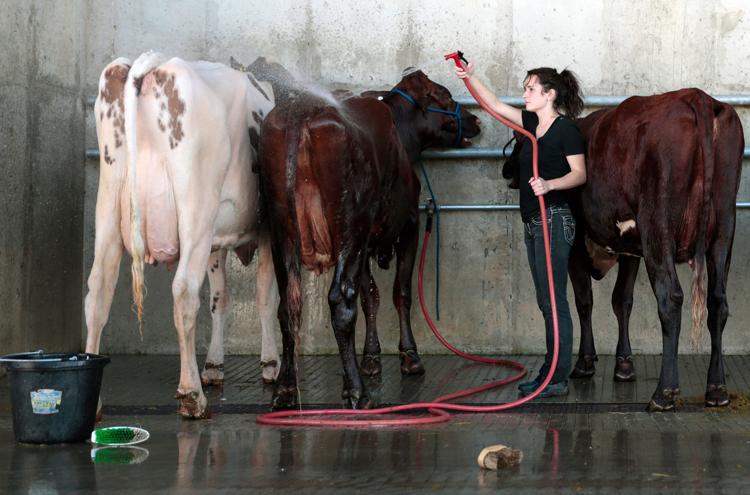 Keys to success
Walton, 85, believes the Expo has succeeded by keeping pace with the changes in the sometimes volatile dairy industry over the past 50 years while managing its finances to help Dane County, which owns the Alliant Energy Center, add new buildings and replace old ones to help the event grow.
It also has allowed the Expo to spend money for youth and educational programs like the popular virtual farm tours, according to Chuck Miller, a longtime Expo board member. "All those things bring more people in," he said. "One of the biggest challenges there is that there is too much to do. You can't see it all."
Others point to how it has maintained from its first show what Ludecke called its "very warm and very homey atmosphere. It was such a pleasure to be there because everybody was so enthusiastic."
These days the show draws more than 2,000 foreign attendees from around 100 countries and Walton believes some of them come to meet their own people here. "They find it easier to meet the leaders of their country here than in their home country," Walton said. "It really is a gathering for the entire world."
"It hasn't been a linear journey," said World Dairy Expo general manager Scott Bentley. "There have been a few ups and downs, not only for the event but for the entire industry," he said. "What we like is that there's a lot of energy, a lot of innovation and it's not just a trade show or a cattle show, it's people coming together, exchanging ideas, collaborating, fellowshipping. I think that's what makes World Dairy Expo unique."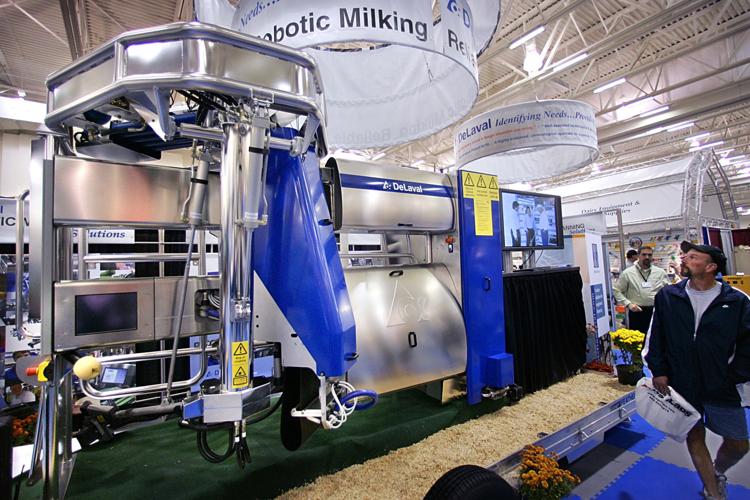 Making room for change
The Expo has opened its doors to the technology and techniques that led the U.S. dairy industry to cut the number of cows it milks (13.4 million cows in 1967 to 9.3 million cows in 2015) while increasing production (about 14 billion gallons in 1967 to 24.3 billion gallons in 2015).
It welcomed all the changes in the cheese industry — including the rise of specialty producers, a key sector in Wisconsin — and made room for innovation like organic dairy farmers, who continue to inch their way up the overall milk production ladder.
This year attendees can peruse more than 800 commercial exhibits from more than 20 countries, browsing technology including Fitbit-like devices that can count how many times a cow chews her cud, robotics that continue to rule milking parlors and genetics technology that helps develop higher-quality, more productive herds. That's a far cry from 1967, when one of the most notable changes for the industry was the introduction of plastic milk containers.
The Expo's large board and several committees that pay close attention to dairy trends help keep the event on the cutting edge, board member Miller said.
"We're looking at where the industry is going, it's all part of it," he said. "If you have something to show the world and it's related to the dairy industry, the place you take it to is Madison, Wisconsin. That's where you go."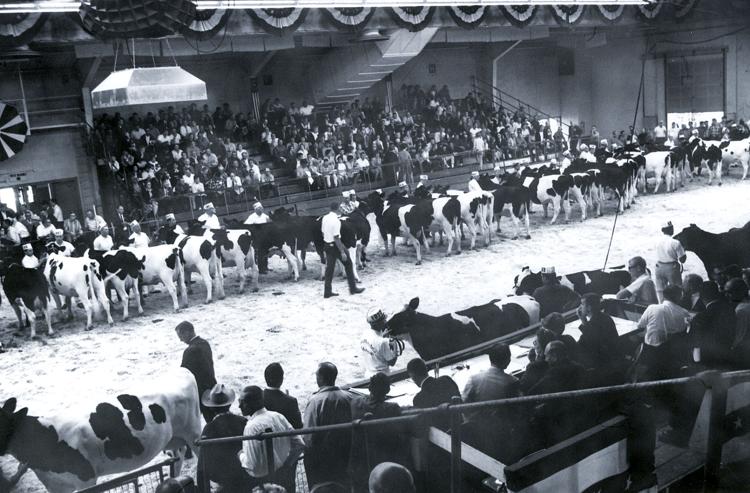 A struggle at the start
The World Food Exposition was born after the once-successful National Dairy Cattle Congress at Waterloo, Iowa — the country's best cattle show and dairy industry meeting place for years — changed its focus in 1966, Walton said. Show founder Allen Hetts of Fort Atkinson worked with Gene Nelson of Union Grove, Gene Magnussen of Lake Mills, and Howard Voegeli of Monticello and others to drum up support for a new show at the Dane County Fairgrounds the following year.
The Alice in Dairyland-type pageant, forums on food and youth and other groups, and dignitaries such as Lady Bird Johnson, the nation's then-sitting first lady, created some interest, Walton said, but attendance was much lower than expected. The second show didn't do much better. It promised a Louis Armstrong concert at the new Dane County Coliseum, but he never showed up. Some of its sponsors, such as Planned Parenthood of Milwaukee, had nothing to do with dairy.
"The first few years it was more like a county fair," said Barb Kayser, a cow exhibitor from Milton who has been connected with the show for all 50 years.
In 1969, the show was renamed the World Dairy Expo and Mid-America Festival of Food and Fun, and the cattle show was held in the Dane County Coliseum for the first time.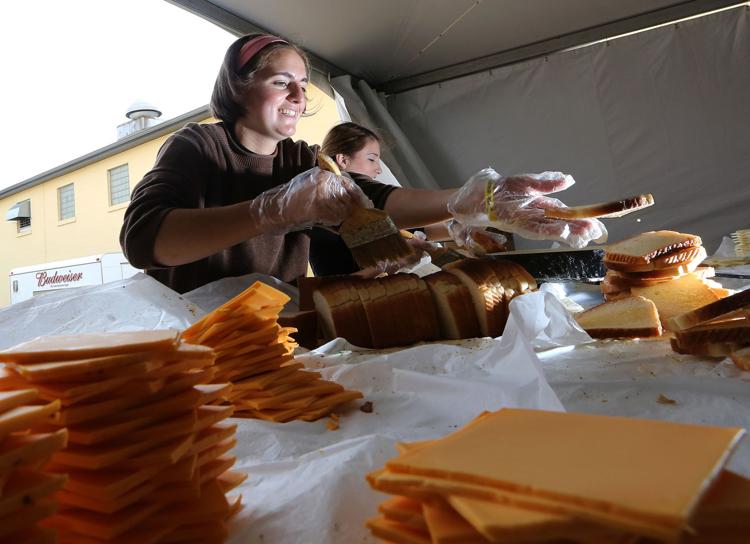 A year later, the International Dairy Show in Chicago merged with the Expo, bringing to Madison many of the student conferences and judging contests that continue today. The following year, as the show teetered on the brink of financial ruin, business leaders from around the country met in Madison and formed World Dairy Expo Inc.
"We believed in this thing and the structure of buying stock in it — $5,000 per share — and that's how we created an operating fund so we could move forward with some security," Walton said. "It took them at least 10 years before it really got rolling. But once we had the cash flow it helped us get from one year to the next."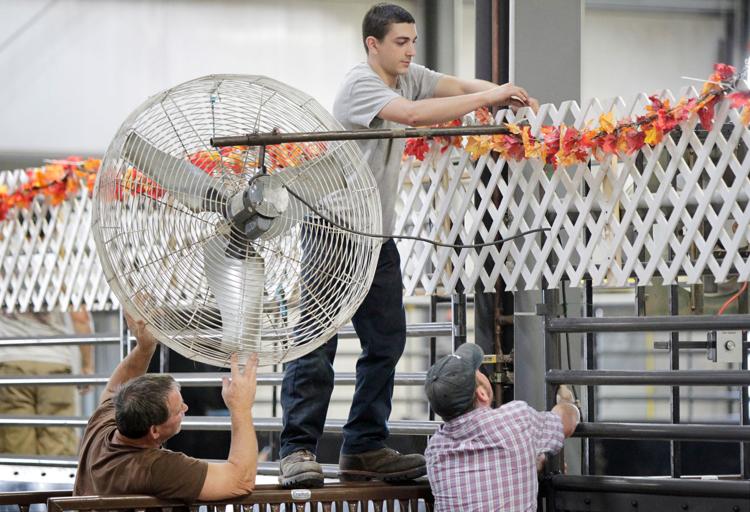 In the mid-1990s, the Expo pledged $1 million to a major remake of the Alliant Energy Center that included construction of Exhibition Hall and its tens of thousands of new square feet for commercial vendors. Three years ago, the Expo took the lead in the building of the state-of-the-art New Holland Pavilions that replaced the aging barns. The Expo contributed $3 million to the $24.9 million facility.
That kind of partnership bodes well for the Expo's future, said Dane County Executive Joe Parisi. "They bring in a lot of dollars to the AEC campus, but not just during the week that World Dairy is here. They impact us year-round," he said. "They have not only helped World Dairy but they helped us bring in new events. They continue to be incredible partners with Dane County and the AEC campus."