TOWN OF VIENNA – The nearly 100-year-old dairy barn here is within eyesight of Interstate 39-90-94.
There are no cows, milking machines, hay or even electricity in the historic structure. And that's ideal for Joe and Liz Henry.
In fact, they no longer refer to it as a barn.
The newest endeavor at Henry Farms — a seed corn company that produces seeds for other seed companies — is served in a glass, maybe straight up over ice or mixed with a few splashes of bitters, soda, an orange slice and a maraschino cherry.
The barn, built decades before the interstate highway divided the farmland, has been transformed into a rick house for their J. Henry & Sons bourbon. The 40-foot by 100-foot structure is stacked with more than 600 barrels made of Wisconsin white oak and filled with award-winning bourbon sourced from corn, wheat and rye grown on the Henry property.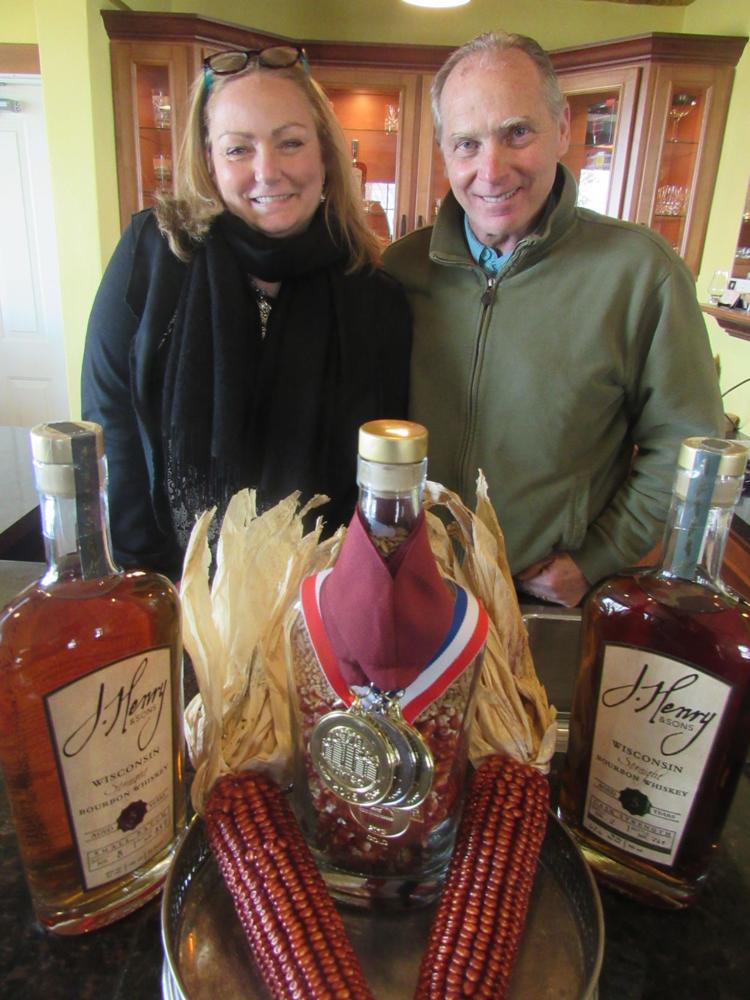 The main farmhouse where Joe Henry grew up has been converted into a tasting room, but a copper still is nowhere to be found. Instead, distillation is at 45th Parallel Distillery, 235 miles to the northwest in New Richmond.
"To tell you the truth, there's a lot of similarities between the seeds business and the spirits industry," said Joe Henry, whose father started the family farm in 1949. "It's all about using your assets in the most efficient way and not necessarily doing all of the layers of production yourself."
The business model is working.
There are plans to expand storage into the upper reaches of the barn beyond the floor of the hay loft. Bourbon sales for the Henry family are expanding across the state and in the last month, bottles of their 92-proof (46 percent alcohol) and cask-strength, single-barrel bourbon, which can be 125-proof (60 percent alcohol), have started to be sold in the Chicago market.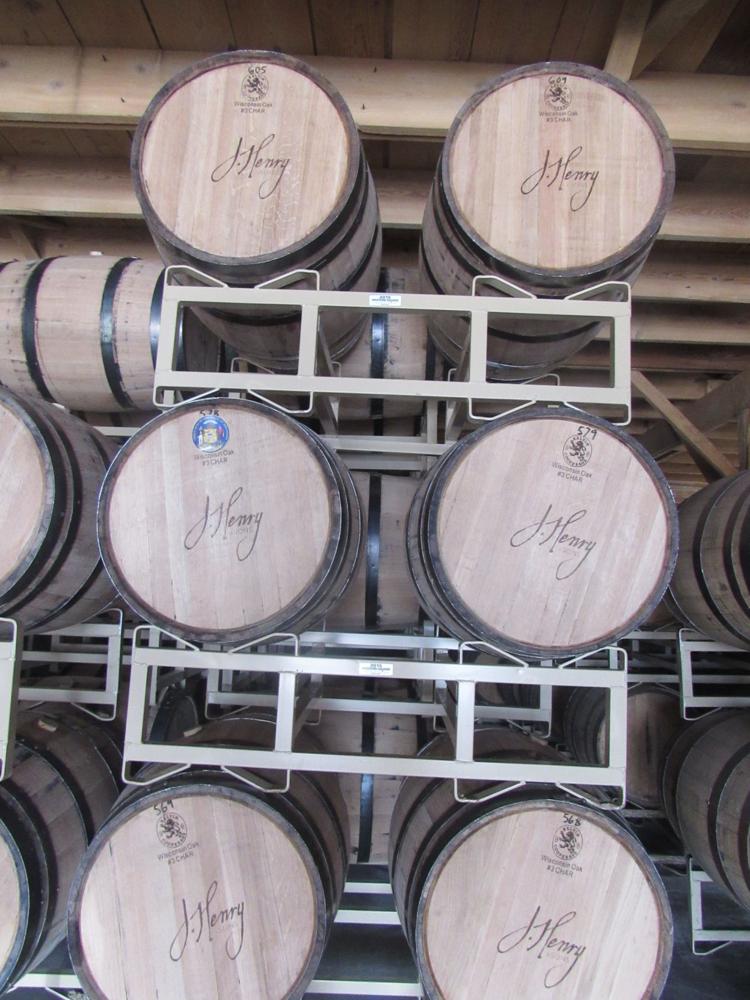 The first batch, 10 barrels, was produced in December 2009 followed by 70 more barrels in early 2010. Production increased to 100 barrels in 2011 and, in 2012, to 150 barrels, a level maintained over the last four years. But because the bourbon is aged for a minimum of five years, returns on the investment have only been underway for about a year.
The product made its debut in February 2015 at Distill America in Madison with the bourbon hitting southern Wisconsin retailers in April 2015. The tasting room, after a $300,000 remodel of the 150-year-old farmhouse, opened in August and hosts parties and events by appointment but there are plans for some regular hours this summer.
"The problem with aging is that you obviously don't have any cash flow, but you're still continuously investing," Joe Henry said. "You have all that upfront cost. And it's not only a lot of dollars but a lot of time."
The 92-proof bourbon, which is cut with water, costs about $50 retail and received a four-star rating from the Spirit Journal. The 125-proof, cask-strength Patton Road Reserve sells for about $70 per bottle and won gold medals in 2015 at the New York International Spirits and New York World Wine & Spirits competitions. The two are believed to be the only bourbons made in Wisconsin aged more than five years.
Like the craft beer and wine industries, craft distilling has been on the rise. Nationally, the industry could hit 1,000 craft distilleries by 2018. In 1990, just seven craft distilleries were in operation, according to the American Distilling Institute.
You have free articles remaining.
Register for more free articles
Stay logged in to skip the surveys
When Paul Werni began distilling at his 45th Parallel in 2007, he was one of only three commercial distilleries in Wisconsin, joining Great Lakes Distillery in Milwaukee and Yahara Bay Distillers in Madison. Less than 10 years later, the Wisconsin Distillers Guild, founded in 2014, has 16 distilleries listed as members with about 12 more producing or about to begin production around the state, said Werni, guild vice president.
Werni makes about 85 percent of the whiskey in the state and is nearing completion on a more than $1 million expansion project that has doubled his facility to 14,000 square feet. The new space includes a tasting room and will allow Werni to increase volume. In 2015, he produced 7,000 cases of vodka, gin, bourbon and rye for his own label but also distilled for other companies like J. Henry.
Joe Henry met Werni in Louisville, Kentucky, in 2007 and reconnected in 2009 when Henry began launching a plan for his own bourbon.
"Joe realized I made vodka from corn. If you can handle corn then you can make bourbon and we agreed," Werni said. "Its been a good fit. Meeting him has turned us into a whiskey facility. He's done a good job, and he had a vision."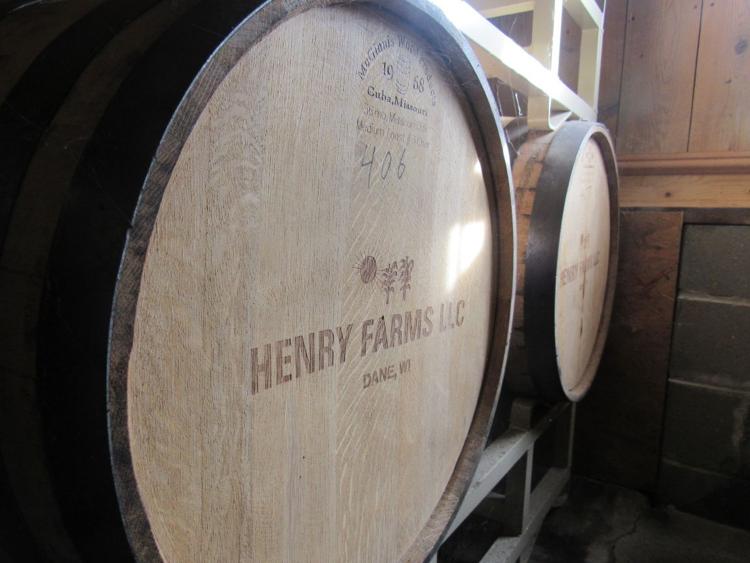 All bourbon is whiskey but not all whiskey is bourbon. Craft distillers, in order to call their whiskey bourbon, must adhere to strict guidelines to maintain quality, character and continuity. According to the American Bourbon Association, founded in 2012, the recipe must consist of at least 51 percent corn and unlike Canadian, Scotch and Irish whiskey, no coloring or additives are allowed and it must be made in the U.S.
Only new charred oak barrels (at $200 each) can be used for aging and they can be used only once. Barrels must also be stored on their side in ricks, which allows for airflow throughout the warehouse. Temperature fluctuations and extremes are also important because the changes affect how the bourbon reacts with the oak.
"The mash bill is the same, the product going in there is the same but each barrel is so unique so you're going to capture some different things out of each barrel," said Liz Henry, as she walked among the racks of barrels. "The bourbon moves through the wood."
Werni gave Joe Henry about 10 recipe options for his bourbon. Henry then worked with a consultant to get the right taste and profile. All of the grains are shipped from the Henry farm to New Richmond with Werni shipping back tubs of distilled product that is filled into barrels and aged.
"The grain is important because that makes it easier for him to make money because he grows it," Werni said. "The important thing with Henry is patience. Most won't have the patience to age it. That's why we're making whiskey for him, it helps me pay the bills for my aging."
A key part of the plan for Joe and Liz Henry is to have a Wisconsin-themed product to capitalize on the explosion of locally made food and drink. And that begins with the corn.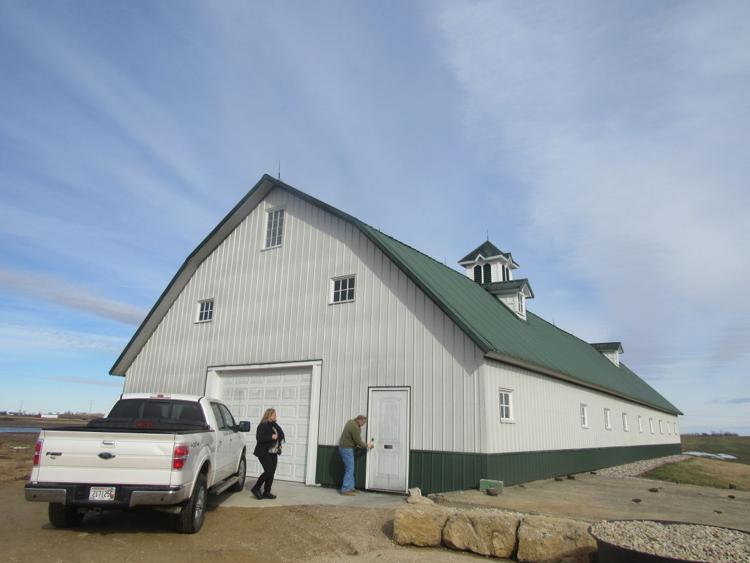 At one time, the red-colored corn used in the J. Henry bourbon was grown on the family farm and used for animal feed and silage. The hybrid, known as W335A, was developed at UW-Madison in the 1930s, but farmers stopped using the corn in the early 1970s as more higher-yielding corns were developed.
Joe Henry plants about 20 acres of the corn each spring and started his plantings in 2008 with 1,200 kernels from a seed bank at UW-Madison. Each harvest yields about 1,600 bushels.
"I really wanted to use this. I didn't know it was going to make a great-tasting bourbon, but it does," said Joe Henry. "I wanted it to be a unique three-grain bourbon, there's not many of those. So by aging it on our farm in our warehouse and in a Wisconsin climate we thought we would have something unique."