Lewis Peterson is doing what it takes for a video rental store to survive on the cusp of 2020.
He has moved Four Star Video Rental to a smaller location that includes utilities and is about half the rent of the previous location. He found a major investor, still holds down a second job and his store continues to offer up 20,000 movie titles including what is likely the largest display of foreign films in southern Wisconsin.
But one of the immediate challenges, while not critical to the bottom line but a key customer convenience, is trying to find the right spot for the video return slot.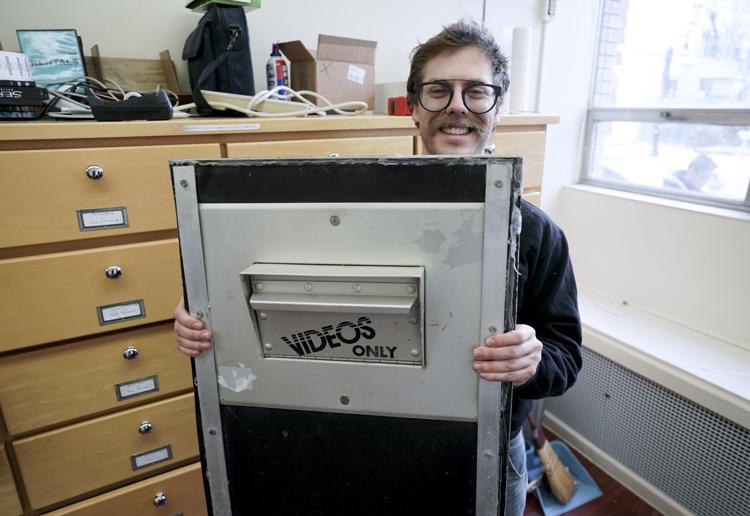 The small pull-down door that had been in the entryway of the State Street store has made the move to 459 W. Gilman St. along with the rest of the shelving, cabinets, DVDs and even a few VHS tapes. However, Four Star now shares the main front door with other tenants in the building while the front windows are elevated off the street, which could be a reach too high for some if the 20-inch-by-30-inch panel were put into a window position.
"We're working on it, I guess, would be my official answer," Peterson said. "It's a little unclear."
New location
But the future of Madison's last independently owned video store is on more stable ground thanks to the new location, a devoted core of subscribers who account for about 75 percent of Four Star's business and a crowdfunding campaign that raised about $4,500 to help pay for the move and set up in the new digs, located just off University Avenue and surrounded by UW-Madison students and other Downtown dwellers.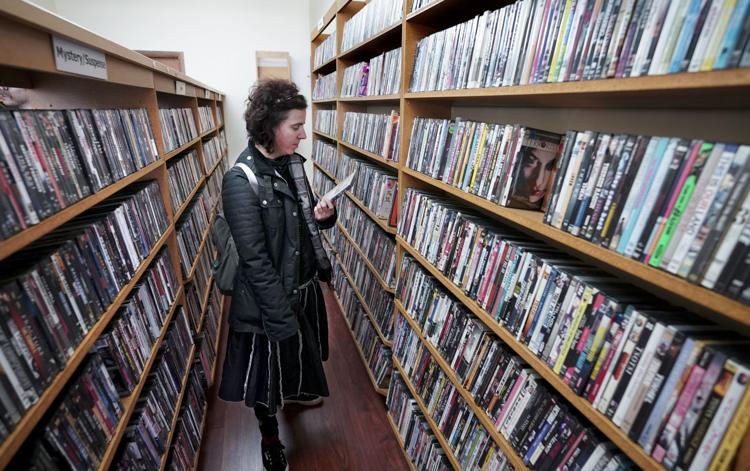 The business, which is no longer a cooperative, opened in its new location on Dec. 1 but is still working on setting up two additional rooms that will ultimately be filled with shelving and DVDs. Movie posters and photographs of movie stars have yet to be hung on the walls but the main section of the store looks like and has the feel of a video store, which includes a small tube-television constantly showing movies from the massive collection.
While a truck was used to move many of the items from the old store, the cabinet that holds just the DVD collection (the DVD boxes on the shelves are empty) was rolled from State Street down West Gilman Street. The drawers were removed and stacked on dollies that also made the trip sans truck.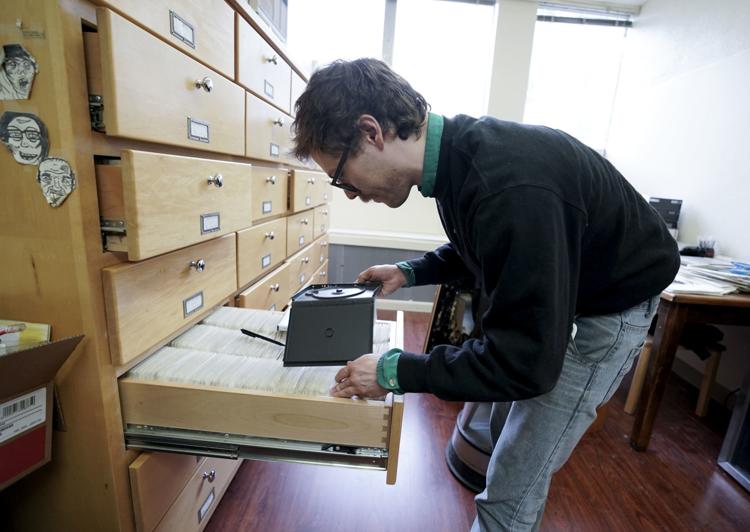 "Most of the walk down here is downhill but not too much so we didn't pick up too much speed," Peterson said. "Most of our customers are pretty dedicated. I think they'd rather have us be here and not at full capacity for like a month or month and half and still have us exist. That's still everybody's goal."
Unique titles
The store, which maintains return boxes at Willy Street Co-op East and West, was founded in 1985 by David Smith on North Henry Street next to Plaza Tavern. He wanted to make underground, art, foreign and off-the-wall titles, along with mainstream Hollywood productions, available to the general public.
When Smith retired in 2003, the business was purchased by former manager Lisa Brennan, who ran the store until 2014. With her departure, the staff of the business—which included then owners Peterson, Nick Propheter, Helen Boldt and Andy Fox—created a co-op and used crowdfunding to raise money to buy the business from Brennan.
In 2012, Four Star moved into a 2,500-square-foot space next door to Riley's Wines of the World and in a multi-tenant building that includes Asian Kitchen, Mirch Masala and soon, Mania, a virtual reality gaming lounge and cafe. But the $2,800 per month rent, which did not include utilities, became too much and Peterson took it upon himself to find a new location in an effort to keep the business afloat.
The store is now in the same building as Clocked, which is an app company; Promote Local; Healing Touches, Muse Hair Salon and Campus Tailors.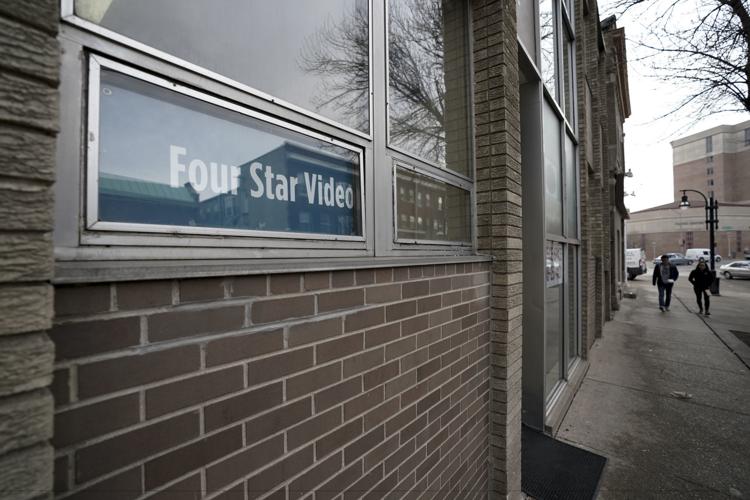 Store outlasts its competitors
Brick and mortar competitors like Video Station, Video Max, Hollywood Video, Late Night Video, Bongo Video and Blockbuster have all vanished over the years but Four Star remains and has a dedicated customer base that includes Adrienne Ranney, 29, who lives Downtown and works in the Department of Psychology at UW-Madison.
She recently came into the store looking for the Sam Rockwell movies "Box of Moonlight" and "Choke," both of which were available.
"I think it's great," Ranney said of the new location. "They've been able to get pretty much everything in here. There's just something really relaxing and unique about perusing physical movies and I think there's a lot of real cinephiles who appreciate this. And Four Star carries a bunch of stuff you're not going to find on streaming websites."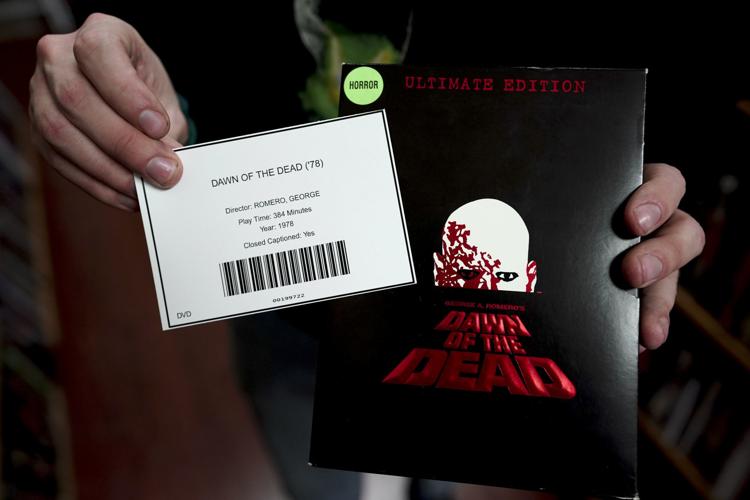 While Peterson is able to display all 2,200 foreign films in the store's collection, he's saving space by only having one DVD box per movie on the shelf. Inside each box are cards that represent the number of copies available for that particular movie. Other genres include new arrivals, mystery, comedy, sci-fi, action and adventure, two shelves of silent movies and a section of children's movies.
More genres will be on display once the new shelving arrives for two rooms that are now void of movies, said Peterson, who now owns 50 percent of the business while a silent partner owns the other half.
"I have been doing this for a long time and I feel like I'm amassing knowledge in a specific area and it was kind of hard for me to imagine doing something else," said Peterson, who who watches more than 500 movies a year. "Part of it is that the customers seem like they still really want this and I don't want to disappoint them. There's definitely a community built around this place."
The business news you need
With a weekly newsletter looking back at local history.