BROOKFIELD — The daily commute is no longer strictly a north-south affair for Jen and Don Van Wart.
Their daily drive for the past 16 years has been from their home in Janesville to Madison, where they have owned and operated Twigs, a fashionable women's clothing store, first on Monroe Street and, since 2012, at the Hilldale Shopping Center.
But the couple's Jeep Grand Cherokee has been driven in a more triangular route recently after they opened a second store this month at The Corners of Brookfield, a $200 million, 750,000-square-foot open-air shopping center and apartment development at the intersection of Interstate 94 and Bluemound Road.
The addition of a second Twigs contrasts with moves by national retailers who are scaling back their brick-and-mortar stores.
"In a world where everything pretty much is accessible 24/7 around the world, I think what really is still needed and what people still appreciate is a boutique, a specialty store that delivers really good content and service." Jen Van Wart said. "And when you're an independent, you're nimble. You can see changes coming down the pipeline in the retail world and you can adjust accordingly. You can react."
High-visibility home
For the Van Warts, who have been working on the deal for the past three years, the extra mileage and highway time is well worth the investment as the Twigs brand and its curated collection of designer clothing has expanded beyond Dane County and into one of the most populated and economically thriving regions of the state.
The Corners of Brookfield, located west of Brookfield Square and about an hour east of Madison, includes 450,000 square feet of retail and restaurant space with 244 apartments above. Below it all are 1,900 parking spaces in a garage with 20-foot ceilings and with direct access to a Sendik's grocery store and the 140,000 square-foot, two-level Von Maur, an upscale department store that's the anchor tenant of the development.
It also doesn't hurt that the Van Warts' sleek 2,700-square-foot store is sandwiched between an Anthropologie clothing store and a Kendra Scott jewelry store. Across the street is a BelAir Cantina, a Mexican fusion restaurant; a public plaza and the Von Maur store that drew an estimated 15,000 shoppers in its first two days of business last weekend.
"We must have had over 1,000 people walk through our door," said Don Van Wart. "It was just nonstop traffic. It didn't necessarily punch through with sales. It was all about awareness."
That awareness has been bolstered by a 30-foot wide, 50-foot high electronic billboard along the interstate and a slew of media from the state's largest market writing, broadcasting and blogging about the Waukesha County shopping center.
Eight stores are open, with another 13 expected by the end of the summer. Ultimately, there could be more than 40 stores and restaurants in the development, said Chelsea Roessler, marketing manager for The Corners.
The 34,700-square-foot Sendik's is scheduled to open April 23 — the chain's 15th location in metro Milwaukee — while the L.L. Bean store above it will open by the end of June. Other retailers announced include Arhaus, a furniture and home decor shop; Cafe Hollander; Lululemon, a yoga-inspired clothing store; and multiple clothing stores like Free People, Scout & Molly's Boutique, J.Jill, Evereve and Francesca's. Scheduled to open Monday is BelAir, which already had four existing restaurants in the Milwaukee area and has another on tap for Downtown Madison. The development's 244 apartments are slated to be ready for tenants by July.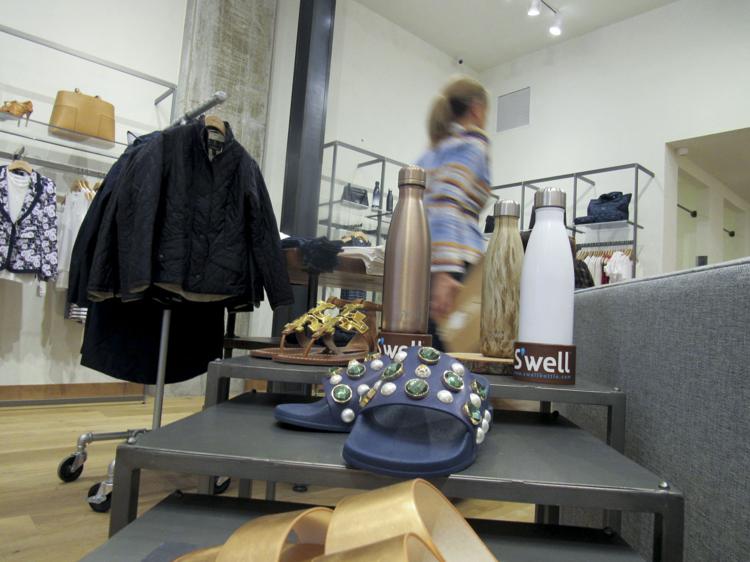 A strong roster of Wisconsin-based companies coupled with Von Maur, headquartered in Davenport, Iowa, is seen as crucial to standing out in the highly competitive market, Roessler said.
"It's the foundation this place is built on," Roessler said. "I know Twigs really feels at home here."
'An important step'
The Van Warts founded their company in late 2001 on Monroe Street after the couple moved from New York, where Jen was a trader on Wall Street but had also worked for a jewelry designer and at Saks Fifth Avenue. They moved back to her hometown to be closer to family and have been immersed in their own retail adventure ever since.
Last year, they expanded their Hilldale store from 1,600 to 2,200 square feet. The Van Warts signed a 10-year lease for the Brookfield store, where they spent $450,000 on the build-out and furnishings and another $250,000 on inventory.
The store includes shelving made in Janesville, custom chandeliers made of twigs, four 5-by-8-foot dressing rooms and a lounge area with a refrigerator stocked with complimentary beer and soda.
Twigs has customers from the Milwaukee area who drive to Madison, and the Van Warts expect that some of their customers from Madison will now make the trip east.
"The challenge for a small business that aspires to grow is doing it in baby steps and not doing it too fast," Don Van Wart said. "But (Brookfield) was an important step for us to take."
The Twigs at Hilldale is located across from a major renovation scheduled to be completed later this summer. The 55,000-square-foot project will move University Bookstore, create a courtyard and provide more visibility and access to stores from the outside between Macy's and Sundance Cinemas. The Van Warts believe there will be at least one new major retailer that could draw considerable traffic to the south end of the shopping center and to their store.
Jen Van Wart said expanding the business at Hilldale and Brookfield required a financial partner willing to extend credit to a small business.
"We felt really fortunate. Our concept is strong and we've been growing," she said. "And, it's amazing in today's retail climate to say that you're expanding and have a bank believe in you and help you make that expansion happen. That's not something that a lot of people can do and it's really unfortunate because I think that's what's really holding back a lot of the important job growth in the country."