MOUNT HOREB — Rising out of an open field on the east edge of town, Sjölinds Chocolate Factory sits largely by itself, except for a day care and a new hotel.
But Sjölinds co-founder Tracy Thompson sees the new production facility as a field of opportunity for the booming business.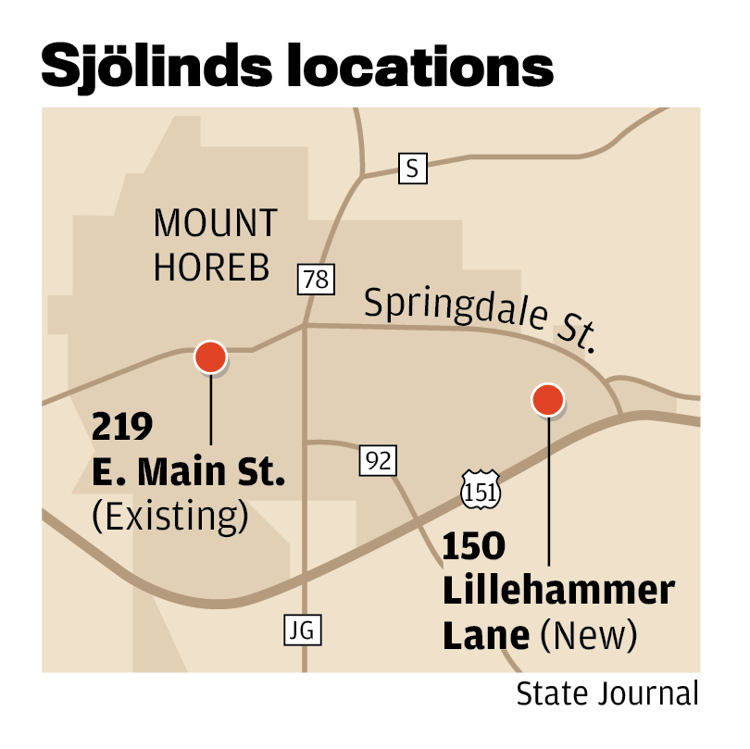 Thompson and her oldest daughter, Melissa Thiessen, founded Sjölinds Chocolate House in 2006 at a quaint location on East Main Street. They planned to run a small dessert shop with limited hours, but after a decade of double-digit annual growth, Sjölinds opened its second location Wednesday on Lillehammer Lane, about 2 miles from the Mount Horeb mainstay.
"That's not what the community wanted," Thompson said Thursday of the original, more limited shop. "The community wanted more food; they wanted longer hours. When you're in a small town, you want to make people happy."
So, that's exactly what Sjölinds did, offering a selection of sandwiches and daily breakfast and lunch specials. The food component, however, complicated chocolate production, changing key conditions in the kitchen.
"The absolute enemy of chocolate is heat and humidity, so we were getting pushed into smaller and smaller spaces until we were making chocolate in a hallway, basically," Thompson said.
You have free articles remaining.
Register for more free articles
Stay logged in to skip the surveys
That's not the case in the new 2,000-square-foot building, where Sjölinds will process cocoa beans and make all of its chocolate products going forward. The facility is more than 10 times the size of the company's previous chocolate production space, including room for more equipment and double doors to make bean deliveries easier. There's an air conditioned room for tempering, the process that gives fine chocolate its shine and snap.
Those amenities are expected to help Sjölinds increase production to allow bulk sales to local chefs, and to create an online store, which Thompson hopes to have running in about a month.
The space also includes a small coffee shop where people can enjoy beverages, pastries, quiches and Swedish pancakes by the warmth of a double-sided fireplace and the artwork of Thompson's husband, Chris.
The baked goods will be brought in from the Downtown store, while chocolate products will be sent to that location for sale.
Sjölinds' new chocolate factory was originally envisioned as part of a larger artisan food hub that would house several small food-related businesses and enable them to share some production and distribution costs. But new construction proved financially prohibitive to potential tenants, prompting organizers to look for an existing space to renovate Downtown, said Mount Horeb Economic Development Corp. executive director Brad Murphy.
Thompson still likes the idea and hopes other small-scale food businesses will build around Sjölinds' new location, but she said the food hub was not proceeding fast enough to accommodate Sjölinds' growth.
Besides added production space, Thompson said, the new facility will enable the company to host tours and chocolate tastings, and make custom specialty chocolates for specific customers. The company is also considering hosting chocolate-making classes and expanding into more elaborate pastries.
"It's so much fun to be able to think about all the possibilities," Thompson said.