Madisonians are spoiled when it comes to farmers' markets.
With the country's largest producer-only market circling the Capitol Square every Saturday morning for seven months and a myriad of smaller markets throughout the area, it's easy to become complacent about the availability of vegetables picked only hours before, locally procured honey, squeaky cheese curds and bouquets of colorful flowers.
There's also something called Stella's Hot & Spicy Cheese Bread. But that's a story for another day.
Wisconsin is home to an estimated 308 farmers' markets of all sizes and geographical locations. And now researchers from UW-Madison and UW-Extension have taken a dive into the numbers and issues that farmers' markets face.
Surveys were sent last year to 242 markets with 98 from 40 counties responding to the questionnaire.
Market managers said they are challenged to promote their markets with limited advertising budgets, local government support for markets is generally lacking and there is high turnover among managers, who are typically part-time, although some are not paid at all, according to the survey.
Only about half of the markets surveyed have boards of directors while 69 percent of markets have rules about where and how products are grown or if re-selling is allowed. However, 15 percent have rules that are not enforced and only 6 percent of the markets have no rules for vendor practices.
About three-quarters of the markets require fees from vendors but the average weekly fee ranges between $1 and $30.
"The number of farmers markets nationally is growing, indicating increased interest in farmers markets among consumers and farmers alike," the researchers wrote. "While this trend is promising, such interest does not guarantee that farmers markets are able to sustain themselves or grow."
On average, the survey found that farmers' markets host about 40 vendors but 38 of the markets had 20 or fewer vendors at peak season. Only seven markets in the state have more than 100 vendors.
The spectrum can include 275 vendors with more than 150 attending each Saturday at the Dane County Farmers' Market to only a handful of vendors at smaller markets like the Iron County Farmers Market on Wednesdays in Hurley or the Monday afternoon market outside Capital Brewery in Middleton.
Urban markets average 68 vendors, small town markets average 25 and rural average 21. Suburban markets average 48 vendors during peak season, according the survey's results.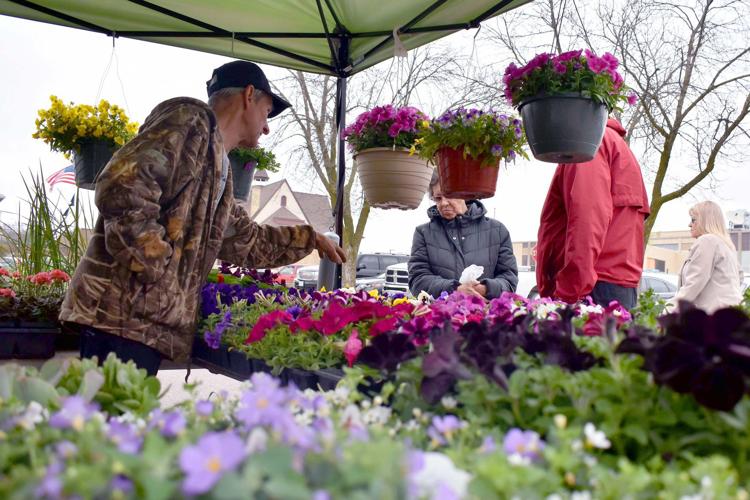 Some of the oldest markets in the state include the West Allis Farmers Market, founded in 1919, and the Watertown Farmers' Market, often referred to as Fair Day. Its origins trace to the 1850s when cattle, wheat, chickens and vegetables were sold on the city's Main Street.
The authors of the survey were Laura Witzling, a Ph.D candidate in the UW-Madison Department of Life Sciences Communication; Marlie Wilson, a UW-Madison graduate with a joint degree in agroecology and urban and regional planning; Bret Shaw, an environmental communications specialist at UW-Extension and an associate professor at UW-Madison; and Alfonso Morales, a UW-Extension specialist and an associate professor at UW-Madison.
Their study also revealed that 86 percent of the markets offer free parking, 65 percent have bathrooms, 15 percent provide wireless internet and 14 percent have a roof or are in a permanent structure.
About 65 percent of markets are part of the Women, Infants and Children Farmers Market Nutrition Program but only 42 percent accept electronic benefit transfer cards, which allows people to access benefits from the Supplemental Nutrition Assistance Program or SNAP.
"Low SNAP participation may be explained in part by other research focused on Wisconsin farmers market managers. That research has found that it can be labor intensive and expensive for markets to accept EBT or SNAP benefits," researchers said.
The survey found that farmers' market managers are interested in learning about low-cost promotion strategies, need assistance in sponsorship strategies and that managers want to learn from each other and make connections with schools, chefs and extension offices.
About 33 percent of market managers are unpaid with 22 percent making between $7.25 and $13 per hour and 28 percent being paid between $13.01 and $19 per hour. But turnover is an issue. Only 9 percent have been in their positions more than 10 years while 41 percent have been in the position for two years or less.
"High turnover may indicate a weakness for some markets as there is likely a learning curve for new management," the report said. "Resources aimed at helping markets retain managers could be helpful. Given the nature of the position, however, frequent transitions may be inevitable."