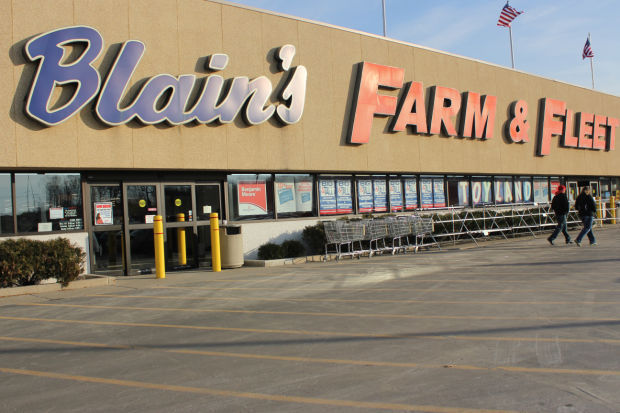 As Minnesota-based Mill's Fleet Farm continues to expand into southern Wisconsin, Blain's Farm & Fleet has announced growth plans of its own.
The Janesville company plans to open two stores in Michigan's lower peninsula, marking the first time the retailer will operate stores in that state.
Blain's "has identified prime locations throughout Michigan" for new stores, with the first two locations scheduled to open this fall in Jackson, just west of Ann Arbor, and Portage, a suburb of Kalamazoo.
"Several years ago, we announced an aggressive expansion and reinvestment plan," Jane Blain Gilbertson, Farm & Fleet's owner and president, said in a news release. "Expansion into Michigan is the next step."
You have free articles remaining.
The expansion plans have included opening a store in Verona, opening stores in Romeoville and Elgin, Illinois, and expanding stores in Rice Lake in northern Wisconsin and in Kankakee and Bourbonnais, Illinois.
Blain's Farm & Fleet, founded in 1955, has 38 locations in Illinois, Iowa and Wisconsin. However, Mill's Fleet Farm, based in Brainerd, Minnesota, and which has largely been void of stores in southern Wisconsin, is also expanding into areas that had primarily been ceded to Farm & Fleet. Fleet Farm, which has no connection to Farm & Fleet, is building a $25 million, 218,628-square-foot store and a 4,100-square-foot convenience store and car wash in DeForest at the intersection of Highway 19 and Interstate 39-90-94.
The company — with 37 locations in Minnesota, Wisconsin, Iowa and North Dakota — also is building or has announced plans for stores in Kenosha, Ocononowoc, Eau Claire and Delavan.
For Farm & Fleet, the move into Michigan will allow the company to enter new territory and better serve customers who have been buying Farm & Fleet merchandise online, said Kristin Stewart, the company's chief marketing officer.
"Our online e-commerce business is booming, with strong sales throughout the U.S.," Stewart said. "Michigan is one of our best e-commerce states. Opening local stores will allow us to better serve these customers with two-hour pick-up of online orders and our innovative drive-thru service."
In Jackson, Michigan, a former Kmart store will be remodeled into a 120,000-square-foot store that will include an automotive service center. The store in Portage, Michigan, is in a former Menard's building that will be expanded by 30,000 square feet to create a 109,000-square-foot store and automotive service center.