The shelves are still stocked with soaps, lotions, body washes, perfumes and scents, but one of State Street's longest-tenured businesses has new owners.
Chuck Bauer and Chuck Beckwith, a couple since 1969 who founded the Soap Opera in 1972, have sold the business to another couple with decades ahead of them and ideas on how to grow the business, located in a 1,500-square-foot spot three blocks from the Capitol Square.
Stacey and Sean Scannell bring backgrounds in fitness management and finance, respectively, and are raising an easy-tempered 7-month-old boy, Sean Jr. They also believe the influx of new residents to the Downtown, thanks to an explosion of new apartment buildings, will mean big things for businesses in the heart of the city.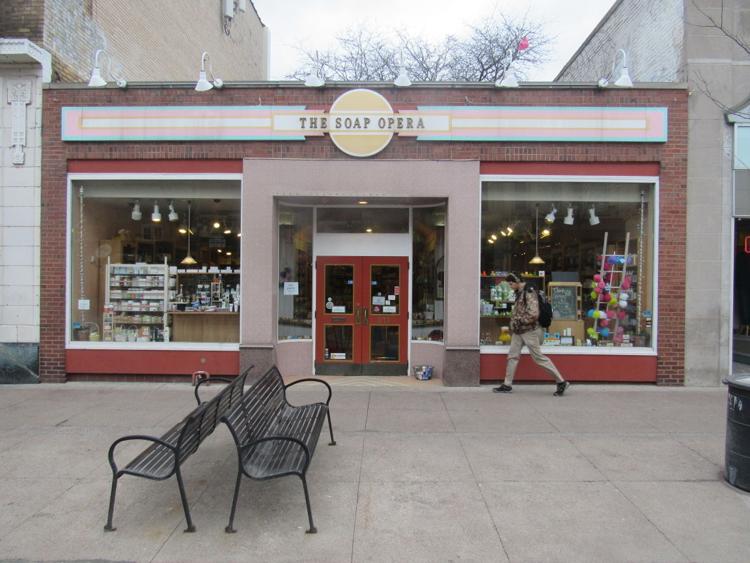 Sean, 32, and Stacey, 29, are both UW-Madison graduates. They met in 2011 and married in 2014, and have taken over a business with a dedicated customer base and a strong stable of employees, one of which has been with the company since 1979. They had been contemplating buying a business for years but when Sean, who works as a broker connecting business owners with potential buyers, began talking with Bauer about the future of the business, the talks ultimately led to the Scannells making an offer.
Stacey, a former whitewater rafting guide who later managed YMCAs and an Anytime Fitness, has been a customer of Soap Opera since 2005 and is excited about the switch to the other side of the sales counter.
QUESTION: Explain how the sale transpired.
Sean: Chuck (Bauer) and I began to talk and have a dialogue and he mentioned that he wanted to sell but was hesitant about putting it on the market. At some point it just turned into, "Well, my wife's ready to take over ownership of a business. Do you want to sell yours to us?" And he liked the idea.
Stacey: When he first brought up the idea of us owning the Soap Opera, I was like, "That would be amazing" but I never thought it would be feasible. Then, over time, it just became more realistic.
Q: What other businesses did you consider?
Stacey: We thought about going into my realm of background, which is in fitness management, and the more I thought about it I realized it wasn't really for me anymore so then we started expanding, looking for different options. And then when I got pregnant (having our own business) became more of a topic, just to make things easier for us, rather than having to do daycare. We thought it would be a lot easier.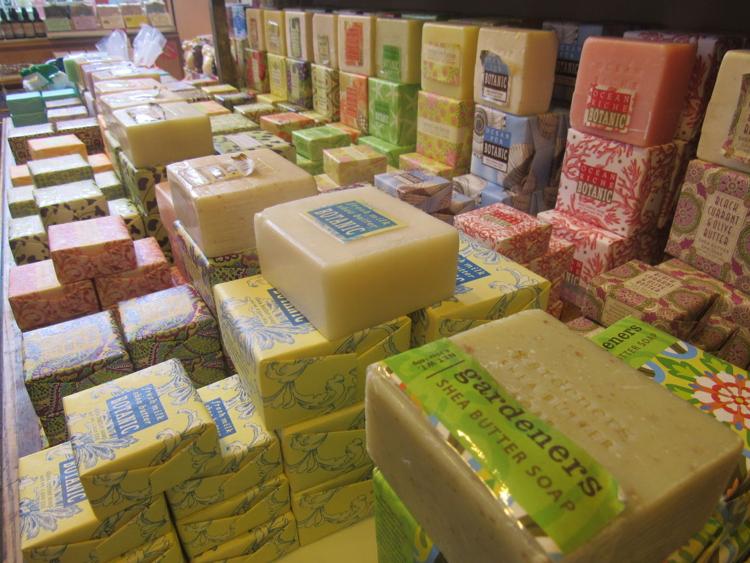 Stacey: No. But it's more flexible. I definitely put in crazy amounts of hours. After we knew we would be taking over the business, doing the point-of-sales system was an unbelievable amount of hours. I probably put in 12 hours a day on my computer while I was watching him at home just trying to get that thing up and running. There's lots of inventory here.
Q: How did you know this was the right one?
Stacey: I think we always kind of knew. It has such a great location, it has such a great reputation. Financially, it's a smart move.
Sean: On a regular basis, I see plenty of businesses. In the end, I wanted to keep doing what I'm doing because I enjoy what I'm doing so I wanted to make sure it was something that fit her background. We put an offer in on a diaper delivery service, but we're kind of glad it didn't go through because we're much happier with this business.
Q: What do you look for when buying a business?
You have free articles remaining.
Register for more free articles
Stay logged in to skip the surveys
Sean: The main criteria for any business I want to buy is that I want something that's consumable and it has to have a long track history, be successful and affordable. When you buy a business you can either put a lot of money into it or a lot of sweat equity into it and I think with this business — with a little bit of sweat equity — a lot of things can be done.
Q: Is it hard to find a business that meets your criteria?
Sean: There are a lot of businesses out there for sale, but we are still in a seller's market. There are more buyers than there are sellers. That could switch in the next few years with so many Baby Boomers retiring. If we have a good business that has solid financials and is listed at a fair price, we have no problem selling it and getting a very good price for it because we have so many buyers. I think the small business market is thriving.
Q: How did you educate yourself on the Soap Opera and its industry?
Stacey: By asking the two Chucks lots and lots of questions. They're the best source we could find, honestly. They've been doing it for nearly 45 years and then there's Sean with his financial background and being able to take numbers and really look at them.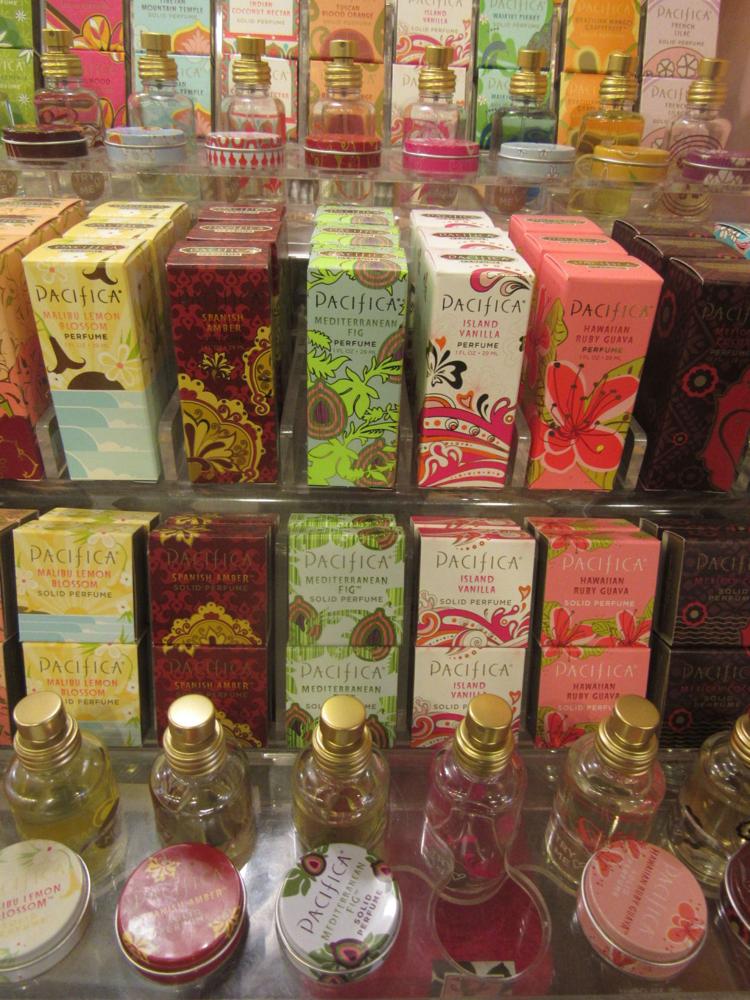 Q: What do you like about having a business on State Street?
Stacey: I love it. The foot traffic is great. It's not like having a shop in the middle of nowhere. There's always people coming in and out. Whether they buy something or not, it's nice having people coming in all day long. And it's great seeing people come from all over the place. Every weekend, we have people from out of state that pop in because State Street is so well known and it has such a history.
Q: What are your thoughts on efforts to attract more retail to State Street?
Sean: I think there will always be kind of a battle between bars and retail, but I don't think it should be seen that way. There's a daytime State Street and a nighttime State Street. It's a totally different place at night and that's fine. I don't think there's anything wrong with that. There's no reason we can't live together in unison.
Q: What kind of changes have you made?
Sean: Our goal has been not to change much.
Stacey: If it's not broke, why fix it? This has been a stable business Downtown forever. We don't want to change a lot. We've added a few products and we want to add more local vendors and update the website to make it more user friendly.
Q: What are some of your ideas to grow the business?
Sean: The reality of the situation is that we really can't increase the traffic on State Street ourselves. A lot of nice apartments are going up that will naturally do that, but I think our opportunities for growth are going to have to be outside of that … online, corporate accounts, things of that nature.
Q: With the residential growth, what will the business scene be like in 10 years in the Downtown?
Sean: It's going to be awesome. It's going to be a different experience. It's still going to be a destination, but it's going to be a Downtown-living lifestyle.
Stacey: It's going to be more booming than it already is. It's going to be more day-to-day business. Lots of foot traffic.