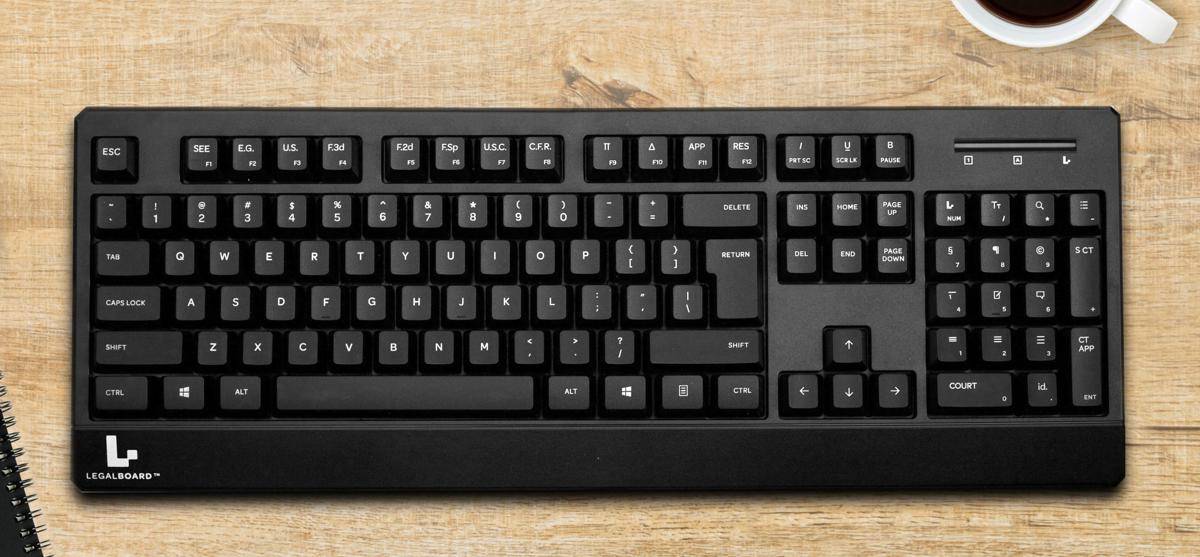 Brian Potts, an environmental/energy lawyer in his day job, is also a freshly minted entrepreneur, and he has taken his new business product, a lawyer's version of a keyboard, on the road.
In early January, Potts and his associates, incorporated as Pro-Boards LLC, launched the LegalBoard at the Consumer Electronics Show in Las Vegas. It was nothing like a courtroom.
"It is a very different experience, but it's been fun," said the 37-year-old Madison attorney. "The press we received was amazing and has driven our sales so far."
LegalBoard been sold to customers in 48 states and several countries, Potts said, with the marketing driven by email and social media so far.
"I have to admit that tweeting as a legal keyboard on my LegalBoard Twitter feed has been hilarious. See @legalkeyboard on Twitter. I do most of the postings, and there's a lot of comedy available when you are posting tweets under the Twitter profile of a keyboard rather than as a person."
Q: I know this is your first foray into the business world as an entrepreneur. What drove development of the LegalBoard?
A: Honestly, as soon as I thought of the idea, it was obvious to me that it would make money if I could get it engineered and manufactured for the right price point. I knew there wasn't a legal keyboard out there because, if there were, I would have run across it. And I lucked out because some of my friends have the expertise I needed. One of my good friends is a computer engineer, another owns a graphic design company called Mayday Press in Mineral Point, and I have family members who are web designers. I just gave each of them some ownership of the company for their work, and the Pro-Boards team was created.
Q: What does your new product do that other keyboards do not?
A: The LegalBoard incorporates functions that lawyers regularly use to write emails, memos and court documents. For example, there are keys that allow the user to add a section symbol, a paragraph symbol and a copyright symbol. You can add a footnote or comment with a key, and then go back to your place in the text by hitting shift and that key. You can add a bullet, open the find window, change line spacing or turn track changes on and off. The LegalBoard also allows lawyers to insert common words and phrases like "court of appeals" by hitting one key. All of the features work in Microsoft Word, but many also work in emails, which has been a big hit.
Q: Who else was involved in the creation of the prototype? Did you have the keyboard built based on your ideas?
A: The basic idea to create a legal keyboard was mine. But we had a team of lawyers from various areas of the law use prototypes for a few months, including my wife, Abigail, who's a lawyer at the Wisconsin Department of Justice. We tweaked the design based on their feedback and after brainstorming ideas with the other members of the team. We also had to tweak the design a bit based on our manufacturer's needs and limitations. In the end, it was definitely a team effort.
Q: Do you expect that Pro-Boards will have other products? If so, what is in the pipeline?
A: Yes, we will definitely have other products, and likely very soon. We've been working on a few international versions of the LegalBoard and also some additional legal-focused products for the U.S. market. I can't disclose exactly what they are yet, but the next U.S. product we release will focus on hitting the law school market, which is laptop-based and therefore doesn't need a desktop keyboard.
Q: What's the focus of your law practice?
A: I started out as a purely energy and environmental lawyer, and that's still most of my practice. But I now also do some general litigation work. I mostly represent utilities and other large companies in Wisconsin and around the country. I'm also a contributor to Forbes on energy and environmental issues.
Q: How were you drawn to that kind of law? And how did you get from Kentucky to Vermont to California to Madison?
A: I grew up on a horse farm in rural Kentucky, about 40 minutes outside of Louisville. School took me from Kentucky to Vermont to California, and Abigail convinced me to move to Madison — her family is from Reedsburg. I became interested in environmental issues and ended up majoring in environmental economics in college because of a trip I took to Mexico in my sophomore year. A friend and I drove a 1989 VW Jetta from Kentucky to the Yucatan Peninsula in Mexico in 1999, and during that trip the air pollution in the Mexican cities astounded me. Mexico didn't have good air pollution laws at the time, and so their cars didn't even have to have carburetors. Going to law school at Vermont Law School, which has the top environmental law program in the country, seemed like a natural fit for me after college.
Q: You have little kids. How do you fit the law, the product, writing for Forbes, and family life together?
A: It's not easy, but I'm a very efficient worker, and I can't sit still. I also often try to do my extra work while my family is asleep, and, to my wife's chagrin, I'm addicted to my phone. It also helps that the LegalBoard sales are fairly automated at this point. But once we grow, I'll need to beef up the staff and hire someone to run the company.