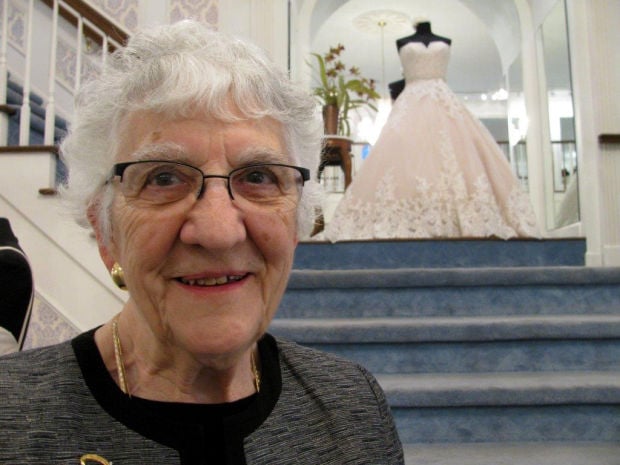 Vera Stillmank continues to wear high heels and repeatedly hikes two flights of stairs to the second floor of her wedding dress shop on the Far West Side.
And, at 84, she has no plans to stop.
Stillmank has owned Vera's House of Bridals for more than 50 years and has climbed the stairs for more than 25 years. She started making dresses in 1961 in Wausau for girls who had polio and eventually began making wedding dresses at the urging of her now late husband, Jim Stillmank, who worked for the Singer Sewing Machine Co. and was also a wedding photographer. In 1964, the Stillmanks and their young family moved to Janesville, where she started a home-based bridal shop.
In 1968, they built a 7,000-square-foot store next to their home, but a growing Madison-area clientele forced her to open a store in 1981 in Madison in a strip mall on Odana Road. A few years later, in 1986, she and her husband built a 12,000-square-foot store near Mineral Point Road and the Beltline.
It is here that Stillmank, her daughter Renee Kapinus, and her employees, many of whom have been with the business for more than 20 years, guide and counsel harried brides, worried mothers and excited bridesmaids into the right fit. The shop, with more than 500 dresses, also sells formal wear for women and colorful prom dresses.
A custom design studio staffed with professionally trained seamstresses takes care of dress alterations, which can range in price from a few hundred dollars to about $3,500.
Since 1964, Vera's has outfitted more than 45,000 brides, and for the last seven years has been voted "best bridal gowns" by Wisconsin Bride Magazine readers.
Do you ever plan to retire?
Not really. You know, I enjoy the business and as long as I can function efficiently and be of some help. ... I love it. Each bride is a different world. Their needs are all different, and it's wonderful to be a part of that.
How did you start sewing?
I've been sewing since I was knee-high to a grasshopper. I won all the awards that were possible to win in 4-H. I went to nationals and the whole thing and was pretty well known in Rock County and the state because of what I had done, so marrying somebody in the sewing business was not crazy. I started doing sewing at home just to keep busy because we had all these little ones, anyway, and I started designing gowns for girls who had polio. Their bodies were so distorted they couldn't find dresses to fit. Word then got out that I did weddings. (Jim) did photography, and I did the dresses. And that's how it started.
When you formally opened your business in 1964, did you think it would go on for this long?
I think so. People want things to fit. They want good service. They want what they want, they want it to fit, and that's what we pride ourselves on. Rhonda Pierce, the head of our design department, has been with me for 33 years. She's an artist. We do design changes, we add sleeves, those kind of things. I probably have six employees that have been with me 10 to 33 years.
How have you been able to keep staff?
We run a good, clean, reputable business. These people are literally family to me. We treat them well, we pay them well, we're flexible on hours. Our employees become part of our family.
Is buying a wedding dress different than other aspects of wedding planning?
The way she looks on her wedding day is the only thing that she's interested in. She doesn't see the flowers until she's in the back of the church, and if she doesn't like them what is she going to do about them? The photography, if the pictures didn't turn out to suit her, what is she going to do about it? We hold her hand and work with her until she literally walks down the aisle. We become their confidant and their friend.
Are stores like yours rare?
A lot of stores don't do any alterations. You can buy a dress anywhere, today, out of somebody's garage, literally. People are ordering catalogs and selling them out of their house and they sell them at a discount, which makes it hard for us. We have the physical building, the overhead and the employees. We press the dress at no charge, we give them a bag for the dress, we don't charge for the fittings. It's endless what we do for the bride. After 50 years, we've learned what the bride needs.
How do you see the wedding dress industry changing in years to come?
The industry has changed already through the years. I think we're going to find that people won't, perhaps, have as elaborate weddings, because the costs are going to escalate. But there's something about a bride. That wedding day is magical.
Are wedding dresses becoming more simple or more complex?
More complex. The technology is there. The availability of fabrics we have to choose from, the availability of laces, the availability of skilled labor. Our prices are very fair. The only thing I'm interested in is delivering a good product that's fitted well and is delivered on time. And technology lets us do that easier today. It doesn't matter if she's being married in 2015 or two weeks from now. We can help her.
Are bridesmaid dresses improving?
I think they're more fun than they were. For years, people tried to sell bridesmaid dresses with the idea that you can wear them again. Yeah, right. Today, our dresses are really cocktail dresses. They're just darling.
I don't think they're any different than they were years ago. Challenges are probably rising prices. Utilities have gone up, lawn care, we have to plow more than we would like to lately. It's just the physical day-to-day expenses keep getting higher, but our bride's wages are not rising accordingly so she can afford to pay more. If there is any challenge, it would probably be that.