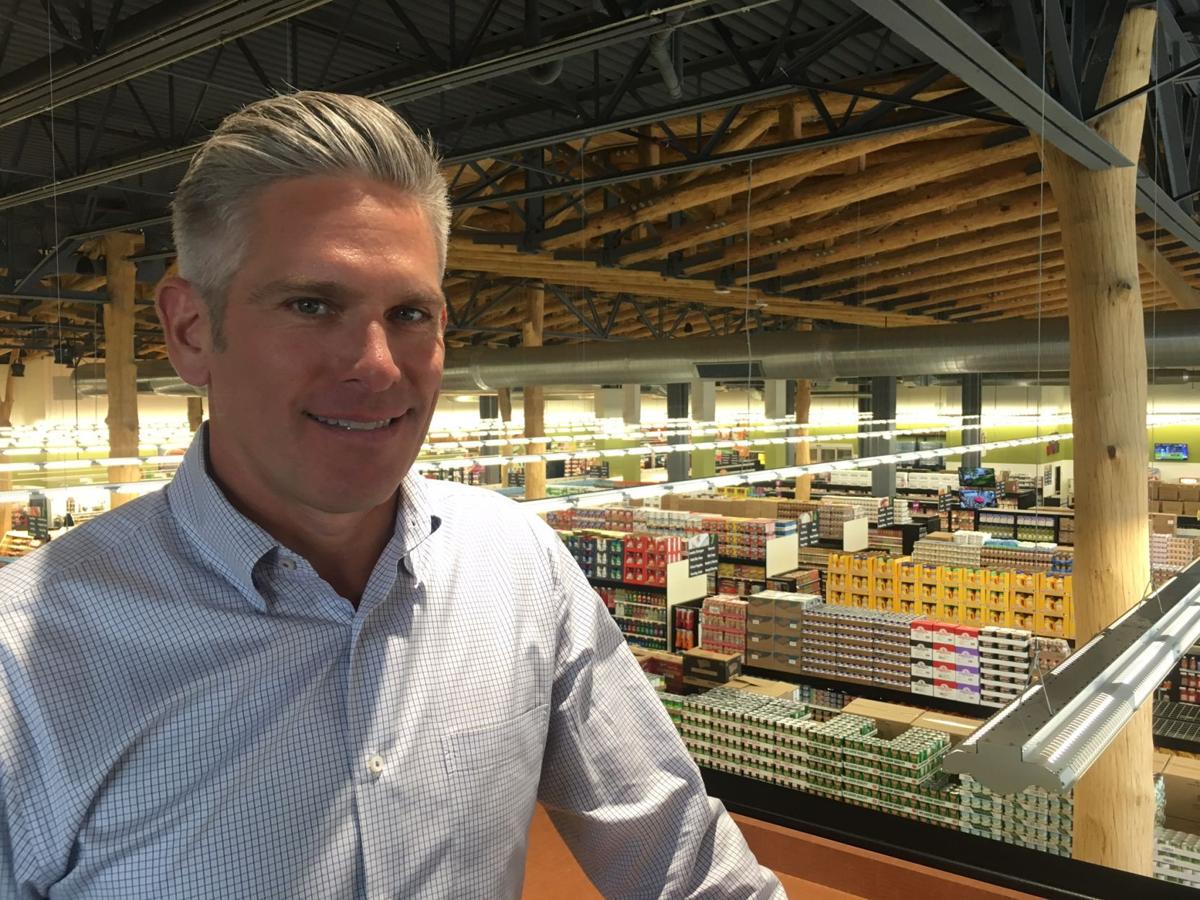 Festival Foods is a staple in communities like La Crosse, Marshfield, Green Bay and Appleton, but last month the Onalaska-based, family-owned grocery chain entered the highly competitive Madison market.
The 55,000-square-foot store is on the ground floor of the $65 million Galaxie building by developer Otto Gebhardt in the 800 block of East Washington. With about 200 housing units above, the Constellation apartment building across the street and more planned for the area, the store is seen by many as a key component to the rapidly developing corridor and a welcome addition to the surrounding neighborhoods.
The company was founded in 1946 by Paul and Jane Skogen but in recent years has been expanding across Wisconsin under the direction of the Skogens' grandson, Mark Skogen. He spoke with the State Journal on April 7, the day before the doors opened on the Madison store, which includes a mezzanine, bar and outdoor patio overlooking East Washington Avenue.
Q. What was it like growing up a Skogen?
A. As a kid in a small city, people knew that your family owned a business because your name was on the front of the building and I can remember that it made me uneasy. So in 1990, when the Festival Foods name came on for us, I kind of liked that. People still knew who you were but your name wasn't in the front of the building.
Q. When did you make the conscious decision to really expand beyond the La Crosse and Onalaska area?
A. It started in 1993 when I got into the business full time. We had an opportunity in the Marshfield area where we took over an existing Rainbow Foods store. We go there and nobody knows us and we ended up being successful there and then we had an opportunity in Green Bay. We realized that some of the things we were doing were different than other grocers, and that just gave us confidence to continue to grow.
In the past year, we've really decided to accelerate off of one store every three years to two to five stores a year. We're not afraid of opportunities at this point, and we just assembled a team that we really believe can get done what we want to do. It's not about just putting a Festival sign on a building. You have to have the culture right.
Q. What has it been like managing that growth? You're not just selling groceries anymore; you're building a company.
A. It's challenging and it's stressful at times, but (the company's managers) enjoy the fact that we're climbing a mountain in some ways. If we want to grow a little bit faster, we're going to have to take on other people's stores like we did (in 2014) in Fort Atkinson if we're going to grow.
Q. Do you see opportunities here in the Madison market to take over other grocery locations?
A. We would like to build other stores here, and if there were any opportunities with existing stores we'd definitely look at them. We did not come here to have one store. We will be successful, and that will cause us to try and look for other places.
Q. Kroger has purchased Roundy's, owner of Copp's, Pick'n Save and Metro Market. Do you anticipate them closing stores here?
A. I don't know. My guess on that is I'm not sure that they will. They'll give them a try first. They didn't come here to shrink. They'll want to see same-store sales growth, and they will make them better. They're willing to spend on their stores. It's going to be changing the grocery environment in the state. This is one of the greatest hotbeds of grocery competition in the country. You have some of the very best here ... Meijer, Hy-Vee, Woodman's, Wal-Mart and Kroger. There's not many states where you get all that.
Q. How many stores do you envision for Festival in the Madison area?
A. It's a city that you could put five or six in of one brand and not cannibalize yourself too much. I say that because in Green Bay we're building our fifth store there (later this year). We could fit in three stores total right now in Madison.
Q. How different is the Madison market compared to other markets in which you have stores?
A. In the state of Wisconsin it's not too different from one city to the other, but you come here and it's the most dramatic change of any city we go into. We're going to have a lot to learn here. We think we've studied enough about what other grocers are doing, but I'm sure we're going to learn a ton once we get the doors open.
Q. But even the location in Madison you have selected is very different from the rest of the city.
A. We found probably the most different place in the state. It's good to be different, and we have to keep up with it and figure out what everybody is looking for. And that's the thing we do well, we listen. We don't have one model. We'll figure it out if we're missing something.
Q. How different is this store from the rest of your properties?
A. Very different, from the standpoint that it's 20,000 square feet smaller and the fact that we have fresh and perishable food on one side of the store and boxed, frozen and dry food on the other end. That's very different for us. We don't have a bar and a mezzanine of this size in any of our other stores, and we have surface parking at our other locations instead of a parking ramp like we have here.
Q. Because of its location and with housing located above the store, could this store do as much business as one of your larger locations?
A. It could and it should. If a store does $1 million a week it's a busy, crowded store. Would this store have that potential? Maybe someday.
Q. What would your grandfather think of the design of this store?
A. We always show that 3,000-square-foot store that we started in with a house connected to it. Imagine 40 years from now what a grocery store will look like. You have to be different. We're selling a commodity, and you can get that commodity in a lot of different places. You can get (some groceries) at Menard's.
Q. How different is it competing in a community that includes a Woodman's Market compared to a community without a Woodman's?
A. We don't change a lot whether we're in a market with or without them. We know their customer and they shop with us, too, so there's some crossover. They're a great operator. I really admire them. It's a neat model that's not really anywhere else in the country of that size.
Q. Are you looking at adding an online shopping and delivery component to your store?
A. I think most shoppers will want a pickup service because of the extra cost of delivery. But that whole concept, while there's a lot of talk about it ... there's probably not many grocers that can prove that it's profitable. But that doesn't mean you don't get into it. We do a lot of things that aren't profitable. It's something we're going to watch closely. The place where it's always going to be most successful is in big cities with traffic congestion where it's tough just to get to a grocer.