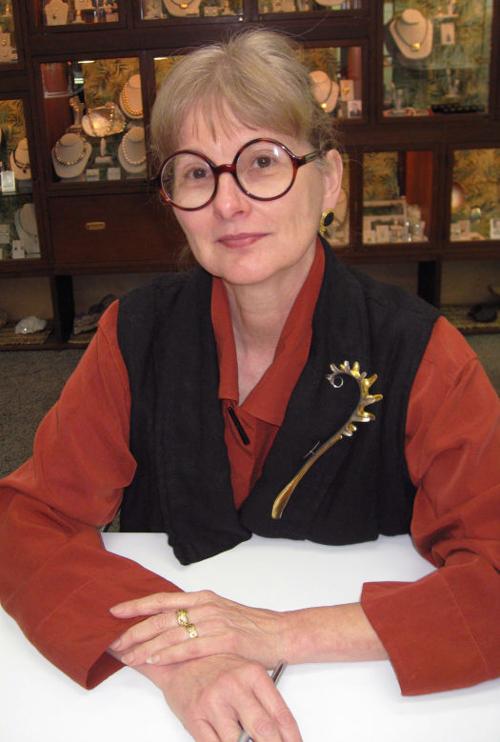 Hanna Cook-Wallace, who has owned and operated Studio Jewelers in Madison since 1981, was the self-described rock-hound kid who just kept collecting bigger and prettier rocks.
"I worked in a jewelry store as a teen in southern California and picked up some jewelry repair and engraving skills, then took silversmithing at the University of Kansas, where I fell in love with metal and started designing," Cook-Wallace said.
When she came to Wisconsin in the early 1970s, she worked for two other jewelers before going off on her own. She maintains a gemological laboratory and consulted with the UW-Madison Geology Department in the development of an online gemology class, Gems and Gem Materials.
Q: I suspect jewelry design is something that has trends and changes from year to year. What's the biggest change you've seen in the last 20 years?
A: The biggest change I've seen in my industry is that more attention is being paid to the work of individual designers, rather than companies doing mass manufacturing, or even design houses like Cartier.
The Studio Jewelry movement that started in the 1960s and 1970s really has gotten traction in the last 20 years, and there are more jewelry artists whose design vocabulary is both unique and instantly recognizable to the American consumer of jewelry. With the advent of computer-assisted design and manufacturing, many more stores offer custom design services now.
CAD allows non-metalsmiths to design on a computer screen, and a 3-D wax model is produced, cast, finished and set by a third party. Design competitions for which I have served as a judge are still struggling with what to call this. It is a different animal from a hand-crafted piece by a skilled metal artist and stone setter.
Q: What most affects your business: the price of metal or the price of gems?
A: Both affect the business, the volatility in the metals markets perhaps more on a day-to-day basis. We have to call for current prices to quote many items, including things like the gold ring stock we use for sizing a ring. I'm happy to say that the relatively lower and stable price of gold we've experienced over the past year — $1,250 to $1,350 per ounce, down from almost $1,700 — is expected to continue into 2015, according to industry analysts.
Q: Has the advent of online shopping and the Internet affected your business a great deal?
You have free articles remaining.
A: We often urge people to surf the Web looking at designs when they're figuring out generally what they like — what kind of lines, what size of ring. On the negative side, we do have people who come in and "showroom" us. They look at everything, figure out what they want, get their finger sized if it's a ring, and then they go online and see if they can source it from an out-of-state jeweler — who won't have to charge them sales tax — so they can get it cheaper.
People are supposed to pay the sales tax anyway when they file their Wisconsin tax return, but most do not. This is what the Marketplace Fairness act is all about — leveling the playing field so local businesses are not at a price disadvantage compared to online or out-of-state businesses. If we had passed the Marketplace Fairness Act 10 years ago, we might still be enjoying coffee and pastry and book signings and readings at Borders today.
Q: What's the biggest challenge you've faced personally in the business world?
A: Learning the nuts and bolts. I started Studio Jewelers in 1981, and while I could design and make beautiful things, I didn't know how to balance a checkbook, let alone read a balance sheet. I had just a few rock-solid principals to go on: don't borrow money, and pay your bills on time. Everything else I had to learn.
Fortunately, I'm not afraid to ask questions. I still remember how kind they were at the Department of Revenue when I called up and said, 'OK, I'm new at this, tell me what I need to do.' They helped me figure out all the things I was legally required to do.
Q: How do you compete against the chain jewelry shops?
A: My focus is fine art jewelry. The work at Studio Jewelers is largely one-of-a-kind or limited edition pieces, much of it on consignment from the artist. There are 30 different artists and small studios, representing a myriad of techniques and materials, on the roster, and there are three in-house designers, Whitney Robinson, Chris Keenan and myself. Other than a few wedding band lines and gold chains, there just isn't that much overlap with a national chain store.
Q: What's your favorite stone and why?
A: Opal, because of the beauty and variety of its color expression. Opal is my gemological specialty, and I have traveled to many of the opal mines in Australia to experience this fabulous gem at its source.
Q: What's your best advice on navigating a small business through the economic difficulties of the last decade?
A: When it comes to difficult economic times like the Great Recession, figure out if the fight is worth it, and if it still is, be completely honest with your vendors and colleagues about what you need from them. Come up with payment plans and stick to them religiously. Keep your doors open and keep advertising.