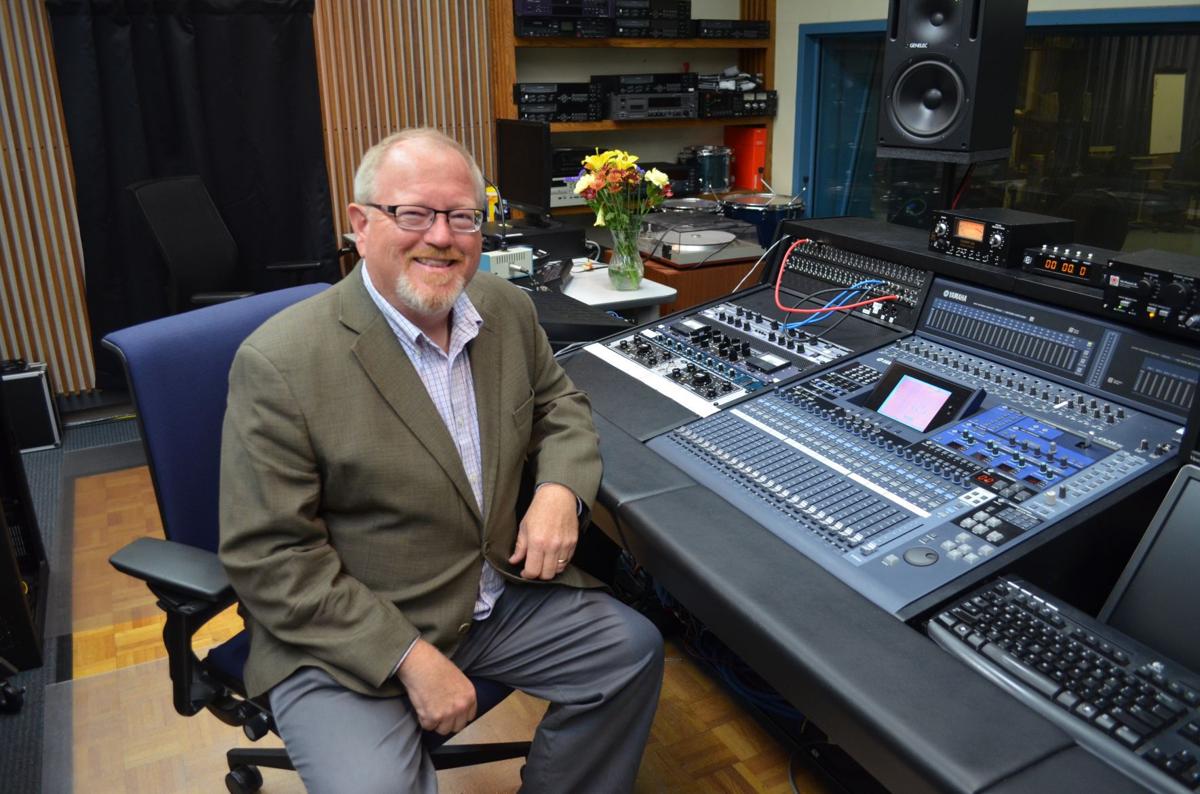 Mike Crane enjoys history. After all, the radio network he directs, Wisconsin Pubic Radio, is celebrating its centennial.
But when he considers the state of the audio industry, he hearkens back to an earlier time — the invention of the printing press around 1440.
"I really think we're in a golden age of audio because there is just so much that's interesting to listen to," Crane said. "I think public radio sounds better than ever. I think there are a lot of amazing podcasts to listen to.
"I have to think this is like when printing became easily available and suddenly books were cheap. People thought, 'Oh my, I'll never read all of the books!' Nowadays, it's kind of hard to keep up with all of the great audio content available, and that's OK."
Crane joined Wisconsin Public Radio in 2008 and two years later became its director.
Since then, the organization has expanded its newsroom and established partnerships with investigative journalism organizations. It also has created new programs like "Central Time" and "Wisconsin Life," in partnership with Wisconsin Public Television.
WPR recently remodeled its newsroom in Vilas Hall on the UW-Madison campus and is now renovating Radio Hall for more office space.
Almost 500,000 people listen to WPR's two networks each week. One network is for classical music as well as NPR News (88.7 FM in Madison). The second broadcasts shows on the Ideas Network (970 AM, 90.9 FM and 107.9 FM in Madison).
WPR now has 37 transmitting sites throughout the state. The latest is a translator added in Wausau that carries the Ideas Network on 91.9 FM.
WPR's biggest centennial event will be held Saturday at the Overture Center in Madison. It will include stories, music, conversation and even a sing-along, emceed by NPR's Ari Shapiro.
Q. Weather was the first thing regularly broadcast on radio station 9XM, which became Wisconsin Public Radio. That broadcast happened on Dec. 4, 1916, from UW's Science Hall. How did that work?
A. The very first weather forecasts were in Morse code, the dots and dashes. You can tell the seeds of an interest in public service from the very beginning. Back then, they asked the hobbyists that built their own radio sets to transcribe the weather forecast, and post it in a prominent place. They understood early on that radio, unlike a telephone or telegraph, could be broadcast, which is an agricultural metaphor. You broadcast seed. In this case, you're broadcasting audio.
It wasn't very long afterward that they thought about classical music and news and information?
On that first broadcast they played some classical music. They had an instinct that radio could be used to make life in Wisconsin better. Being educators, I think they went in that direction pretty quickly, providing education as well as weather and market information and music. The staff here deeply believes in the Wisconsin Idea. One way we describe that is to say the resources of the university belong to the entire state, and WPR is one way they can receive those resources.
You've recently lost two well-known hosts — Joy Cardin and Kathleen Dunn on the Ideas Network. Cardin retired after 14 years hosting "The Joy Cardin Show" in the morning, and Dunn after 24 years at WPR. How will their departures change WPR?
The sound will be different with new hosts, but the core purpose or sensibilities of WPR won't change. Those go back 100 years.
In place of "The Kathleen Dunn Show," for the moment, we're broadcasting a national show, called "1A" with Joshua Johnson. It's a really good show, so when Kathleen let us know she was retiring, on fairly short notice, we thought "1A" would be a good choice as a replacement. Our habit is to give programs a chance to see how the audience responds. So we'll see.
For the morning show, we are absolutely recruiting to hire another Wisconsin-based host or hosts. It will still be a Wisconsin-based, call-in talk show. Meanwhile, we hired a swing host, Kate Archer Kent, a while ago. I think she's subbed on all of the Ideas Network talk shows, so she's stepped in to what we are simply calling "The Morning Show" for now, and then we'll conduct a national search.
Is part of the thinking that if you air a national talk show from 1 to 3 p.m. in place of "The Kathleen Dunn Show," it lessens the number of hours WPR produces each day on the Ideas Network, which lessens any concerns you might have about maintaining the quality of what WPR produces?
I would say that could be true. Both of the producers who were working on "The Kathleen Dunn Show" have at least a temporary assignment to work the other WPR shows, so there is some added help. They were hired as multimedia producers, so they came to us with more background in doing online stuff and so helping us mostly radio people to do better with that is a big deal for us. So we'll see how that works. There's a lot of change management going on with the new morning show being needed, and I don't have a permanent answer yet on the afternoon.
Would WPR be stronger if you could add Milwaukee Public Radio to the network or merge together?
You won't be surprised to learn that it's been talked about over the years. Dave Edwards, the general manager there, and I have known each other forever, way before I was at Wisconsin Public Radio. My sense is Dave has built a really wonderful service that deeply serves Milwaukee that would be pretty tough for us to do. There's no contemplation of any merger.
WPR has added to its news and online operations in the last few years. With staff cuts at many news organizations, do you feel a responsibility to grow your newsroom?
Public radio really started as an alternative media around culture, and we grew into a significant journalistic presence over the years. Now NPR is one of the most respected news organizations in the country. So for a long time, stations have worked on beefing up their news presence. My sense is journalism is under fire. There are a lot fewer people working in newspapers and radio stations than there once was. Right now, knock on wood, WPR is very healthy. Public radio listening is up around the country. And we'll do what we can to keep that going.
More and more people are listening on demand, especially to podcasts. How challenging is that for WPR?
There's a dual answer to that. It's a huge challenge, and it's really exciting.
Kerri Hoffman who is the chief executive officer for PRX, which distributes our two national programs, said at a conference a year or two ago that listening to podcasts builds a habit of listening. That's good for us, if we can build a habit of audio content being really great.
We have what we call WPR Next, an incubator for new content. We are in the midst of our second round of piloting. This content might turn into a weekly show or a segment on another show.
The other piece of the puzzle for WPR Next is we are aware our first round of ideas came from staff, and we want to figure out how to also be looking other places to find the ideas we haven't had.
One of the major events in Madison in the past decade were the protests at the Capitol in 2011 over Gov. Scott Walker's changes to collective bargaining. What did you learn from that heated political environment?
I remember at the time being so impressed with our reporters. It's a little complicated for us because we are state employees. We tried to make sure people understood that and that we could still report fairly, and we did.
In a lot of places people couldn't even talk to their neighbors or friends because they were so mad at each other. Our Ideas Network with its call-in talk shows was a place where there's been a tremendous tradition of speaking civilly even with people you disagree with, and that continued.
I think that's tremendously valuable now. Everyone is talking about how polarized we are, and we firmly believe the solutions to our problems will be found by listening to each other. I find myself in the last year constantly quoting the people from Story Corps. They say listening is an act of love. Just let that sink in.
What have you taken away from the centennial events you've held during the year?
Any time we change anything it's unsettling, and we hear about programming changes from members. But one of the things I think about is if our story was one of being completely stable and doing what we've always done we probably wouldn't be here. We certainly wouldn't air popular radio programs because we would still be doing stuff that has long moved to other venues like the classroom. So I really believe our history is a history of change.
---
Editor's note: This story has been updated to correct the spelling of Kerri Hoffman's name.