When Colleen Bos opened the city's first meadery in 2012, the 12-story Constellation apartment building down the street was under construction.
Across the street, ground had yet to be broken on a 14-story apartment building with a Festival Foods store on the ground level.
Now, nearly four years after opening Bos Meadery and a year after opening a tasting room in conjunction with an art gallery, the corridor has started to show life with residents, restaurants and other proposals designed to bring vitality to the blighted area.
The neighborhood's growth has also meant growth for Bos, who recently tripled her mead production capacity and is considering expanding her tasting room's hours at 849 E. Washington Ave. In her first full year of production in 2013, Bos produced 1,181 gallons of mead with revenues of $40,000. In 2015, she made 1,687 gallons with revenues of $100,020.
Mead looks and is regulated like wine and in some cases tastes similar. It's often sweet and can be blended or infused with other fruits or spices. Meads made by Bos include Cranberry Blossom Honey, Hammer Smashed Cherry, Pomegranate Pyment and another made with black pepper.
Bos, who began making mead in 2004, is targeting her mead at food and craft beer lovers who, she believes, tend to have "more adventurous" palates than wine drinkers.
QUESTION: What led to the expansion?
ANSWER: We just got to the point during the summer that we were not able to keep up with the orders from our distributor. It was a good problem to have so we went to the bank and got a loan and tripled our capacity and have started to add a little more automation. We're improving our game a little bit.
Q: Are you growing faster or slower than you anticipated?
A: You know, what's funny is that it's just on a slightly different curve. I thought we would grow a little more slowly and steadily and it felt more like we were growing just a little bit over the first two and half years. And then, I think it coincided with opening up the tasting room, so many more people were aware of us and all of a sudden the growth just spiked.
Q: You also launched Hammer Smashed Cherry, a session mead, which has a lower alcohol content than your other meads and is sold in smaller bottles. What impact has that had on your sales?
A: All the meads we made prior to it were wine strength (around 12 percent alcohol) and we started to realize that a lot of the people who were interested in the mead were craft beer people. Finding something in a smaller format bottle at about 6.5 percent (alcohol content) was really the sweet spot. We came out with the smaller bottles, a little more craft brew style marketing and that really took off.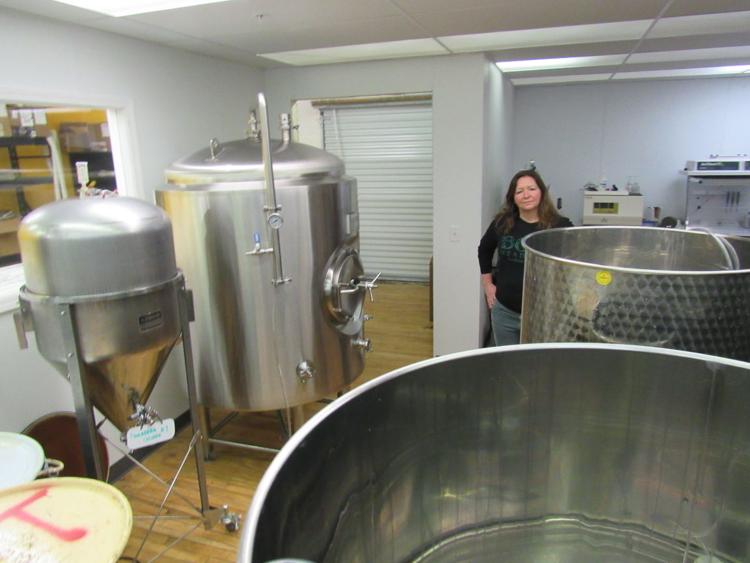 Q: How have the sales been on the session mead?
A: It's been just fantastic. It's the thing we haven't been able to keep up with at all. We have, at times, run out of almost everything we make, which has been frustrating. We have another session mead coming out next month that will be a dry hop session mead. If we could keep up, (the session mead) would account for about one third of our sales.
Q: What led to the creation of the session mead?
You have free articles remaining.
Register for more free articles
Stay logged in to skip the surveys
A: I've had in the back of my mind all along that I wanted to try and do a session mead, and then I was on the West Coast and tasted a session mead I really liked a lot. I thought, 'OK, yeah, I've been wanting to do this anyway and I really liked how this product turned out, let's go ahead and do this.' I think the other half of it was talking to bar owners. A lot of bar owners liked the product, but it's hard for them to justify tying up a whole tap line with mead. Having a smaller format bottle that they can sell at the bar is easier. It's easier to sell that whole bottle to somebody than to try and manage an open wine-sized bottle. It's one of the ways to get around the barriers of getting my products into bars.
Q: What has your honey use been like during your growth?
A: We've gone from getting five-gallon buckets of honey to 55-gallon barrels of honey. We got eight of those drums in November, and we think it will last us until about March. We put 266 pounds (of honey) into a typical full-strength (124 gallon) batch and 133 pounds in the session meads. I've always gotten the honey from places around Wisconsin. It now comes from a single farmer, he's not a part of some large organization, he's just an individual guy (in Waukesha County).
Q: Is he able to keep up with your demand?
A: He says that he thinks that he can but if he can't he's got a brother-in-law who can probably chip in some honey and between the two of them they can probably keep me covered. I was working with four or five different places at once in the past, but I kind of like the idea of being able to settle in to supporting one farmer and having that steady relationship and knowing they've got my level of production in mind and I can rely on getting that honey.
Q: Does that make for a more consistent product?
A: With honey, you're never going to get consistency because the beginning of the summer can be different than the end of the summer. If it's a dry year versus a wet year, hot, cold … there's always an incredible amount of variety. Just like there's farm-to-table eating, there's field-to-glass drinking and you accept the natural variations that come with that.
Q: How aware were you when you opened of the potential for development along the East Washington Avenue corridor?
A: I knew the city was taking bids on that land and I knew it was a ways down the road but I really did think it would be the place to be. It wasn't luck. I was paying attention. I think this building (with a proposed brewpub) could become a destination for people who are interested in craft beverages.
Q: What has it been like watching the construction of the 14-story Galaxie apartment building and the Festival Foods store across the street that are scheduled to open in the coming months?
A: What I always knew was that some place like Epic (Systems Corp. in Verona) is a really great boost for the local economy and you have all those young people who have professional incomes. What I've learned is that the Millennials are much more adventurous than some of the other age groups in terms of what they are willing to drink. They are not afraid to walk in and try mead. They are, in fact, excited to try something they haven't had before.
Q: How long before you need a larger space?
A: What I imagine is that if we double in capacity I'll get some cheaper warehouse space over on the East Side of town and that's where our main production facility would be. I would use (849 E. Washington Ave.) as kind of a test lab. So, I think we can maintain this spot, especially if I do end up taking over (the tasting room) space full time. So, I think we can always find a way to keep a presence here but move the larger-scale production to a place where the cost per square foot is a little cheaper.
Q: What is this area like in 10 years?
A: I think it's quite possibly the heart of town. I think it becomes more of a living extension of the Capitol. We'll see all around the Capitol become a much denser entertainment center. I just think there's going to be so much entertainment, so much food and so many things concentrated in this area.