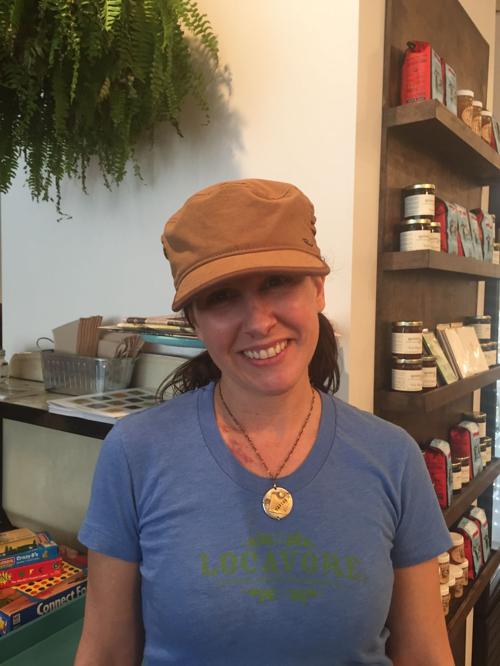 As darkness claimed Monroe Street one late afternoon, a dad and his young daughter slipped into Bloom Bake Shop, ordered pastries, and borrowed Connect Four from a pile of games. They proceeded to play, and the swinging door to the area where the bakers were working kept swinging.
It was a recent winter day at the bake shop that now fills the space at 1851 Monroe St. where Pasquales used to serve burritos and black beans. The second shop in Annemarie Maitri's growing clutch of bakeries, the original remains on a corner on Parmenter Street in downtown Middleton.
Staff members look like they stepped from the pages of Better Homes and Gardens—a 1942 edition.
But Maitri said she doesn't have a dress code. "I like kind of throwback vintage, but I've never asked them to dress that way," she said. "Maybe I unconsciously hire people that care about that... like classic old aprons."
Question: You just opened a second site on Monroe Street for Bloom Bake Shop. How did Bloom Bake Shop start?
Answer: Bloom grew out of a desire to share my passion for creating experiences through food, primarily dessert, with others. In the beginning, it was about sharing my love of desserts and my belief system in supporting local farmers that fueled the creation of the bakery. But, very quickly something else grew out of opening Bloom. Even in our tiny space on Parmenter, a grass-root community began to form. From the top-notch employees that have become like family, to our "regulars" who also are more than just customers. They too, are like family.
What motivates me today is still an obsession with creating and sharing great food, but a responsibility to be a great leader to my team. To be able to assist in developing strong skills in the workplace that create job satisfaction or a stepping stone for future careers is very fulfilling. To be a resource and advocate within our community by advocating for and showcasing our purveyors and farmers is an honor. Expanding to Monroe Street feels like a natural extension of who Bloom already is, but certainly gives us the space and resources to do more good work.
Q: Who or what has been the greatest inspiration for your business model?
A: In terms of spending time in the kitchen, my parents. My dad always said, "If you can read, you can cook." What he didn't say, he showed me in his passion for beautiful, fresh ingredients. My most vivid memories of my childhood involve food preparation, sitting around the table with my family. My mother made the most ordinary dinner beautiful and required we all gather for a meal. It was a modest makeshift table under our "carport" on a balmy summer night in Florida. My fingers burning from peeling crawfish, my mouth burning from the spicy corn wedges, but finding my tired childhood self not wanting the night to end. Food connects me to my family. To this day, I can't think of many memories of my childhood without attaching a special dish or even a simple ingredient to it.
As for my business model? It was founded by growing up with a father who believed integrity was a defining quality in a person. My mother houses this bright, adventurous spirit. Between the two of them, I was raised with an open mind, but to always remember your actions and words mean something. This has no doubt had an impact on my business model. How I treat my employees. How I choose to run my business. And of course, how I source my ingredients.
Q: What's unique about your business?
A: Dessert in general may not be unique. But, truly the way we select our ingredients is unique. Many times we choose to create a recipe or dessert around what is available to us locally or seasonally. It is ambitious but makes for fresh and delicious creations that change and evolve with the Wisconsin growing season.
You have free articles remaining.
I was always drawn to creating, and I was always invited into the kitchen from an early age. Whether it was baking with my sister, assisting with a salad with my father or creating homemade facial masks with fresh ingredients with my mother, working with fresh food has always been a part of my life.
Q: What time do you get up in the morning? What does the rest of your day look like?
A: It truly depends on the day. I own two bakeries where bakers typically start baking anywhere from 2 to 3 a.m. in the morning. Some days that includes me. We close Middleton at 6 p.m., Monroe Street at 7 p.m. We are now open Sundays from 9 a.m. to 3 p.m. (at) Monroe Street. I am a mother to three children, age 10, 12 and 15, a pup that deserves a daily walk, and six chickens. Days are long and full and balanced precariously. I am lucky to have a wonderful partner, extended family, incredible staff, and a tight-knit neighborhood.
Q: Is there something about flour that makes you happy?
A: There is something about turning on an oven and feeling it begin to warm up the room. There is something about unwrapping grass-fed butter and reflecting on where the cows may have pastured that day. There is something about pulling a batch of cinnamon rolls out of the oven that centers me. More than that is the experience of seeing one of my bakers master one of our recipes with delight, or it's my daughters crafting in our home kitchen just as I did when I was a child. Baking, creating a meal, sharing the gift of creating. Yes, it all makes me very happy.
Q: Who put together the recipes that you use?
A: I spent two years on my vanilla cake recipe. My children were the original tasters. Other recipes came quickly, intuitively. Others were handed to me by friends, customers, found in old family cookbooks. It has been a culmination of obsessing, failing, tinkering and tasting until it's like, "OK, here we are!"
Q: What's the hardest thing about running bake shops?
A: Running a small business, in general, is not for the faint of heart. Running a small food business where you make everything in house is exhausting. But I wouldn't have it any other way. Probably the hardest thing for me right now is balancing wanting to be in the kitchen creating, but knowing I need to be on email or wrapping up administrative duties. It's also my concern over my staff that can be tough. It's hard work coming in way before the sun gets up. It's hard work breaking down a big kitchen each night. I check in often and work to keep them inspired, fresh and motivated.
Q: You seem to have strong feelings about using local producers. Is that easier now than it was five or 10 years ago?
A: It does feel easier, but it's probably because of the connections I've made in our food community through the years. Restaurant friends, farmers who know farmers, the organization REAP—all have been wonderful at connecting me to more local farmers and purveyors.
Q: Do you still bake—or do you spend most of the time administering the business?
A: Most definitely, I still bake. And cook. And obsess over ingredients and recipes. I can't imagine life without a big chunk of my day being in a kitchen. In the summer, that kitchen may be over a dutch oven in the woods camping, but heck, it's still cooking, right?