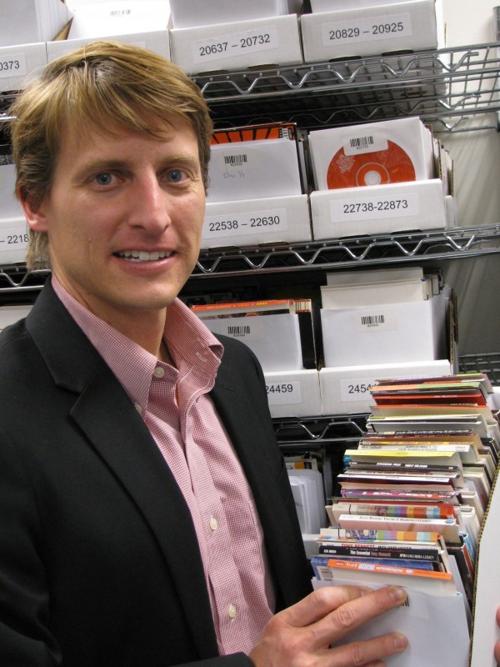 Boxes are stacking up in Murfie.com's airy offices on the eighth floor of the U.S. Bank building on Capitol Square. But that's a good thing.
The brown packing boxes hold dozens, if not hundreds or thousands, of music CDs that Murfie will catalog, store and make available for their owners to download or sell.
It's the latest business venture for serial entrepreneur Matt Younkle, a UW-Madison graduate and Ashwaubenon native who invented the TurboTap beer dispensing device and began selling it to sports stadiums in 2005. The special nozzle pours a 16-ounce beer in 2.5 seconds — about three times as fast as a regular tap — and sets up a perfect collar of foam. Tens of thousands have been sold so far.
After nine years in Chicago and two years living in the Caribbean, Younkle decided to move back to Madison in 2009. He and his wife, Susie, wanted to live closer to their families and had enjoyed living here as college students. Younkle also found the atmosphere more welcoming for people with business ideas.
"There's terrific energy around entrepreneurs and startups in Madison and it's only getting stronger," he said.
Q: How did you come up with the idea for Murfie.com?
A: I was taking my CDs out of boxes when I moved back to Madison and realized I didn't own a CD player anymore. I listen to music on my computer and portable music players.
The CDs represent your investment in that music; it's an emotional thing to have this collection of music that you've accumulated over a lifetime. For me, it also related to audio quality. Audio off a CD is still superior to most of what you'll download these days.
Q: What made you think of turning that situation into a company?
A: I have a track record of turning crazy ideas into viable companies. Usually they relate to a problem I'm experiencing. That's what happened with TurboTap — I was waiting in a slow line to get a beer.
I learned that 15 billion CDs have been sold since the format came out in the 1980s. They all have to end up somewhere. The music is still valuable even if the plastic is outdated. It's a pretty big market opportunity to chase, pretty bold and crazy — the sort of thing I like to go after.
Q: Can you explain further what Murfie.com does? And how does it differ from the online companies that let people download music and were determined to be operating illegally?
You have free articles remaining.
A: Our business is about reverse logistics: We're bringing goods in but none of that physical content ever leaves.
When we receive a CD, we separate the CD and liner notes from the plastic jewel cases, then catalog and store them. Our database knows who owns what and exactly where on any shelf a given album sits.
Our business is legal because we're not file sharing. Every item that transacts on our system is backed by a physical CD.
Murfie lets members store their CDs with us. They can download their music whenever they want or they can sell or trade their CDs to another Murfie member. We are not starting with one copy and making unlimited numbers of copies; that's what file sharing companies did. If you are buying off Amazon or iTunes, you're buying a license to use the music, not to buy or sell it.
Q: How do you make money?
A: The main way we earn revenue is a 30 percent commission on all goods that are sold on our site, and we charge fees for downloading music that members store, buy or receive in trade. There is no stocking fee right now; we send members boxes with prepaid postage to mail us their CDs. We want to build up our inventory — we need a lot of sellers and buyers.
We have a core team of six employees and a team of part-timers, mainly UW-Madison students.
With my partner Preston Austin, we put in the initial money and then picked up another investor. Now, we're working to raise $1.25 million and should have it fully committed, from investors in Wisconsin and on the East and West Coasts, by the end of the year.
We have more than 70,000 CDs stored now; they are arriving at a rate of more than 1,000 a day.
Our vision is to take everything that sits on your bookshelf at home and make it available everywhere that you want it. I see an opportunity to do that with DVDs and books in the future.
Q: How are things going with TurboTap?
A: I've been a passive shareholder since 2007 with a small minority stake. Laminar Technologies, Chicago, manufactures the TurboTap and licenses territories to distributors, selling them to bars and restaurants all around the country. It's also starting to get international traction, in Europe. It's still out there going strong, pouring lots of beers. I'll see it occasionally when I travel. Initially, I knew every stadium, every bar it was is. It's rewarding to see it there with people liking it.
Q: You have one hugely successful company and now you're moving forward quickly on another. Do you have more ideas for companies?
A: I've got a ton of ideas. That's what you learn over the years, that you can't do everything. You try to pick the winners and run with those as long as it takes.