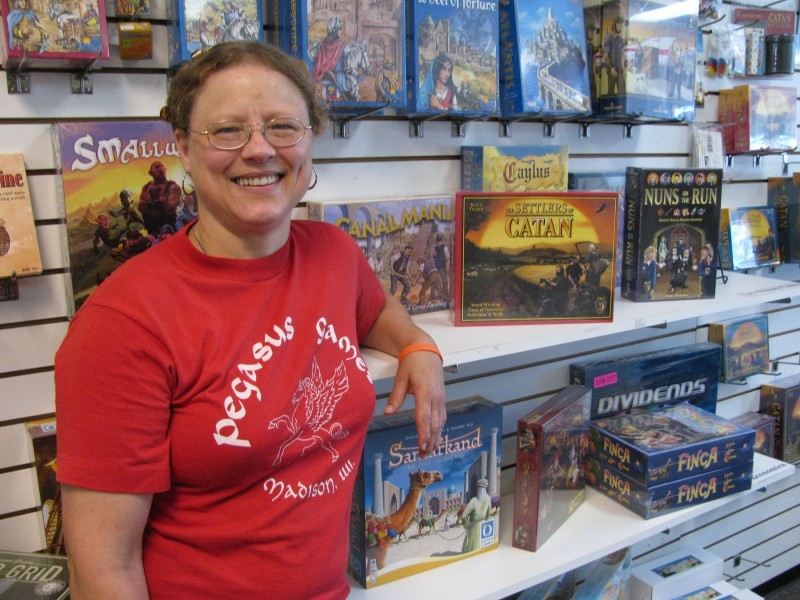 A business that has lasted 30 years has to be taken seriously, even if its product is fun and games.
Pegasus Games celebrates the anniversary of its opening on Aug. 30, doing so with events on Aug. 28 and 29, including cake, game demonstrations and contests.
Lorece "Lory" Aitken, 53, has been there from the beginning, first helping out and then becoming an owner. She's one of four store owners, but the only one with a hand in its day-to-day operations.
Aitken's involvement shows the game business isn't just the young, male demographic and her customer base backs that up. Children buy Yu-Gi-Oh! cards and play in the store's gaming room. Middle-aged women come to learn and play Mah Jongg.
But magic, fantasy and role-playing games, first made popular by Dungeons and Dragons, still sell well at Aitken's West Side store. Pegasus first opened Downtown, opened a second store at 6640 Odana Road in Market Square in 1989 and closed the Downtown store in 2002.
Five years ago, Pegasus expanded into the neighboring space, where people gather to play games or learn them.
Q: How is the game business these days?
A: Good. Yes, the economy is slow, so sales are down. But we're a fairly recession-proof commodity. I look at it as durable entertainment. You can get a game, play it much more often than you can afford to go out to dinner with the whole family or friends. And I think a lot of people are turning to that.
A lot of parents are coming in and looking for games their kids have to play with real live people instead of sitting on the couch with something that beeps.
Q: How has it changed in 30 years?
A: We started out carrying role-playing games like Dungeons and Dragons, which was pretty new back in 1980. We carried war games because no one else in Madison did, games where you simulate historical combat. Then we branched out into the board games — they're frequently called Euro games because they started out in Europe, really high-quality games that are challenging, not just roll the die and move your piece.
We dropped war games when Karl and Bev (Krueger) opened Last Square (at 5944 Odana Road) because they went into it deeper and do it better than we did. War games now are doing a lot of print-on-demand or are downloadable.
Board games and card games are way bigger than when we first opened and role playing still keeps chugging along. It's still about a third of our business. Partway through our existence, the whole idea of the collectible card game was invented, Magic: the Gathering, Yu-Gi-Oh!, Pokémon, and that's a strong category that didn't exist 30 years ago.
Q: Has the demographic changed?
A: There are girls now. Magic: the Gathering brought a lot of girls into gaming and a lot of the board games appeal to women more than they used to. I played PanzerBlitz in high school, but your average girl didn't. A lot of games are mystery solving, puzzle solving. They appeal to more girls than rolling tanks around.
We're all over the board. Most evenings our gaming space is filled with 12- to 30-year-olds, primarily male, but that's certainly not the case for our shopping clientele.
Q: How did you get your start in the business?
A: I started gaming in high school, with Risk, and then moved on to some of the war games. It was just a natural progression to D&D in college. Then we moved up here for my husband to go to grad school, and we got some friends to move up here, too. There was nowhere to buy gaming supplies except Waldenbooks had a little D&D stuff.
So we were young and really stupid and thought, "Let's open a store, what the heck?" I wasn't in the store when it was first set up. I did the leg work, though, because I could take a week off from my job.
The other guys put in money, and we all put in hours at the store between our other jobs. After a few months, one friend moved, so my husband and I bought him out.
The first year, nobody got paid. Then I'd start paying people by the hour if I had to go to lunch or to the doctor once we started being open consistently instead of between jobs and classes.
Q: How do you choose games? Do you go to events or take customer suggestions?
A: www.boardgamegeek.com. We do take a lot of customer tips. Some of the best sellers we've had, like Mexican Train dominoes and a little dice game called LCR, another called Spinner and another called Dutch Blitz were all requested by customers and now they sell like crazy.
A lot of them are games snowbirds were playing in Florida and Texas and then they come up here and look for it, so we track it down.
There are conventions and either I or some of my minions go. And there's industry newsletters.
Q: What would your advice be to someone wanting to start a store now?
A: My general advice for anyone starting a business is to calculate all the money you'll need to survive, meticulously. Factor in toilet paper, factor in pens, factor in paying yourself and your employees. Be conservative. And then double it.
We started on 5 grand. And we had no idea what we were doing.
The business news you need
With a weekly newsletter looking back at local history.