Exact Sciences Corp. is spending more than $300 million to expand its facilities in the Madison area, the company disclosed in documents filed with federal regulators.
The filing on Thursday is believed to be the first time Exact Sciences has publicly tallied the extent of its series of construction projects intended to help the company keep up with growing demand for its Cologuard home test kit for colorectal cancer and to develop future cancer testing products.
The Madison company is putting an addition onto its Cologuard processing lab on Badger Road and is building a new lab, offices and parking at the former site of Spectrum Brands headquarters, just off Schroeder Road.
It also is expanding facilities at two of the three buildings the company occupies in University Research Park, spokesman J.P. Fielder said.
Those projects — including construction, equipment and technology — translate into $50.9 million in contracts underway as of March 31 and another $256.8 million expected to be completed between now and the end of 2019, Exact Sciences said in its quarterly financial report filed with the U.S. Securities and Exchange Commission.
By the time all of the lab facilities are finished in late 2019, Exact will have the capacity to process as many as 5 million Cologuard tests a year. That's up from the 4.5 million projected a few months ago because automation equipment was added, chief financial officer Jeffrey Elliott told financial analysts Thursday.
Exact now has nearly 1,500 employees nationwide, including more than 1,100 in the Madison area, Fielder said.
Revenue up, loss up
Exact Sciences also released financial data on Thursday for the first three months of 2018. The company had $90.3 million in revenue, nearly double its $48.4 million in revenue for the first quarter of 2017.
Exact's net loss also grew, though, to $39.4 million, or 33 cents a share, for the first quarter of 2018 compared with $34.9 million, or 32 cents a share, for the same period last year.
That's because of increased marketing to boost awareness of Cologuard and an expanding sales staff, Elliott said.
Exact expects to have 550 sales representatives on board by this fall, 350 of them in the field and 200 in the office, said Mark Stenhouse, a former Abbott Laboratories/Abb-Vie executive who joined Exact in March as president of Cologuard.
Exact said it processed 186,000 completed Cologuard tests in January through March, up from 100,000 in 2017's first quarter.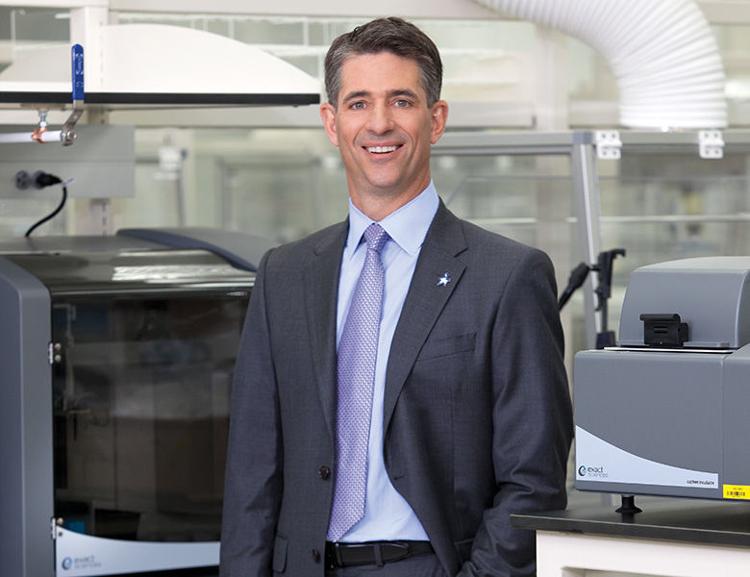 "We remain confident in our ability to reach our long-term market share goal of at least 40% and in accomplishing our mission of playing a role in the eradication of colon cancer," CEO and chairman Kevin Conroy told financial analysts.
With more than 1 million patients who have used Cologuard since it went on the market nearly four years ago, the company's current market share is 2.6 percent of the millions of Americans age 50 or older at average risk of developing colorectal cancer, Exact said.
Conroy said the company also is moving ahead with research toward developing tests for other forms of cancer.
"Working in collaboration with Mayo Clinic, we have discovered DNA biomarkers for 10 of the top cancer killers and are systematically validating those markers in blood," he said.
While Exact has been beefing up its executive ranks, Maneesh Arora stepped down as senior vice president and chief operating officer on April 25. Arora was one of the first employees of Exact when it moved to Madison from Massachusetts in 2009. He will stay on through the end of the year as an advisor to Conroy.
"Maneesh has done a tremendous job helping us build our company," Conroy said. "There would be no Cologuard today without Maneesh."
In its SEC filing, Exact also revealed more about its acquisitions in the past year. The purchase of Armune BioScience, of Michigan, in December provided intellectual property for protein biomarkers for use in prostate cancer detection. Exact paid $12 million in "upfront cash" for Armune with promises of up to $17.5 million in future milestone payments, and small royalties to the University of Michigan for licensing intellectual property.
Sampleminded, a Salt Lake City information technology company bought during the third quarter of 2017, is listed as a $1 million asset.
Exact said it anticipates revenue to total $420 million to $430 million for 2018. But the company said its accumulated deficit is $900 million and the company "expects to continue to incur losses for the near future."
With the upbeat financial report for the quarter, Exact Sciences stock rose 11.6 percent on Friday, closing at $52.02, an increase of $5.42 over Thursday's closing price.